The Ultimate Guide to SimplyBook.me Payments: Features, Setup, & Benefits
31/08/2023
1394
0

This post is also available in:




Streamlined payment solutions are the cornerstone of efficient business operations. SimplyBook.me stands out as a game-changing online booking platform, tailored to accommodate businesses across a vast spectrum, from neighborhood beauty salons to global corporations. With its intuitive interface, SimplyBook.me has truly transformed the way appointments are managed and scheduled.
Yet, the power of booking is exponentially magnified when coupled with integrated payment solutions. Merging the act of scheduling with the convenience of instant payments isn't just a luxury—it's a necessity. By doing so, businesses can significantly streamline the steps of separate payment processes, decrease no-show rates, and offer clients a seamless, comprehensive booking experience. The integration of these two essential processes allows businesses to boost revenue streams, enhance client satisfaction, and free up valuable time to concentrate on their primary services. Dive into the world of SimplyBook.me payment solutions and discover the numerous advantages ready for your business's growth.
Features of SimplyBook.me Payments:
Accept Payment's: Allow your clients to pay during the booking process, reducing missed appointments. It easily works with popular payment systems like Stripe, PayPal, and Square. By adding prices to services, businesses can track earnings and access extra features like sales campaigns and memberships.
Memberships: Allows your business to offer special services or discounts to members only. They can serve as a marketing tool, offering perks like reduced costs. While clients can sign up during booking, admins can also create memberships from their dashboard.
Packages: Allows your business to bundle services or products together for a discounted price, encouraging clients to buy more. Once purchased, clients can easily use their package to book services or buy products. This feature not only increases sales but also helps to introduce new or less popular offerings to clients.
Coupons & Gift Cards: Offers a versatile way to boost sales and incentivise bookings. Discounts can target specific services, times, or customer groups, allowing businesses to fill less popular slots or reward loyal customers. Additionally, gift cards can be digitally sent or printed with a custom design, with all transactions conveniently tracked within the SimplyBook.me reports section.
Point of Sale (POS): Streamlines both online and on-site payments, catering to booked and walk-in clients alike. Compatible with devices from iPads to PCs, it integrates with card readers, cash drawers, and receipt printers for a seamless client experience. Beyond processing payments, the system supports product sales, service add-ons, and the application of coupon codes, with a comprehensive dashboard to review sales metrics.
Products for Sale: Elevates the client experience by suggesting relevant products during the booking process. This feature not only boosts sales but also enriches the client's visit, as they receive their pre-purchased product post-service. All product purchases are meticulously detailed in both the sales report and the admin calendar, ensuring clear tracking for the business owner.
Service Add-ons: Enhances your primary services by offering optional add-ons, tailored to enrich the client's experience. Whether it's a luxurious massage oil or exclusive organic products, these additions can boost your sales by 10-20% without any core service adjustments. The process is streamlined for clients with a simple click, while businesses can monitor revenue growth through the sales report, ensuring these optional perks translate into tangible benefits.
Deposits: Encourages commitment by allowing clients to pay a deposit when booking online, a strategy that notably reduces no-shows. This feature offers flexibility, letting clients decide between paying just the deposit or the full amount. For businesses, specific services can be set to require a deposit or full payment upfront, using both online and offline methods. All deposit transactions are clearly itemised in payment reports, with a dedicated invoice for the deposit and another pending one for the remaining balance.
Tips: allows clients to express their appreciation for services rendered. Clients can opt to tip during the booking process, perfect for those familiar with the service, or they can add a tip upon checkout after experiencing the service. Whether through a payment link or a QR code scan, it's a seamless way for clients to show gratitude and easy sales boost for your business.
Benefits of offering payments through SimplyBook.me
Increased Conversion Rates: One of the most evident benefits of integrating payment solutions with SimplyBook.me is the boost in conversion rates. With a seamless booking and payment process, customers are more likely to complete their reservations.
Reduced No-Shows: By processing deposits or full-payments upfront, businesses often see a significant drop in the number of no-shows. Clients who've made a financial commitment are more likely to honour their appointments. SimplyBook.me´s research shows that businesses that take a deposit reduce their no-show rate by up to 55 per cent.
Enhanced Customer Experience: With a unified system for both booking and payments, clients enjoy a smoother, more streamlined experience. They appreciate the efficiency of the process, which ultimately enhances their overall perception of the service.
No Added Fees: Unlike many competitors, SimplyBook.me doesn't tack on additional fees for payment integration. This transparency ensures businesses can manage their finances effectively without unexpected costs.
Streamlined Financial Tracking: Integrated payment solutions not only make transactions smoother for clients but also simplify the backend processes for businesses. Having an integrated system means easier financial management, enabling businesses to monitor revenue, track sales, and generate detailed financial reports, all from a singular platform. On top of that you can synchronise SimplyBook.me with QuickBooks or FreshBooks to automate the accounting as well.
Payment Gateways
We've integrated with some of the most popular and trusted payment gateways to ensure your transactions are smooth, secure, and efficient. Among the leading options available are:
You can view our complete list of supported payment gateways and to find the best fit for your business. Our goal is to provide you with flexibility and peace of mind when it comes to financial transactions.
How to Set Up Payments
Setting up card payments via Stripe on SimplyBook.me is a straightforward process, designed to ensure a smooth experience for both businesses and clients. To make things even easier, we've created a step-by-step video tutorial to guide you through every detail. Watch the tutorial below to seamlessly integrate Stripe with your SimplyBook.me platform and start accepting card payments in no time!
How to Manage Payments Day-to-day
Managing payments efficiently is essential to any business, and with SimplyBook.me, you have versatile options tailored to your clients' preferences and your operational needs.
You can have two different types of payments:
1)Online payments made upon booking.
2)Onsite payments made after the service has been provided.
For online payments, after confirming the booking, your client will be guided through the payment process. They can pay using a credit card or choose "Pay later" if you offer it. Additionally, if your payment provider supports Apple Pay or Google Pay, clients can use these for smoother online transactions.
When it comes to onsite payments, SimplyBook.me offers dual convenience. You can either utilise a handheld credit card reader (POS device) paired with our POS solution or directly accept payments using our Admin App. Read on to understand how both the POS and Admin App can be seamlessly integrated into your daily payment handling routines.
Using the Point Of Sale (POS) System:
Flexibility in Payment Methods: The POS system offers a dynamic way to handle payments. Whether your client wants to pay online or on-site, it accommodates cash, credit/debit cards, and even gift cards.
Streamlined Process: Let's say a client books a service online and decides to pay in person. Use the POS interface to find their booking, confirm the payment, and finish. For walk-ins without prior appointments, create a new booking directly from the POS and process their payment.
Hardware Integration: Partner the SimplyBook.me POS solution with your handheld card reader, cash drawer, or receipt printer to offer a professional payment experience. A variety of hardware options are available depending on your chosen payment provider.
Feature-Rich Application: The standalone Point Of Sale application provides multiple functionalities, including managing bookings, selling products, applying coupon codes at checkout, and even connecting to scanners for product barcodes.
Optimised User Experience: The POS system is compatible with a variety of devices, ensuring a smooth experience whether you're using an iPad, Samsung tablet, mobile device, laptop, or PC.
Insightful Reports: Dive into the main admin interface for insightful analytics. Analyse your POS sales performance with reports like the Insights Booking Report, Sales Report, and Client Report.
Handling Payments via Admin App:
Onsite Payments: The Admin App provides an interface specifically tailored for processing onsite payments effortlessly. Simply select the sale for which you wish to receive payment, and then decide on your preferred method. Your choices include:
– Payment by Cash, credit card, wire transfer or cheque
– Saved Payment method (if you have client credit card information already stored)
– Tap to Pay (directly between mobile devices)
– Send payment link to client via SMS
– Send payment link via email
– Show QR code to client that they can scan to go to payment process
Direct Payment Links: In situations where a client prefers a mobile transaction, send them a direct payment link via SMS or email. If they have a registered card in your system, you can seamlessly process the payment directly within the POS solution. After a successful payment, the system automatically sends a receipt to the client's email.
Adaptable Hardware Options: Just like the POS system, the Admin App offers integration with various hardware options from your payment provider, ensuring the tool fits seamlessly into your operational setup.
Cross-Device Compatibility: The Admin App's interface, similar to the POS, supports iPads, Samsung tablets, mobile devices, laptops, and PCs.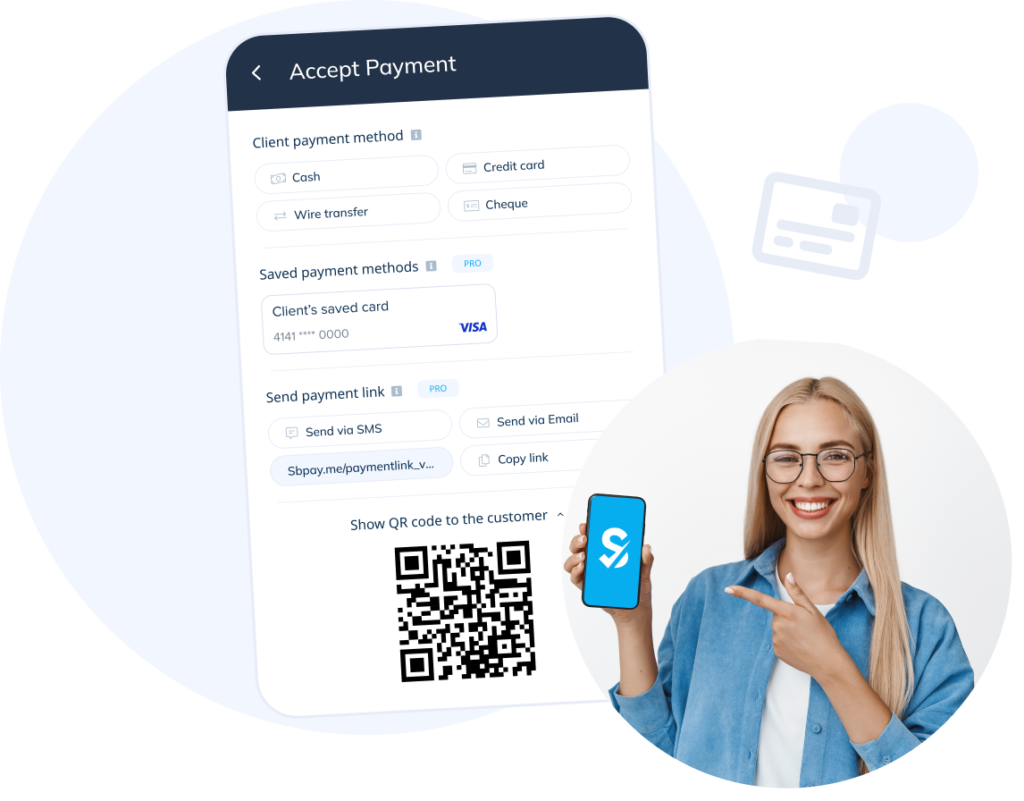 Customer support and resources
At SimplyBook.me, we understand that the key to a seamless experience is amazing support. That's why we've invested in a wealth of resources to guide and assist you:
With these resources at your disposal, we aim to make your SimplyBook.me journey smooth, informative, and efficient.
Conclusion
SimplyBook.me offers more than just online scheduling; it integrates powerful payment solutions to redefine the booking experience. With its versatile features and vast selection of payment gateways, businesses can tailor their services to fit unique needs. SimplyBook.me excels with robust user support—live agents, blogs, video tutorials, and the help center. It's a platform designed not just to accommodate but to empower businesses owners in the digital age.