Medical Clinics, Taking Video Consultations Beyond a Global Pandemic
09/06/2020
969
0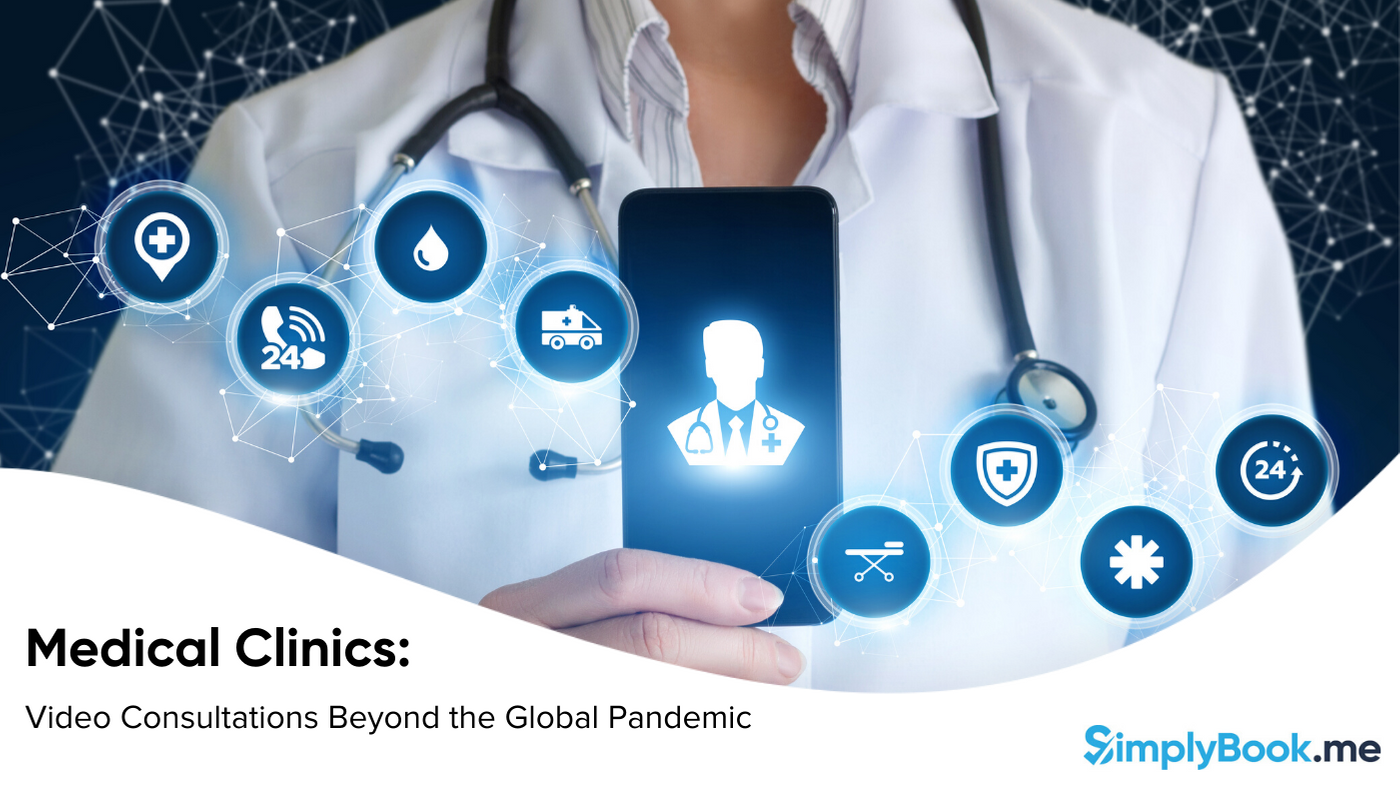 This post is also available in:



While COVID-19 was cutting a swathe across the globe, medical centres and primary care physicians began undertaking remote video consultations, to reduce unnecessary patient contact. However, so many patients would prefer a virtual appointment for a simple (or initial) doctor's visit for safety, convenience, and cost. Perhaps more medical clinics and centres should think about taking video consultations beyond the necessity of the global pandemic.
Crisis Compels Evolution
No one would say that virtual appointments could ever replace an in-person visit to your doctor. It would be impossible. On the other hand, doctors' waiting rooms filled with patients suffering from colds and flu, chickenpox, and other contagious diseases at the same time as a sprained ankle, a twisted knee or slipped disk is a recipe for the spread of disease. And we all know that the COVID-19 crisis has compelled many medical clinics and primary care doctors to grow their telemedicine procedures to include virtual video appointments for some of the most common problems and symptoms.
When doctors develop their policies and practices for virtual video consultations, patients see the benefits, and they don't want them to devolve, once the pandemic has passed. Using video appointments and virtual consultations might be the determining factor for whether a patient chooses one clinic over another.
Resource Preservation and Allocation
While some countries like the UK, US, and Brazil (among others) are still in the grip of continuing infections, perpetual use of PPE is putting a strain on the supply of the equipment. Using remote video appointments means fewer resources used for routine and simple consultations. When PPE is in short supply for those on the front line battling infectious pathogens, using less is an excellent thing.
People Need Convenience with Their Healthcare
There will always be patients who prefer to visit the doctor's office physically. However, there are significantly more who would prefer not to make the trip for something as simple as migraine, asthma, allergies or any of the other most common reasons for visiting a doctor.
It's not just about convenience; there are other aspects of patient care that can be addressed by virtual appointments.
Time and cost burden of travelling to a clinic
Location of patients and their respective specialists
Rural vs Urban medical availability
Transport Links/ Access
When it comes to monitoring and maintaining care for chronic medical conditions, these aspects tend to multiply and cause even more problems. Virtual healthcare is becoming the go-to answer for convenient, affordable and consistent medical care when it's not possible for face-to-face appointments.
Concerns about Patient Confidentiality
It is a constant worry to medical practitioners, whenever there is a change in technology, that their client data won't be safe. Especially when it concerns transmitting information over the internet. However, many video conferencing software companies and online appointment scheduling systems are taking those concerns on board and creating globally compliant methods for the medical profession.
Security is paramount, particularly where patient details are concerned. And while some video conferencing software clearly states that it is NOT HIPAA compliant, others are taking care to ensure that their offering IS legally compliant, and is useful for the medical community.
While no system is 100% perfect and uncrackable, HIPAA compliance requires software developers to adhere to strict rules regarding security. If a company signs a compliance agreement then they are as sure as they can be that the data transferred through their system is secure. Significant fines await companies that can't guarantee the safety of the data.
Strengthening Patient Care in Your Clinic
If you were still debating including video consultations in your medical clinic's repertoire, the COVID-19 pandemic has probably pushed you to integrate video appointments in your schedule. However, have you considered the long-term use of virtual video consultations for your patients? It's highly likely that your patients will expect this development to continue after the COVID-19 pandemic has passed, and there is a functional vaccine in place.
The long-term solution will require you to integrate virtual appointment scheduling with your video calling software provider. It can't be an ad hoc system of squeezing in video calls between your in-person appointments because you need to be giving the same level of care and attention to your virtual patients as you do to your physical ones.
Solutions for Integration
SimplyBook.me has long been a splendid solution for medical centres with strict security protocols involved with both business and client-side access to the system. HIPAA compliance (along with other global patient data security laws) is one of the primary requirements for any medical clinic wanting to use technology and software platforms to bring their practices up to date.
We've now gone a step further. While we've had integration with Gruveo for video meetings and group conferencing, we haven't been able to say our video partners were HIPAA compliant. Now they are.
Our newest video meeting integration partner is MS Teams. This recent development allows you to link your video consultations with remote patients to your SimplyBook.me scheduling system. Allowing you to create a single time link to an appointment with your remote patients and it will appear on the schedule.
Why Video Consultations After the Pandemic?
If you still think your medical clinic or primary care facility wouldn't benefit from remote video consultations, think about the number of patients who don't keep up with their healthcare for several reasons.
Then think about all the patients you could diagnose, prescribe required drugs (aside from controlled substances), treat, and refer to an appropriate specialist without them ever having to come to your premises. Maybe you could help monitor chronic conditions like diabetes and hypertension without patients making weekly (or sometimes daily) trips to your office. The time required away from work, or the cost of travel soon mounts up.
Using video consultations for mental health treatment and counselling could be another useful tool for your facility. It's not just about making your life easier as a doctor or clinic manager – although that is an excellent aspect – it's about increasing your ability to give care to your patients how they need it and when they need it.
It's one more step along the road to creating a better experience for your patients and providing the required care easily and conveniently.