How to use online event marketing to generate leads for your business
24/11/2021
2733
0

This post is also available in:




Many businesses have a robust online presence. They invest in content marketing, paid ads, and other forms of customer acquisition. However, for some reason, they skip online event marketing. That's a mistake.
For the last few years, I've been responsible for managing many of the online events run by GetResponse. I know from experience just how important online events are for lead generation. It is and remains one of our most effective channels for turning warm leads into new customers. I don't expect this to change soon.
This guide will walk you through many of the lessons I have learned from my experiences at GetResponse. With that in mind, let's jump into this comprehensive guide to effective online event marketing.
What Makes Online Events So Effective?
There are a variety of reasons you should be running online events. First, and most importantly, online events offer you a chance to connect with your audience. Rather than sharing content via your blog or social media, you get to speak directly to people.
If you've ever attended offline events in the past, you'll understand how engaging a good speaker can be. You can generate that connection with online events.
Secondly, online events are an excellent way to sell to your audience. You get to educate people about the products or services you offer. You can also address questions and deal with the pain points that hold people back from doing business with your firm.
To be clear, I don't see them as an alternative to offline events. Sure, online affairs are generally much easier to plan than on-site ones. They are also cheaper, can accommodate more guests from all around the world.
Nothing will replace offline events for networking purposes, though.
I hope I've made the case that online events are something you should explore. Follow this online event marketing strategy to secure fresh leads for your business.
1. Choose a Great Topic
Great events succeed because they are based on an interesting topic. Selecting an excellent topic for your event should be straightforward. I'm sure your head is brimming with good ideas at the moment.
Here are some tips to help you come up with a plan if you're struggling for inspiration.
The best event topics will be based on your customer's pain points. These are problems your customers have that your business solves. There are various tools you can use to learn about customers' needs:
Customer/ client interviews
Surveys of customers/ clients
Review of your customer persona(s)
Common sense
That last factor will help you overcome most marketing problems.
At GetResponse, we run events targeting the pain points that various segments of our customer base experience. For instance, a lot of eCommerce store owners use GetResponse. Some of the events we run are targeted at this market segment.
For example, here is an online event that we ran for eCommerce store owners.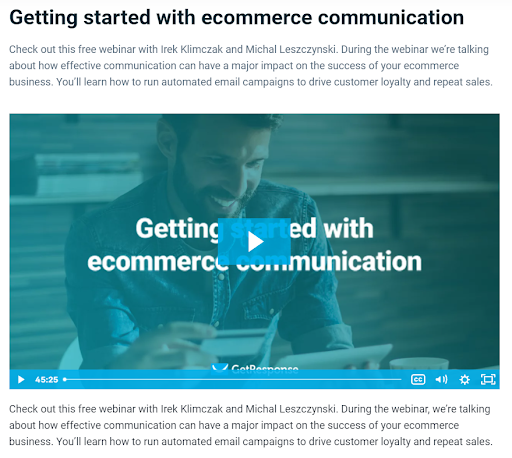 Once you have your event topic, think about what value you will provide attendees. You should be able to finish the following sentence:
People attending my webinar will learn _______
That takeaway is important.
The takeaway will be a critical element of the event messaging. You need to communicate why potential attendees should come to your event.
2. Define the format
Next, you should think about is the format of your event. There are two popular formats used for most occasions. First, you have a panel event. That's where you have a series of speakers from different companies sharing information.
Sometimes, these events can run over several days. An event like the CMO Digital Summit would fit this bill.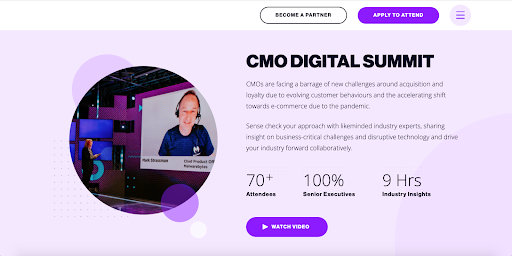 The CMO Digital Summit has speakers from different industries and businesses.
Your event doesn't need to have so many people, of course. You can run a good panel discussion with three speakers.
The alternative to a panel discussion is the more traditional event
Will you run an event with a series of speakers? If so, who would you want as speakers at your event, and how will you get them to attend?
Alternatively, you might run a classic webinar with you as the speaker. That's the approach we generally take at GetResponse. You will need to create a structure for your talk if you're running this type of event. You'll probably also need to create some presentation slides.
3. Determine Your Event Goal
Around the same time that you're nailing down the kind of event you're going to run, think about your event goals. You need to be clear on what you hope to achieve.
Some of the goals that might be relevant to your online event include:
Selling a product or service.
Getting leads onto your email list.
Getting more followers on social media.
You need to make your goal a core part of the event.
Most events end with a Call To Action where you ask attendees to complete a task. For example, at the end of some of our webinars, we'll share valuable resources with the audience. To access these resources, the attendee will need to sign up for the GetResponse email list.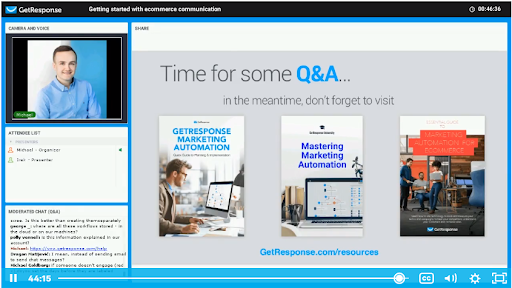 The goal for these types of events is lead generation. Once a person is on our email list, we can share helpful resources and show how a tool like GetResponse could benefit their business.
For other events, we might want to get people to try our platform. The goal here is a sale.
As a side note, you want to have a system in place to track these conversions. Ideally, you should set out some SMART targets you can use to assess your efforts after the event.
4. Create your marketing material
At this stage, you should have a clear idea in your mind about the type of event you will be hosting. Now, you need to create the marketing material to support the online event. This will be a critical part of your online event marketing strategy.
There are a couple of different things you'll need to prepare for your online event. The most critical elements are your registration page and the event email sequence.
Creating a landing page for your event should be straightforward. There are a lot of great tools you can use to create event registration pages. For example, the GetResponse website builder comes with dozens of easy-to-edit registration page templates. You just replace the text, add your logo, and you're good to go.
Your registration page needs an engaging headline. It should also have a bit of information about the speaker and the date and time the event will occur. Consider adding some social proof to your landing page as well.
Ensure your landing page uses your brand colours and brand font too.
The next thing you will need to create is the registration email sequence. This is simply a series of emails that you send to people who register for the event.
The first email in the sequence is a confirmation email. Say thanks for registering, share the time and date of the event and the event link.
You should send at least one more email before the event. I recommend sending two. One 24 hours before the event and a second an hour before the event starts. Those emails will improve the attendance rates for your event.
5. Promote the event to your target audience
So now everything is in place. You have your idea, you've worked on the content for the event, and all the marketing material is ready. Now for the most challenging part; getting people to attend.
The starting point for your online event marketing efforts will be tapping your existing business database. For most businesses, logical marketing channels include social media contacts, email list subscribers, and your company blog.
You should promote your online event through all of these channels. It's a good idea to put event goal tracking in place so you can see where most of the registrants are coming from. That way, you can focus your marketing efforts on the channel that generates the highest Return on Investment (ROI).
At GetResponse, we've found that our most effective marketing channels for online events are the company email list and the company website. You should experiment to see which channels generate the most success for you.
6. Run your test event
As your event gets closer, start preparing. If this is your first event, do a dress rehearsal before the big day. You should practice your presentation. From my experience, I've found it's best to have speaking prompts. Your prompt could be the presentation slides or even a single descriptive sentence.
Don't try to memorise your entire talk. You're likely to forget stuff when at the live event. That can result in you getting nervous when speaking.
You should also practice using the hardware and software for the event. There is nothing more frustrating than finding out five minutes before the event that something isn't working like it's supposed to do.
Most people are forgiving, so I wouldn't worry too much about appearing unprofessional. The bigger problem is that you will be flustered, and the audience will pick up on this fact.
Do as many dress rehearsals of the event as you feel you need. The important thing is that you feel comfortable and confident that things will go well on the day of the event. Unexpected problems might happen, but that's life, and it's something you'll just need to deal with.
7. Evaluate your efforts
The final stage of your online event marketing strategy should be a recap of the event. The evaluation is a chance for you to review how things went. Before you start the review, give yourself a tap on the back. You took a risk. You decided to host an online event, and you should be proud of yourself for this effort.
After congratulating yourself, review your event goals. Check if you hit your targets. Suppose you smashed them out of the park, great. If you underperformed, try to identify what went wrong. Analyse each element of the event. Ask difficult questions; did you choose the best topic, did you get enough attendees, etc.
The evaluation shouldn't be a negative experience. You want to come away from the review with the knowledge, "this is how we can do things better next time we host an online event."
Wrapping up
In this guide, I discussed how to create an online event marketing plan. I tried to provide you with a framework that you could reference for your online event. I also included tips based on my experience running online events for GetResponse.
Online marketing events are a powerful lead generation channel. Using the correct tools and following a few simple rules creates a great event that engages your target audience and generates leads for your business.
---
Guest Author Bio: Michal Leszczyński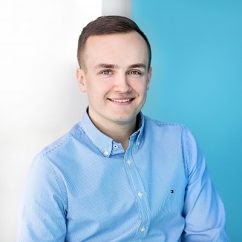 Michal Leszczyński is immersed in developing, implementing, and coordinating all content marketing projects as the Head of Content Marketing & Partnerships at GetResponse. He has 8-plus years of expertise in online marketing with a Master of Science Degree in Strategic Marketing and Consulting from the University of Birmingham (UK). Michal is the author of more than 100 articles, ebooks, and courses for GetResponse and renowned websites like Crazy Egg and Social Media Today.