5 Ways to Get More Email Opt-Ins From Your Blog
01/07/2021
1727
0

This post is also available in:




Let's face it: sometimes your prospects just aren't ready to buy. They might be browsing your site but unsure if the timing is right. Even worse, they might want to check out a competitor and compare products and prices. Consequently, the challenge for marketers is how to entice prospects to open your emails and opt-ins for communications from your blog. 
So, how can businesses effectively reach customers at the right time?
The answer is simple: collect their emails and nurture them with personalized communications along a purchasing path. As you do, you will push your prospect toward conversion and have more touchpoints to share your value propositions with them.
We'll share the five best ways to get more email opt-ins from your blog in this post. So let's dive in and build your database with these effective tips.
1. Add an embedded email form in the post.
Let's start with the basics.
While your prospects are reading a blog (which is likely about a topic related to your business), they should have the option to type in their email and subscribe to similar posts.
If they liked that post, why wouldn't they like others?
You need to make it as easy as possible for prospects to subscribe and opt-in to your blog. Furthermore, prospects shouldn't have to click off your blog site to find more information, related posts, or a place to submit their email for additional updates.
It should be intuitive and seamless. If it isn't, you'll be missing out on potential first-party data straight from your prospective customers.
The value of a prospect's email is so high for a small business. First, it's an entry point into a conversation with a potential paying customer. Secondly, this is an important opportunity to sell your product on a 1:1 level with the prospect.
One critical error that companies sometimes make is failing to optimize their form for mobile devices. Therefore, in 2021, you must have a mobile-first approach to your website.
You can't have your prospects struggling to do something as simple as input their email on their phone using a subscription box that isn't optimized for mobile.
To solve this problem, make sure you use a mobile form builder that adapts to the device it is viewed on. As a result, enabling your prospects to sign up in just a few clicks with no hassle or trouble at all.
2. Use maturity assessments or other quizzes to capture email addresses
Nowadays, just inserting a simple sign-up form on your home page is an ancient practice.
Consumers are becoming more aware and are less likely to give up their email address. This is why you need to entice them by providing value in exchange for their email.
One of the best ways to do this is via a maturity assessment or other interactive quiz type. Including a quiz or assessment on your home or landing page is a great way to boost qualified lead generation.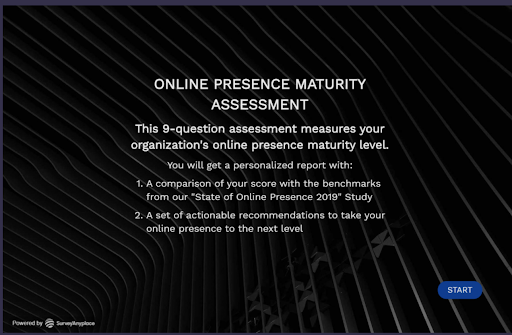 For example, imagine you provide marketing consulting services. You could offer a maturity assessment on your website for companies to check how mature their marketing strategy is at the time.
After the user takes the quiz, they will receive personalized feedback, subsequently guiding them to the right product or service on your website. Or, at the very least, capture their email so you can nurture them over time.
Bottom line, if you can get someone from a company to take this assessment, it means they need advice — your advice. Therefore, turning them into an email subscriber and highly qualified lead.
3. Add a signup box in your footer.
Imagine that you just finished reading an entire blog post and thought it was well-researched, engaging, and overall informative.
You might consider searching for more resources from the same source, right?
That's why it's so critical to add an email signup box in the footer of your webpage. This is your final opportunity to convert engaged readers.
After they read the entire post, they'll be aimlessly hovering at the bottom of the page, unsure of what action to take next. That's prime real estate where you need to put an email capture form.
Since the reader is already finished with the blog, they won't be distracted by having more to read. In addition, if your copywriting was memorable, they'll be motivated to read more.
Take a look at how this blog about DocuSign competitors mastered this strategy.
After an engaging post, the reader is greeted at the bottom by a headline that says, "Join 90,000+ business leaders."

This savvy copywriting evokes fear of missing out (FOMO) as well as social proof.
Do you want to be behind 90,000 business leaders and miss out on this content? Absolutely not. That's why this is such a powerful example.
In addition, it even entices the reader to convert by stating what they will get if they include their work email when they sign up. This strategy of dangling the carrot can nudge hesitant subscribers to take the plunge and sign up. It starts the relationship off on the right foot and educates the prospect on what they need to look out for in their inbox.
4. Add social share buttons to your blog.
You don't need to just think about your blog design as it relates to email opt-ins. You also need to consider how widely your blog will be shared by those who read it.
If more people land on a blog post with an email capture form, there will be a higher probability that you'll have an increase in signups.
Consider adding social shares to your blog post. This is a built-in function to your template that will allow the reader to share your blog post on popular sites like LinkedIn, Facebook, Twitter, and more.
Take a look at monday.com, a project management software company that executes this strategy brilliantly: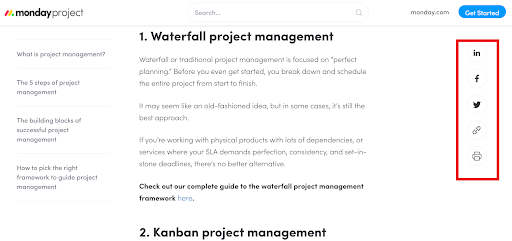 As the prospect reads the blog, they might want to share the article with their network. In just a click, a pop-out box will appear inviting them to write their own LinkedIn post: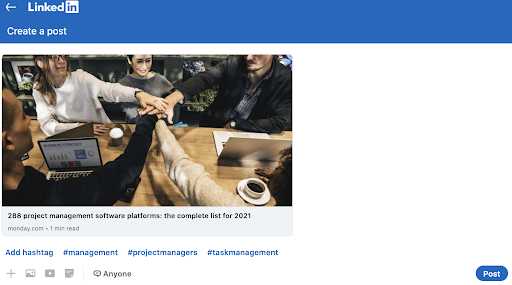 Now, suppose they share it with their network and imagine how many more email opt-ins you'll acquire. More people will see your post and engage with your company.
Best of all, those people are in the same industry as your target market. They are essentially doing your marketing for you.
Don't you want to just rely on social sharing to increase your reach? Focus on SEO.
You can appeal to a wider audience and increase your SEO rankings for specific keywords by writing a comparison post.
For example, UseWheelhouse published a Wheelhouse vs. Beyond Pricing post for prospects to compare the two services.
This increases the search ranking for that post with prospects that are comparing the two companies. Once they land on that post, Wheelhouse can capture their information and convert them before leaving for Beyond.
By building this social share function into your blog post template, you'll amplify your reach and convert new opt-ins in your target market.
5. Offer a gated asset.
Don't give up the goods without getting anything in exchange.
Place your most important assets behind a paywall and force your prospects to input their email in exchange for the asset.
A gated asset is a valuable resource, such as a guide, report, industry insight, webinar, case study, or whitepaper that is "locked" and sent to the prospect's email once they take a specific action, like input their email address. This is a great way to increase your subscriber base and overall opt-ins.
This gated asset tactic is a great way to increase your email opt-ins substantially. You both have something that the other person wants. The company is offering information and insight. The prospect is offering you the chance to contact them further.
This site for a data center infrastructure management software provides an excellent example of how to leverage a gated asset to drive opt-ins: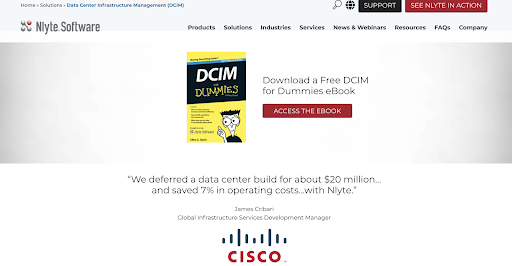 Prospects are invited to "Download a Free DCIM for Dummies eBook." In addition, the site places customer quotes immediately under the gated asset, making the offer more valuable and credible.
To access the eBook, the reader must click the button and input their email. Then, an email will be automatically triggered and sent directly to the person.
This level of automation is critical to ensure that your business can scale. Consequently, you should have multiple gated assets to drive opt-ins for different segments of your audience. This will significantly increase your opt-ins.
One of the easiest ways to drive traffic to your gated assets is by embedding them directly in a blog post. You can include in-line calls-to-action that highlight and feature individual assets. Then, as the prospect reads, they will stumble across the asset and might be interested in a deeper study on a similar topic.
Although the gated asset will likely live on a dedicated landing page, it's important that you integrate it into all of your related blog posts.
Your funnel should be optimized to allow a reader who is casually browsing your blog to flow into your funnel seamlessly. One way to do this is by making it easy to sign up for a gated asset in existing blog articles.
Depending on how you structure your gated asset form, you can add an "opt-in" option to indicate whether or not the prospect wants to receive further communication from you.
Some may just want the asset, and that's it. However, others who opt-in provide you with a chance to sell to them again. You can add them to your email list and grow your database.
With a gated asset, you will have a continuous flow of new opt-ins that will be added to your subscriber lists. As long as the content doesn't need to be updated, this can be a lucrative way to increase the total scope of those you're reaching through email campaigns.
Conclusion
Email opt-ins are the holy grail of customer information that businesses need. Once you have prospects subscribed to your communications, you can convert them into customers.
To increase your email opt-ins, try adding:
Embedded email form to your blog
Signup box in your footer
Social share buttons
Offer a gated asset
By doing so, you'll increase your opt-ins and drive more revenue for your business.
Guest Author Bio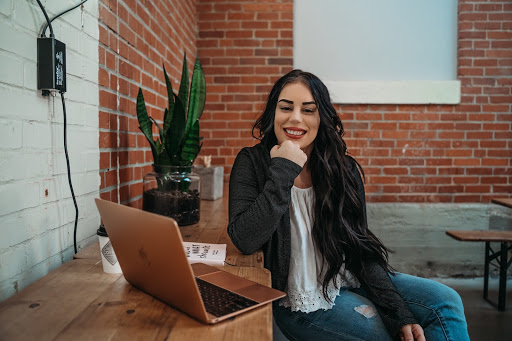 Hailey is a content marketing consultant and writer for B2B SaaS companies, focusing on sales platforms and the tools that integrate with them. Before becoming a content marketer, Hailey spent close to a decade in a successful sales career in almost every sales role imaginable. To learn more, check out haileylucas.com or connect with her on LinkedIn or Twitter.