Business Blogging Is not Dead: Part One – Why Blog?
14/01/2020
1136
5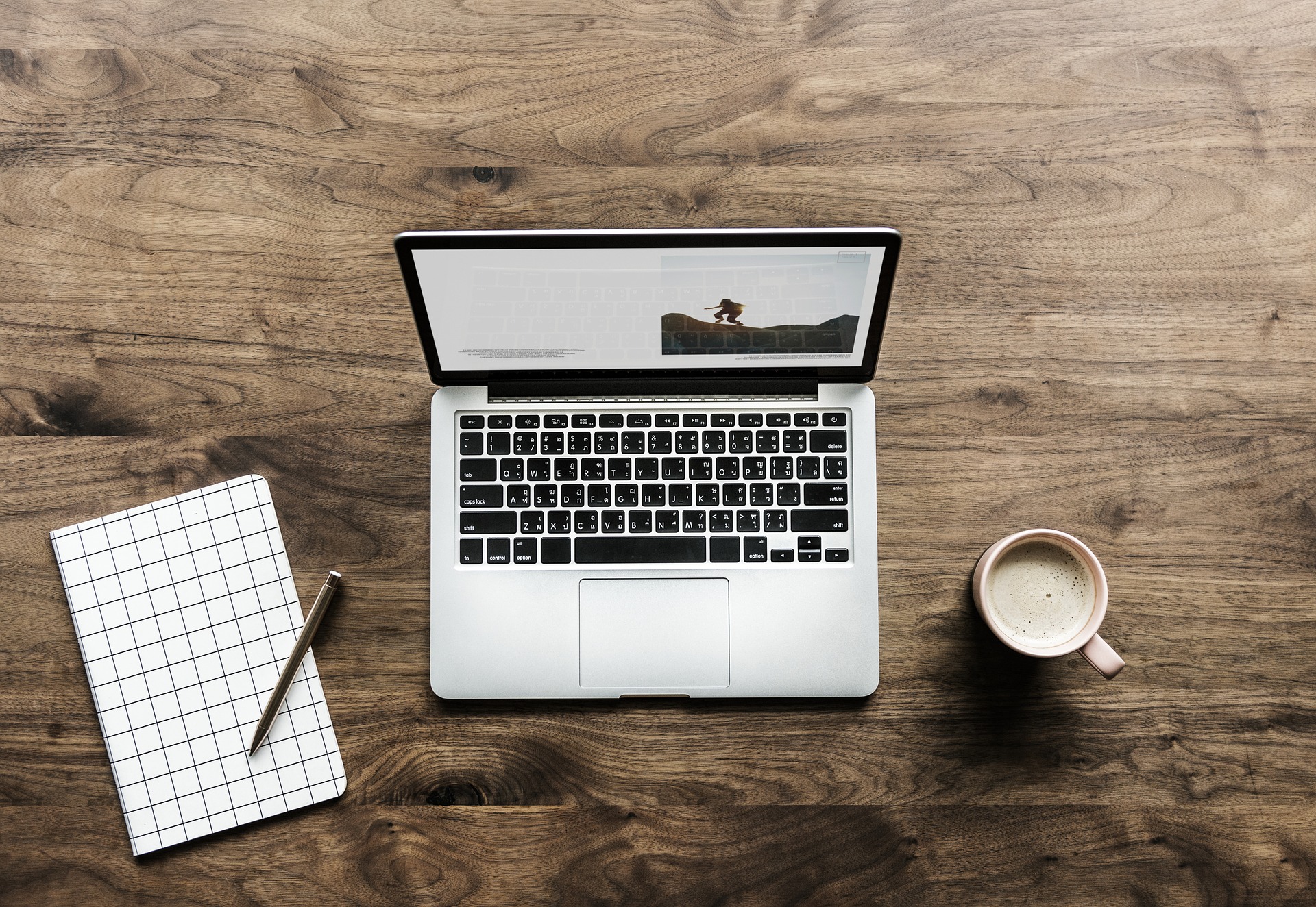 This post is also available in:



When the thought of business blogging enters your mind, do you recoil slightly? Do you think, "It's too much time", "I don't have any ideas" or "Aren't I working hard enough already?" Compared with running online ads, it takes some time and effort to start and maintain a business blog, but the benefits are substantial. They're also cheaper and often more effective in the longterm.
Almost every blog that you see has a purpose, and most of the time, that purpose is to attract clients and customers. I'll be clear, if blogging were dead, businesses wouldn't still do it.
Why Blog for your Business?
If business blogging has a purpose, what is your goal? The answer is; creating content that will drive people to your business or brand. It's a simple goal, but it's one that you can use in various forms to encourage clients to your business in many different ways.
Whenever you search Google with a question, at least 50% of the time, your answer will come from a blog attached to a business that fulfils a need related to your question.
For example, if you have ever searched for information on buying a domain name, the chances are that the sites that write about how to buy a domain name also sell domain names. The same sites possibly sell website building services or web hosting. The business with the best, most informative content is the most likely to get people to buy from them.
Not convinced? When I Google "Online Booking System", almost all of the first page of results was populated by software companies who provide software for booking online in some way – Services, restaurants, residential and vacation rentals, etc. And every one of them has a blog.
We are there, on the first page of Google search results.
Note: This doesn't count if you think that Wikipedia has the answer to everything.
What are the benefits of business blogging?
Okay, there are numerous benefits to business blogging; I'm not going to cover all of them. The benefits that you want to focus on are those that bring in the customers.
When it comes to marketing almost everyone knows the stages of converting a prospect into a client;
Awareness
Consideration
Decision
There's also a fourth stage;
4 – Advocacy
Business blogging has the specific benefit of covering all four bases. It also has the advantage of keeping your clients interested in your business and your brand offerings.
Educate, Inform & Inspire
When a prospective client first contemplates using the services you have to offer, they will probably Google it. Get your name on the list of possible providers by providing clear, unique and engaging information for those who are interested. By providing informative content on your services and any questions that might be asked, you open a channel to allow clients to come to you.
When a cleaner posts information about stain removal from delicate surfaces or tidying techniques, they're helping their clients. Often surface stains require immediate attention, which an ad hoc or scheduled cleaner can't get to immediately.
Exposure & Visibility
Every time you post a blog article with information that is of interest to your current and future clients you get your business name and services out onto the web. If you use keywords that your clients will usually search in your blog article you become more relevant. If you use hyperlinks in your posts to another relevant article, whether it's yours or even an external piece, you create connections. The more articles you post, the more times your business is referenced by search engines for the information your clients seek. Business blogging increases your online exposure, visibility and reach by making you rank higher in search results. Every post exposes your business website to increased visitor traffic and
Value for Clients
Whether we accept it or not, most of us like to think that we are getting something for nothing. When you blog information that others may charge for, you create the sense that you value your clients. When you give valuable information to your clients they feel valued by you.
When a salon shares information about different types of massage and common ailments that massage can help, they advertise the fact that they offer massage and information about the best type of massage treatment for their client's ailment – sometimes even when they don't offer the specific massage type required.
Authority, Expertise & Passion
When you blog for your business you share your passion for your the services you provide. You also share your expertise on your subject matter. As you start to post more around your areas of interest and expertise, you promote your authority. When people search for your business (or for appropriate search terms) your voice of authority will resonate in the decision-making process of your prospective clients.
When a hair salon or stylist posts about hair care for specific hair types or new season styles to suit different bone structures they are showing their authority and expertise in their chosen field. Passion comes across when you talk enthusiastically about your subject.
Trust
Once your blog grows in depth and reach, people will turn to your business because they trust the information you post. Even if your business doesn't operate in the area that a site visitor needs, trusted information is shared between friends and it spreads far and wide along social media channels.
Sharing information is a form of endorsement. While you are sharing valuable and informative posts in your area of expertise, people are finding your posts and sharing that information with their circle of friends and family.
Getting Started with Business Blogging
You don't need your own website to start a blog. Yes, there are free blogging platforms, but they won't drive business to your business website without a heavy-handed linking strategy. If you use the SimplyBook.me booking system you have the option to add a blog or news platform to your booking website. Along with the ability to add custom pages and an image gallery, you can drive customers to your booking site with the power of blogging, social image sharing and telling your company story.
Voila! You have a booking platform and a blog platform to make your business more prominent online.
Before I finish, I'll leave you with these interesting incentives to include a blog in your business promotion strategy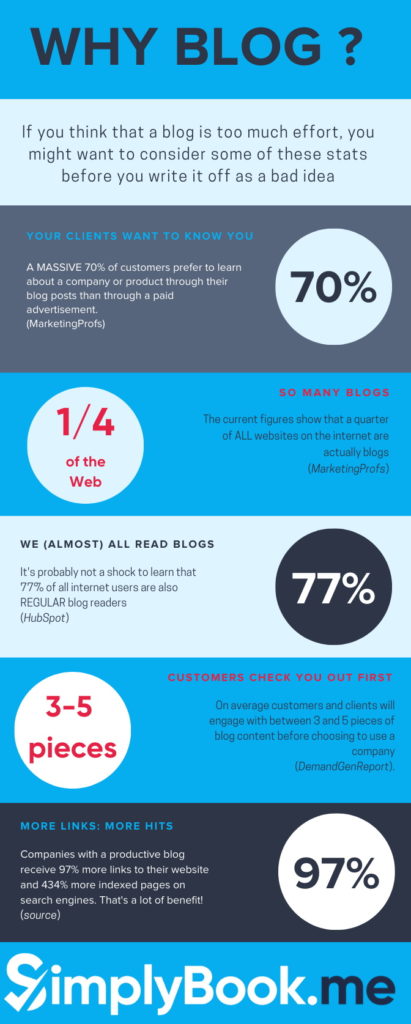 Keep your eyes peeled for part two – How to Start Blogging for your business…