Complete Guide to a Successful Company Newsletter Design
July 6, 2021
486
0

It can be difficult to choose the right design for your newsletter. You can use many templates, and all of them are unique, but not all of them will work for your newsletter goals. Finding the right one that has the right text, formats, image placement, and colors that match up with your goals can be hard. 
When it comes to creating a successful company newsletter, you need to think ahead and plan out something that will share all the news that everyone needs to know, looks attractive, and does not take up much space. This is a pretty tall order for a newsletter, but it can be done with some of the right steps along the way.
Let's take a closer look at the steps you need to take to create a successful company newsletter design to get your message out there!
Consider the Newsletter Design Layout
The first thing to consider is the type of layout that you want to use. Each newsletter is unique so take some time to think this through. Which layout is going to do the most for your business or organization? Would a fluid layout be better or a fixed one? You should explore a few different types of layouts to help make the decision.
There are several templates that you can find online to help make this easier. When you choose a template, you can utilize that layout and just add the pictures and words where you would like. If you are new to creating your own newsletter, then this could be one of the best options to use.
While looking for the right layout, consider HTML email templates for newsletters. Email templates are a little more difficult to manage on your own, so a template can make it easier while ensuring the information will show up properly for your reader. Doing it on your own can lead to a lot of frustration.
Write Compelling Copy
Images are a nice way to split up the design of your newsletter and not make it too boring, but you do need to spend a good deal of time on the copy for the newsletter. The body copy should contain all the information that needs to be in the newsletter while answering questions that the potential viewer may have. Add contact information to provide additional resources as necessary.
Creating compelling copy that is also scannable for your viewer is important here and may take a little bit of practice. Long blocks of copy make it hard to read, so keep the sentences and paragraphs concise. Don't let any individual section run too long. You need enough information to be useful, but you do not need to write a book for each topic. Add in images and headers as necessary to help break it all up.
Having an outline with all the necessary information ahead of time can help. You can then work through what you should write and how much space is available as you gather that information.
Focus on the Header
If you have a longer newsletter, there is likely to be a lot of information inside for many different people. Not all the topics will pertain to each viewer. Headers make the information more scannable and help break up some of the text you plan to write about.
Make your headers bigger than the rest of the copy to help them stand out. Try to keep them relatively short but informative. When someone takes a look at the header, they should have a good idea if the information below the header is useful to them so they can decide to continue reading. For a longer newsletter, these headers can help the viewer find the information they need faster.
Keep the Newsletter Design Short and Sweet
There are times when a newsletter may need to be longer, such as at the end of the year. However, it is better to keep the letter as short and sweet as possible for the most part. No one wants to spend an hour reading the newsletter. Most will give up long before that point even happens. You need to write compelling copy and fit it into a smaller space, or your audience will miss out on what is important.
Keep in mind that your newsletter is just one of the many emails that people receive each day. That means the viewer may have a short attention span and not want to even look at the newsletter if it seems long. Shorter sentences with simple language are best. Keep the design as clean and minimal as possible, especially with an email design, to ensure that it stands out from the crowd without taking up too much space.
Add Images
Many newsletters will add images to help break up the text or to highlight something within the newsletter. Images are fine; just make sure that they are used well. This means not adding an image just because you like it. The image needs to enhance the text you are using, not distract the reader.
For example, if you are talking about the company picnic that happened last week, it is fine to include a picture of what happened during the picnic. You can even have a company picture at the top of the newsletter each time to help keep it all uniform. There are many ways to utilize pictures in your newsletter, but make sure to use these images wisely, so they do not distract from the copy you write.
Pick a Good Font
The right font will make a big difference in how well your reader can look at the article and read through it. There are so many different types of fonts out there, but not all of them will show up nicely on the screen the way that you would like.
First, make sure that you go with either a simple serif or a sans serif font. Newsletters are not the place to get fancy and go with a script or decorative font. These may seem like a lot of fun, but they will irritate your reader in no time. You also want an unobtrusive font. When someone takes a look at your newsletter design, they do not want the words shouting at them. While there is beauty in elaborate letterforms and fun fonts, this is not the place for it. Often an Arial or Times New Roman works best.
You need to pick a font that is legible to read without making it really big. Most newsletter designs will need to keep the words smaller to save on space, so if you choose a font that is hard to read at a smaller size, then this will not be a good thing. Always check to see how readable the font is at 14 points or smaller before choosing.
Make It Compatible with More Than One Screen
It is easy to work on your newsletter on a computer and then just send it off to everyone. You saw the template on your screen, and it looked good, so you assume that this design will be easy for everyone to read. The only problem is that not everyone is going to read the newsletter on their computer. Almost any email builder on the market should be able to help you with this task. If it is a good choice, you should have the option to check on different screen resolutions, such as phone, tablet, or desktop/laptop.
If you don't optimize the newsletter design to look good on other screens, you can make it difficult for others. Some of your readers may be on their smartphones, while others use a small computer, a tablet, or another device. Checking the layout on more than one device can make a difference. For example, finish the newsletter and then send it to yourself. Open it up on your phone and see if there are any immediate issues that you can fix in terms of functionality and layout.
Some of the tips that we have discussed in the other sections can help. For example, keeping paragraphs short and sweet will do wonders here. Keep paragrapha tiny smartphone screen to no more than three sentences or it will look like a huge block of text on the screen of a tiny smartphone. Add in image files that are not too big; otherwise, they will take forever to download on a phone or tablet. And pick a font that is easier to read on these small screens.
Creating a newsletter is a great idea for your business, school, or organization. It is a simple way to share all that information with many people, keeping everyone up to date without needing to call them all or have a big meeting. With the right plan and some care towards what works for your message, you can easily create a newsletter design that will stand out, share information, and meet all your goals.
Guest Author Bio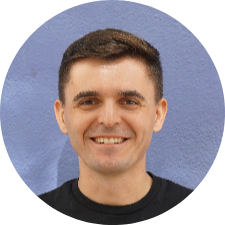 Andrian Valeanu is a web designer and indie maker. His interests include but not limited to information technologies, web design, and email marketing