SimplyBook.me Business Solution (for 6 common business problems)
May 12, 2020
187
0
Whatever your service business, there are always pain points to which you're probably seeking a solution. We're in the business of easing those pain points with business solutions that can simplify your life, improve customers service and enhance business management.
Maybe you're starting a business from scratch, you never used a business scheduling and management system, or even if you're looking to change your online booking system for something else more comprehensive, we have something for your service business.
Even if you don't consider your business to have any significant problems, there are probably some things you wish you could do quicker, or better. It's highly likely that your clients think so too.
Problem 1 – I spend so much time managing client bookings and staff schedules, rather than providing services.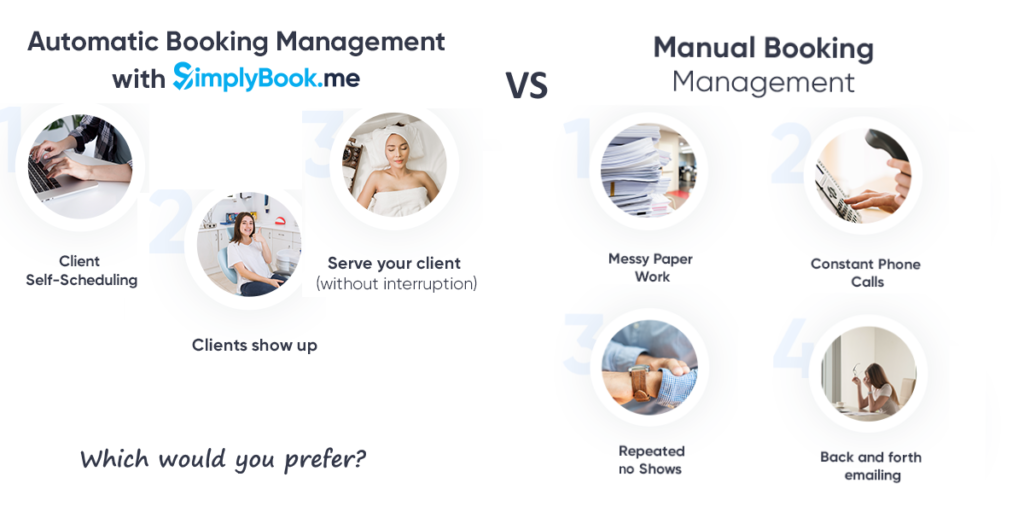 It's a common theme amongst many business owners and solopreneurs that they spend more time managing the business than they do on the services they provide. For some, it's a choice between reducing clients or working into their home life.
Our Business Solution:
Our online appointment booking system gives you the freedom to allow clients to book online whenever and wherever they like. That means you no longer have to spend as much time on the phone or answering emails. If you need to ask questions before you can approve an appointment, the Intake Forms feature can deal with that for you and will save the data to the booking details.
While letting an online system deal with your appointment bookings, you can also arrange schedules for other staff members. Schedule working hours, holiday times, and even ad hoc special days, directly on the system. Your appointment availability will reflect the presence or absence of any specific staff member. Our appointment scheduling system can integrate with an individual's private calendars to ensure there are no double bookings.
So that's staff and clients all scheduled effectively. Do you also want to create a specific schedule for the services you provide? Yes, you can do that too. Every service you list on the system can have its own availability schedule whether it's mornings, afternoons, or evenings only, or maybe you have a two-hour slot in the morning and one in the afternoon. How you schedule your services is entirely up to you. 
Problem 2 – Professional website design is so expensive, and I don't have the time or skill to do it myself.
Website designing is a skilled business, and if you plan on doing it yourself, it can be time-consuming too. In the end, you might not get the professional online appearance you want to present to your customers.
Our Business Solution:
For our booking system users, we have over 15 beautiful website templates. They are all mobile optimised and fully customisable to your personal preferences, brand identity and colours, and expansion requirements. 
If you already have a website, and still want to link the booking system through it quickly, all of our booking widgets are also fully customisable. 
The benefit of using our templates is that you need not do any coding at all (unless you want to), and we know that the booking system is at the heart of the design functionality. 
If you don't have a website, or you rely primarily on social media for your online presence, you can customise your booking website to include everything that a business website could need to promote their online existence. You can add extra pages for whatever you wish, a Blog or News page, About Us, and a photo gallery.
If you want to go all the way, you can purchase an appropriate custom domain name and attach it to your booking site. 
Problem 3 – There are so many aspects to manage and analyse. I want everything in one place so I don't have to use multiple tools or duplicate my work.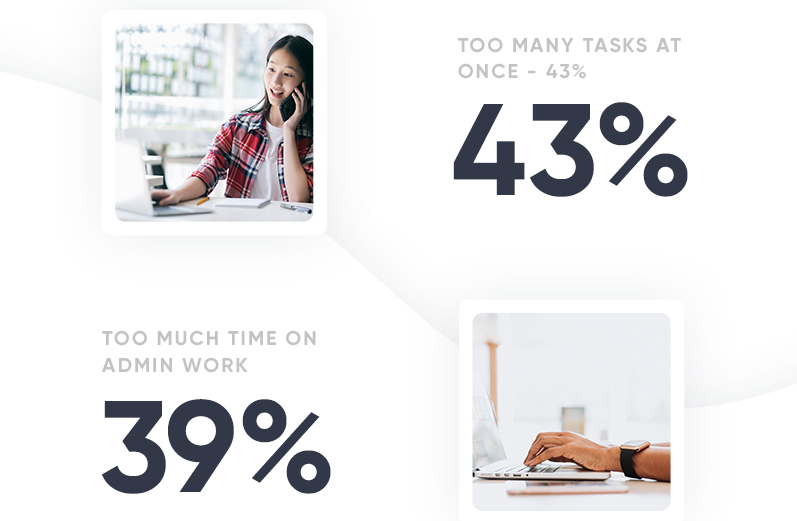 Have you ever had to duplicate your schedule, tax, or clients' details for different pieces of "time-saving" software? It happens a lot. While there is no single tool that can manage the entirety of your business needs, you can find the next best thing. The device that can do MOST of the work, and ALSO has excellent integration with supporting tools, is the one you want.
Our Business Solution:
Our system allows you to manage all of your frontline business management and analysis from a single comprehensive desktop interface. You can access performance metrics and monitor daily schedules from a single page. Also, the Mobile Admin App, for your phone or tablet, lets you keep track of your business and clients while you're on the go.  
While daily management is important, you also need to analyse weekly, monthly, and even seasonal data to ensure you're getting the most out of your business and your staff. Our reporting system collates all of your bookings and allows you to analyse service provider productivity, service popularity and profitability. You can even keep track of your sales revenue and taxes, the number of cancelled and rescheduled appointments, and your no-shows.
If your business operates over multiple locations, you can also manage the services, staff and resources across alternate sites, all from your dashboard.
Anything that we can't do (no one can do EVERYTHING), we know who can. That's why we have native integration with video conferencing software, Google, Facebook and more. We also have Zapier assisted connection with thousands of other programmes you might use. Instead of duplicating work, simply integrate it with your booking system.
Problem 4 – My clients expect so much more than they used to, both online and offline. How do I offer a better experience to my clients?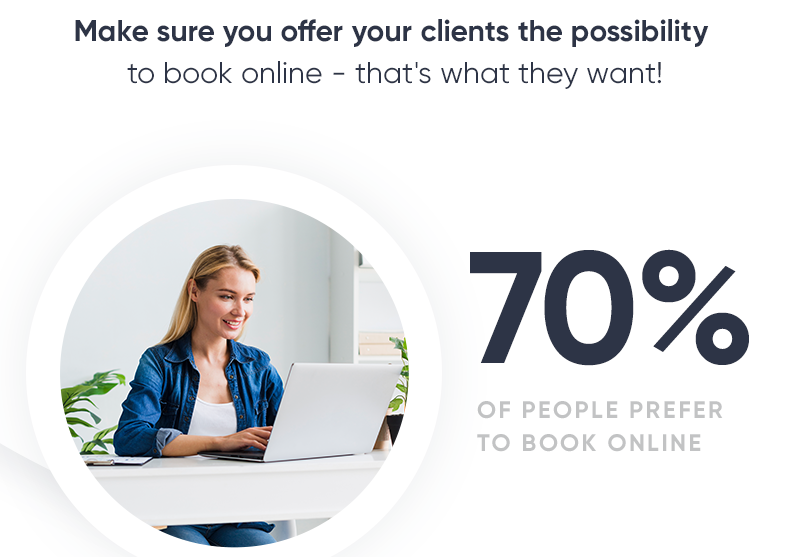 Everyone seems to expect more these days, whether that's immediate responses to appointment requests out of hours or a better online experience. The business that provides clients with these additional requirements is the one that will win the most clients.
Our Business Solution:
The very act of allowing clients to make their appointments online and immediately is a step in the right direction. When you add the ability to cancel and reschedule at the clients' discretion (subject to your terms and condition) you improve the client experience even further.
Keeping in contact with your clients through automated reminder messages and book soon notifications (some people need reminding their next appointment is due), either by email or SMS, is another way to enhance the customer journey. Automated email notifications are the default communication method of the SimplyBook.me system. However, you can also buy SMS credits with which you can send SMS messages to customers with busy schedules or limited access to email. Not everyone is always in WiFi range.
Being able to pay online is another example of clients wanting more. Conversely, so is the ability to make offline payments, such as wire and bank transfers. Our system allows you and your clients both options.
Often flexibility and accommodation are the key factors that influence the client experience.
Business Problem 5 – I need to increase my sales and revenue, without increasing costs
This need is a common theme for service businesses everywhere. Providing a service usually means having someone available to provide it. Increasing revenue without increasing resource costs is the difference between a company struggling and thriving.
Our Business Solution:
When you provide a service, there are often associated products you can sell to enhance the experience and maintain the benefits until their next visit. You can list products for sale in tandem with your services. 
To significantly boost revenue against your costs, you can also implement service add-ons. These add-ons increase the cost and value of service to the client but require very little expense to your business.
Another revenue improvement method, available within the SimplyBook.me system, is to sell memberships, packages and gift cards. Memberships and packages create an incentive for a client to return. So many clients visit once or twice and then never come back, give them a push.
With our Integrated POS system, you can keep track of all online and offline payments through your dashboard, whether the client booked online or walked in at a quiet time.
Online payments at the point of booking are another way to improve revenue. By requesting payment in advance – even if it just a deposit – you reward your clients to show up. 
Problem 6 – I need to market my business across multiple channels, but it's just so time-consuming to do all of them.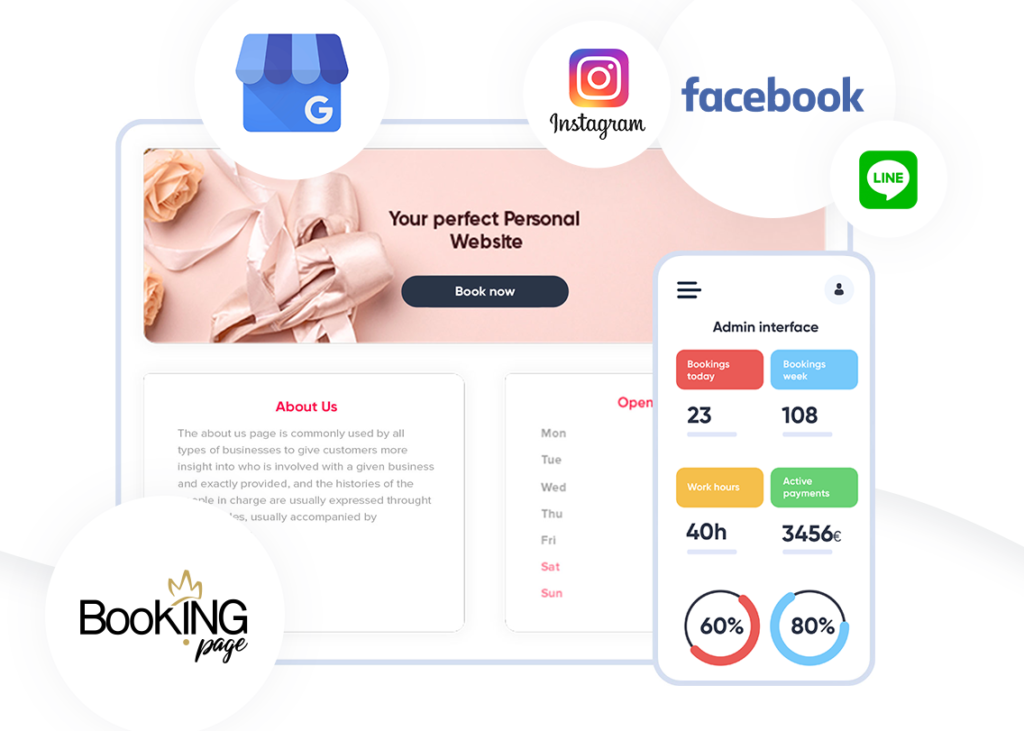 Like having too many aspects of your business to manage, keeping track of all social media, search, and marketplace channels can be exhausting, and it takes up so much time. Time better spent with your clients.
Our Business Solution:
We know that marketing and spreading the word about your business is important, but we like to make things even easier. Native integration with Facebook and Instagram allows you to connect your SimplyBook.me booking system to your business Facebook and Insta profiles. If someone likes a post or a picture you've posted, they can find a link to book your services right there on the platform (or even the post if they're on Facebook).
We did the same with Google, too. Connecting the SimplyBook.me scheduling system with the Google Business function, and the reserve addition, means that your clients can book directly from a local Google search page – they don't even have to click the link to your booking website.
We don't like to leave anything to chance, w, so we created a global online booking marketplace, Booking.page. We automatically list every client business on Booking.page, unless you ask us not to.
Okay, you need to write posts and snap a few cool pictures for your Insta account, but you do that anyway. Integration with Facebook & Instagram, and Google (the two biggest social platforms and the greatest search engine) means you have so much more reach, and every booking will all go through your booking site.
All of this means significantly improved SEO and online visibility – everyone wants that!
One-Stop solution, we're getting there
We know we can't do everything for your business, much as we would like that. However, we can come close to providing you with as comprehensive a system as possible. Our inspiration comes from the needs of our clients. If you need it, we want to include it in our scheduling and business management system, if it's possible.
We know that the business environment is constantly changing. As a business solution to most of your common business problems, we have to adapt to your needs. And that exactly what we keep doing.