February Newsletter: Resources, Rescheduling, and the Return of the App
29/02/2020
1282
0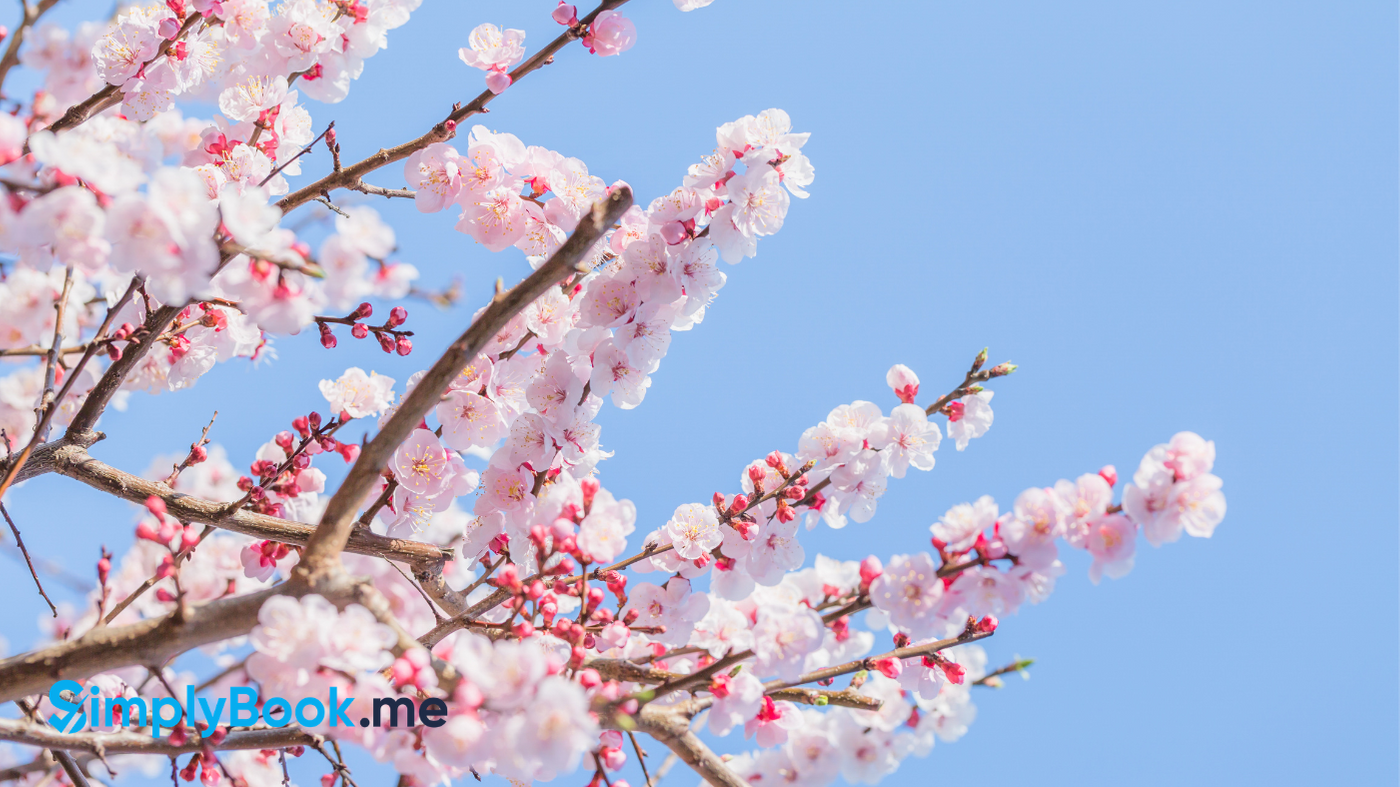 This post is also available in:




Another busy month of new developments and releases has passed. Along with resources, rescheduling and mobile apps, we've added a new theme, new functionality for Zapier integration and created a Marketing suite for easy access. There's something new for everyone this February, which of the latest releases have you been awaiting?
Keep reading to discover all of our new releases, and what they can do to help simplify your scheduling, marketing, and business management.
What's hot from SimplyBook.me in February?
It may be the shortest month of the year, but that is no excuse for coming up short on new developments and updates.
The Mobile Admin App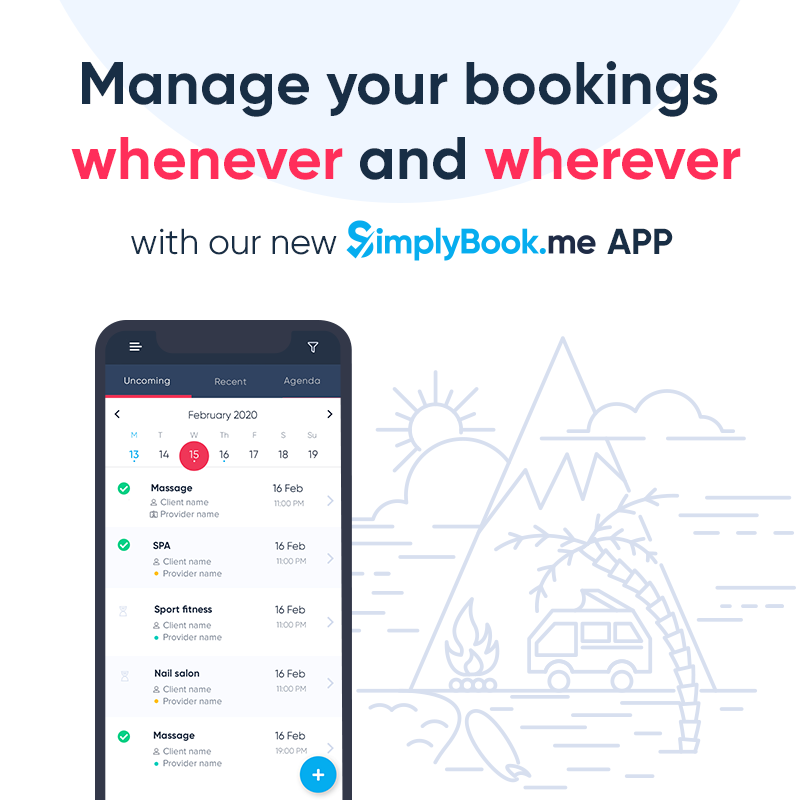 If you've been with us for a while, you might remember that we had an app several years ago. Since then, many of you have been asking us to bring it back. Well, it's back again, but completely redeveloped.
Since the initial beta releases for both Android and iOS, we have made some minor fixes and both versions have been fully released now. You can download them from Google Play or the App Store, or you can do it directly from your admin interface.
This release of the mobile admin app comes with the following functionality:
Calendar, with the daily, provider, and service views available
List of bookings, with different filtering options
Creating and Editing Clients entries
Creating and Editing bookings. The booking process will include the following plugin functionality:

provider locations,
services categories,
accept payments,
approve bookings
product add-ons
memberships (when making bookings)
additional fields
service add-ons

Security features: 2-factor authentification, HIPAA
This release of the app is now also available in French, German, Japanese, Russian and Ukrainian. If that doesn't work for you, we have Spanish, Portuguese and more supported languages coming soon! If you have a supported language on your mobile device, then the translation will be applied automatically.
Related Resources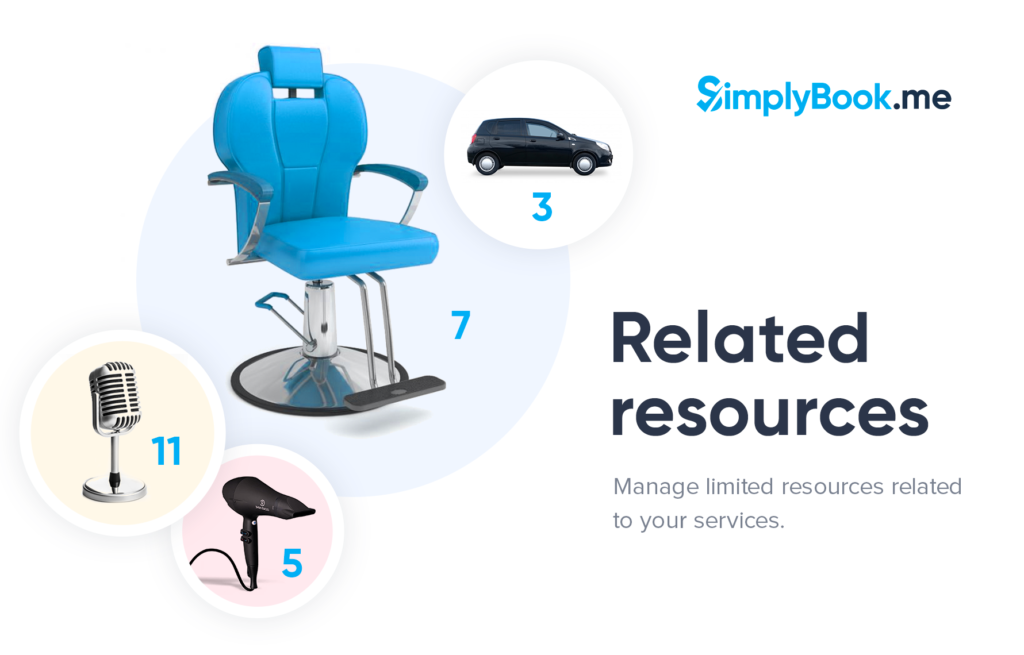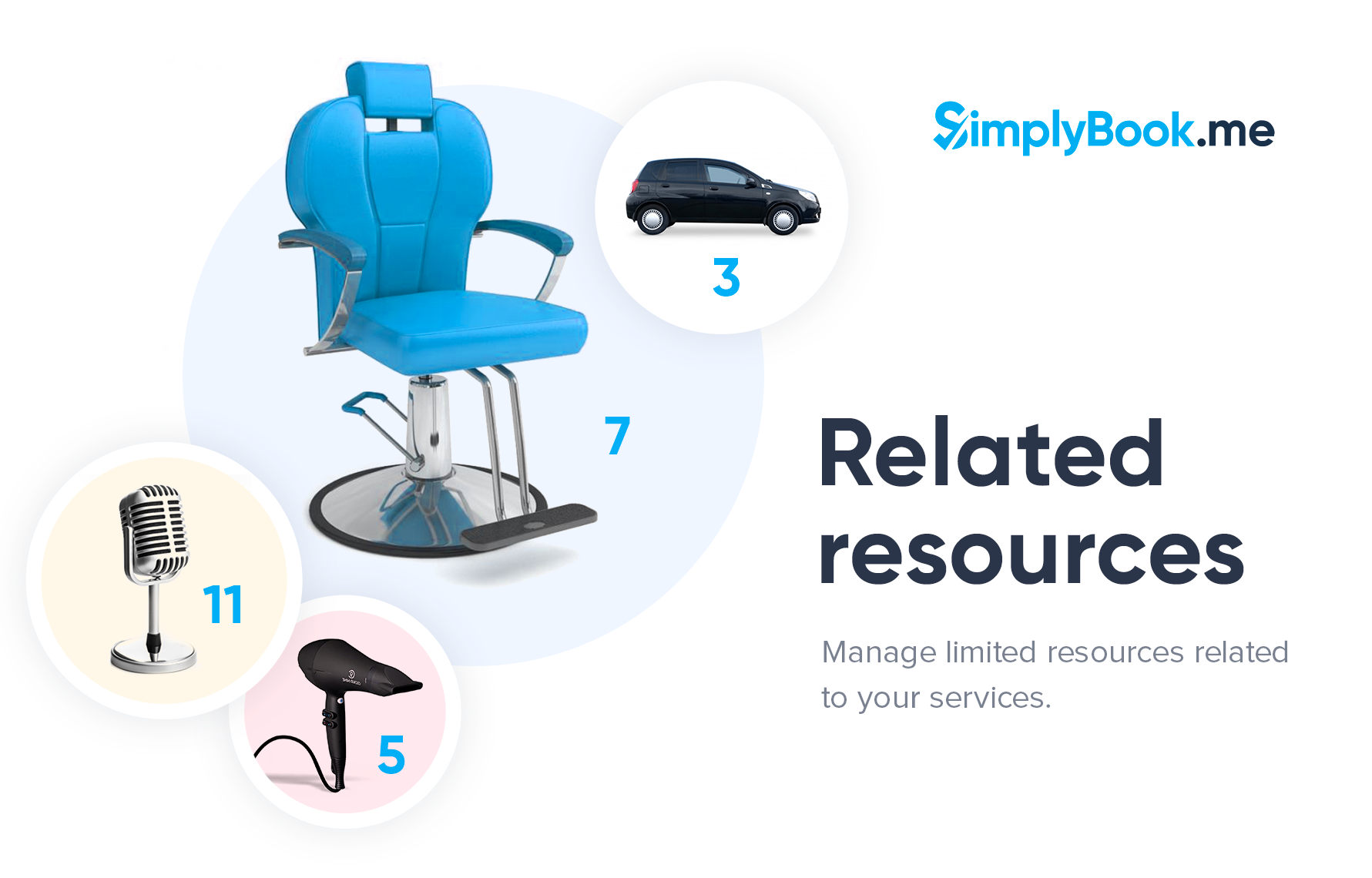 The new related resources feature is one for which many of you have been waiting. Making sure that you have the resources, staff, and space to accommodate your clients is important for the smooth running of your schedule and business. While it's been possible to impose a limit on specific services, or a blanket restriction on simultaneous bookings, using the Limit Bookings feature, it hasn't been as easy to allocate resources that have multiple uses. This is where the Related Resources feature becomes an important addition to the booking system.
When you have multiple staff and a range of services that use an assorted collection of resources, you may need to restrict the booking for certain services depending on certain items being available.
If you run a beauty therapy business or holistic treatment centre, you will have several fully trained therapists available. For the sake of this example, we'll say that you have eight therapists. But you only have four treatment tables. While it is unlikely that you'll have more than four clients requiring a massage all at the same time, it's not so unexpected that you might have two massages, a full body wax, and reiki session at the same time. That's all four of your massage couches occupied. You have four therapists still available, but they can't perform any services that require a client to lie down. By assigning the limited resources to a range of services, when the supply is no longer available, neither are the services that need that item(s).
Client Rescheduling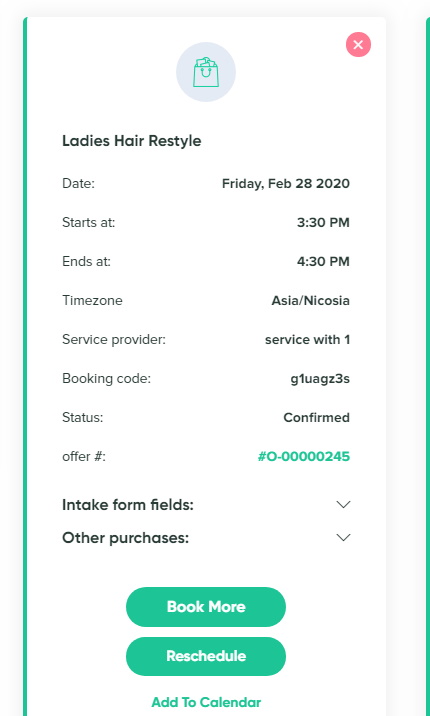 Rescheduling happens, but if you have an online booking system to save time, effort and money, surely you want to make the most of it.
Now, you can let your clients reschedule their appointments without calling or emailing to ask "can I?" or "do you have a spot free on..?"
You can include a "reschedule" link on the booking confirmation, or they can reschedule directly through their login on your booking website.
There are some restrictions to letting a client reschedule their appointments. Clients can only change the date and time of their booking. If they wish to change the service, they will need to either cancel and rebook or ask you.
Zapier – New Invoicing triggers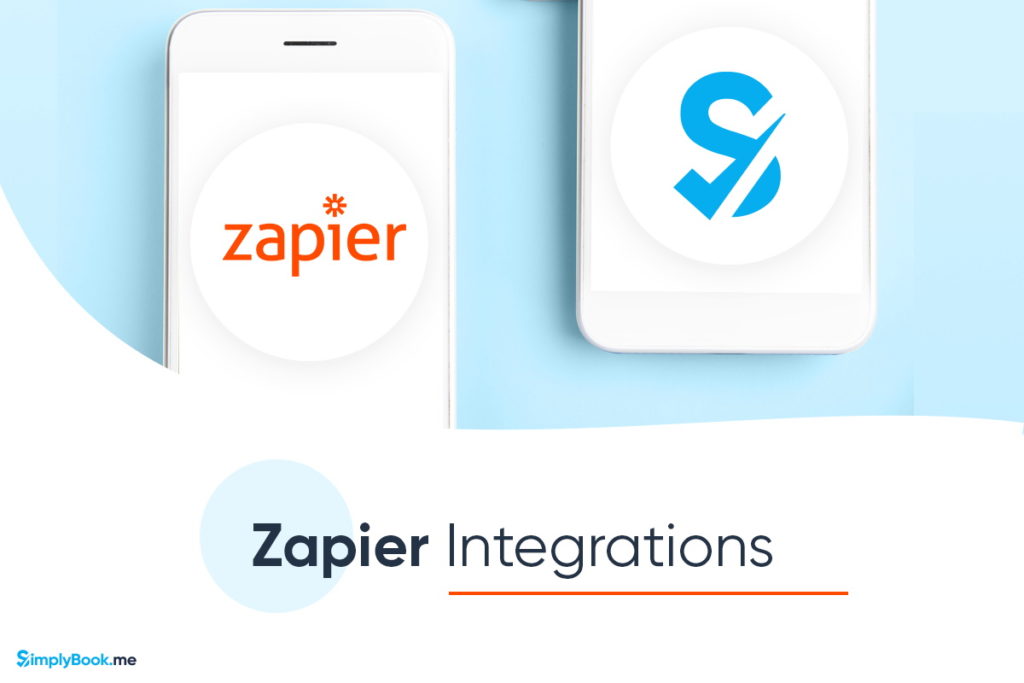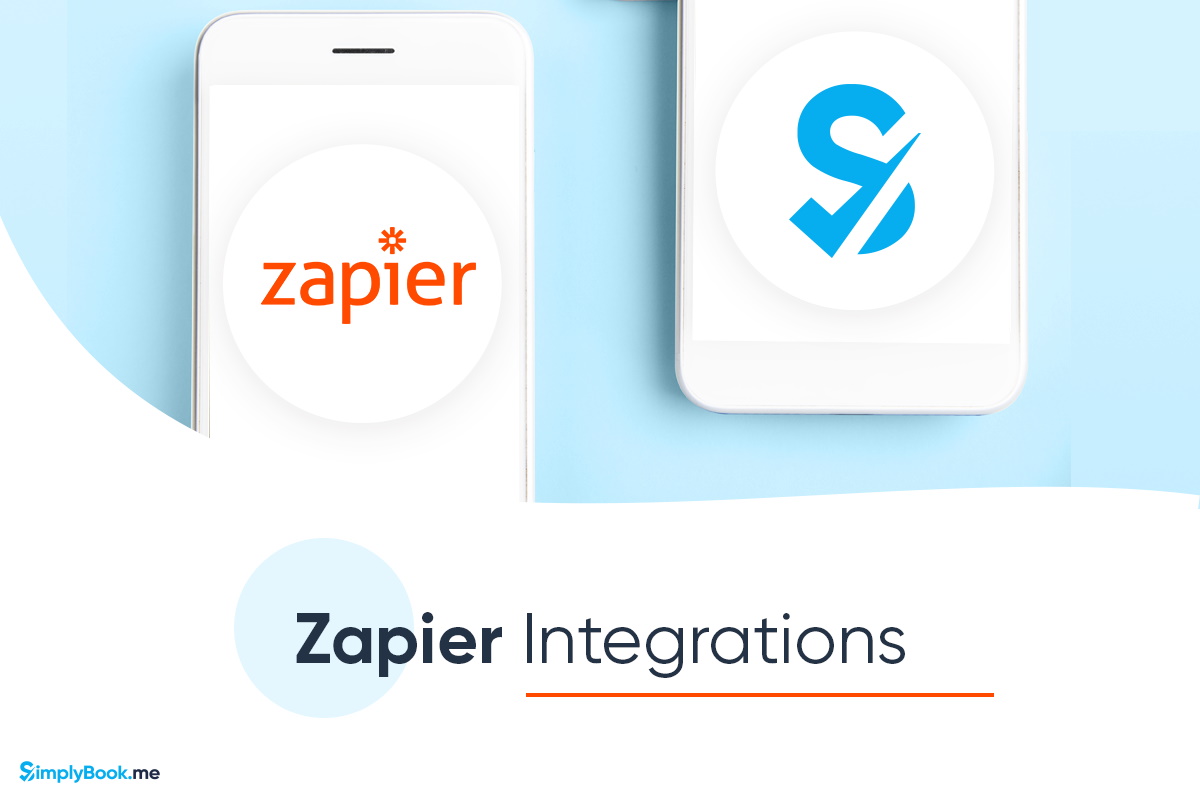 Zapier has been with you and us for a long time, but this month we added a couple of new triggers to the SimplyBook.me Zapier integration. With triggers for "New Offer" and "New Invoice", SimplyBook.me allows the simple transfer of invoicing data from SimplyBook.me to some of the most popular accounting software on the market.
It's just another automation that makes your business management that little more streamlined and efficient.
Dainty Theme
While we already had one minimal theme, minimalism in website design is popular enough to support the need for a different one. The new "Dainty" design keeps all of the accessible viewing and navigation from Minimal, but everything fits on the screen nicely, in a very compact and tidy manner. I admit this is my favourite so far. Is 'Dainty' the theme you've been waiting for to really make your booking page "pop"!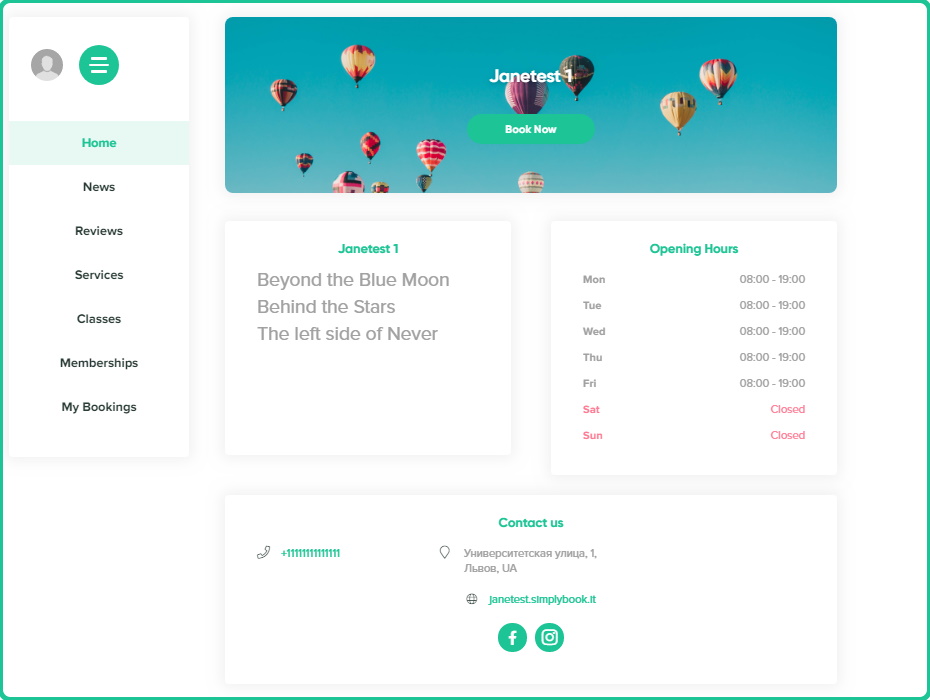 I don't know about you, but I love the way it makes all the important information fit "above the fold". I love the clean and simple menu down the side too.
Marketing Suite Tab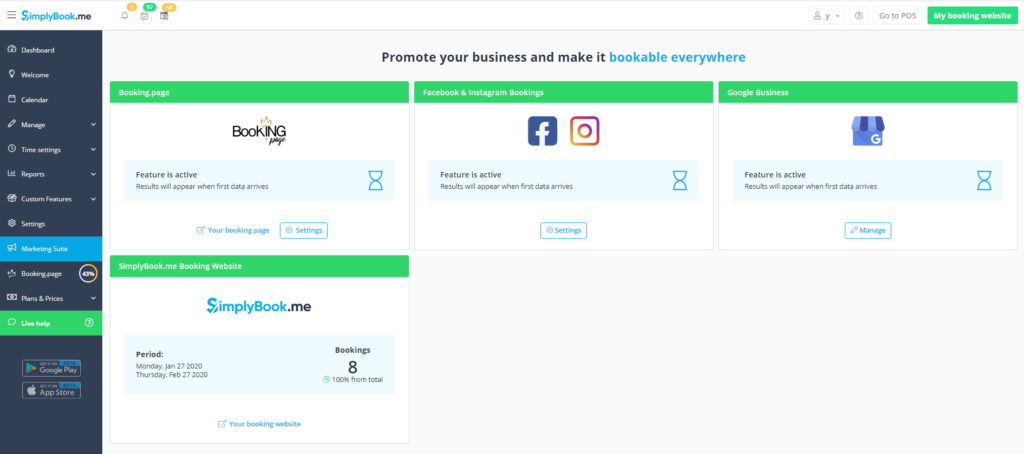 Marketing your business is just as important as the services you provide. With that in mind, we have collected all of the marketing tools that you can apply to your booking system onto a single "marketing suite".
If you want to make your booking system available through multiple channels, you can set up your Facebook & Instagram, Google Business, Booking.page and your booking system from this page.
In addition to multichannel access for clients, you can also choose from features that make marketing your business a breeze. Features in the Marketing Suite include:
Coupons and Gift cards
Line Bot (Asian market only)
iBOB – a voice bot that can answer the phone for you
Instagram photo-sharing on your booking website
Book Soon reminders
Review management tool
Wait, your payment didn't go through!
Has this ever happened to you and your clients? They booked and tried to pay, but it didn't go through? What happened to their booking? One of our updates this month has been to introduce an automated notification that lets clients know when a payment has not gone through. If a booking confirmation depends on receipt of payment, you need to inform your clients when their payment fails. No one likes to find out that they can't attend a seminar or see their therapist because of the payment time-out.
What's on the cards for March?
What do we have warming up in development?
New Notification Interface
Whether you send notification or reminders via email or SMS, you might have noticed that we have been adding new notifications, reminders, and customisation options for many of our features. Rather than navigating through every feature with notification options, we are collecting all email and SMS notification templates in a single interface. If you have a lot of services and use the flexibility of the customised notifications, it will be a much simpler task to make adjustments and customisation when everything is in one place.
That's not to say that you won't still be able to make adjustments to your notifications from within the specific feature management. We want to make it easier to access your notifications en masse, if necessary. Sometimes you have to make blanket changes to ALL notifications, and it will be easier if you can get to them all in one place.
That's all for now, folks!
How did we do, was there something here that you need? If there wasn't something this month, don't worry, we still have plenty of updates and super-cool new features to pull out of our hats.
With so many new features we understand if you need a hand with any of our new features or you want to find out more, you can always check out our Help Centre for detailed instructions. Do you have questions? Our live chat support team is (almost) always around to talk.