Facebook and Instagram Bookings – Two more channels from SimplyBook.me
12/11/2019
18031
5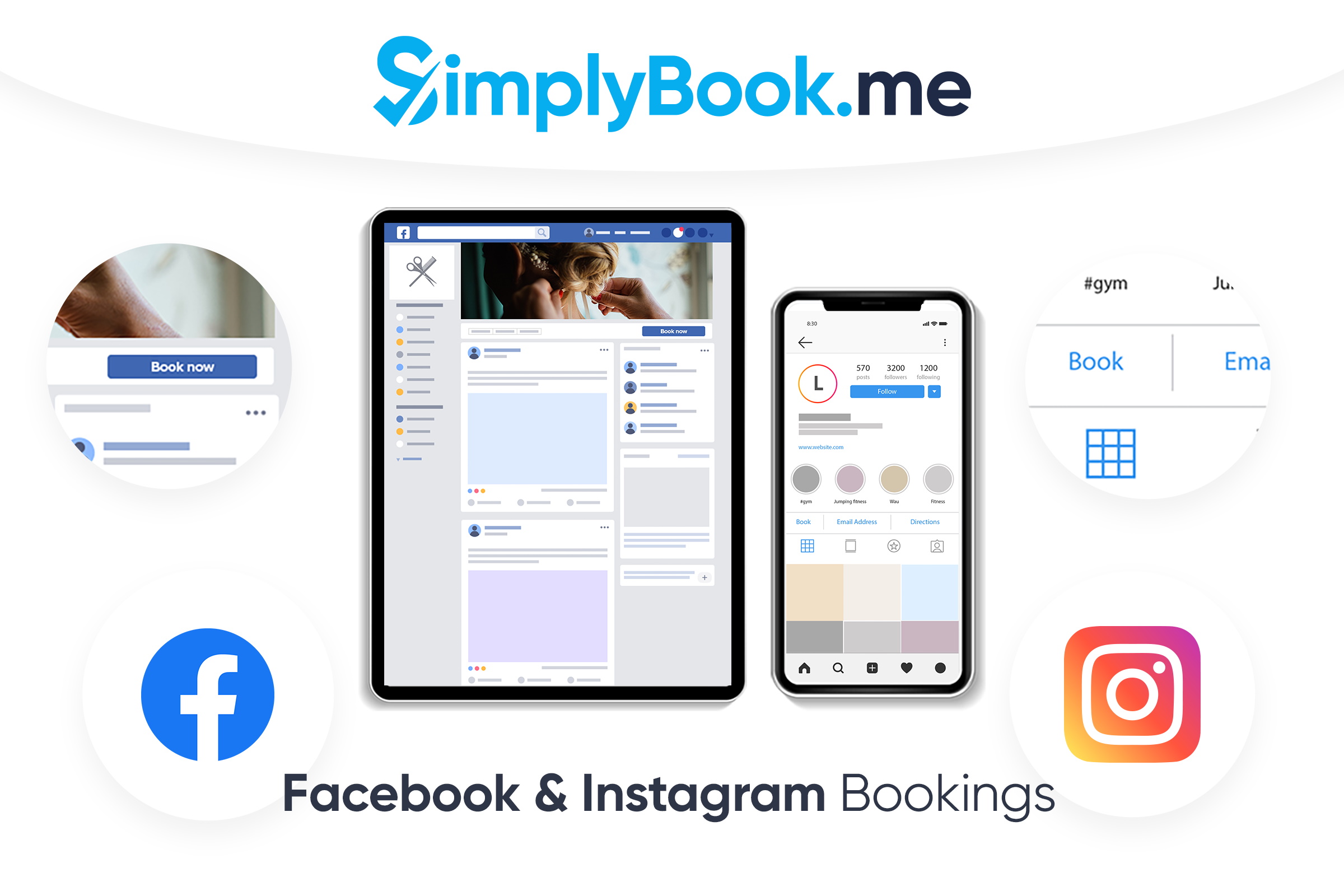 This post is also available in:



If you haven't already heard, SimplyBook.me has gone live as a Facebook Inc. developer partner. That means you can enable both Facebook and Instagram bookings with a business service that links to your SimplyBook.me booking website.
We've had the Facebook widget and Messenger chatbot for a while. Still, now, the functionality is part of the Facebook and Instagram programming, and you can allow clients to book with you directly from your business Facebook page or Instagram* profile. That's adding two more channels for your clients to find you, and book with you.
*It's important to note that you will need an Instagram business account to implement booking from your profile. If you don't have a business Instagram, check out this article on how to change your account type. Not to worry, it won't cost you anything.
What you get with Facebook and Instagram Booking
With the Facebook and Instagram Booking feature, you can link your Facebook and Instagram profiles to your main booking website. So, yes, you had the Facebook widget, but that didn't capture your Instagram followers.
You add a "Book Now" button to your Facebook page and a "Book" button Instagram profile. Yet again, capturing Instagram followers along with your Facebook fans. However, now you can add a "Book" call to action button on your Facebook posts. If you want to get people booking with you, give them an immediate push to act.
You have services that you want to highlight, and you have a promotion ready to launch. This new launch displays a small scheduler on your Facebook Page that will invite your clients to book your highlighted services without even leaving social media. Don't worry; you can always change your highlighted services according to what you want to promote and what is most popular, at any time.
Okay, so we've had the messenger chatbot for a while now. However, when you use the Facebook and Instagram Bookings feature, you can automatically send a link to your availability schedule, as soon as a client mentions a time. Alternatively, you can manually send the schedule availability link by clicking the calendar icon in the Messenger window.
How does it link with SimplyBook.me?
If you sign in to your SimplyBook.me dashboard and go to Custom Features – New you'll find Facebook and Instagram Bookings. Enable it and go to the settings button where you'll connect your SimplyBook.me account with your Facebook page.
When you click "Connect with Facebook" you'll be redirected to Facebook, where you'll confirm your account and the pages on which you want to display your service bookings. Confirm that you want to allow SimplyBook.me to Manage Pages and Enable Business Features.
The last page will show a "Done" button, and if you have an Instagram Business account linked with your Facebook page, it will also ask if you want to connect that profile, too. Toggle the switch to yes or no, and click "Done".
Now, you have a "book now" button on your Facebook page and a "Book" button on your Instagram. You can also add a CTA "Book" on your Facebook posts, and display a mini scheduler on your Facebook page that will allow clients to book your highlighted services without leaving Facebook.

How will clients book through Facebook & Instagram?
The "Book" button on Instagram will redirect your clients to your main SimplyBook.me booking website, as will the "Book Now" button on Facebook. I should note here that the Instagram Button will only work on mobile applications, but where else do people usually check their Instagram accounts?
If your clients want to book through Facebook Messenger and specify a date/time, then it will trigger an automatic link to your main booking page. Alternatively, if your clients want to book one of your highlighted services, they can do that without being redirected.
If clients see the mini scheduler and click on "See More", this will also redirect your clients to your main booking page. There are detailed and easy to follow instructions and diagrams in our Help Centre that will walk you through it, step by step.
Everything will come through to your main booking page and your schedule system, whether a customer books through the scheduler on the Facebook page, or is redirected to your booking page.
How will it help my business?
The more online channels you have that increase your web presence, let customers find you, enable clients to book appointments with you and enhance your brand awareness and reputation, the better. Having channels that appeal to different sections of your client base and best reflect your business offerings and brand is also crucial.
If you already use the SimplyBook.me booking system, you have at least two online channels open for your online bookings and web presence; your SimplyBook.me booking site, and a listing on Booking.page. You may have taken advantage of the widget integration on your website and Facebook, which opened up two more online channels.
However, you've never been able to use your business Instagram account to add to your online appointment scheduling network.
Now, when your Instagram followers see something that they like, they have a button to click that will take them to your booking page that will let them achieve it.
The Verdict
Whether you already use the SimplyBook.me scheduling system or if you are "simply" thinking about it, you might want to consider just how many channels you can reach through your existing booking system. The more channels you have open to your customers, even if that includes telephone, email and SMS, the larger your reach into the community you want to attract.
Visually attractive and descriptive business features will benefit significantly from letting clients book from their Instagram profile.
Think of the possibilities… A beauty salon that makes "wedding hair" posts. Imagine the thousands of brides-to-be that scour Instagram for the perfect "up-do". Maybe a cosmetic dentist that shows before and after pictures of the client's teeth on Instagram. He could be buried in clients if they can go straight to booking an appointment from the profile page on which they found the image.