Beyond Online Scheduling – What is SimplyBook.me to your business?
28/08/2020
1681
8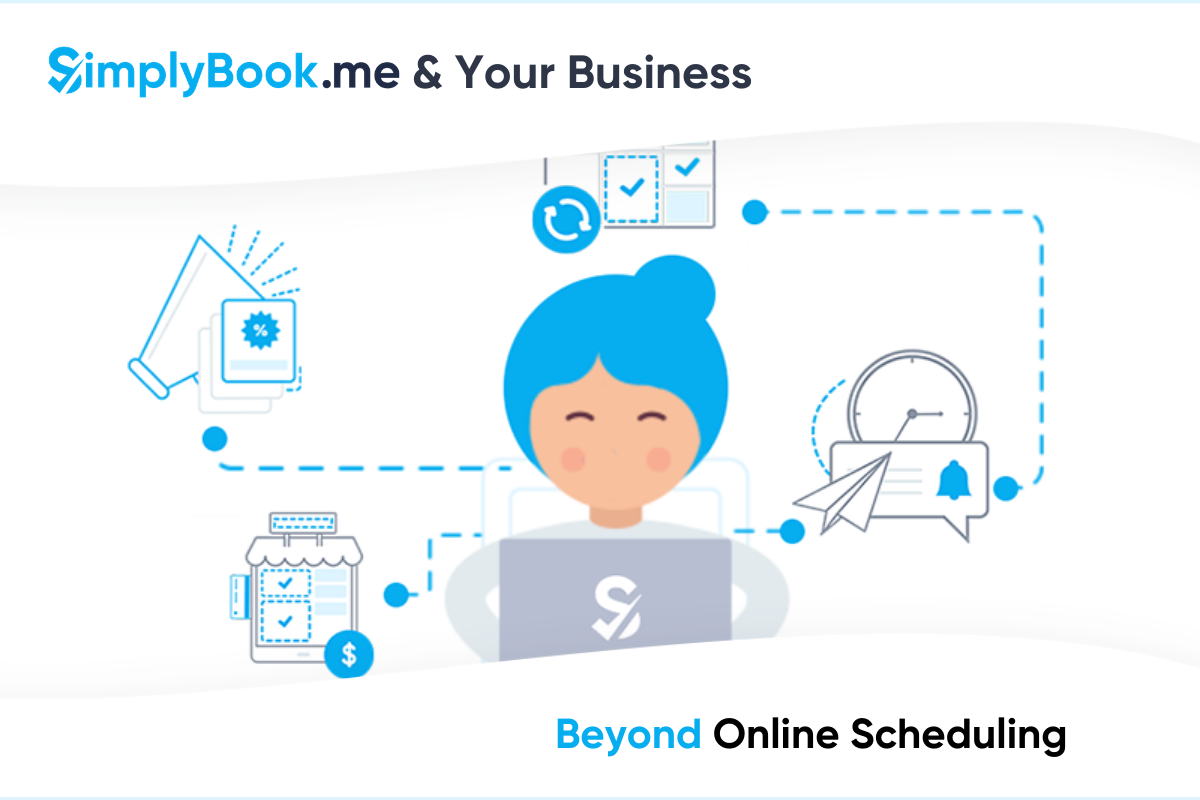 This post is also available in:



If you've been searching for an online scheduling provider, then chances are you've come across the SimplyBook.me online booking system. In the realms of online appointment booking, SimplyBook.me is up there at the top of the list. With the online scheduling system at the core of its platform, the customisation through design, features, and settings makes it ideal for uses from driving lessons and yoga classes to cleaners and schools.
However, in the years since it's beginning, SimplyBook.me has become much more than a scheduling system. It has become a functional one-stop business management solution with a broad range of streamlining add-ons and even enhancements to the core system.
So, Beyond Online Scheduling…
Online Presence with SimplyBook.me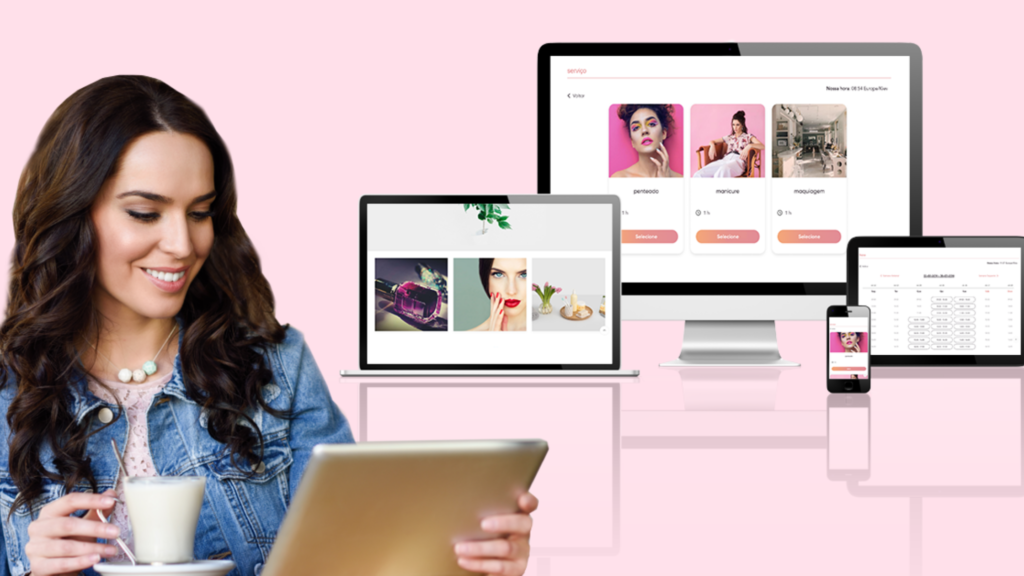 What use is an online booking system if your business doesn't have an online presence? Almost everyone searches online for service, even if they just want contact details, so without an online presence, your business will not find any traction beyond your immediate circle of clients. That is an easy fix because the SimplyBook.me online booking system is a website in itself. Details about your company, extra pages for additional information, talk about your business, create a blog and a photo gallery.
Even better, it's customisable to your brand and company identity with different theme variations, colour schemes, images and logo uploads. IF you want to make it completely customised, you can even assign a custom domain name to the website.
If you don't already have a website, and we know some businesses don't, the SimplyBook.me system has one for you. 
"Business cannot grow by social media profile alone."
Simplified & Enhanced Business Processes.
While online scheduling saves a lot of time in answering calls and responding to emails, scheduling alone doesn't save you all the time with the other aspects of your business that take time away from your clients. 
Factors such as reconciling revenues with your online bookings and also matching up deposits with last payments are extra pieces of the business owners lot that take time away from the business of providing services. So when your booking system can accept fees and deposits, and has an integrated point of sale system, you eliminate any need for reconciliation between separate systems. 
Other business enhancements that could help you simplify and streamline your processes are login features such as Client Login – a requirement for booking an appointment – and Log in with Facebook. Login with Facebook will give you access to the client's public profile details. If you're an established business with an extensive client list, you probably want an easy fix for uploading your clients' information to the booking system. SimplyBook.me is already there with the Import Client List feature. 
Marketing Across Multiple Channels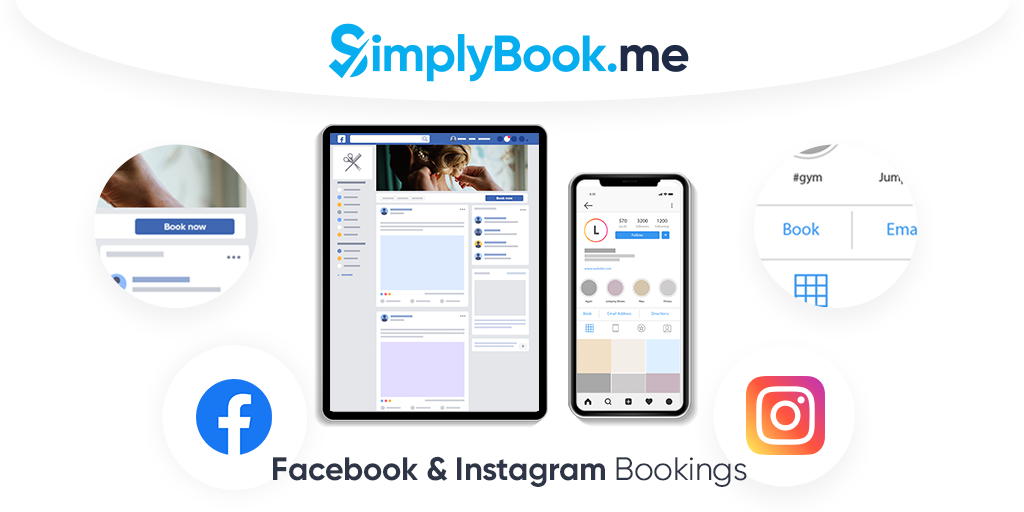 No business gets anywhere without a forward-thinking approach to marketing. While you want to market your business across as many channels as possible, part of attracting new clients means reducing the number of clicks and navigations points. With booking buttons on Facebook and Instagram business profiles, you take your clients directly from where they found you to the booking system. 
If you use Facebook Ads, you can even place a "Book Now" button on your paid posts to drive traffic to your business.
You can do the same with your Google Business profile too. By adding a link to your booking website, you take clients directly from the search page to a booking platform. If you're in a qualifying area, you can even add booking functionality onto your Google Business profile – super slick!
However, marketing isn't just about adding channels to your booking stream; it's about communication with your client and your target audience. While you already have your notifications to confirm bookings and remind your clients they have an appointment coming up, you also need to keep in touch, even when they haven't booked an appointment. 
Bulk mailing to all of your clients using the client report is a great way to send out monthly updates, promotional messages or even a birthday month discount voucher. You can set up automated "Book Soon" notifications to send after a specified amount of time following the last session. Don't let them forget their next appointment is due and remind them that your business is the one they want to come back to.
Of course, one message you can't forget is the Review Request. The management plugin will allow you to request, manage and post any reviews form your clients, after their booking. 
Business Performance Monitoring and Analytics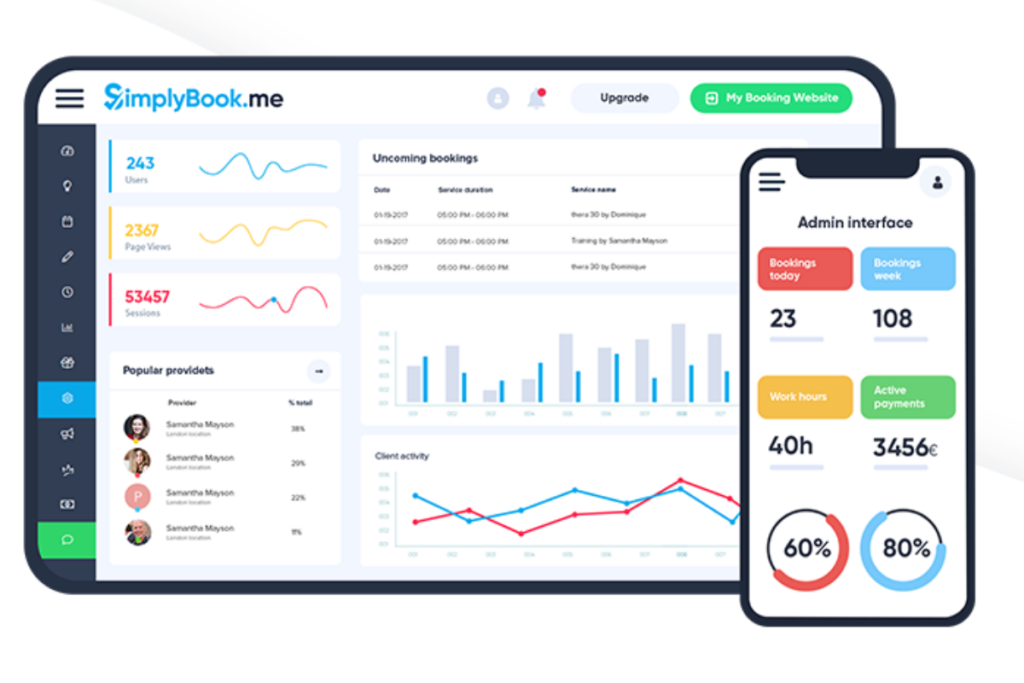 Other than keeping your business bank account in the black, how do you monitor if your business is performing well? SimplyBook.me might be an online scheduling system, but in the right hands, the information gained from that scheduling is the perfect monitoring tool for checking the popularity, frequency and profitability of your services and providers.
With over a dozen reports that are all exportable to excel, you can monitor your revenues, services, clients lists, and even your sales and tax liability.
Let's not forget that your bookings and revenues aren't the only things you need to monitor. What about your site visitors and your advertising performance?
While we're speaking analytically, the visitor counter feature lets you see the number of unique visitors to your site, while the reports will tell you how many clients booked in a particular period. Regarding your site activity, you can apply Google Tags to your pages, and use Google Tag Manager.
Also, if you use google ads and analytics, you can link your site with your Google Analytics account too. There is some fabulous Google integration here.
Functionality and Inter-System Connectivity
Wouldn't it be wonderful if one piece of software could do everything we ever wanted? It sounds amazing, but it will probably never happen. Life makes fools of us all when we think we have things sorted. However, if we're lucky, we can have the separate systems we need with excellent interconnectivity and communications.
So, while SimplyBook.me is an ideal scheduling and business management solution, you wouldn't use it for your personal calendar, detailing your holiday breaks and medical visits. That's okay; you don't have to remember to do it manually. If you use Outlook Web or Gmail for your emails, you can sync them with the booking system. You'll never get personal and professional conflicts again
Do you have an active Instagram business profile for your highly visual services? Rather than uploading image files to both Insta and your website, why not link your Insta account with SimplyBook.me? 
If you're in Asia, you probably want to use Line Bot for your messenger based booking functions, and SimplyBook.me has full integration there too.
While every piece of software can't talk to each other, there are options for that eventuality. Zapier integration with SimplyBook.me is a one-way street, so changes made in your booking system can trigger across to other software systems, but it can't happen in reverse. This means changes in external systems can't affect your booking schedule. 
I can't leave the integration section without talking about the booking widget. The widget enables you to use all the functionality of the SimplyBook.me system while using your existing website. You can manage the backend of your booking and business management from the SimplyBook.me interface. Still, all you need to do is integrate a simple widget code into your business website. 
What is SimplyBook.me to your Business?
It's so much more than just an online scheduling solution. The booking system core of the SimplyBook.me platform links only tenuously to most of the features mentioned above. I could go on about the various components that enhance the booking process, but that would defeat the point.
For every business providing services to the public, individual clients or even other companies, there is so much more involved than scheduling the appointments. However, almost every other factor involved returns to the booking system. Whether that's marketing excellent reviews, communication with existing clients, payments for services, upselling a service or an additional product, the list goes on. If you can have a system that brings all of those peripheral needs into a single system and interface, why wouldn't you?
More features, functionality and development are happening all the time. There is always another thing to build, improve or develop. In turn, that helps you to enhance the business management and scheduling of your company.