How to Create a Childcare Booking System [VIDEO]
August 21, 2020
464
1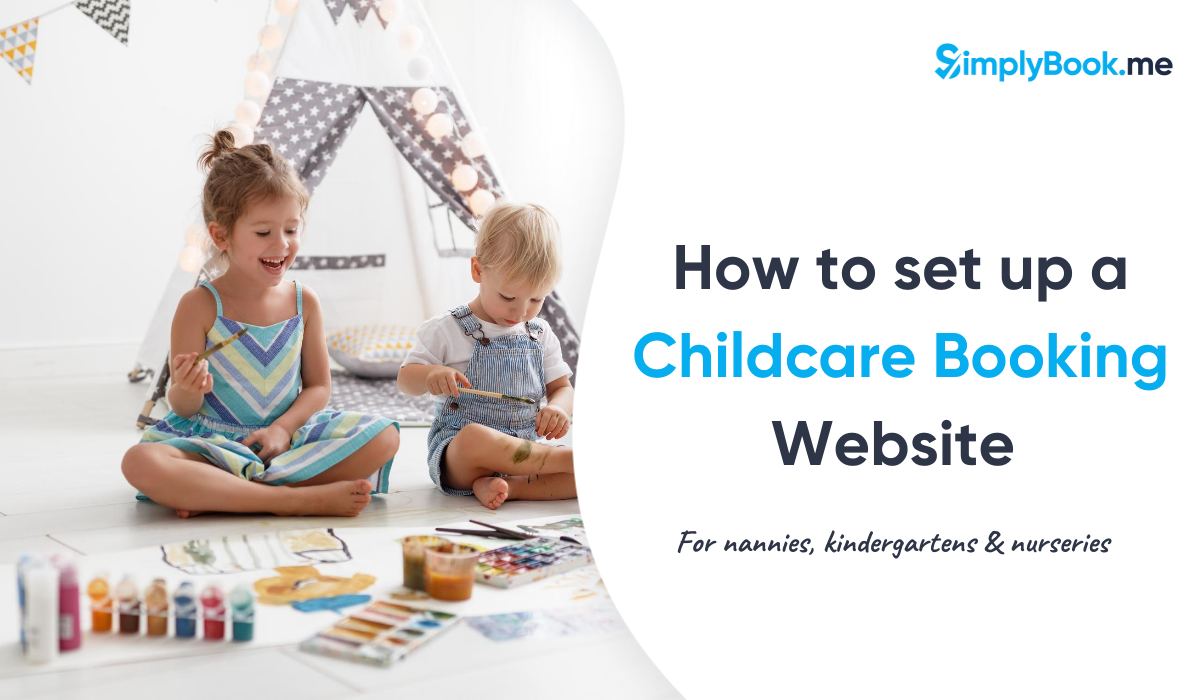 No developed economy can function properly without adequate childcare facilities. A fact that has been made abundantly clear over the past six months. Another clear indicator from the world of services is that online scheduling and appointment booking is becoming an essential aspect of choosing a provider. When you put those two things together, you find an increasing need for a childcare booking system. It doesn't matter if that is a preschool or nursery, or a nanny agency.
In the spirit of approaching the topic of childcare, today's video is brought to you by the letters K and N – Kindergartens and Nannies. The video will take you through the features and templates that could form the basis of your childcare booking website for your business.
In the demo video, you can see how we have set a childcare booking website that incorporates both kindergarten services and in-home nanny services. I'll go a little deeper into some features used in this example. Then I'll address others that might make your business management more straightforward and creating the perfect childcare booking system.
Getting Started on the Childcare Booking System
As mentioned in the video, the template we used for this childcare booking system is Skittish. If you want to see how it looks with no alteration, here it is. It's worth seeing how this booking page began, to get an idea of how easy it is to change the setup to what you see in the video.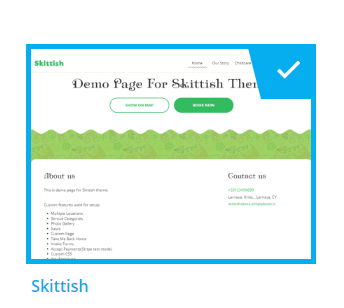 You can see from this image that it could have the makings of a fun and engaging childcare website. From the fun font to the childlike background. That's not to say that you don't want to change those things, but it's somewhere to start. Most aspects you can alter to suit your needs and make your booking website uniquely yours.
I'll start with the aspects mentioned in the video and then move on to other features that you might find useful.
Multiple Locations Feature
The video shows an example of a childcare centre with both a kindergarten and offering childcare at home.
Multiple locations might be more relevant for nanny agencies rather than fixed-site kindergartens. However, when you have various sites across a city under your brand and ethos, adding additional locations is useful for spreading your name around.
Childcare agencies and nanny collectives will find the multiple location feature very helpful when showing the operational coverage of their providers. When your services might cover an extensive region or city, travel times from one side of town to the other could be over an hour. Showing the areas that your nannies can accommodate ensures you don't have substantial travel times between bookings.
Custom Pages
The standard template allows you a space to provide a detailed description of your business. However, adding an extra page to your booking site will enable you to include additional information not related to booking services. When it comes to choosing a childcare provider, parents want as much information as possible to help them make the right choices for them and their children.
With the addition of custom pages, you can use that option to share information about the founding story of the business, your approach to childcare and the ethos of the company. Additionally, you could use these pages to create a provider profile page with information about the experience and qualifications of your childcare providers.
News/Blog
An essential part of providing childcare services for small children is keeping the parents informed of anything that will affect their child. That could entail letting them know of a blanket ban on peanut-containing snacks, changes in government regulations, alterations to opening and working hours, updates to staff members, and unavoidable closures (you know we're talking about COVID-19 here).
You can use the news feature to let parents know about upcoming events and extra activities. Moreover, you can report on their success after the fact. You can use the News feature for blogging about the day-to-day joys of being a childcare provider. Although be aware that you must keep any identifying details out of the posts.
Intake Forms & Client Fields
When you are taking care of other people's children, there is a wealth of information that they have, and you need. This is where Intake Forms and the Client Fields features will come in handy. It's important to know certain things about a child before you can take care of them and keep them safe. You need to be aware of vital information about allergies and medical conditions. However, it's also handy to know about behavioural quirks and likes and dislikes.
If you have a kindergarten or other on-site facility, it's most likely that you look after children for a long time, perhaps an entire term or full school year. Here, it is better to have the information about the child attached to the client information details, instead of each separate attendance. To do this, you would need to use the Client Fields feature, which allows you to request information from your client's parents at sign up.
Alternatively, if your childcare services are ad hoc, irregular, or infrequent, you would be better off having any pertinent details about the children on each booking. Things can change a lot between bookings. This approach is achieved by using the Intake Forms Feature.
Accepting Payments and Deposits Online
When you run a kindergarten, the chances are that you require your long-term clients to pay monthly or weekly. Rather than taking payment manually at busy times – usually pick-up and drop-off – keep all payments online. By requesting fees online, you eliminate the queue of parents waiting to pay at the beginning of the month, and having large amounts of cash on-site.
Alternatively, ad hoc and short-term childcare bookings also benefit from accepting payments online. It makes sense to request payment in full, or at least a deposit, to secure the booking. No one wants to book up their valuable schedule or travel across town for a reservation without a guarantee of payment.
It's also worth mentioning that kindergartens providing long-term services might benefit from the use of the Membership feature. By asking parents to pay kindergarten membership, it enables you to accept payments on a monthly subscription basis, which would further streamline your business processes.
Photo Gallery
Before any parent even considers using your kindergarten, they want to know how your facility looks. Adding the Photo Gallery feature to your childcare booking system allows you to add images of premises and staff for the parents' peace of mind.
It's perfectly acceptable to show images of all your premises, but be sure you avoid using pictures of the children in your care. If you use photos of the children, you will need to ensure that the parents give their consent. It's also good practice to obscure the children's faces with stickers and emojis.
Your site is as crucial as your childcare ethos, the criminal background of your staff, and their qualifications.
You can also use the Photo Gallery to showcase your childcare providers and their work.
Custom CSS
Finally, if you still have things you want to change in your childcare booking system, you can create a customised booking interface with the Custom CSS feature. It allows you to change the styles of the various elements, hide them, change fonts, colours, font sizes, and more. If you know CSS coding, you can use the browser tools to find the element identifiers and write the rules in the Custom Feature settings. If you have little understanding of CSS, you can contact customer support, and they will try to find the best solution for you.
How would you create your childcare booking system?
There you go, a breakdown of our demo for a childcare booking system, and how the various features and elements can simplify and streamline your business processes. What would you want to include in a childcare booking system for your business? You can see a full list of the features that would help you simplify your scheduling and management in our Help Centre. You can also check out the 10 most popular features for the education and childcare sector.