Call Centre Scheduling Simplified – With the Right System
21/04/2020
1144
3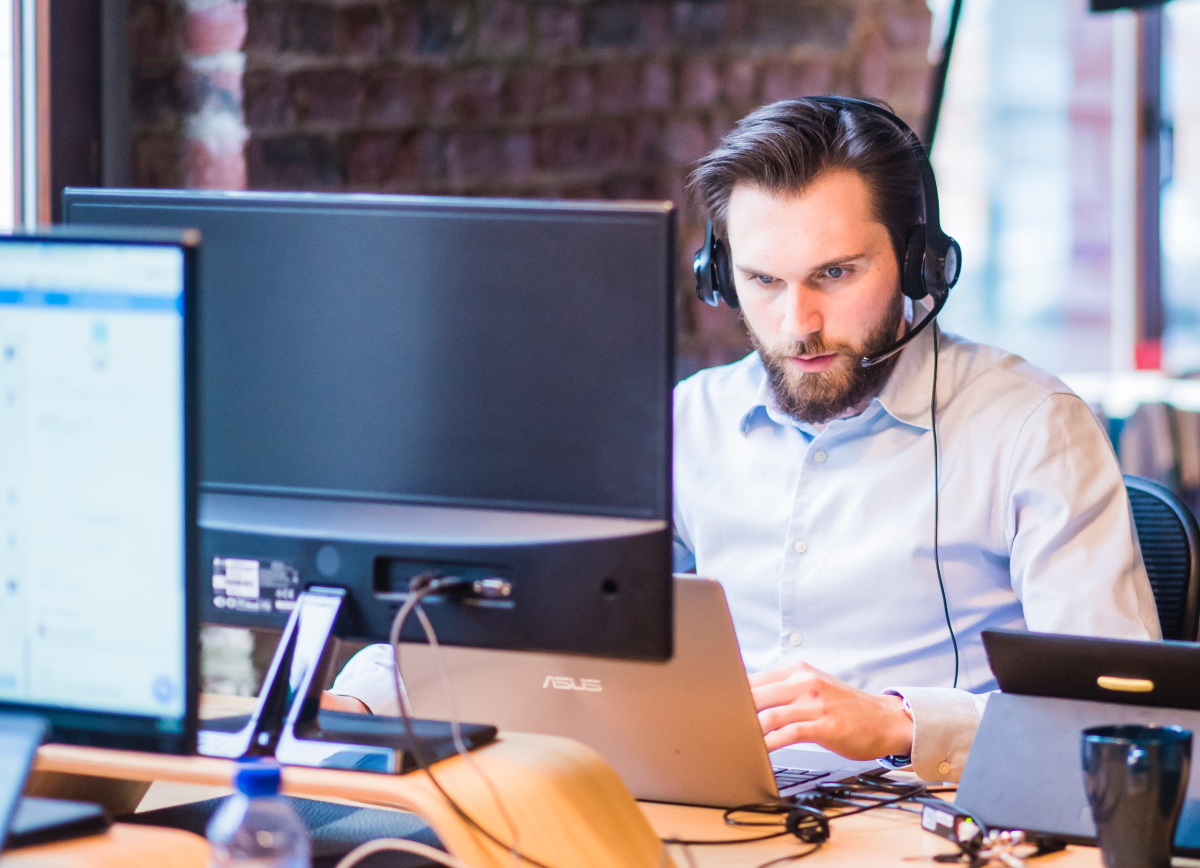 This post is also available in:



Not so long ago, call centres were the primary province of queries and complaints. Now, smart companies are using call centres to manage much more of their businesses. Operations such as online or phone consultations, on-site assistance, or scheduling widespread teams of in-person service providers. This increased use of call centres to centralise business and customer management needs a new approach to call centre scheduling.
Large companies across the globe often provide a single phone number for all support requests, sometimes utilising chat functions too. How does a call centre arrange appointments, schedule visits and cooperative support calls from a central point without access to an array of synchronised calendars for all support staff?
The answer is, they can't.
What a Call Centre Scheduling System Needs to be Effective
There are 3 key elements that an effective call centre scheduling system needs. All three are necessary for making call management efficient and improving customer experience. 
Simplicity
Managing large volumes of calls spanning a wide range of problems is complicated enough. Moreover, the system should simplify the process, and make life easier for staff and efficient for customers. It also needs to be simple enough that a large number of call centre employees can grasp it quickly and easily. 
Flexibility
Whatever the industry the call centre services, they need a call centre scheduling system that can facilitate it. All services from appointments with a financial advisor to arranging an installation visit for internet provision. An effective system also needs to distinguish between physical visits, support calls or remote help.   
Scalability
Whether the call centre operates locally or nationally (perhaps even international), call centre operatives must be able to schedule assistance for the right service, at the right time, and in the right place. A comprehensive system allows a call centre agent in Chennai to schedule a meeting with a business advisor in Liverpool. 
Advantages of Online Call Centre Scheduling Software
Easy access to calendars and schedules 24/7
Eliminate double booking.
Automation of reminders and confirmations.
Efficient call scheduling reduces call time.
Effective appointment scheduling improves customer experience.
Decreased waiting times for call resolution improve customer satisfaction.
How SimplyBook.me does it
The size of the business is not important, it could be a local authority operating across a city. Alternatively, it could be a multinational with offices all over the globe and a call centre in a single country. SimplyBook.me can streamline and simplify appointment scheduling across multiple locations, branches and even time zones.
A call comes into the call centre and is answered by an available agent.
The agent assesses the client's requirements and uses the system to select the appropriate service.
The call centre agent asks the client for a preferred time and date. Alternatively, they will allocate the next available appointment.
The client and the provider will both receive an appointment confirmation by text or email. This will happen while the client is still on the call and can confirm the details.
The precise work order and how agents process calls are entirely up to the company. If the customer requires an on-site visit, the agent may have to select a location before allocating a local provider. If they can resolve the call with a teleconference or phone call, the location is not important.
It is a simple system to operate and setup or you can get us to do it for you. The synchronisation of provider schedules means that call centre operators have up-to-date information at their fingertips. They can conclude customer calls knowing that the customer will receive the support they need, and they will resolve the call.
Assigned user roles ensure that only allowed users have access to role-specific actions and cannot make unauthorised changes. Different access levels ensure that the appropriate people have access to make necessary alterations.
Conclusion
Call centres have been developing over the past few years, but not nearly as quickly as the last month. Movement restriction has reduced people's freedom to call into a store or office branch to ask questions or request help. Now they need to call a contact centre to request help or even schedule a visit for whatever reason. It doesn't matter what the call centre does; it still needs efficient scheduling.
This trend will continue, with more responsibility going to call centres to schedule customer assistance across a large area. Keeping customers happy with efficient and easily resolved scheduling is the way forward. Make sure you have the tools for effective call centre scheduling.
Visit our dedicated page for more information on how SimplyBook.me can benefit your call centre scheduling.