Tickets Please! – The New Ticketing System from SimplyBook.me [VIDEO]
17/04/2020
2195
9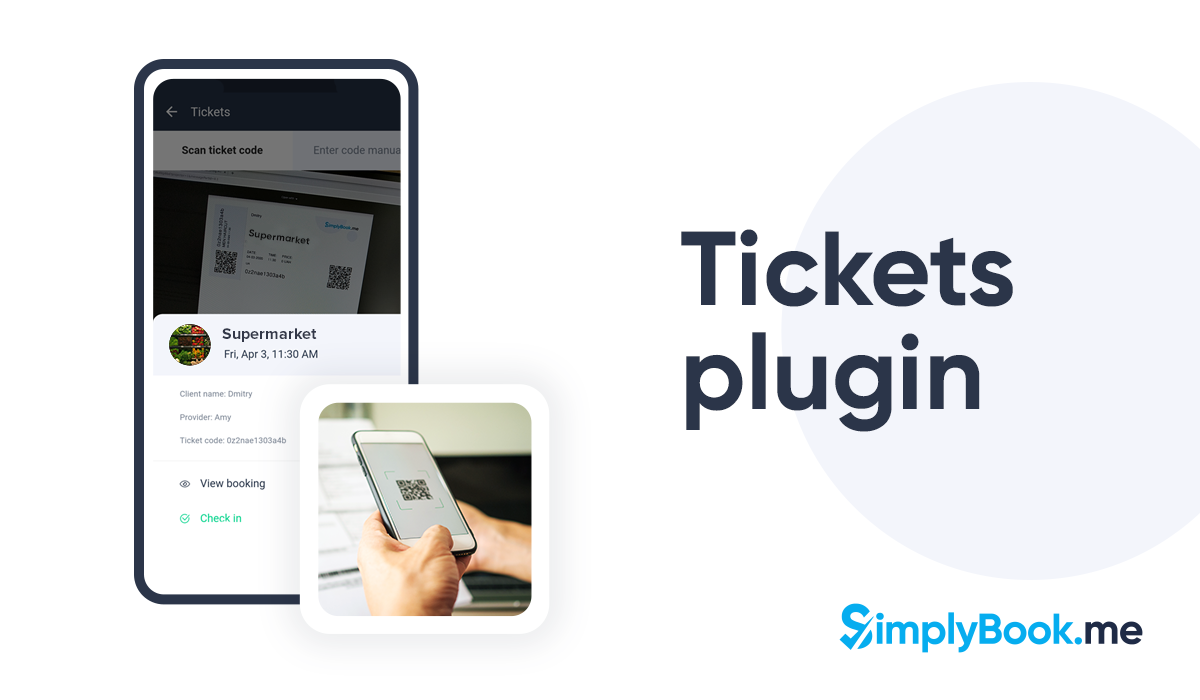 This post is also available in:



If you've ever run an event, a class schedule, or a multi-attendance service, you've probably wished for a ticketing system that would make it easier to track and validate. The new ticketing feature in the SimplyBook.me scheduling system is a perfect addition to our range of appointment booking tools. It's making your events and classes a breeze to organise.
Why would you want a ticketing system?
Anyone who has tried to run an event or numerous multi-attendance classes will know that organising attendance and validation of client arrival is a complex process. Wouldn't it be easier to issue clients with a ticket on booking, which they can either print or save to a smartphone? There's no need to print and post physical tickets, and all you need to do when they arrive is scan the ticket (or manually input the code), and you validate client attendance and confirm payment at the same time. It's that simple.
How it works
It's a simple case of accessing the ticketing feature on your SimplyBook.me admin dashboard and enabling it. You will see an email template to complete, that the system will send to your clients.
To manage which services, events or classes you wish to issue tickets you can do this from the Manage / Services section of your admin interface. Select the service from which you want to issue tickets and scroll down to the Tickets section, where you will toggle the switch to on. Save and close the editor and that service will issue tickets to your clients. For detailed instructions on how to set up the tickets feature, you can see our Help Centre article.
As standard, every level of SimplyBook.me subscription has 300 tickets allocated to their account per month. Tickets have a standard design and appearance unless the user has a premium subscription. With a Premium subscription to the booking system, and some HTML/CSS coding, they can create customised designs for the tickets.
Use cases for a ticketing system
Even if you aren't in the business of running events or regular large classes, you may probably still have use of a ticketing system.
Schools – Academic, Arts & more
Many education businesses might need to use a ticketing system. Whether it's for the annual gala event or even for the parent-teacher conferences, issuing tickets online when someone books a space significantly reduces the need for massive amounts of organisational admin. Even institutions like universities and colleges can use the ticketing system for open evenings, interview days, freshman social events, and more.
Fitness, Yoga, Pilates and Other Specialties
Even if your fitness or yoga studio runs on membership or Pay-as-you-go (PAYG) basis for specialities like yoga, pilates, and branded fitness programmes, sometimes you might have a celebrity teacher visiting. My local yoga studio has an annual visit from a famous yogi, and those classes are not part of the membership fee. Even if your business includes these "special" sessions, you would still need to restrict attendance to a maximum number of participants. Consequently, there wouldn't be enough room to practice yoga if everyone who wanted to attend did.
Conferences, Festivals, and Showcases
While conferences are events, technically, the focus of the meeting or festival is usually the various workshops, lectures and classes that happen there. By their nature, conferences are significant events with many people attending. Ticketing and proving entry (or not) with a simple scan of a smartphone screen is far more favourable than manually issuing dozens or even hundreds of tickets for a broad range of workshops, lectures and classes.
Shopping & Retail
Sometimes shops and stores can become overrun entirely with customers, even ignoring the current conditions surrounding COVID-19. Retail store events such as high profile product releases, celebrity endorsements and visits, and book signings can cause shops to fill to the seams with customers. Rather than creating a queue that stretches out of the door and down the street, allowing shoppers to book a time of arrival could save a vast amount of time and energy for staff and customers alike. You could even combine a guaranteed sale with priority entrance to the store.
Ticketing for Services, Events & More
Booking slots for events, classes and services have long been part of the process; however, issuing tickets has a scope far beyond the usual service business. Although you might never have considered issuing tickets for your services or events, the simplicity of the ticketing system with SimplyBook.me can make your life and your business practices more straightforward to manage.