Blue Spinach: Sustainable Luxury Resale and Retail by Appointment
20/07/2021
2063
2

This post is also available in:




Today, we'd like to introduce you to one of our clients, Blue Spinach, a luxury retail and resale specialist business based in Australia. Established in 1996 by Jane and Mark Thompson, Blue Spinach is now considered one of Australia's foremost consignment resale agents. However, their business model enables resellers to reach significantly farther across the globe with a comprehensive online presence. Much more so than would have ever been possible before.
Since the origins of Blue Spinach began with vintage resale, they have since transitioned to the luxury market. This transition has enabled them to provide personalised and bespoke services for those wanting to sell unwanted high-quality, designer and high-value items in a safe and trusted way.
It's no wonder that the majority of their resale clients come from personal recommendations and referrals. All consigned resale items are carefully selected and authenticated, photographed and listed for sale online whilst also being available for viewing and sale in the store – which retail customers can visit by appointment for a personal shopping experience.
The key driving forces behind Blue Spinach are authenticity, sustainability, and luxury.
With decades of experience in authenticating genuine articles, they are also backing this experience with an AI-powered authentication tool called Entrupy.
Happy Birthday, Blue Spinach
This year, in May, Blue Spinach turned 25 and celebrated a tremendous success story in their new showroom premises. Looking forward to the next 25 years of #sustainableluxury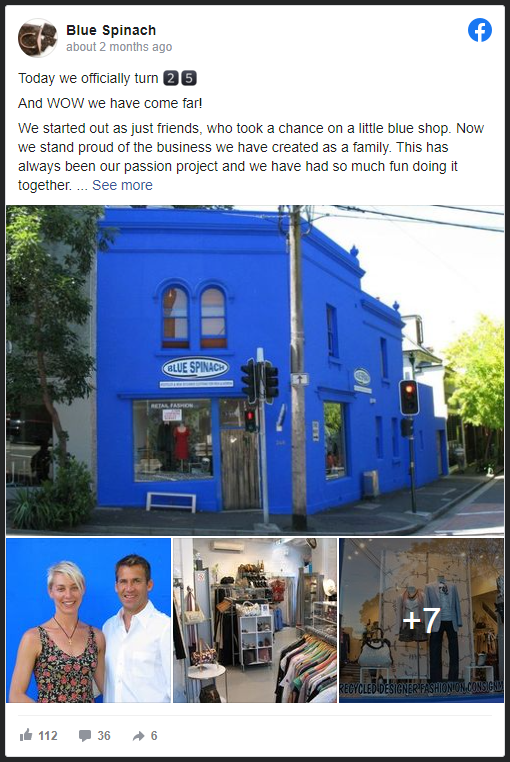 Using SimplyBook.me For Scheduling
As a Simplybook.me client, Blue Spinach uses the scheduling software to arrange different types of visits for the most efficient retail/resale experience. As they already have a stunning website, they mainly use the insertable widget feature to allow clients and customers to make an appointment.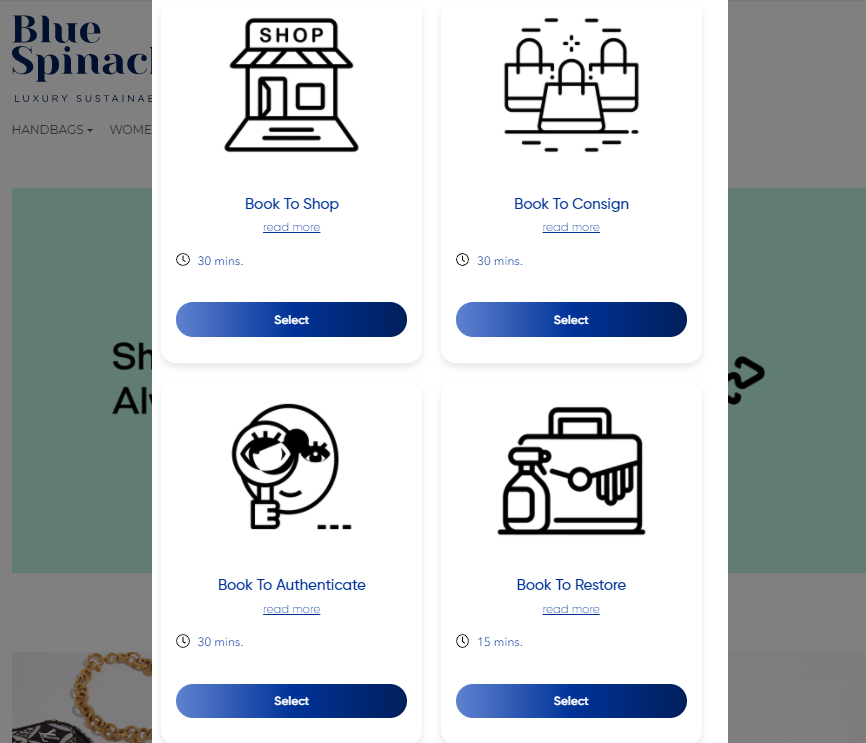 However, even their SimplyBook.me booking website is a beautiful and complementary creation.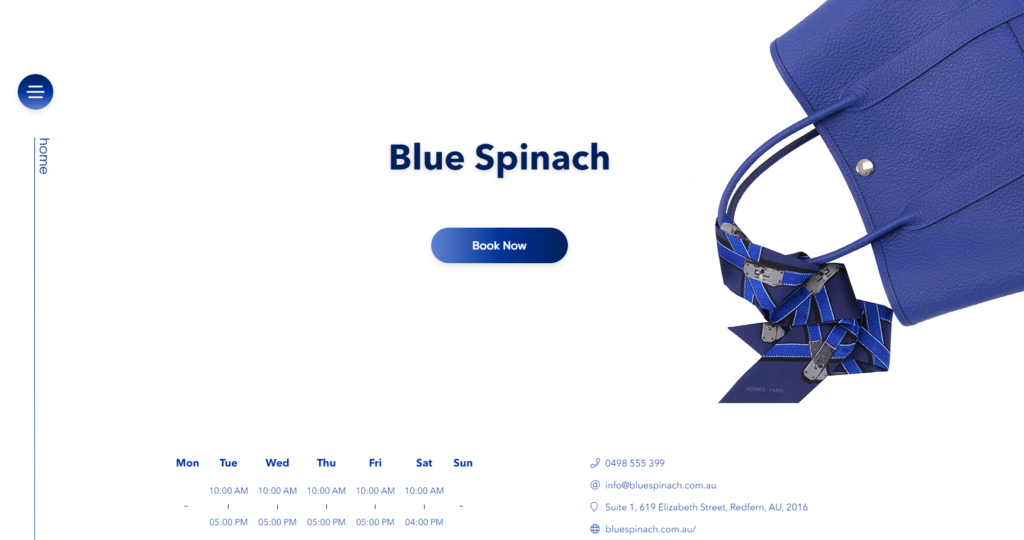 The Interview
We asked if they would speak to us about the business and how they use the SimplyBook.me system in running their business effectively. Jane Thompson sat down with us over a video call to talk about Blue Spinach, its origins, development, and plans for the future. And also about how they use the scheduling system.
On Blue Spinach Origins and Operations
When received a very complimentary review from Jane at Blue Spinach, we had a look at the website to see how they were using the system. We love what they are doing and how they have used our widget to become part of the whole client experience. We also really like the business concept. 
Q. I can see that you established your business in 1996. Did you then first open a store?
A. Yes, our store was the beginning of the business. The internet wasn't even a 'thing' back then.
Q. How does the process work for people who want to sell their products via BlueSpinach?
A. Our consignees contact us by email, phone or via the contact form on our website with information about the items they wish to sell. Then they can either send the items to us, and we can help with courier collection, or they can make an appointment to bring the items to our showroom.
We will carefully authenticate, value, and price the items according to market value and condition.
When the recommended pricing is approved, we'll photograph the items from all relevant angles, list, market and sell the goods worldwide. Once the items are sold, the consignee can either receive their money via direct transfer or spend the money with us.
Q.When did you go online?
We went online very early. Even when all you could do was create an information page on a website, we were one of the first to do it. You couldn't really sell online then. Still, we moved some of our business online when the internet became more stable and functional—allowing us to start the online shopping part of our business.
Now we have a fully comprehensive eCommerce store, as well as a showroom store.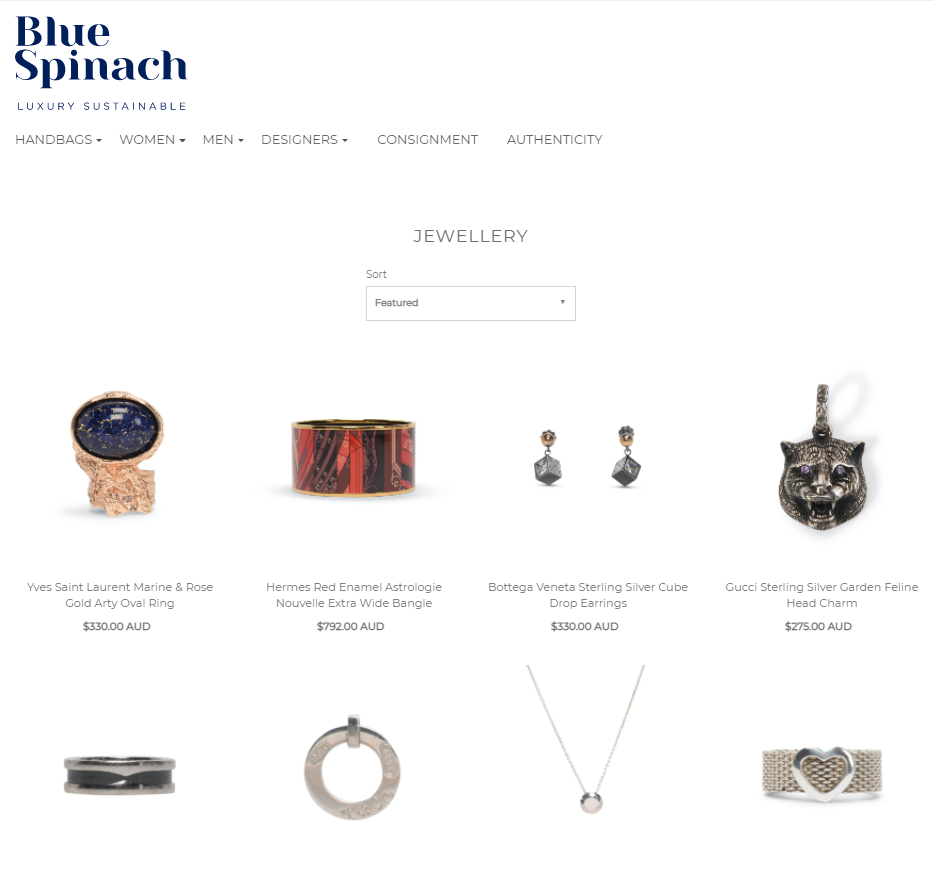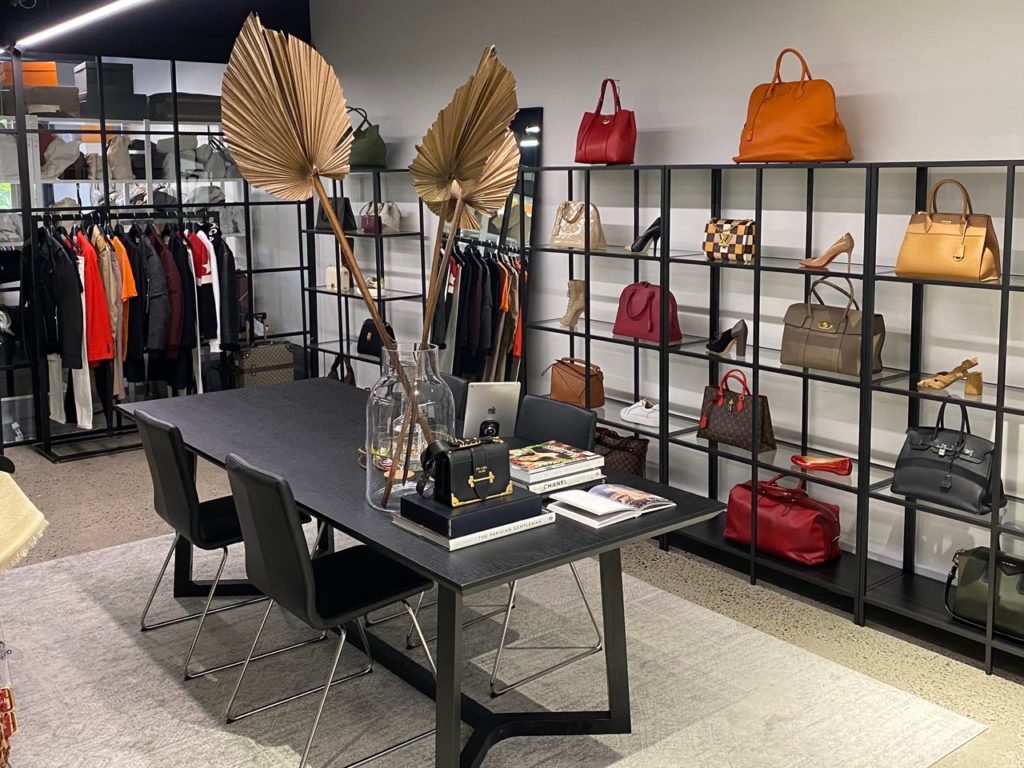 Q. Is most of your business now via your webshop or your brick and mortar store?
A. We do a lot of our business online now, but we only became a fully online accessible store at the beginning of COVID. It was the final push to implement a fully online concept we were already developing.
Q. How do people find you? Buyers or Sellers?
A. Our consignees usually find us via recommendation or word of mouth. We've built a substantial reputation for the way we treat our sellers, how we price their items and the way we present things. We have also gained a lot of trust, and most resellers will come back to us and recommend us to others.
Our customers will either find us online or, in the past, they have come to the store. We have many returning customers who might see something online and then come to browse items in person.
Q. What is your target group?
A. Our target market is the luxury and branded market. More well-known designer stores have arrived in Australia, which has made those brands much more accessible to the local market. It also means there is much more scope for resale.
We're also targeting those concerned with sustainability.
Q. Do you have many local competitors, or are your main competitors global online sites? What are your main challenges?
A. We don't have any significant local competition. Our biggest competitors are the online resale websites that don't have the same approach. They are large scale entities where people sell and buy any items, luxury or otherwise. However, we've achieved a reputation for our authenticity and presentation that you don't get from those sites. Consequently, we are in a better position to price our consigned items within market value.
One of our biggest challenges is keeping up with demand. Aside from keeping up with the online resale websites, we also need to keep up with the bespoke services we provide, which is very hands-on.
Q. Have you noticed an increase in this type of business as people become more conscious of sustainability and conspicuous consumption?
A. There are resellers everywhere, so the resale business is definitely increasing. Some start-ups are attracting clients by offering resale services for as little as 5-10%. However, that isn't sustainable in the long term, and they don't have the same attention to detail and presentation we have.
People have realised that resale isn't a bad thing. More people are likely to purchase from a quality reseller if they have what they need, rather than buying brand new.
Q. How have the business and the customers changed over the years?
A. More than ten years ago, resellers like us would take a 50:50 split with the owner. Now we're competing with online resale sites, and we're balancing quality of service with the split of revenues between the owners and us.
The customers have changed too. Years ago, our resellers would never have bought from us. Buyers and sellers were entirely separate audiences. Now that people are more aware of sustainability, we have more sellers willing to purchase items. It's not just about selling unwanted items; it's about recycling and reusing things in mint condition – less waste in the world.
We offer a 5% discount if our sellers spend their revenues with us.
By appointment, with SimplyBook.me
Retail by appointment has taken off in the last year or so, and it doesn't seem ready to retreat any time soon. Some physical stores have embraced the dedicated shopping experience to draw shoppers back to the brick and mortar branches, and some use SimplyBook.me, just like Blue Spinach.
Q. Why did you decide to start accepting bookings?
A. While the Covid pandemic made online access and shopping by appointment necessary, it only pushed forward plans that we already had in place. We can provide a better service to both buyers and consignees by assigning dedicated appointments for coming to the store.
Q. How did you come to find SimplyBook.me, and what made you choose us over the alternatives?
A. I'm a big researcher and I look carefully at everything when we want to make a change. When we started thinking about introducing online appointments, I started doing my research and found many different platforms.
While initially, it looked like it might be more suited to other services like beauty businesses, it didn't take long to realise that it could work really well for our needs.
We liked what SimplyBook.me had to offer. Specifically, the customisation, feature options, integrations, and SimplyBook.me had their own platform. We looked at other systems that didn't have everything we were looking for, either because they didn't have the features and integrations we needed or disliked the aesthetics.
Q. I can also see that you have added a "Book now" button to your Instagram business page. Are you getting some bookings via that platform?
A. We aren't checking the proportion of bookings that come from specific channels. As long as we get the bookings for consignments and shopping visits, it's not essential to know where they are coming from. 
Q. Do you use the admin app? Do you find it easy to use?
A. Yes, we use the admin app a lot. It is super easy to use, and it makes it easy to track our schedules.
Q. What are the best things you like about SimplyBook.me, and is there something that annoys you or you feel that we could improve?
A. We have been using this system for more than 12 months and can honestly say there is nothing we dislike. We haven't had a single problem with SimplyBook.me.
I think the things we like most are the functionality and the customisation options. We also love the ease of integration with our website and other systems.
Q. Did SimplyBook.me meet your expectations?
A. It definitely met our expectations, and we have felt the benefits of using it for our business. 
Q. Would you recommend the system to your friends? ( if not, why not, and what would make you more likely to? )
A. Certainly, we absolutely love it.
You have been an entrepreneur now for 20+ years. If you had any advice for your younger self, what would that be? Any advice that you can give young entrepreneurs out there?
"You do it for the love of what you do, not because you think it will make you a lot of money."

Jane Thompson, Blue Spinach co-founder