University Scheduling: A complex system requires a comprehensive tool
11/09/2020
1507
1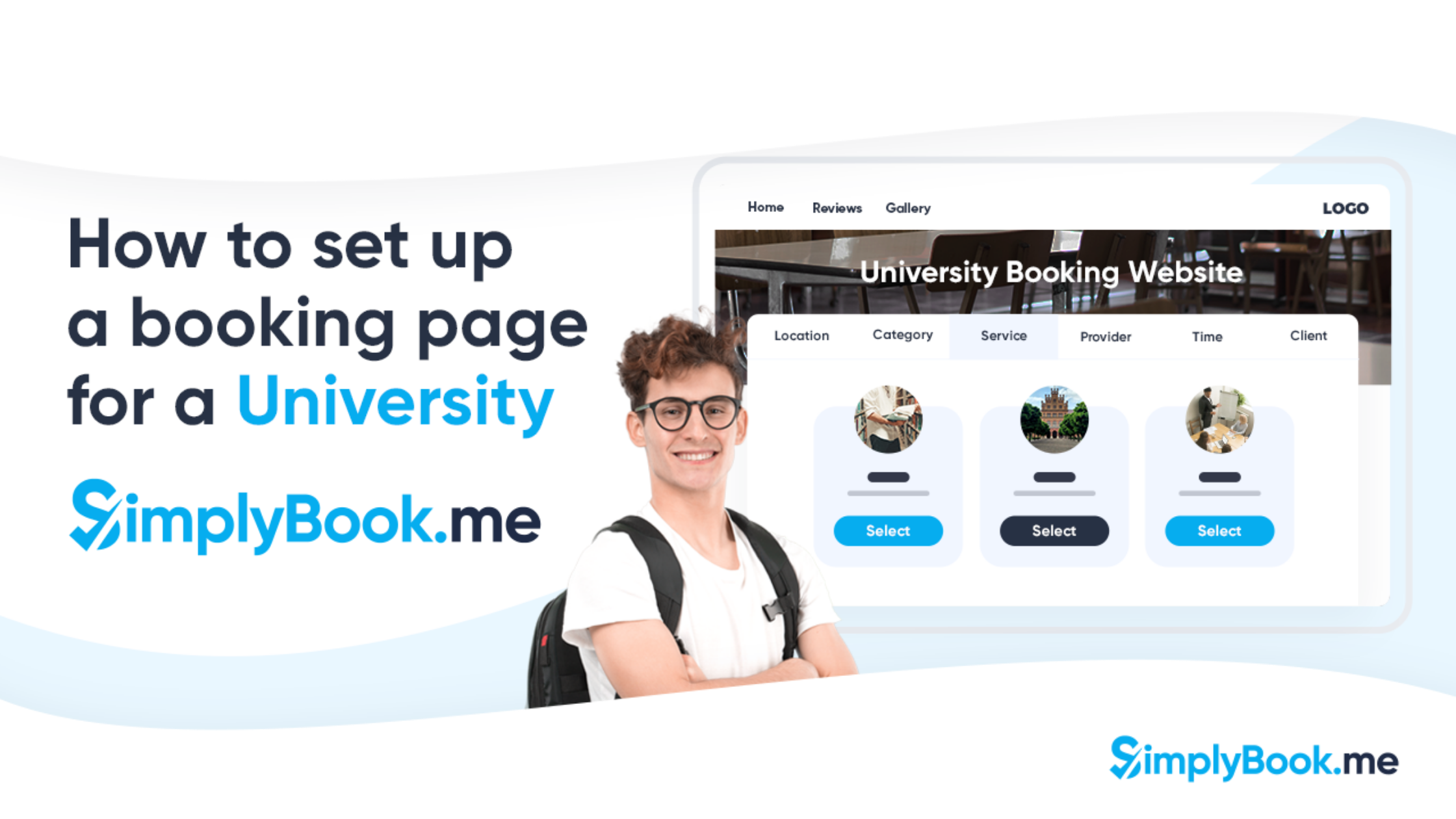 This post is also available in:



If you've ever been to university or worked in one, you'll know that they're a complex web of interconnecting systems. Not to mention the hundreds of affiliated and parallel entities that co-exist, but don't intersect. University scheduling is something that takes months to organise, but there are ways of mitigating clashing schedules, student accommodations, and so much more.
Each school or department, such as Engineering school or natural sciences department, can be a business entity on its own, or part of a more complex web of intersecting departments.
Today's video will highlight a small portion of the functions that online university scheduling can achieve.
University Scheduling Options from the Video
As you can see in the video, our fabulous video creator has gone with a biological sciences department. Some of the bookable services are admissions interviews, student support and equipment booking, which is only a fraction of the facilities and services involved in university life.
Admissions Interviews and Consultations
With university department welcoming hundreds of student every year, there has to be a straightforward process for inviting the prospective students to interview with the appropriate department admissions. For the interviewers, this means scheduling large scale interview dates and times. By setting up a series of dates and available times when the interviewers are available to interview future graduates, they can invite appropriate people to book their own interview time and available date.
By placing the responsibility for booking an appointment with the student, you alleviate the scheduling burden on the admin and teaching staff.
Student Support & Counselling
It is a fact that students do need support from time to time, whether that is support with their study load, housing, finance or mental health. While asking for help is considered a strength, acknowledging your own weaknesses is never easy – no matter how old you get.
Most university students are beginning their first forays into adulthood and independence, and they often want to access help "under the radar". What better way to facilitate easy access and privacy than putting appointments with support officers and counsellors on an online platform? 
Technical equipment hire and scheduled use
Part of the university experience is external study and experimentation, especially in the STEM fields. However, much of the required cutting edge technology is not readily available to laypeople or too expensive for individuals. There has to be a fair system in place to ensure that students who need the equipment can access it. 
Having an online scheduling system for the items students will need to use, ensures that students can book a period in which they know it will be available and when they know they will be able to make use of it.
Installing a Booking Widget on an Existing Website
While the option exists to create a full website for your university, the chances are that you have a custom-designed website already. Whether you want online scheduling for the convenience of a single department or you want to put the entire institution online, you either have a dedicated webpage or site as the whole to use.
The inclusion of the booking widget into the appropriate web page simplifies access to the booking function. You don't want to put the booking widget on every page, only the pages to which booking is appropriate. 
For example, if you have a team of health support staff for your students, you can create a widget that only displays specific staff. When you place the widget on the "student support" page, only the support services and staff will show. 
More Functionality For University Scheduling – Not on the Video
There is so much more functionality for a university scheduling system that we just couldn't fit into a two-minute video. I'll run through some of the other invaluable features and options in the SimplyBook.me system. They're time-saving and efficient for course schedules, appointment booking and student support.
Student Union Membership
Almost every student that arrives at university will join the students union. Mostly for the on-campus benefits and events (and off-campus proof of studenthood). Also, because student union membership ensures access to beneficial offers and promotions, campus events and many of the societies require it.  
Products for sale
Virtually every course at a university requires materials and resources. While many students choose to try and find secondhand copies of textbooks, there are times when new equipment is needed. When someone enrols on the course of their choice, they also have the option to purchase the necessary books and other equipment required.
Multiple Locations
Many universities have grown considerably since their founding. Consequently, many of them have campus sites spread across an entire city with different schools of study on separate campuses. Allocate courses and teachers to their specific locations; ensuring people know where in the town they need to be. 
Video Lectures
When things go wrong, illness or injury, or even an infectious disease rears its ugly head; you can take some of the university learning experience online. Professors can perform lectures and demonstrations online with the option to create online classrooms and video conferencing. It's also a two-way connection, your students can still ask and answer any questions. 
Different Categories vs Different accounts
It quite clear that the engineering school has distinctly different needs to those of the art school. The options available allow for the creation of separate categories within a single scheduling account to separate different departments. However, in larger establishments, it might be more expedient to have separate accounts for each department. Then you divide each department into appropriate categories for that sector.
Manage Resources
Whether it is equipment, lecture halls or electron microscopes, you need to ensure that these finite resources are available when you need them. You can't prepare for a demonstration of exothermic reactions if you don't have a safe lab environment.  Likewise, you can have a dress rehearsal of your drama class' final performance, if the auditorium is already in use.
The manage resources function enables a system by which you cannot schedule classes if you don't have the resources available.
The Students of Tomorrow Want it!
How many times do you think "Where can I find the [insert university or college] class schedule online?" or something with similar phrasing is googled? While searching for questions on university scheduling, I found over 20 variations on that phrase at the top of the list. 
It's clear that your students want the class schedules online; you can't run away from it. But they want a lot more than just a class schedule; they want everything online, at the tap of a touchscreen.
The next students enrolling in your university are Gen Z and beyond. They have always had the technology, and they are demanding more and more of it. If it can be simplified and streamlined online, it should be.
Universities are more than mere seats of learning; they are massive companies with international reach and provision. Yes, profitability and efficiency are just as important as they are in any multinational corporation. So why not use the same tools that companies around the world use to save time, money and human resources?
More than that, businesses have been using online appointment booking and scheduling for a while, not just because it saves time and money, but because their clients and customers want it. Your future students undoubtedly want it too.
For more information on how online appointment scheduling can assist in your university scheduling, you can check out our page for educational institutions. Or check out how other universities and colleges have used our system on Booking.Page – Universities – Everywhere