Event Planning Simplified: A Guide to SimplyBook.me's Features
07/09/2023
783
0

This post is also available in:




In the hectic world of event planning, ensuring smooth operations from start to finish is paramount. Challenges are abundant, but with the right tools, they become opportunities. That's where SimplyBook.me steps in. Let's look into how SimplyBook.me can become your ultimate event planning companion. –
Introduction to the Event Planning Landscape
Event planning is a dynamic profession, rich with layers of details, decisions, and coordination. At the heart of it all is the ever-pressing challenge of aligning client visions with practical realities. Coordinating venues, managing client expectations, handling suppliers, overseeing contracts, and maintaining an updated attendee list are just a few of the many tasks at hand. Couple this with the pressure to create memorable experiences consistently, and the enormity of the challenge becomes clear.
In this complex landscape of tasks and responsibilities, SimplyBook.me stands out as a beacon of efficiency. It's more than just a tool; it's a comprehensive solution, thoughtfully designed to simplify these challenges, streamline workflows, and ensure that the journey of event planning is smooth and efficient. With SimplyBook.me by your side, navigating the intricate world of event management becomes a breeze, leading every event towards success.
Seamless Booking Experience
At the heart of every successful event is effective booking management, a cornerstone that can make or break an occasion. With SimplyBook.me at their disposal, planners gain an edge with a platform that prioritises both efficiency and user satisfaction. Clients and planners alike are treated to a hassle-free, intuitive booking journey, eliminating potential points of frustration.
One of the platform's standout features is its real-time availability, a safeguard that ensures events remain free from the dreaded double bookings. Furthermore, the sleek interface of SimplyBook.me is not just about looks; it's meticulously designed for a user-centric experience, making every interaction seamless and straightforward.
Mastering Intake Forms
As an event planner, gathering comprehensive client information is paramount. SimplyBook.me's intake forms enable you to collect essential details right when the booking is made. Whether it's ascertaining event dates, understanding the type of event, or any other vital info, these forms have you covered. Customise each question to be mandatory or optional, and tailor answer fields from simple checkboxes to date selections.
Automated Reminders and Notifications
Streamlining communication is paramount in event planning, and with SimplyBook.me's Automated Reminders and Notifications feature, staying in touch has never been easier. Event planners can automatically send timely reminders to clients, reducing the chances of no-shows or last-minute hitches. Whether it's a booking confirmation, changes to the schedule, or a gentle reminder about an upcoming event, these automated messages ensure that both you and your clients are always on the same page, leading to smoother events and enhanced client satisfaction.
Integrated Payment Solutions
Online payments make transactions a breeze. Whether it's an upfront deposit for a large-scale event or the entire fee for a consultation, online payments ensure commitment and reduce no-shows. SimplyBook.me integrates with renowned payment processors like PayPal, Stripe, and Square.
Group Bookings Made Easy
For planners offering group-oriented services, like workshops or classes, the group bookings feature is invaluable. One booking, one payment, multiple attendees—streamlining the entire process. Additionally, custom email and SMS templates ensure your group clients stay informed.
Accommodate Events at Multiple Locations
Event planning isn't restricted to one place. If you operate in different cities or countries, the multiple locations feature becomes indispensable. It lets you maintain separate profiles, complete with unique contact details and photos for each location.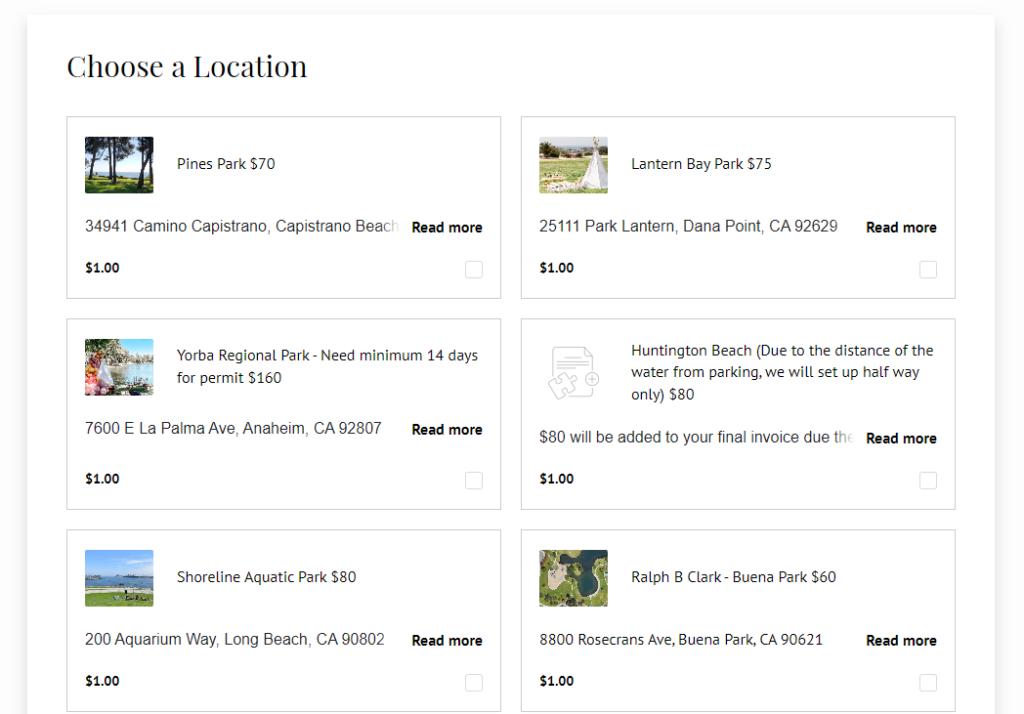 Google Reviews Integration
Building trust and credibility in the event planning industry is crucial. With SimplyBook.me's Google Reviews Integration, highlighting your expertise and reliability is straightforward. This feature seamlessly guides satisfied clients to leave positive feedback on your Google business listing, enhancing your online presence.
As more clients share their experiences, potential clients gain a clearer insight into the quality of your services, increasing the likelihood of them choosing your event planning offerings. By harnessing the influence of genuine testimonials, you set your business as an industry leader.
Service Add-ons
SimplyBook.me offers event planners a unique opportunity to enhance their services through tailored add-ons. From premium table décor for special events to organic products for eco-conscious clients, these additions not only elevate the event experience but also present a chance to boost revenue. In fact, by merely incorporating these add-ons, planners can see a sales increase of 10-20% without altering base service prices.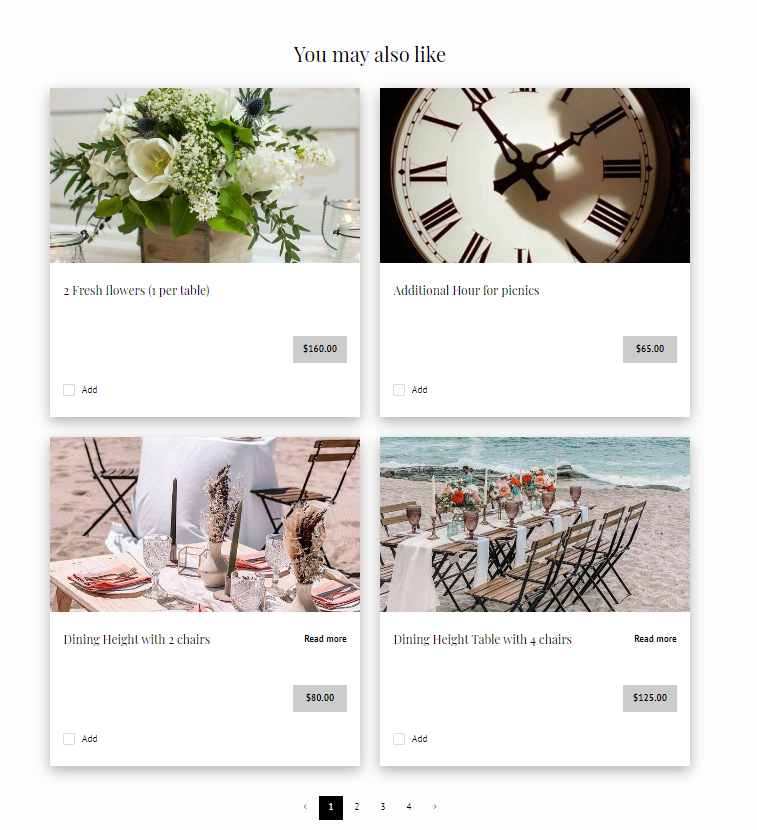 Irresistible Service Packages
Packages amplify your offerings. Combine multiple services, add-ons, and products into a compelling bundle, allowing clients to experience more for less. Perhaps a package combines wedding planning, photography, and venue consultation, promoting a holistic experience at a value-driven price.
Showcase with Instagram Gallery
Enhance your booking page's visual appeal with the Instagram Photo Sharing feature. Seamlessly display your latest Instagram posts, offering a dynamic glimpse of your recent events, designs, or other ventures.
Display Remaining Spaces
Whether you're organising a limited-attendance seminar or a yoga class, showing the remaining available spots can boost your bookings. It not only informs attendees but also creates an urgency, potentially increasing the likelihood of fuller bookings.
Conclusion
In conclusion, SimplyBook.me goes beyond being a mere scheduling platform; it stands as the comprehensive resource every event planner should have at their fingertips. From the initial booking phase to gathering post-event feedback, each feature has been meticulously crafted considering the unique needs of the planner. This ensures that every event organised isn't merely an occasion to remember, but a standout experience that leaves a lasting impression.