Accept Payments Through SimplyBook.me (so much more than a simple scheduler)
21/09/2021
2623
0

This post is also available in:




While a scheduler is an excellent addition to your service business management toolkit, extra tools can make a booking system far more effective and beneficial to you. If you aren't already accepting payments through your scheduling system, the Accept Payments feature from SimplyBook.me can be extremely helpful.
This week's video will give you a thorough walkthrough of how to use the Accept Payments custom feature from SimplyBook.me.
But keep reading for more information.
Why Use the Accept Payments Feature?
Accepting payments online is not just good for online business. It is equally helpful in ensuring prompt advance payment and requesting deposits.
Within the SimplyBook.me system, it's also necessary to use the Accept Payments feature to display prices and taxes, provide invoices, and sell products. Accepting payments is also required for Memberships, Coupons and Gift cards, Packages, service add-ons.
However, while the accept payments feature is necessary for all of the previously mentioned features, you needn't necessarily demand payments on booking.
The Accept Payments feature has another function, aside from displaying the prices of your services and products. It enables you to track historical and projected incoming revenues through your booking reports.
As an additional benefit, requesting payment in advance allows you to protect your projected income through a robust cancellation policy. Not to mention that an enjoyable experience can be marred by having to pay up afterwards.
Setting Up the Accept Payments Feature.
You'll enable the Accept Payments function on the custom features page here.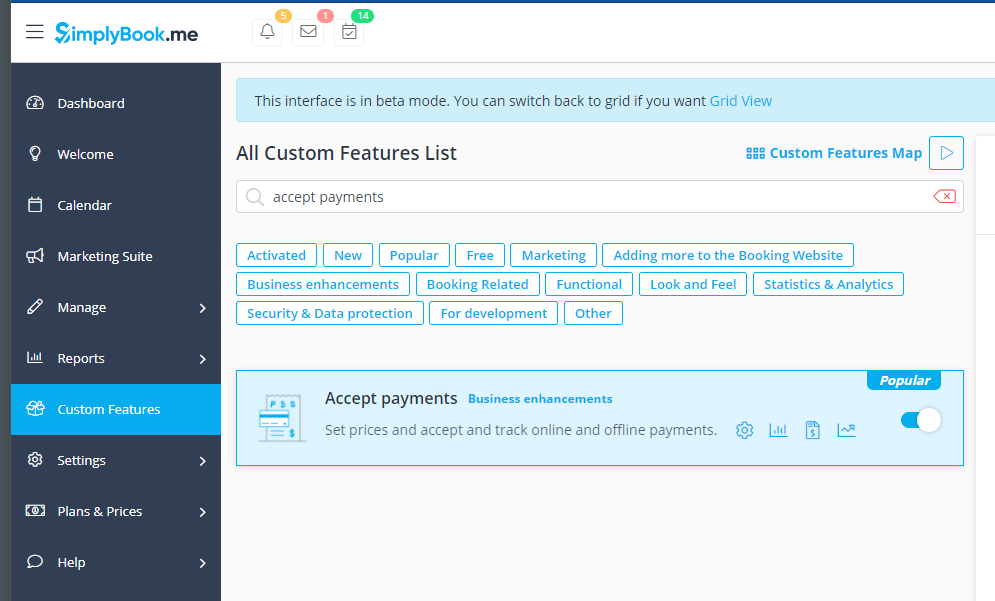 You can see from the number of trackable and adjustable settings there are just how versatile and practical this feature is.

So to set up your booking system to accept payments, you will need at least one of the payment processors in the list on the right-hand side of the screen. For a complete list of the integrated and compatible payment gateways, you can check here to see if yours is one of them or which ones you might want to select for your business.
You can configure your payment processor by filling out the required details in the corresponding dropdown on the right. Depending on the gateway you use, different information will be required. Please reach out to your payment processing service for assistance if you don't have the necessary credentials on hand.
As far as the monetary transactions go, they will all be processed by your payment provider.
However, several options related to the scheduling service, product purchases, and more you will need to configure so that transactions and services match up and work together. These options are on the left-hand side of the screen.
Starting from the Top – General Payment and Currency Settings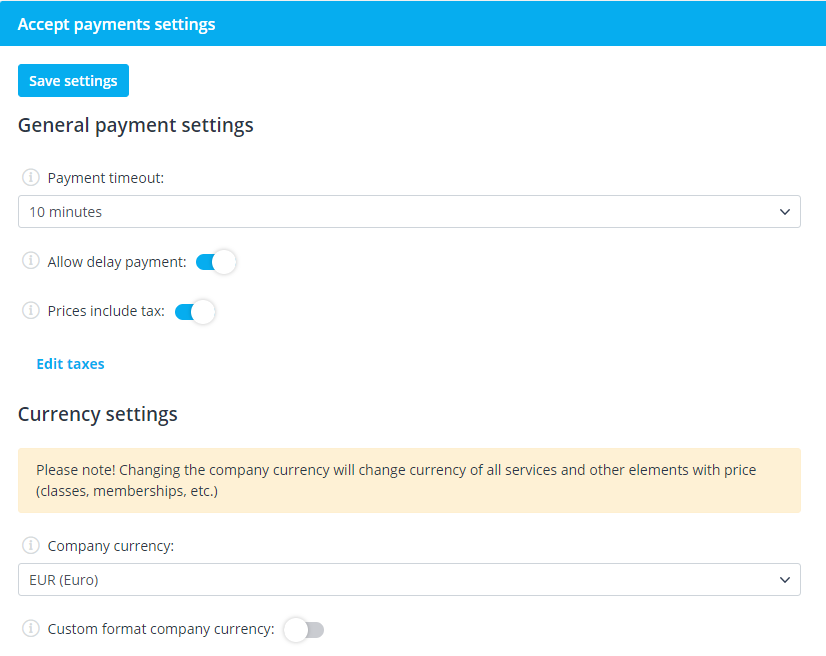 If you require payment to secure a booking, you will need to select a payment timeout period. This period will ensure your payment processor or bank transfer will have time to complete before the appointment cancels automatically.
The timeout period will depend on the transaction and the payment method. If someone is paying for a wedding venue and planning, this could potentially be a considerable outlay. Giving the client a "cooling off" period or a chance to make a large payment via bank transfer (that can take up to ten days) is good practice. Alternatively, a small deposit to secure a hair appointment would usually happen vis credit or debit card through a reputable payment processor.
Check your payment gateway for their recommended timeout period so you can ascertain the average time it will take a transaction to go through.
If you don't intend to require payment upfront for your scheduled bookings, you can always opt to allow delayed payment by toggling the delayed payment option.
Taxes
Taxes are an interesting section. Some companies will simply include sales taxes in the defined price. However, in places like the US, where tax implications can vary from state to state, it is important to determine the included taxes. You can edit taxes and percentages in the Edit taxes section.

Another reason for having a defined tax section is that some companies operate internationally or across local borders. Some examples could be US/Canada, US/Mexico. Even right here in Cyprus with the North-South divide between EU and Non-EU tax rules.
When it comes to the defined currency on your booking website, it is better to use the currency used by most of your clients. Select the appropriate currency from the drop-down list.
It is possible to add customisation to your currency format to fall in line with local regulations. For example, in many places, the decimal separator is ".". However, in others, the decimal separator is ",".
When it comes to doing your accounts, you need to make sure that your reports and records are correctly formatted, and so that you don't confuse your paying clients.
There is a vast difference between €1,200 and €1.200, but they can be the same between regions.
Moving on to Invoice Settings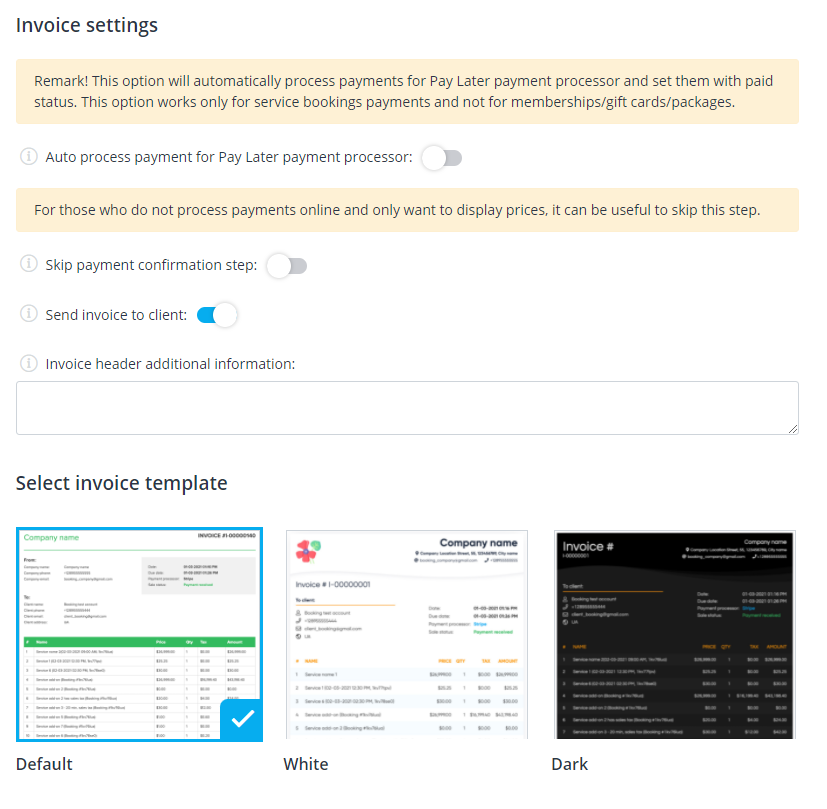 If you want to send a proper invoice to your clients, this is where you can define your settings.
You will want to ensure that you have received full payment before issuing the invoice in most cases. Consequently, you will not want to send invoices if you have allowed deferred payment.
If you want the payment status to remain as 'pending' until you manually update it, you should disable the 'Auto process payment for Pay Later payment processor' option. You'll be able to set the status of a payment to 'paid' by navigating to Reports // Payment transactions and choosing 'Accept payment' from the drop-down.
If you only want to use Accept payments to display prices for services and other items, you can enable the 'Skip payment confirmation step.'
If you're using invoices, choose the template that best suits your needs and ensure you complete the additional header information. People who require invoices usually require crucial information such as registered company identifiers, VAT numbers, and more, depending on location.
Send Invoices & Confirmations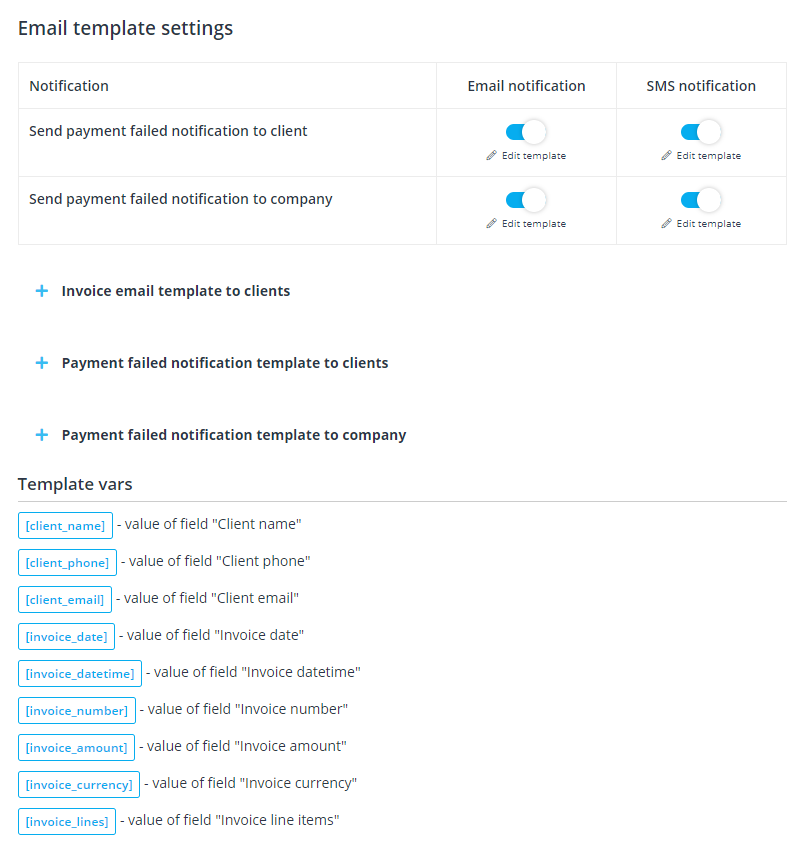 If you provide invoices for your clients, you probably need to send them to their respective recipients. Alternatively, you might also need to let your staff and clients know if a transaction has failed or timed out.
There are three email templates for the potential client and user messaging. You can't send an invoice via SMS, but that is plain common sense. However, you can send failed payment notifications to both clients and the company via SMS. Invoices are just too data-heavy to send via text message.
Like all the other automatic messages your system sends, you can adjust the templates to include customisation. This could be specific custom wording or include additional variables relevant to the client or the service.
Accepting Payments – Not just about getting the cash
So you can see that accepting payments on the SimplyBook.me platform is more than getting your hands on the money. Whether you choose to require payment upfront or not, the ability to record the incoming revenues is a significant benefit to your business management.
In a world that's seen thousands of businesses translate to online or even hybrid models, accepting payments online is necessary.
Do you want to ensure your bookings are genuine and the clients have every intention of showing up? You need to accept a deposit online to keep your no shows to a minimum.
When you accept payments online, it's not just about gathering revenue; it's about valuing your time and effort and ensuring clients do too.