Online Security Features Your Clients Will Love [VIDEO]
17/07/2020
1362
6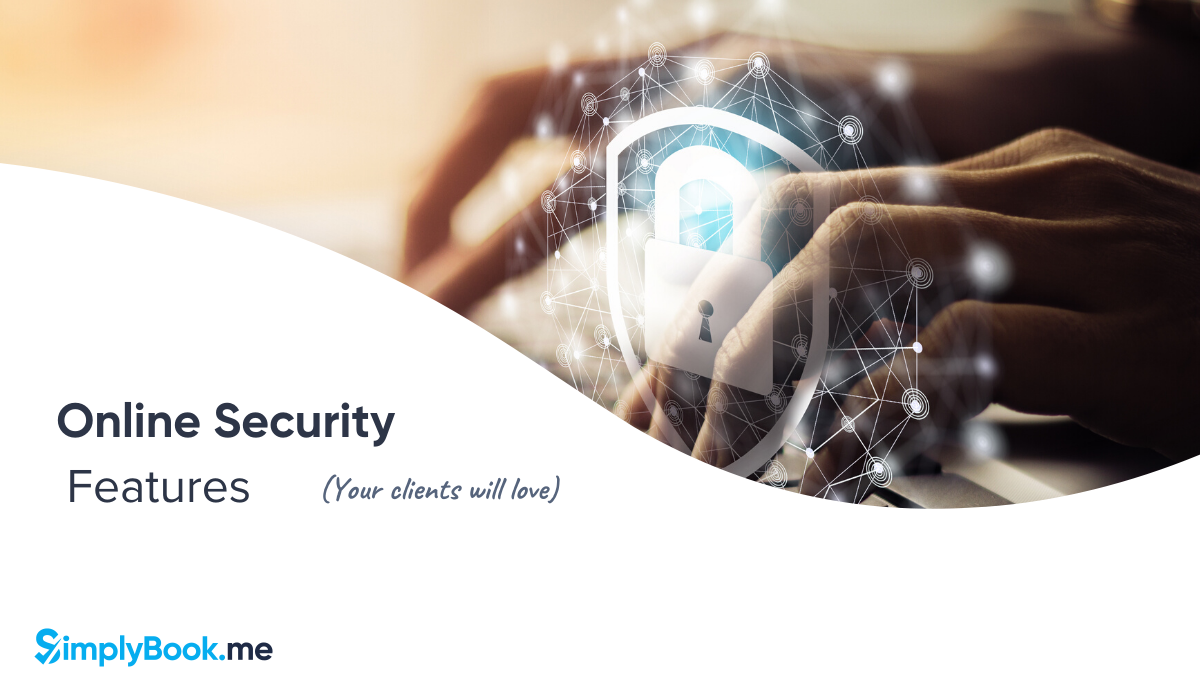 This post is also available in:



We are all part of the machine when we use online apps and systems, and that can feel a little worrying. When you want your clients to use these online platforms, you need to have the cybersecurity of your clients at the forefront of your mind. We know that security is vital, so SimplyBook.me includes some crucial online security features your clients will thoroughly appreciate. Even better, most of them are free to use.
The Reason for Online Security
Many of us do as much as we can through online portals. Whether we are paying the bills, doing our shopping or searching for a new therapist, we search, shop and use internet banking to ease our way through life. However, with increased online technology usage comes the extended risk of our private data being exploited by those with criminal intent. We all still want to keep using these online portals, but we need to weigh the convenience against the extended risks.
When you want your clients to use your online portals and systems, you need to balance both the value of your platform and mitigate the risks to your clients.
It's another layer of customer service and experience enhancement. You wouldn't give your clients a pedicure without ensuring you protected against fungal infections, nor perform a procedure without sterilised or new instruments. The same ethos applies for requesting personal and sensitive data; if you can't keep it secure, you shouldn't ask for it. And the loss of confidential information could be much more damaging than an infected toenail.
Loss or unlawfully distributed confidential information can lead to some extreme outcomes, such as identity theft, discrimination, hacking, fraud and extortion. Not only would your client suffer the consequences, but your business could also be found liable if they could trace the data breach to you.
In short, it's best for both you and your clients if you do everything to keep data secure. It could end up costing you and them a lot more than money.
How to do it – Cybersecurity isn't everyone's forte
Now you know why you need online security protocols and tools, how does a layperson implement these security features, without hiring a cybersecurity expert?
Thankfully, online data transactions have standards and guidelines for operation. If you don't meet the criteria, your clients will know – and they will know not to trust you.
We know that online security is critical, and as such, we want to give you the best tools to protect your clients and your business.
Online Security Features – Free for Everyone
For security and data protection, you can choose from any (or all) of the following features to enhance the safety of your clients' information.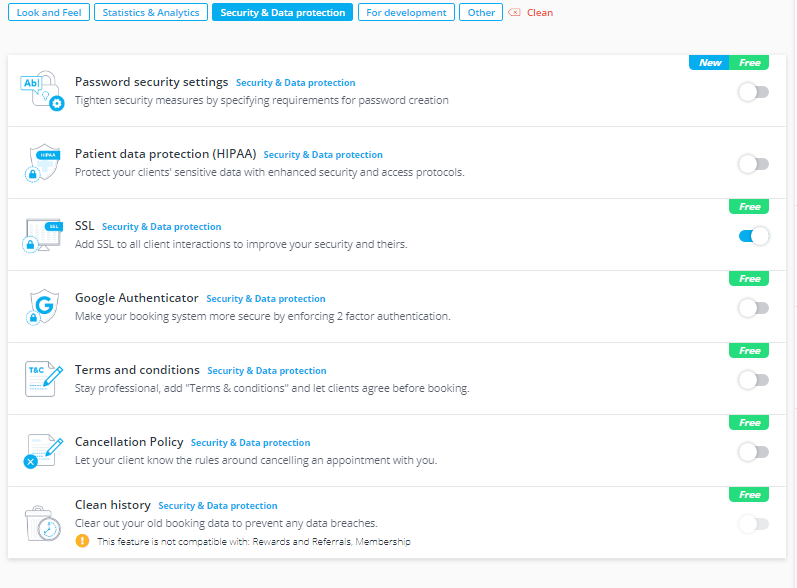 SSL
Adding SSL to all client interaction is another layer of data protection compliance for your booking website and security for your clients.
With SSL certification, your webpage is likely to attract more visitors, since many users won't allow their devices to browse a site without a valid SSL certificate. Additionally, non-certified pages will not appear in Google search results.
The SSL feature is easy to enable and requires no setup – simply enable it, and all your clients' connections with the server are secure.
Password Security Settings
You can tighten your security measures by specifying requirements for password creation. You can improve security by demanding more complex and challenging passwords, from everybody you want to authorise in your account.
Examples might include a minimum number of characters, special characters, numbers and capital letters.
You can configure length and characters allowed for passwords, along with failed login attempts and their handling rules. You can arrange all of these parameters for all of your users, including clients if they have the authority to book appointments.
Google Authenticator
If you're obsessed with online security, like we are, keeping your account secure is made easier with the Google Authenticator custom feature. Using a 2-step authentication when logging into your account will make unauthorised access almost impossible. Upon entering a password, the system will ask you to enter a 6-digit login code from your Google Authenticator or 3rd party application.
You download the "Google Authenticator" app from Google Play or the App Store and connect it to your SimplyBook.me account using a QR code. Voila! You can log in, more securely. All users should use this, whether they're admins or junior employees, who want to secure their access into the account.
Terms and Conditions
If professionalism and bulletproof protocols and procedures are your aims for your business, the Terms and Conditions Feature is essential. Use this feature to create and manage Terms & Conditions between your company and your clients.
A link to the T&C agreement along with a consent checkbox will display on the booking confirmation page; the client will not be able to complete the booking request without ticking the consent box
Recently, standards and requirements for data storage and processing security have increased worldwide, which is why creating an accurate and considered Terms & Conditions agreement is very important.
Cancellation Policy
If you're tired of clients cancelling at the last moment and losing revenues due to no-shows, you need to let your client know the rules about cancelling an appointment with you.
With the Cancellation Policy custom feature, you can restrict the period within which clients can cancel appointments. Your cancellation policy will set the terms around prepayments and refunds, as well as setting the conditions for enabling re-booking – did you know you can disable a client from being able to book their own appointments?
They will see a checkbox above the booking confirmation button, which confirms their agreement to your Cancellation policy. Later, if the client tries to cancel an appointment beyond the limit, they will see a warning notice that they cannot cancel the booking,
Data processing regulation around the globe requires companies to get this client consent before they can apply any form of refund prohibition.
Clean History
You can keep your data safe by deleting your booking history up to a specified point. It's very easy to download the information for archiving somewhere else, but you remove the potential for data breaches by erasing it from the platform.
Configure when to delete historical bookings, and the Custom Feature will take care of removing older reservations as per your setup. You must be careful with this feature because we can not retrieve deleted bookings for you – It really is a clean sweep of your historical bookings. It works by identifying bookings older than your set up allows and removes them. You cannot use the Clean History feature in conjunction with features that require intact historical records, such as coupons and gift cards, memberships, and packages.
And the Single "Paid" Security Feature
Most of the security features we offer are there as standard for everyone to use – no one wants to get caught in a data breach scandal that will destroy their business.
The 'Big One' in data protection circles is HIPAA – no medical practice bound by stringent patient confidentiality laws can operate without HIPAA compliance.
Good News! SimplyBook.me is HIPAA compliant.
HIPAA
While HIPAA is the medical industry standard in protecting confidential patient information, it needn't necessarily only be of use for the medical profession. Any sector business that needs to keep tight control over client information can use the HIPAA feature to safeguard their sensitive data.
The increased security measures include 2-factor authentication, SSL connection, user "timeout", and prohibits all access for SimplyBook.me support personnel – So don't enable it until after you have all of your setup queries answered.
This feature cannot replace internal security functions around how you store and access client data but increases security procedures for login and access. You will need to refer to relevant documentation and authorities in your country or region and get help from qualified advisors in client/patient data protection.
Data Value vs Data Risk
You might wonder if it's even worth requesting information from clients if you need to make so many concessions and promises of security to get it. The fact is that you need it. You can't monitor your clients, advise them of your new deals, or tempt them into your newest service offering if you don't even have contact details for them.
And here's the thing, you need to maintain data security even if you only have a name, email or phone number.
If you have to maintain online security for your clients, whatever information they share, why not use that fact to gather some more material, and use it for the enhancement of your services and your customer experience? This is where the balance comes in.
Sure, you might have to jump through a lot of hoops for your online clients to trust you, but once you have their trust, they are more likely to impart more useful information.
Security is Paramount at SimplyBook.me
Don't for one minute think we base all of our security on our features. The very fabric of the system and the company infrastructure has the safety of our clients' data at its heart.
Our trusted data centres in France, Canada and Singapore, where physical security is just as important as the cyber kind, meet R82 and R81 APSAD standards and work according to ISO27001.
We don't hold on to any payment data, and we constantly monitor our network against any potential threats. Historically, we've been able to maintain approximately a 99.9% uptime track record.
We take security seriously – serious like a volcano – we hope you do too. And with these options to choose from, you shouldn't have any reason to worry about data protection for your business.