Holistic Health Marketing – 6 Ideas for your Business
14/07/2020
3228
4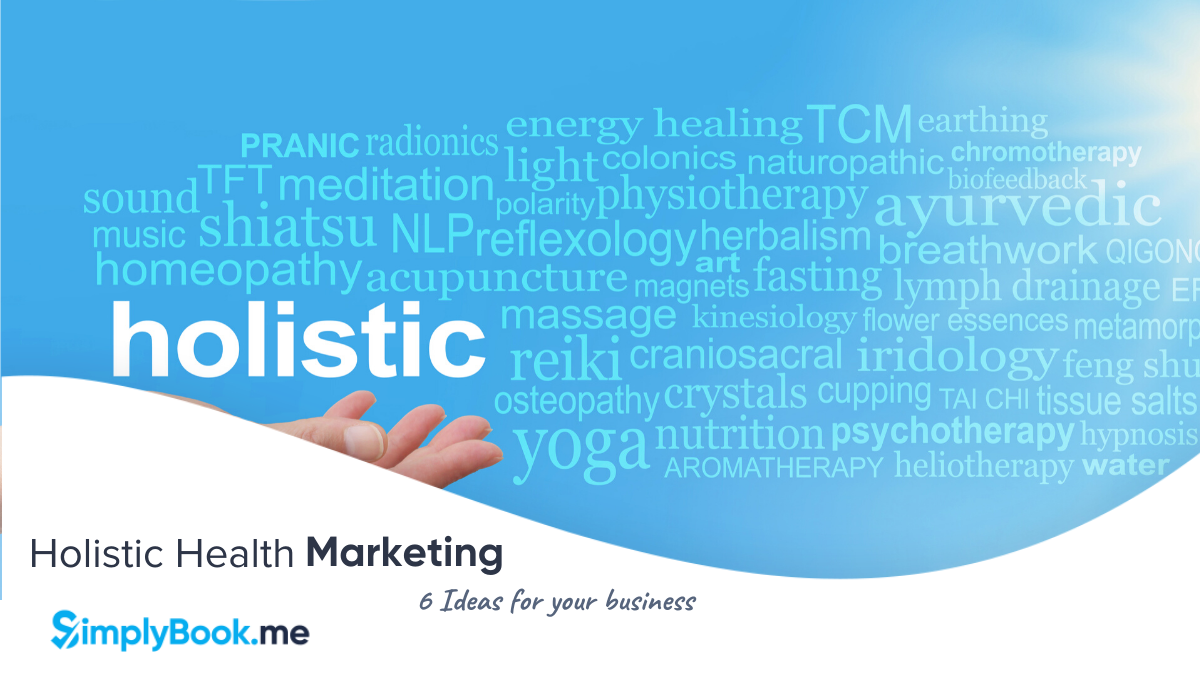 This post is also available in:



In decades past, the practice of yoga grew to become a multi-billion dollar industry in the 21st century. Along with the ancient wisdom of yogic practice, there has also been a boom in the increased adoption of holistic health practices. From meditation and mindfulness to reiki and energy healing, there are many ways to adopt a healthier self and regain some "whole person" balance. The teaching and application of holistic therapies attract and breed a different mindset from traditional entrepreneurial businesses. As such, the usual channels of marketing seem incongruous with the more meditative actions of those involved. Here I want to share some holistic health marketing ideas that won't feel like propaganda or selling out to commercialism.
'Marketing' Isn't a Dirty Word
The word 'marketing' might conjure up mental images of seedy or exploitative campaigns to snag the unwary. Still, it is also how you will communicate with the people who will become your clients: The method by which you will share what your services and teachings will offer to those who need them. You wouldn't try to run a yoga class without telling people how to align their bodies or leave your clients to make dangerous posture mistakes without showing them the best method to correct it. In the same fashion, you need to share your knowledge and your understanding of their problem to be able to help them solve it.
Holistic health is no longer the province of hippies and new-age flower children. Significant numbers of people from all walks of life have realised that taking care of the whole person is just as important as seeing a doctor or dentist. This collective increase in people exploring holistic and alternative therapies means that you need to spread your message farther than ever before.
Getting Started – Get Online
You have probably dedicated hundred of hours honing your skills and methods. You wouldn't have done that if you didn't believe entirely in the mental, physical and possibly even spiritual health benefits of your particular brand of holism. Getting yourself online, and in front of an audience of millions, will give you a platform from which you can reach thousands of clients.
1. Website
If you don't already have a website, you really need to get one. While so many people are looking for stress relief, inner and outer strength or energy balancing, the majority are seeking them online, whether on their mobile phones or their PC. Even if someone found your name in a magazine, they will probably internet search you for further information.
A website gives you a central digital location to showcase the services you provide and the knowledge you have to share. It is easy. Even for the technical amateur, there are many sources of information for creating an effective website. You can create a beautiful website with SimplyBook.me, with the bonus of having a booking system at its core. If you want a separate site or a booking widget, Wix.com and WordPress are two of the easiest to navigate.
2. Social Media
Facebook, Instagram, Pinterest and Twitter are the "Big Four" social media giants that lend themselves to the promotion of holistic health therapies. Different post suit different channels. However, with a range of mixed media, you can attract and engage disparate groups of people seeking the same path.
The benefits of social media interaction are many. Communication between friends and family is excellent, however, groups can get your message in front of thousands of people, without touching your paid marketing budget. In these recent times of social distancing and enforced isolation, social media has become a digital word of mouth. There is no greater endorsement of your services than a recommendation from a friend.
3. Content
The content you use on your website will be the pull that keeps your clients and potential clients coming back for more. The key that keeps you ahead in the search engine stakes, and maintains your position as an authority in the field. By keeping your content current, and in touch with any feedback, displays a connection with your clients and changing trends. Choose a niche that highlights your superiority or appropriateness for specific clients.
a. Services
You need to devote at least a page of your website to services you provide and a pricing structure. Even when you display a comprehensive list of services, lack of a pricing structure is a big turn-off for many clients. As the saying goes; "If you have to ask the price, you can't afford it."
If possible, mix up the services that you offer. Try to make the classes and teachings accessible. Switch up your individual and group sessions (if you can do groups) and provide specialist appointments in your niche. Potentially, you can offer online assistance with practices like meditation, either through videos or live-streaming.
b. Blog
Blogging is far from dead, and it is a space you can use to explain, educate, engage, and entice your customers. Share the journey you took to your practice and what led you to your niche.
Don't try to cover every aspect of holistic health; it would take you a lifetime. Choose your niche and a few other complementary areas and stick to them. Maintain your areas of expertise and passion. If you branch out into a new area of interest or a new passion, research it thoroughly before blogging about it. If possible, link it back to some of your core service offerings or knowledge areas. You might want to encourage guest posts from other holistic health practitioners in a complementary discipline.
c. Images, Videos & Infographics
The internet has turned the population into a bunch of visually-stimulated instant-gratification monkeys; why read an article if an infographic has all data at a glance? A picture really is worth a thousand words. Additionally, pictures frequently explain and demonstrate a concept or an action much better than a detailed explanation. You want your customers and clients to keep coming back, make it easy for them to understand you. If you want to save some time, using an Instagram gallery to populate your booking website is useful.
d. Video
If a picture is worth a thousand words, a short video is easily worth five-thousand. Interviews are an excellent use of videos. Also, video gives you a window through which you can reach more people. Did you know that some people only trust people they can see?
Offline Marketing, Connect Personally
Sometimes, cementing customer relationships requires taking your message off the internet and delivering it in person. Connect with your community; those who will become part of your growing tribe will respond positively to your personal connection.
4. Premises & Studios
When first starting out as a holistic therapist, yoga teacher or alternative medicine practitioner, working with an established business or studio will be beneficial for getting your name and authority out into the community. Alternatively, you could join an established collective. In addition, you can collaborate easily with other practitioners. It's sometimes necessary when they are unavailable or when they operate in a different niche from the one required by their client.
5. Community
I'm not talking about the holistic health community. If you intend to provide local treatment, therapies and classes, you will need to encourage real people to come to you. There are many ways that a holistic therapist can bring value to their community; a business could sponsor an event or an individual could create a charity event that attracts sponsorship from others. Other methods could include offering complimentary introductions to your practice, or free initial consultations. Perhaps you could offer a weekly guided meditation at your local village hall, or yoga practice in the park.
If you and your business persona are active in your community, it is a beneficial and philanthropic method of promoting your business.
6. Collaborate
Of course, you can collaborate with other alternative and holistic therapists the same as you. However, there are other forms of cooperation that could boost your business better. If you can join forces with practitioners of complementary therapies, you can boost both your businesses without competing for clients. There are so many facets to the holistic health sphere, you could find dozens of complementary and non-competitive collaborators. You could also collaborate with fitness centres to provide complementary treatments for athletes.
Go, Spread the Word!
To run an effective, profitable and fulfilling holistic health or therapy business, you need to market your services. Marketing is not a 'one size fits all' system, it's really a very holistic process. Some methodologies don't work well for more mental, emotional, and spiritual services. According to some business owners, direct mail and print advertising don't deliver a good return on investment, whether that's time or money. Spread your message, help your clients (it's all marketing), and grow your business.
Namaste