Signing up with SimplyBook.me (simple, quick, and no card details)
July 10, 2020
98
1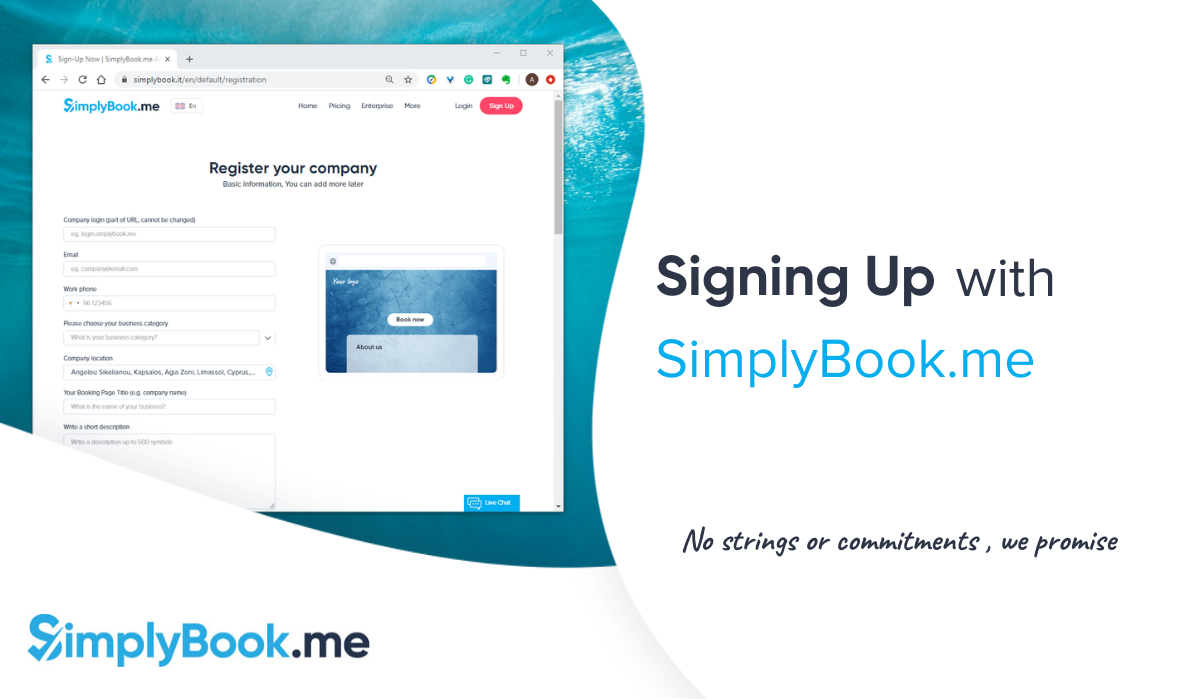 When you want to get to know a system, you must be able to use it. We know it, and the best way for us to help you is to let you. If you haven't already do done so, the video below will walk you through signing up with SimplyBook.me.
Signing Up with No Strings
If you've ever signed up for a free trial of an online software package, you'll know that many free trial offers still require your payment details. We don't do that because we don't need to. Our system has enough benefit to your business to recommend it, without having to trick you into forgetting your free trial end date. Signing up with SimplyBook.me is a simple process. There's no commitment and no money transfers while you investigate how we can help your business.
Why are you here?
If you're here reading this now, it's fair to assume that you haven't signed up yet. While you contemplate the benefits of online scheduling, or the options available by switching your platform, let me go through some of the reasons why you're here at all.
Thinking About Online Booking:
Clients have asked about booking online,
YOU like booking online for things and believe your clients will too
Your competitors have it
Save money
Save time
Simplify your processes
Adjusting to new working parameters
Thinking About Changing your Online Booking:
You've seen other booking systems that do more
Looking for a better deal
Need more functionality/features
Expanding beyond your current system
Adjusting to different circumstances
Did I miss anything? These are just the broad strokes of why many visitors are here, but I imagine at least one of them strikes a chord with you.
Why Should I Sign Up with SimplyBook.me?
Why you should sign up with SimplyBook.me is both complex and straightforward at the same time. In simple terms, SimplyBook.me is one of the most comprehensive and flexible online booking platforms in the world. Additionally, it has customisations that can develop throughout the life of your business, to scale for growth and shrinkage (when economic circumstances demand it), and streamline your separate business channels into a central management tool. It is also great value for money, and will always be cheaper than getting someone else to all of this stuff for you manually.
In a more sophisticated way, you have already done some homework on which online booking systems will suit your business. You've been on the review and comparison sites, you've Googled "Best online booking software" and read the different ranking articles by bloggers, and you may even have done your prep work for deciding your best booking service. If you're looking as SimplyBook.me, we meet most, if not all your requirements.
Why you should sign up with SimplyBook.me is simple. You want to know how we will work for your business, and to do that you need to use it.
Help available to get you started
When you have completed the signing up process for your SimplyBook.me booking website or widget, you will have access to all the information you need to build a fabulous booking system.
You will be able to easily access the help centre, where we have dozens of articles and detailed instructions on how to set up custom features, get started and which features are most commonly used in your industry.
You'll also be able to contact our Live Chat support to help you if you get stuck with something, or if just want to ask for advice on the system.
If you want to see what our other clients have to say you can see our Case study section on our blog where we have interviews with businesses in different sectors.
Signing up and Trying it out
You have nothing to lose by signing up and potentially much to gain. You have 14 days of almost unfettered access to the features and tools within the system. Try everything!
If after two weeks you are still undecided, that's okay too. If you have any queries or concerns, we would love to hear from you. We think our online scheduling and management system would be perfect for your business, but if you disagree, let us know why.
Enjoy your time with the free trial and find out all the ways we can simplify your life and give you back your valuable time.