How to Build a Consultancy Business Booking Website
09/10/2020
2123
0

This post is also available in:



If you run a consultancy business of any kind, you know that the service you provide is your knowledge, expertise, and sometimes support through the implementation process. Another thing that consultancies need to understand is that they need visibility online. No one will employ a consultant without two things; a searchable online presence and a proven track record. Additionally, no one hires a consultant without doing their research first. So this week's video is about how you build a consultancy business booking website with SimplyBook.me.
Unlike some service sectors, consultancy is one that can succeed and thrive in both online and onsite environments. As such, the importance of a fabulous website significantly increases because you can't operate online without one.
The Consultancy Business Booking Website
What's included in this week's website:
Intake forms
Service categories
Accept Payments
Accept deposits
Online Video Meetings
Insights
Visitor Counter
Contact widget
If you want to check out the demo used to create the video, you can see how it works here.
The sections I want to highlight this week are functions that will help your consultancy business to flourish both online and offline, despite what the circumstances might throw at you.
Online Video Meetings
The thing about consultancy and advisory businesses is that you have no physical or tactile product or service to sell. Everything you have to offer your clients is the wealth of knowledge and experience you have and can use to help them. In theory, you could impart your advice over a phone call, but video calls have additional benefits.
One of those benefits is the ability to set up single-use call links, which to
prevents clients from contacting you whenever they feel like it and without booking an appointment. Being able to invite all involved parties to your video meeting is another beneficial aspect, as is showing your client that they have your full attention. Nothing can turn off a client more than feeling like they aren't the centre of your attention during their allotted appointment.
There are a couple of other benefits to video calling, especially with the three platforms you can integrate with your SimplyBook.me consultancy booking website. Sharing screens and documents are often vital to the successful conclusion of a meeting or an ongoing project. In MS Teams and Zoom, you can share both documents and screens between call participants. In Gruveo, you can only share screens, but this is ideal for situations where you need to give presentations.
MS Teams is a native integration between SimplyBook.me and Microsoft in which your clients will join on the booking page. Gruveo creates a unique link to one-time call rooms, and you can link Zoom via Zapier. All of these integrations enable you to send confirmations to your clients, with a link to the video call. All of the automated booking reminders also apply, so people don't miss their appointment just because they don't need to leave the house or office.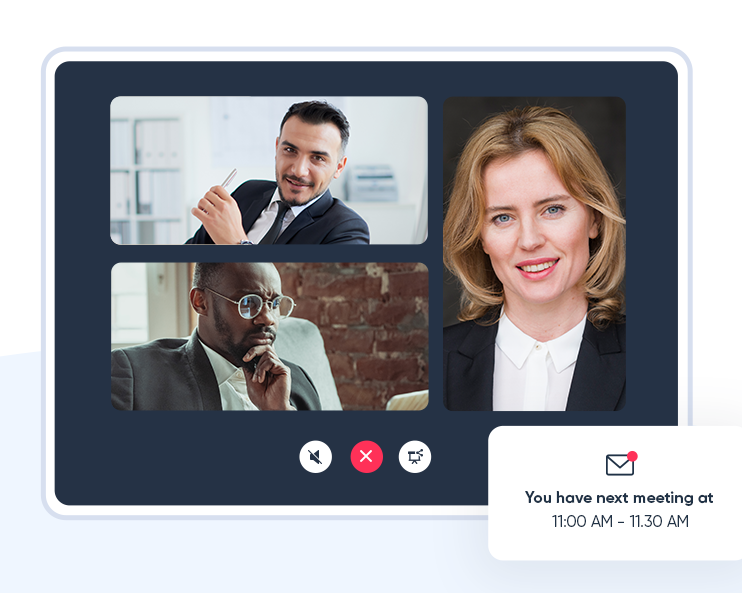 Accepting Payments & Deposits
For any business that wants to operate online, accepting payments is essential. Even if all you want to do is let your clients book online, requesting a deposit to confirm the booking has been proven time after time to reduce no-shows and late cancellations to practically negligible levels.
Few people are willing to surrender a significant deposit on an appointment, so in your T&Cs, you can make the deposit non-refundable. However, to be that little bit more accomodating, you might want to create a period in which your clients can reschedule. In either case, you don't end up entirely out of pocket should the client reschedule or not show up.
There are a couple of ways you can accept payments online. You have the option to accept bank transfers or use a payment gateway. We have native integrations with dozens of payment gateway providers that are either regionally popular or internationally compatible. It is also important to point out that many payment gateways also allow clients to pay with their bank card.
There are other options too. If you want to receive payments in cryptocurrency, you can do that with some of our payment providers. You also don't have to have only one payment option. As long as you have a business account with the gateways you want to offer your clients, and it operates in your region, you can have as many different payment providers as you wish.
Intake Forms
Whether you're offering online or in-person consultations with your clients, having the pertinent information available, regarding what the client wants to achieve with your services, has multiple benefits.
When a business or individual decides to book an appointment with you, and you don't have online scheduling, they could send an email, make a call, or drop into your office. All of those options allow them to detail their needs and what they expect of your meeting. However, with online booking, they don't always have that option.
By using intake forms, you allow your clients to detail their specific requirements, indicate whether they have used your services before, and any other useful data. With that additional data, you have all the tools you need to have a productive meeting, by allowing you to prepare information and presentations in advance, and maybe look up a previous file.
When you know what your clients expect, and how they want you to help them, you are far closer to satisfying them with your meeting than going in blind.
Consultants From Every Industry
The fact is that consultants come from every industry sector you can imagine. Whether you're a financial advisor or an interior designer, you can make your company visible and accessible as a fully supported online business with just a few extra tools in your scheduling system. Additionally, you have the option of staying online, branching out into on-site consultations, or even combine the two for the most efficient use of your time and your clients'.