February Newsletter – A New Year Brings New Developments
06/02/2023
733
2

This post is also available in:




We have some exciting updates, releases and important news for February. We hope that you all had a fabulous Christmas and New Year – and that those resolutions are sticking for you.
SBPay.me & Accept Payments Feature – You NEED to read this!
If you use the Accept Payments custom feature but have not yet enabled SBPay.me, now is the time.
As of the end of January, we will maintain API integrations with all payment gateway providers through SBPay.me only. While many payment providers will continue to function correctly for a while, any updates will only be implemented through SBPay.me. We no longer support the old system, so connections to providers may become buggy with time. Moving to SBPay.me standard costs nothing, and you keep the same features as you have in the old payment processing custom feature. We would love to share with you a comment we got from one of our long term users on SBPay.me: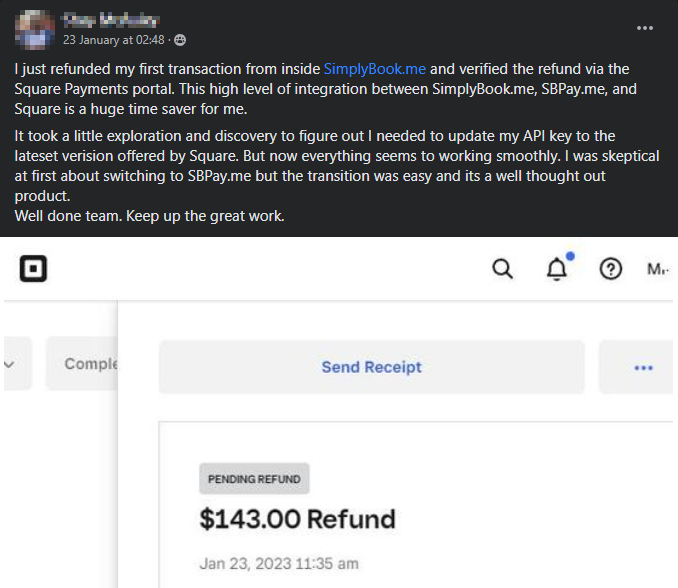 What's New Since 2022?
While there have been many bug fixes and tweaks to features and functions, there are some that you might have been waiting for. The switch to SBPay.me has been a big deal this month, but the following are probably right up your street.
Admin App Enhancements
If you have multiple locations and staff members who are only attached to a single branch, you don't want to make life difficult by making a client choose a location and a provider. The system automatically fills the location field if you have personnel attached to a single place.
Tax reports in SBPay.me
Two certainties in life, death and taxes. As that's the case, we know that your payment history probably needs some tax information to make your accounting go seamlessly. Our amazing dev team have been updating the reporting system for more comprehensive and valuable report options. The new tax reports are just one more step along the way.
A new report design is also coming soon to make navigating and filtering your data easier.
Coming Up in February and March
Well, December might have been slow for new developments, but January has seen many new ideas reach the table, so check out what we have coming up in February and the beginning of March.
"Welcome To SimplyBook.me"
If you are already a seasoned user of the SimplyBook.me system, I don't suppose this is useful to you. However, new users will soon have a setup widget/ to follow (or not, if they don't want to).
SimplyBook.me has become a comprehensive scheduling/marketing/business management system, and many people would appreciate a walkthrough when they first start using it.
We are adding new setup steps as a banner or widget to guide the new users through the basic settings.
Tap-to-Pay in the Admin App
If you use Stripe in an appropriate region (right now, this is only available in the US, but other countries won't be far behind), you may well be aware of the introduction of "Tap-to-Pay". This option will be available to use from the mobile admin app.
Client App Installation Changes
Shortly, we will change how you offer the client app download for your clients. Your clients are now offered the option to download your app if they open your booking page on a mobile device.
Soon you will be able to send a specific link for your app to your clients. When they click the link, they will be sent to a dedicated page detailing the app's functions, benefits, and processes, just like the information page on Google or App stores. This will help your clients feel more comfortable with the app because it will be a familiar process and allow them to be informed about their choice to download the app.
Selective Loyalty System-related Notifications
Ensuring your regular clients know they have a steadily increasing points balance is good. However, not everyone appreciates getting a points balance every time they have an appointment with you, especially if it's a regular occurrence.
In an upcoming update, it will be possible to disable specific email and SMS notifications when points are added to the balance. It doesn't matter whether these points are automatic additions from a booking or purchase or a manual addition by an admin (Xmas bonus for use in January or a birthday bonus?).
That's all, folks!
That's what we have for February, but plenty is coming soon. Stay in touch through the blog, and let us know what would be helpful to you. We always appreciate knowing what you want to hear more about.