SBPay.me – Your Payment Management Solution from SimplyBook.me
25/07/2022
1913
0

This post is also available in:




Unless you've been oblivious to our recent developments, you might have heard about the new payment management solution from SimplyBook.me, SBPay.me. If you don't accept payments through your SimplyBook.me booking system, it is a possibility that you haven't heard about it.
However, if you are thinking of adding a payments structure to your SimplyBook.me system, SBPay.me is perfect for making payment management a straightforward task.
Accepting Payments With SBPay.me
How many payment methods do you accept in your business?
Cash – hard currency is still a thing despite the reduced use throughout the COVID thing.
Credit/Debit Cards – virtually everyone has a bank card
Wire Transfers – More expensive services can demand a bank transfer rather than the usual methods
Payment Gateways– Perfect for providing a little protection for clients and vendors buying and selling online.
That's quite a list of different payment methods you need to manage and collate into your financial management system. That's not even considering the fact that you might offer multiple payment gateways and card types. —
If you want to accept payments and deposits with your SimplyBook.me scheduling system, you will use SBPay.me. However, whether you want to use SBPay.me basic or pro depends on your requirements.
What is SBPay.me?
SBPay.me is a payment management solution that allows your business to accept and manage online and offline payments via multiple payment processors.
SBPay.me makes accepting payments from clients across multiple channels straightforward. Integrating seamlessly with many payment processors and offering various payment options also works in tandem with the SimplyBook.me POS system for offline payments. You can even monetise the SBPay.me solution by adding a small flexible fee, depending on your chosen payment processors.
That covers the basic functionality of SBPay.me.
However, if you want more functions in your payment management, plenty are available in the Pro version. SBPay.me Pro can send payment links to clients after booking confirmations, easily manage refunds and recurring payments, broad reporting options and upcoming accounting integrations.
The difference between SBPay.me and SBPay.me Pro are below: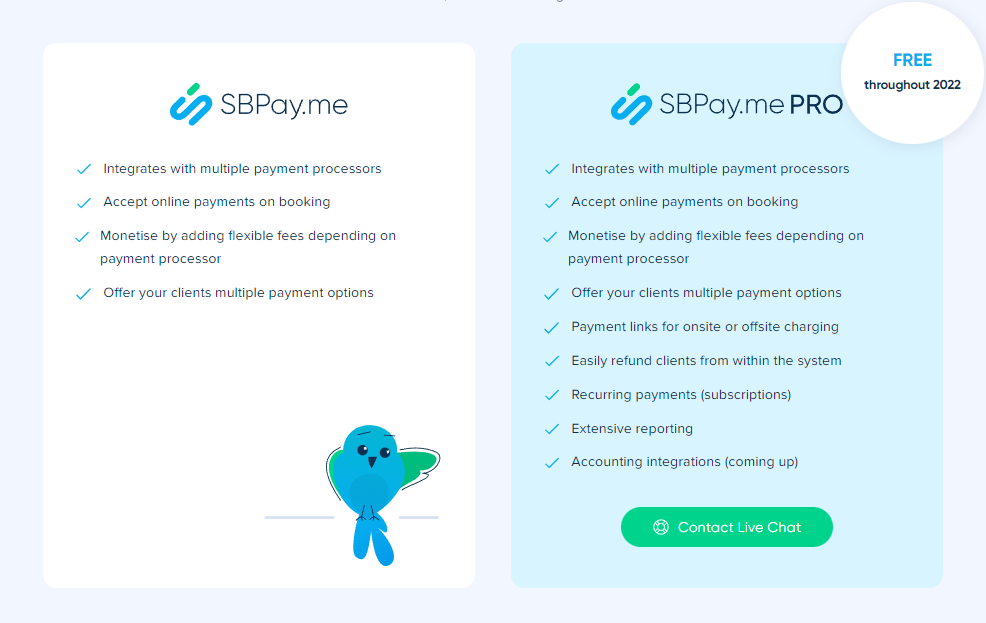 SBPay.me is still in a beta release phase, and even the pro version is free to use until the end of December 2022.
How To Use SBPay.me with SimplyBook.me
You can activate SBPay.me in the Accept Payments custom feature of your SimplyBook.me interface. If you already have Accept Payments enabled, you can activate SBPay.me in the accept payments setup.
The video below will walk you through the process of setting up and how to use SBPay.me.
You can use the switch that can be seen in place of the SBPay.me activation button to toggle between the Pro and the regular version. However, while it's free, you should discover how the SBPay.me Pro version can help you out. You can always toggle back to the basic option if you don't need any of the enhanced features.
Configure Your Payment Channels
Go to Payment system config to set up the payment gateways that you would like to use, you can use multiple payment processors or gateways, and SBPay.me payment management will have them all organised in one place for your information.
If you've previously configured any payment gateways in Accept Payments, these should already be enabled. However, please be advised to double-check the configuration to make sure everything is set up correctly.
Pay Later with SBPay.me
Please enable the delay payment system if you want to offer the Pay later option.
If you want to send a payment link when using the Pay Later option during booking, you should enable the 'Send payment link' switch for email and SMS notifications. You can adjust the respective templates to your preferences and required information. This is particularly useful if you use the Approve Bookings feature or if clients require consultations before receiving their service.
Your client will receive a notification with the payment link whenever they book using Pay later or whenever you or your employees create a booking while choosing the Pay later option.
You can also trigger this notification or copy the payment link from Reports // Payment transactions or from the POS interface.
Vaulted Payments Management
To use vaulted payments, i.e. when your clients ask the system to save their payment details for future purchases, simply enable the respective setting in Accept Payments. Your clients will have the option to save their payment method during purchase to use it for future bookings.
Some people do this to make future payments and bookings more streamlined. Alternatively, others prefer not to save payment methods for security reasons.
Refunding Payments
You don't want to give money back to clients, but sometimes it's unavoidable. Suppose you have refundable deposits (up to a particular timeframe), a money-back guarantee on your services, or even a thoroughly unhappy client. Sometimes, you have to give the money back.
The least we can do is make it easy for you.
You can refund transactions from the Transactions page of the SBPay.me interface. Alternatively, you can also do it from Reports // Payment transactions.
Make the Most of SBPay.me – the best is yet to come.
This first release of SBPay.me is just the initial step in streamlining the process of accepting payments through your SimplyBook.me scheduling management system. We are far from finished and intend to develop this payment management solution to further represent the needs of our users (that's you, btw).
We have already completed integration with Revolut, a commonly requested feature which allows you to get paid directly into your revolut account.
Our next steps will include responding to feedback on the beta release and integrating with accounting software partners for their, ours, and your mutual benefit.
SBPay.me is ready for you and is still being developed to add more benefits. While the Pro version remains free to use, try it out and see how much it can help you manage your payments.