Calendly Alternatives – 4 Options to consider
18/01/2022
1997
0

This post is also available in:




If you're looking for a scheduling system right now, the chances are that you have seen Calendly. Calendly itself is an excellent example of a scheduling system. Their marketing machine has done a fantastic job of getting the name in front of everyone seeking a scheduling system for their business. However, there are Calendly alternatives available for those businesses that need a little more (or a lot more) or less than the Calendly system provides.
Why Do People Like Calendly?
A lot of people like Calendly, and they have good reasons. It has been an invaluable tool throughout the pandemic. Not just for businesses, but individuals, schools, families, and even scheduling chats with friends.
Integration with video calling tools, such as Zoom and Google Meet, has made scheduling face to face meetings with people easier and enabled business expansion into online provision. And sending customised meeting links and arranging times when people are available for specific types has been crucial.
Calendly has become very popular for internal scheduling for teams, and companies, Not just with people working from home but also with distributed teams worldwide.
However, that's not everything – Scheduling teams and meetings together and synchronising multiple calendars has enabled better company organisation and communications. Embedding booking functionality into forms and web pages has meant people can easily integrate online scheduling into existing websites, and there is a lot more besides.
Yet there are still some gaps that an alternative product might provide.
Why Do Businesses Seek Calendly Alternatives?
While Calendly is an excellent example of scheduling software, it's not ideal for everyone. One company could need more features and functionality, while another might need fewer features but a cheaper option. Another business might require different integrations with their preferred software. It might even be a company that has loved the system, but their business expansion requires more than Calendly can provide.
These are all valid reasons for seeking a Calendly alternative, and you can't blame people for hunting down the best possible solution to fit their business needs.
4 Excellent Calendly Alternatives – When you need something different
SimplyBook.me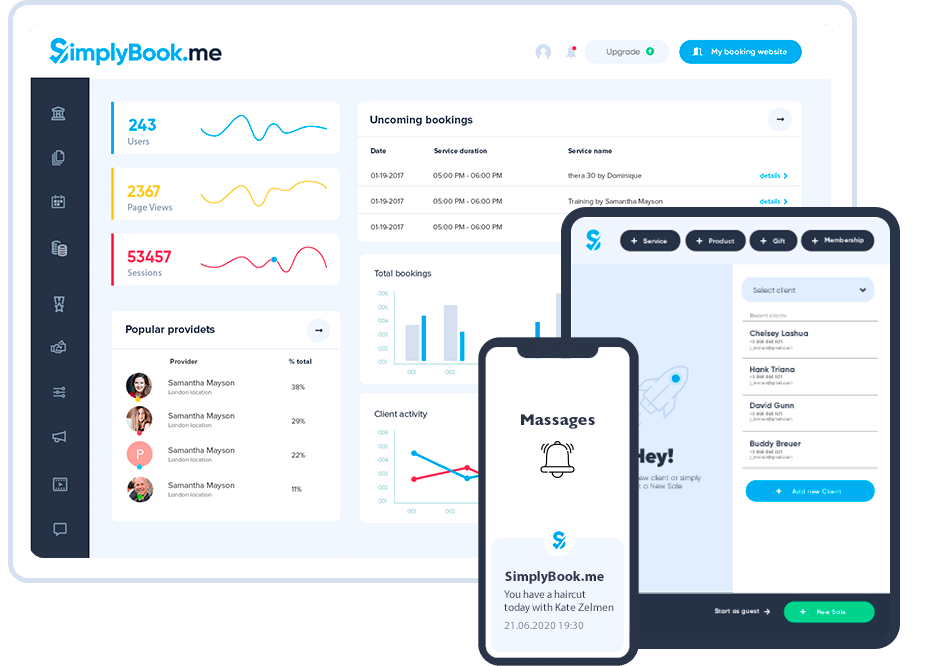 SimplyBook.me is excellent for client scheduling and allows for integration with existing websites or creating a dedicated booking website that is extensively customisable. A broad range of features and integrations enable it to do many things, not just schedule your appointments. Adding in an extensive API makes it possible to integrate SimplyBook.me with a vast range of other software options a business might need. For less tech-savvy individuals, there is also Zapier integration.
Payment options and integration with a global selection of payment providers makes accepting online deposits and payments simple. Meanwhile, an integrated POS reconciles online bookings and deposits with in-person balances payments and appointment booking.
While this is ideal for clients booking individual service appointments, there is also the option for class schedules, group bookings and membership schemes.
Okay, we can't avoid it, we think SimplyBook.me is an excellent alternative to Calendly (and we aren't the only ones). You can see a comparative review here from a client.
Benefits of SimplyBook.me
A wide range of features to enable resource management, multiple providers, different locations, and
Extensive Marketing suite including native integration with Facebook, Instagram, Google Business & Customisable email marketing tools.
Robust security features include SOAP with encryption, HIPAA, Google Authenticator.
Data collection tools with registration and intake forms
Extensive range of payment providers and POS system
Pros
Multiple subscription tiers for scalability with business growth
Ability to build a website, add booking functionality to a website, and a client-side app
A mobile app for managing bookings and clients while on the move.
Cons
A limited free version
No direct link to a specific appointment type
Appoint.ly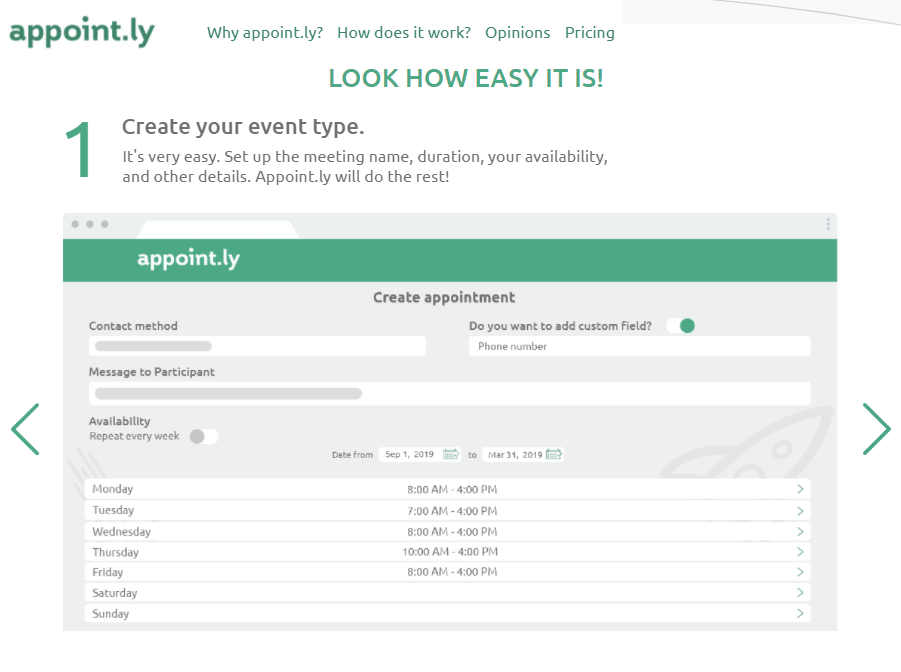 At one of the cheaper options available (for paid plans), Appoint.ly is a very robust and straightforward scheduling tool for both internal and client scheduling. The simplicity of setup means that users set up their event types, share a link and their clients or colleagues book an available slot at their convenience. There is still an option for sending individual links to specific appointment types that Calendly boasts.
The majority of Appoint.;y users are individuals, but it is also highly effective for teams
Benefits of Appoint.ly
Simple Setup
Inexpensive for individuals or teams
Additional custom fields on the booking form
Automatic time zone adjustment based on user location.
Pros
Broad calendar integration range with Google Outlook, Office 365, iCloud, and Exchange Calendar
Personalised scheduling link to send to clients and colleagues
Super-simple setup.
Cons
The free version only allows for a single event type
Reporting and company information is only available on the paid subscription.
Branding customisation is only available for Enterprise White label users.
Calendar.com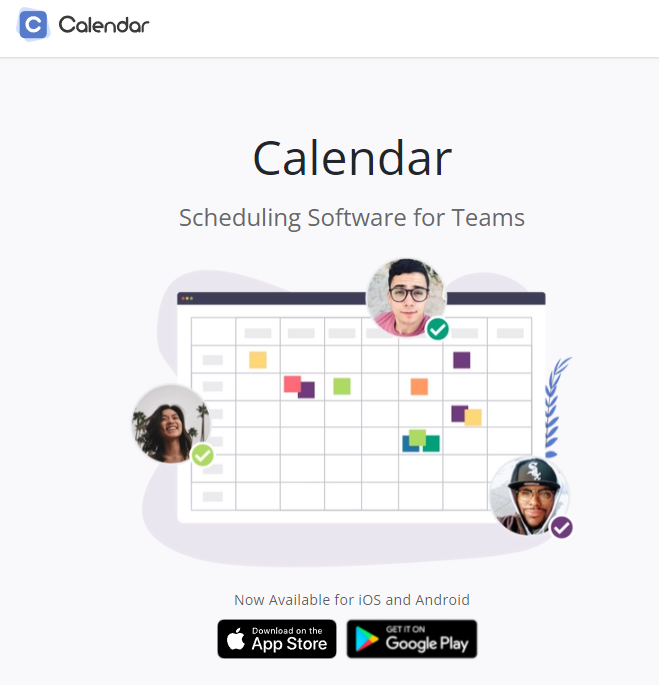 If internal scheduling and meetings are your reasons for investing in a scheduling system, Calendar.com might be a better option for you. It is a straightforward scheduling tool. It is an effortless Calendly alternative, more geared toward internal scheduling. However, its simplicity does not mean you can't use it for significantly large companies with unlimited seats and up to 50 teams (with up to 50 people per team).
As is commonplace with many calendar management and scheduling systems, you can try the pro version for 14 days before deciding whether it works for you.
Benefits of Calendar.com
Option to use the free plan for up to 5 team members on the free plan
Round Robin Team Scheduling
"find a time to meet" feature to check calendars to schedule a meeting simultaneously.
Up to 10 calendar connections per account.
Embed the booking functionality on a web page.
Share calendars and sub-calendars with colleagues
Pros
Under very robust continual development (if they stick to the promises on the website)
very affordable for start-up teams
Connection and synchronisation with multiple calendars
Cons
No SMS notifications (as yet)
Limited Integration options (Zapier & Zoom)
Doodle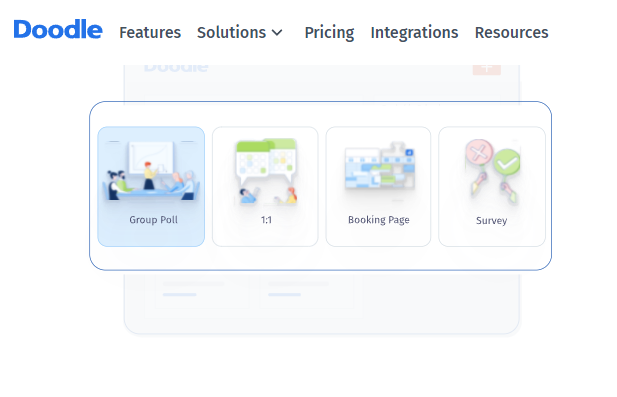 It depends entirely on why you need a scheduling tool. Doodle has a very different approach to booking meetings.
Instead of working from a specific calendar, users sign in from the Doodle website, create a meeting type/title and propose several scheduling options. This enables people to select the most appropriate time for their meeting according to availability. If you are having a lunch or dinner meeting, there is also the option to add locations and even food choices to polling.
Benefits of Doodle
You don't need all meeting attendees to be a part of your internal network.
Users don't need an account for ad hoc scheduling requirements
Calendar sync with integrated calendars (Google Office 365, Outlook)
Meeting confirmations and reminder notifications.
Video meeting integration with Zoom and MS Teams
Calendar integration compatibility is not a requirement for meetings
Pros
Automatic adjustment for time zones when polling meeting time suggestions.
Ability to limit the number of bookable events in a day.
Option to schedule 1-2-1 meetings with an invitation.
Cons
No free version (although there is a free trial period of 14 days)
Limited Integration Features
Most of the more valuable features are only available in the higher tier.
Calendly Alternatives – Honourable Mentions
We couldn't talk about Calendly alternatives without mentioning these two super useful tools. While not the most widespread or popular options available, there is room for all sorts of different tools in the scheduling space.
SimplyMeet.me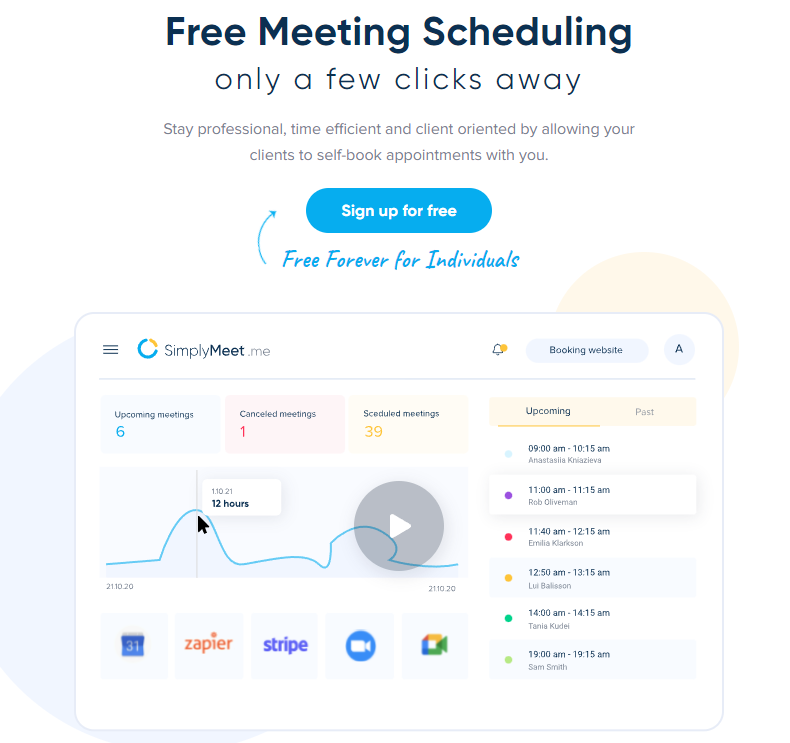 SimplyMeet.me (previously Harmonizely) has a straightforward pricing plan with an extensive free subscription for individual users and a standard $9.99/month/user price for pro users and teams. The system has maintained a broad range of calendar integrations (for which Harmonizely gained popularity), including CalDav based calendars. It also has a wide range of video conferencing integrations for online and hybrid businesses.
Google Calendar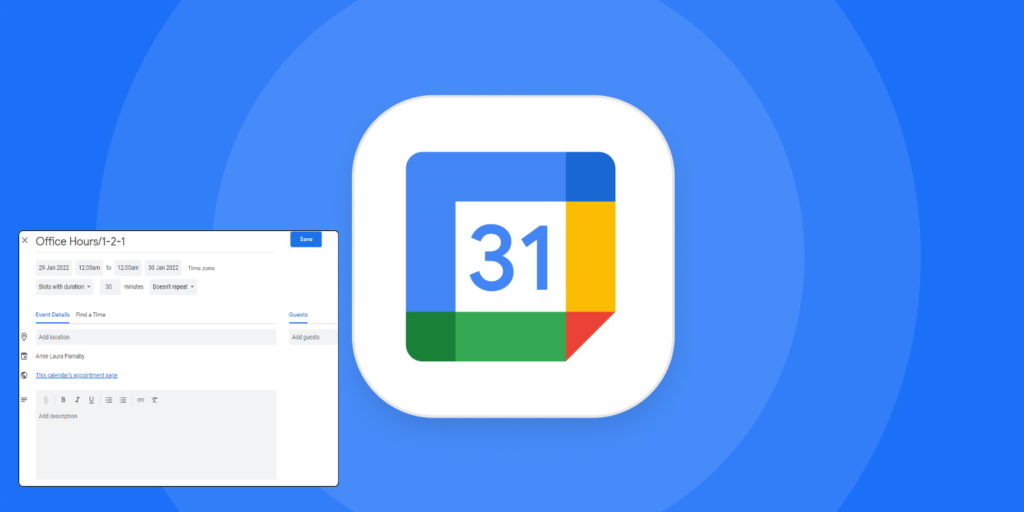 Yes, everyone knows about Gmail and Google Calendar, but very few of us pay attention to the developments and tools available within the expansive Google framework. For the most simple scheduling, such as allocating office hours and specific periods when you will be available, google calendar can accommodate you with minimal hassle. If you need nothing more than this most basic of online scheduling, Google Calendar could be helpful to you.
You Have Alternatives to Calendly to Consider
This is not an exhaustive list. These are simply (pun intended) our top picks as alternatives to Calendly if that system doesn't meet your requirements. You don't have to take our word for it; you can check them out for yourself.
Many options are available, all with similar but slightly varying feature options. What might be perfect for one business might not work for another. Meanwhile, the scheduling software requirements are changing all the time. And scheduling tools are also changing all the time to keep up with evolving demands.
Calendly might be just the right tool for your business, but you should check out the alternatives to ensure something else isn't perfect for your needs.