6 Reasons Why Your Small Business Needs a Marketing Strategy
18/10/2018
1223
2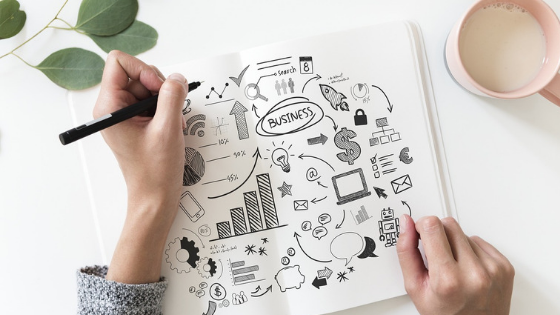 This post is also available in:



For small businesses out there, aimlessly drifting around the vast marketing ecosystem is not an option. Alas, numerous organizations struggle to overcome the first hurdle, the lack of time, expertise, and resources to fuel marketing. As a result, they operate in the dark and lose a ton of potential business.
Well, I know owners have a lot of their plate, but a marketing strategy actually breaks various ambitious goals down into bite-sized chunks. It makes sense of the complex business environment and uncovers the opportunities that lie in it. One must use it to plunge the brand forward and gain a sense of purpose and aim.  
So, it is time to ditch the haphazard and conservative approach and put everything into black and white.
It is your way to customers
Customers are the lifeline of any business and getting to them is a task of utmost importance. Marketing is precisely what bridges the gap between your brand and the market. It entices people to come to trust you enough to pay for your products/services. If you need proof, let us just say for now that between 70- 80% customers research brands online before deciding to make a purchase.
Therefore, for those who mean business, mapping out a marketing plan is all but optional. It is the blueprint that aligns your marketing objectives with other business goals and strategies. You are less likely to get distracted or lose sight of what you are doing. The absence of such a supporting pillar can only spell doom for prospects of newcomers in the market.
Key to maintain competitiveness
In this day and age, acting on a whim is a risky business, to say the least. Successful businessmen know better: they tend to make educated decisions rooted in marketing strategies. These vital documents lay the foundations for campaigns and give much-needed consistency to marketing efforts. They also allow organizations to allocate their limited resources where they are needed the most.  
On the other hand, we have more than one-half of all SMBs that lack a detailed strategy. Sooner or later, they learn the hard way that big ideas and concepts do not take you very far unless you formalize and securitize them. They become aware too late that marketing is a must for every business. The takeaway is clear— there is no excuse to forgo value that marketing provides to your organization.
Power of research and data
An essential part of fleshing out a strategy is market research.  This task revolves around getting to know who your target audience is. Invaluable insights you gain, such as demographics and browsing history, serve as building material for buyer personas. This kind of a data-packed approach gives you an opportunity to center your marketing efforts on the wants, preferences, habits, and needs of real people.
In other words, you are able to solve the problems and mitigate pain points. That is the only viable way to really delight customers and foster their loyalty. Furthermore, competitive research enables you to scope out how other businesses are doing. You can learn from their mistakes and success stories. Most importantly, you gain a clearer idea of how to separate yourself from the crowd.
Making strides toward goals
A marketing plan establishes tangible marketing goals. They can take various forms: spreading brand awareness, generating leads, driving sales, or improving SEO ranking. They are your guiding lights and also the main factors that determine the type of marketing channels you are going to use. Many would agree that there are no predetermined answers here. Paid advertising, organic search, blogging, social media, website, and email— they can all do the trick for a small business.
That being said, it should be noted that around 96% of SMBs report using social media as a principal channel for increasing exposure, building a loyal following, and boosting traffic. So, setting up a presence on these booming networks is probably a must. Whatever you do, make sure to attach a time frame and specific tasks and tools needed to attain each specific goal.

It provides direction and consistency
A marketing strategy gives you control over business processes, defining clear roles and responsibilities.  Everyone within the organization is able to follow set procedures, guidelines, and deadlines. Although most SMBs handle digital marketing on their own, it is quite common to also outsource some of the tasks.
The mix of in-house and external resources is particularly common in the area of SEO, as well as web, print, and graphic design. After all, these are the fields which involve either technicalities or creative tasks that are well beyond what amateurs can hope to achieve. There are a lot of reputable companies out there so it's important to research your options when outsourcing and take your time with the hiring process. If planned ahead of time, outsourcing gives you both superior results and more time to dedicate to other priorities. There are costs, but the marketing strategy minimizes the chances of you wasting any resources on futile goals.
For good measure and insight
With a comprehensive strategy in place, it is way easier to keep track of the ROI that your marketing activities deliver. That is why the best marketing plans never fail to identify key performance indicators for monitoring and measuring success. What is more, they encourage small businesses to invest in data and analytic tools for gathering and processing information.
Equipped with such instruments, you can rely on a steady stream of data to (at any moment) assess whether you are on the right tracks or straying away. You are able to adjust and fine-tune strategies and campaigns on the fly, setting the groundwork for business growth and expansion. Ultimately, you gain the opportunity to fight for much more than mere survival.
Take aim and hit the mark
Navigating the restless marketing waters without a compass and map in hand is a treacherous endeavor. Yes, obtaining them requires a lot of research, time, and financial commitment. But, all of that is a drop in the bucket compared to the payoff— gaining a strong foothold in the immensely crowded market.
So, act with a laser-sharp focus and set yourself apart. Layout realistic goals and get everyone on the same page. Position your brand strategically to meet the needs of your target audience. Optimize every aspect of marketing and never stop learning and improving. Finally, remember that formulating a strategy is just a first step. What follows is the ongoing process of refinement and execution.