Your SimplyBook.me Integrated POS (Point Of Sale)
31/03/2021
1583
0

This post is also available in:



Whatever your business, you always need a point of sale. A POS is the hub of your payment acceptance. If you don't have one, you miss out on the numerous ways it can help you collate information, highlight trends, and adapt to customer needs. Whether you're entirely online, a single point brick and mortar store or a multi-store company both on and offline, you need people to be able to pay for their services and products. When you have a combined online and offline presence, consolidating the different payment measures requires an integrated POS that will help you keep your payment types and methods combined in a single system.
The integrated POS that is part of the SimplyBook.me scheduling system enables you to collate payments and deposits from your online clients and your walk-ins.
Scheduling & Payments Integrated
When you allow clients to make their own bookings and require payment in full or a deposit to confirm the appointment, you need a payment processor. Needless to say, you really can't take cash or cheque online, but you can use a payment processor that allows people to use either an existing account or a credit or debit card. When you receive payments this way, it logs in your scheduling system as a payment received against the booking. 
But what do you do if people come to your business premises to make an appointment? With non-integrated systems, you have to reconcile your on-site payments with your online booking system. That's not making your life easier; it's adding to your workload at the end of every day, week, or month.
The integrated POS with SimplyBook.me allows you to incorporate all payments and appointments in a single system. Everything collates into a single reportable system, whether they are advance bookings and fees or walk-in impulse appointments. It also means you can allow your clients to pay in many different methods, from bank wire transfers to debit cards and cryptocurrencies (with a suitable payment processor).
Using the Integrated POS for your Business.
From the custom features menu on your SimplyBook.me dashboard, you can search for and enable the POS. Once enabled, you will see a "Go to POS" button at the top of your user interface, which means you can easily access the POS from whichever page you are currently using on your interface.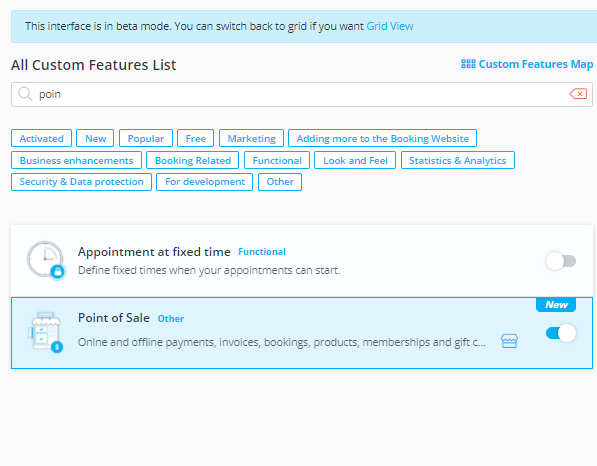 Let's have a quick look at what you can do with the POS which integrated seamlessly with your booking platform:
Accept payments: Cash, Card, Gift Cards, or Pay later
Manage bookings & purchases made online and on-site
Create and register bookings and sales on-site for walk-ins
Sell Products, Service add-ons, Memberships, Gift Cards
Apply Coupon & Voucher Codes at checkout
Connect to scanners and scan product barcodes
When you enable the POS, the system will automatically enable the Accept Payments feature. An excellent addition to this is the option to enable the Deposit feature, which means clients don't have to pay the total amount on making a booking. That's if you want to take payment to confirm a booking.
The POS Interface
This is how your POS interface will appear.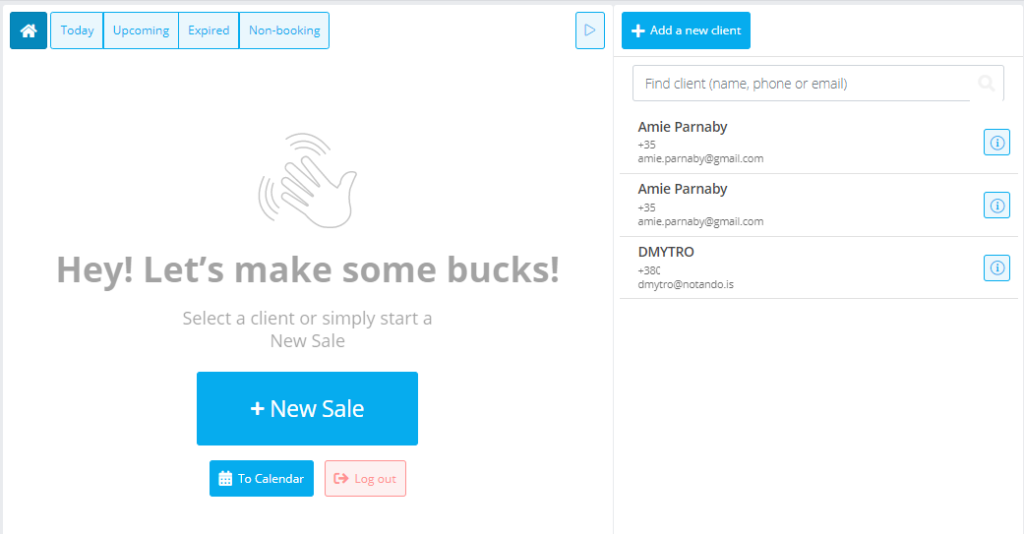 From here, you can use the buttons on the top left to reference upcoming bookings, see which ones are paid and which ones are pending, and see any new appointments. You can search your entire client list by name, phone number or email address on the right of the screen.

Not a returning customer or no booking? You can start a new sale which will allow you to either create a new client or complete the payment process and checkout as a guest profile. Not everyone wants to create an account to receive a service, or maybe they are a one-time visitor from out of town. There's no point holding data for a client 2000 miles away who will never come back.
The POS is an ideal place to upsell to your clients, especially if they haven't paid upfront. You can also track additional product and service upgrades by the provider, either by staff member doing the service or the one at checkout. Technically you can make your POS mobile with a phone or tablet. However, checkout displays are still a significantly valuable source of upselling – even if they have disappeared while COVID-19 did its rounds. So it's worth having a static checkout area.
You can add a service, product, gift card, membership, or package from a new sale screen. When you select your service, you also have the option to create a recurring event, such as routine blood screening, hair colouring or physio sessions. How about a recurring Swedish massage every fortnight? Yes, please!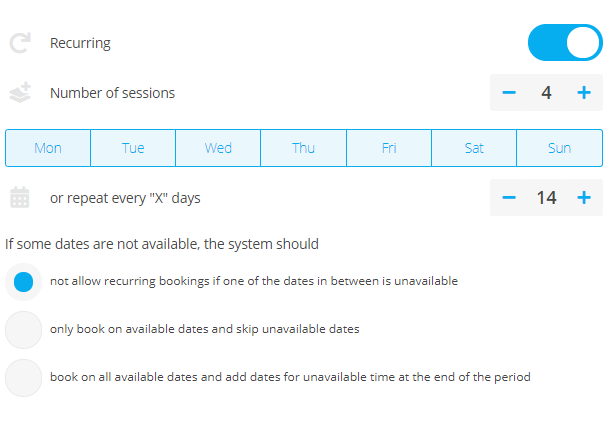 Checkout & Invoicing
Once you are ready to checkout and receive payment, you simply click on the big green checkout button at the bottom of your itemised list of services and products. Below are the current options available through the POS system: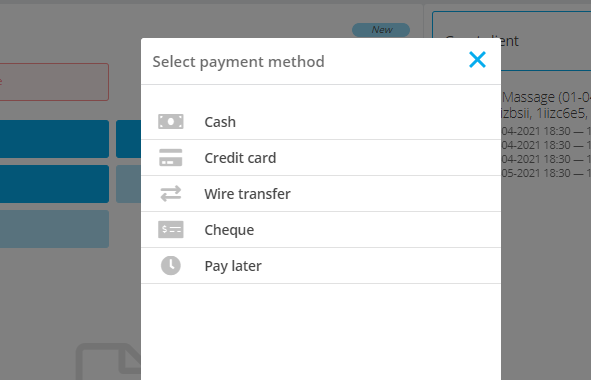 Once you have processed the payment method your client wants to use and received confirmation via bank alert, card receipt, or physically putting cash in the register; you can go to the invoice to print it out.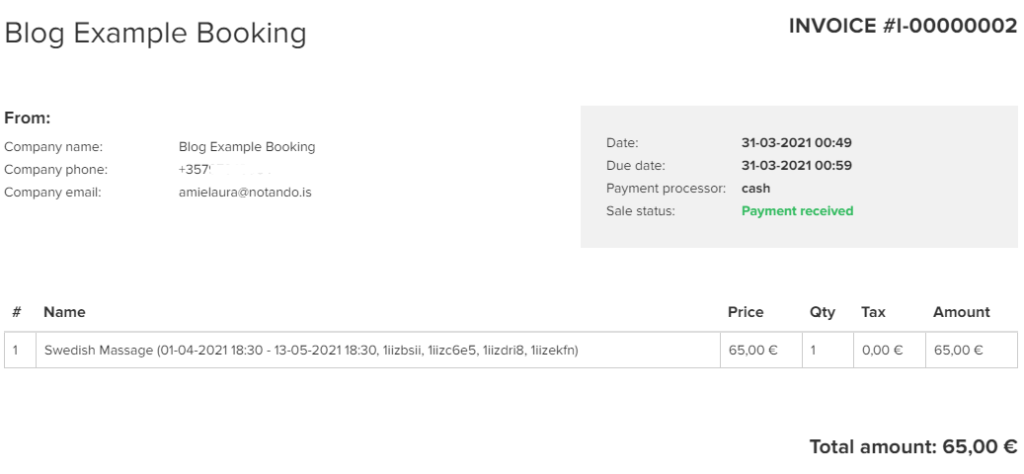 Transaction complete!
If you are lucky and the client has the potential for returning, you can ask them to give a name and email or phone number for your records – utterly essential if they book in advance. However, with excellent service and an outstanding outcome, you might be able to talk a client into signing up for a loyalty scheme (with a bit of incentive) or to receive appropriate offers when they checkout. A new client added to your mailing list.
Reporting, Trends and Taxes
With the integrated POS, both online and offline payments filter into your central database of booked appointments, walk-ins and ad hoc product purchases. This is really handy when reconciling monthly and quarterly incomes and revenues, allocating bonuses, spotting trends and much more. Your accountant will love the fact that it's all in one place for tax liability purposes. All of which you can find in your data reporting within the SimplyBook.me dashboard. 
Taking Integrated POS into the Future
As payment processes and methods evolve, so too must our integrated POS system. Now that mobile payments, loyalty systems and digital wallets are becoming commonplace, it's time to switch things up a little. Our feedback has been consistent, and you should stay tuned for the new developments that we have in the works in response to our users' invaluable feedback.