Vaccine Appointment Scheduling with SimplyBook.me: Setting up
11/05/2021
1290
0
This post is also available in:



There has never been a worldwide rollout of vaccines such as those for the COVID-19 virus. Sure, the elderly and the immunocompromised have had the flu shot every year. Children are inoculated at various points of their developing lives against old childhood diseases like Measles, Mumps, Polio, and Pertussis (whooping cough). But we have never tried to get everyone at once. It is a massive undertaking that needs a unified and efficient vaccine appointment scheduling system – especially when most vaccines need multiple doses at different times for maximum efficiency.
If you need help in setting up a vaccination system for your local area or region, check out the video for how you can set up a vaccine appointment system for your patients.
Setting up a vaccine appointment system
If you already have a system set up with SimplyBook.me, this will be easy for you. However, if you have not had the pleasure yet, let's have a walk through how to set up a vaccine appointment system. For my examples, I have used only the Pfizer/BioNTech and the Johnson & Johnson vaccines for illustration. Precisely because one is only a single dose, while the other is two separate injections more than three weeks apart.
In Manage//Services (on the left of the screen), you can add your vaccination services by clicking the + sign. Complete the specific details of the vaccine appointment, save and close. By clicking on the eyeball next to the second dose appointments, you can exclude them from the online portal, which means people can't book it without having had the first dose.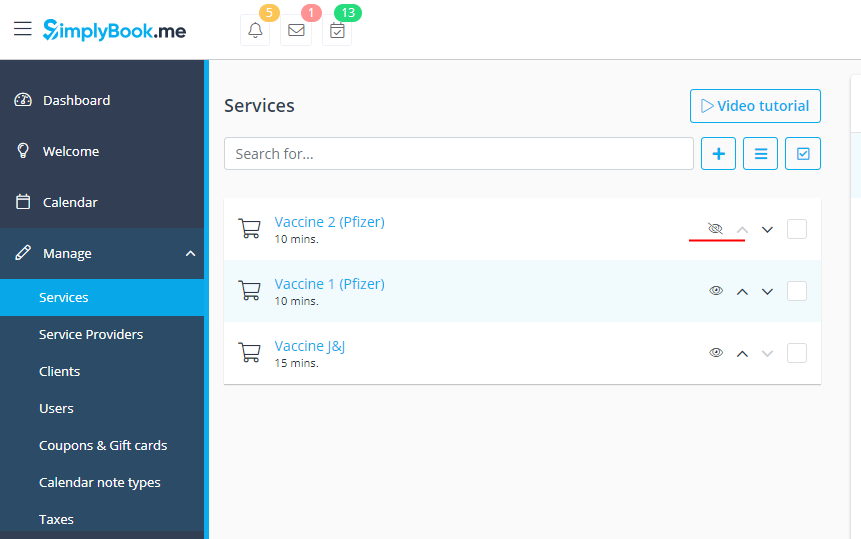 Depending on the vaccines you will be administering, you will need two appointments for each patient who needs a vaccination (J&J is the only exception at the moment). However, you don't want to allow your clients to book their second dose too early, too late, or perhaps not even get the first dose… Yes, some people will do that to get their vaccination certificate quicker.
Another easy way to ensure people come for both doses is to encourage "bundled" bookings. People can book both appointments together but cannot ONLY book the second appointment, as it doesn't show on the booking system.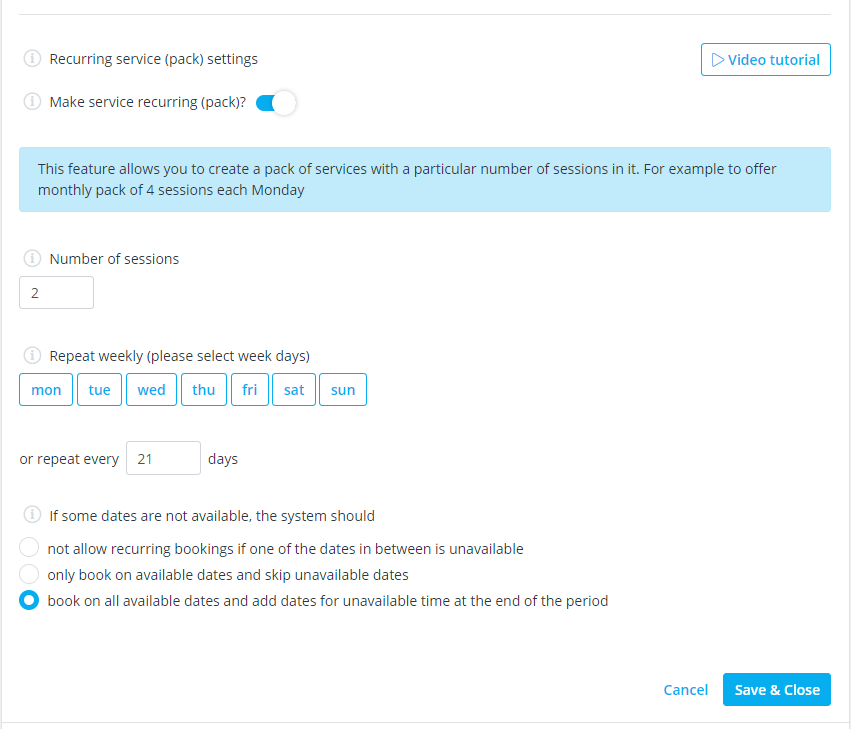 The recurring period would be different for the different vaccines for maximum efficacy – I did say optimum gaps between doses, it's not prescriptive.
If you want detailed setup instructions for all services you can check our blog post and our video.
Streamlining the vaccine appointment process
The SimplyBook.me vaccine appointment system, makes things easier. Hospitals, personal doctors and clinics are set up to serve a fraction of the local population at one time, hence why COVID-19 caused such a mess. In that same vein, no one ever starts a new clinic expecting to cater to the vast number of people needing vaccinations.
By automating the booking process for vaccination appointments, you reduce friction throughout the process.
What you don't need:
Staff handling all the calls
Negotiating appointment times
Double bookings – if it's gone, it's gone.
What you do need:
Easy access
Instant appointment booking
Reminders for attendance – especially for the second doses
No one would suggest that it should be compulsory to book vaccine appointments through an automated portal. There are far too many people who cannot make their appointments online, whether through disability or online access. However, you reduce the necessity for employing far too many people to cover phone bookings. Moreover, the time it takes for a phone booking is long compared to the speed that patients can achieve online.
When most of your patients can make their appointments online, the remaining few who can't do so will get the attention and assistance they need.
External validation for vaccination clients
One more thing that you could use is validation. In most places, you probably have a national database of eligible citizens and residents. How do you ensure only your eligible residents get vaccinations, and no one uses another identity to jump the queue?
Almost everyone has some version of ID, whether it's a driver's license, passport or even their social insurance/security number (whatever you call it). If someone legally lives where they want to get their vaccine, they will have at least one proof of identity. You can use that information to validate against your eligible vaccine recipients.
If you want to use the validation aspect of the booking system, you will also need to use the Intake Forms custom feature to collect the pertinent data to check against the database. Alternatively, intake forms can be critical for collecting important patient information, which will be important for collecting observations and tracking any adverse effects.
Just remember that vaccination is for life, not just for COVID. Implementations you make now could be useful for susceptible people in flu season, or parents of small children.