The Best Booking System for Your Needs
22/11/2021
1888
4

This post is also available in:




If you're here, it's because you have already started looking at implementing online booking for your business. Maybe you already have it, and you are looking for an option that suits your business better. The chances are that you have a service business already, or you're on the cusp of starting one, and you want to find the best booking system for your needs.
I don't need to tell you that online booking is a massive boost to sales, marketing, online reach, and accessibility. You don't need me to explain why online appointment booking is so important. You wouldn't be here if you weren't searching for information about the best booking system you can get.
Choosing the Best Booking System
It's not easy choosing a piece of software that will be an integral part of your service business. It will essentially be the central hub of your appointments, whether you make the appointments yourself or let your clients do it themselves.
Depending on the number of clients you have or expect, the number of services you want to provide, whether you need to manage resources, multiple staff or even multiple locations. Your budget for this tool will also be important. If you have a small but steady turnover, you might not need the most expensive and flashy option that does everything and delivers the kitchen sink.
You will need to decide what options and extras you need (if you need anything other than simple meeting scheduling), what you don't need, and those "nice to have" options that you would really like to make your life easier, but you can live without. Your budget plays a huge role in this decision because although your booking system will play an integral part in your business, you don't want to affect your profit margin too badly.
So before you even start looking at the different options, make yourself an "Ideal Booking System" list, Then break down that "perfect" list into essentials and bonuses. Then you can begin to look through the best choices you can find. If you don't have a clear idea of what you want, you can't make a good final decision, and the process just becomes painful.
The Best Booking Systems (yes, we are biased but honest)
So let's be honest and address the elephant in the room. You're looking for the best system on the market for your needs, but most of the articles are written by booking system providers themselves to get visits (Hello, from SimplyBook.me), and we are no different. We want you to use our system because it is the best option. We're pretty proud of our product, and why shouldn't we shout about it?
However, we are wise enough to understand that we can't possibly be "all things to all men". You know the phrase, you can't please everyone all the time. So yes, we genuinely believe that SimplyBook.me is an excellent solution to your booking system requirements, and we'll go ahead and put it at number one on our list.
However, if for some reason SimplyBook.me isn't the right fit, the rest of the list is the booking systems we consider good alternatives and might have the right combination of features and provision that fits you like a glove.
1. SimplyBook.me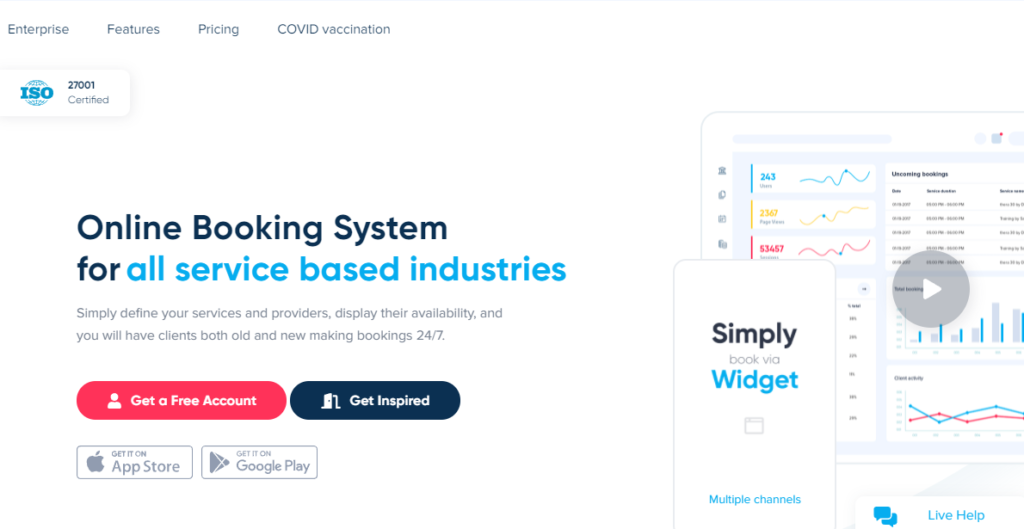 SimplyBook.me is our perfect pick for providing online scheduling services to customers and helping businesses to manage bookings, schedules, payments and more. It's both user and client-friendly for managing bookings and making them whenever and wherever.
Using widgets and buttons, it is possible to add all the booking functionality and tools in the system to an existing website and social media profiles. This tool perfectly suits beauty spas, fitness, education, healthcare, professional and personal service, driving schools, and much more. It is also highly scalable and flexible from the startup solopreneur to large enterprises.
There is a free version and a 14-day free trial of the premium subscription.
Features
Easy calendar display of booked appointments inthe admin side as well the client side.
Customisable booking website with a choice of themes and
Extensive integration with payment processors including PayPal, Stripe, Square, Skrill, LINEPay and many more.
Automated notifications to providers, admins and clients when appointments are booked, cancelled or rescheduled.
Get to know your clients with intake forms for individual bookings and client registration.
Compatible with multiple Google Tools including Google Business, Reserve, Calendar, Meet, Adwords, Analytics, Translate, Authenticator (2FA), Drive (with file uploading)
Marketing suite including additonal booking channels, email marketing, and social integrations.
Allows to offer gift cards, coupons, membership subscriptions, and packages to customers
HIPAA and SSL compliant, with numerous extra data protection features that are mainly free to use (HIPAA is not free)
External integration via Zapier, Integrately, and API
Compatible with Gruveo and MSTeams
Native Booking Button Integration with Facebook and Instagram
All registered users can access a mobile admin app, and a downloadable client booking app is available.
> 60 Custom Features to personalise and customise booking and management requirements.
There is a free version and a 14-day free trial of the premium subscription.
2.0 Acuity Scheduling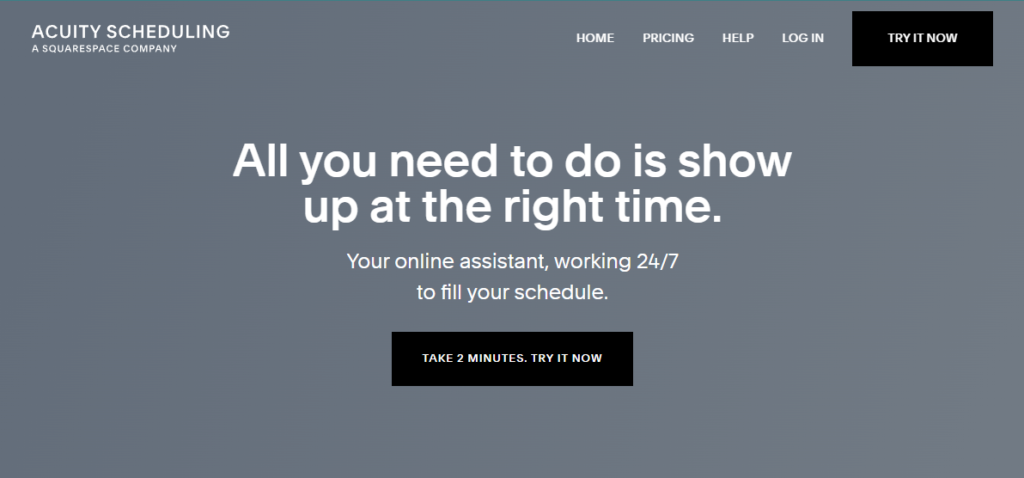 Acuity Scheduling is one of the best user-friendly appointment booking tools that enable clients to conveniently book services from anywhere. You can collect client preferences and intentions from the intake forms at the time of booking, accept payments and integrate with several external applications and tools.
There is a free version and a 14-day free trial.
Features
Easy to display the available booking time-slots and dates
Booking confirmation and reminder messages via SMS or email to clients
Manage multiple locations
Payment integration with PayPal, Stripe, and Square
Compatible with Zapier, GoToMeeting, Quickbooks, MailChimp, Google Analytics, and more
Automatic notifications when a new appointment is booked
Easy calendar sharing on Facebook and Twitter
Enables sending gift cards & subscriptions to clients
HIPAA compliant for safeguarding client medical information
3.0 Appointment Plus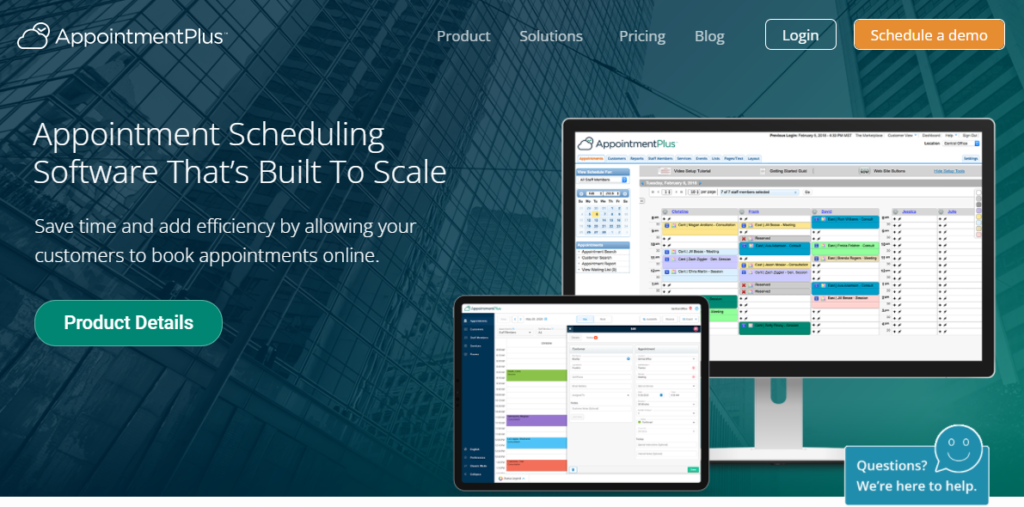 Appointment Plus is a professional online booking platform that provides scalable booking solutions. With the help of this tool, businesses can improve efficiency, enhance connectivity, save time, and much more. Appointment Plus is very well suited to sectors such as healthcare, retail, banking, nonprofits and education.
Features
Track booking activities,
Integrates with ConstantContact, MailChimp, and iContact
Easy to send confirmation and reminder emails to customers
Supports multiple locations
4.0 10to8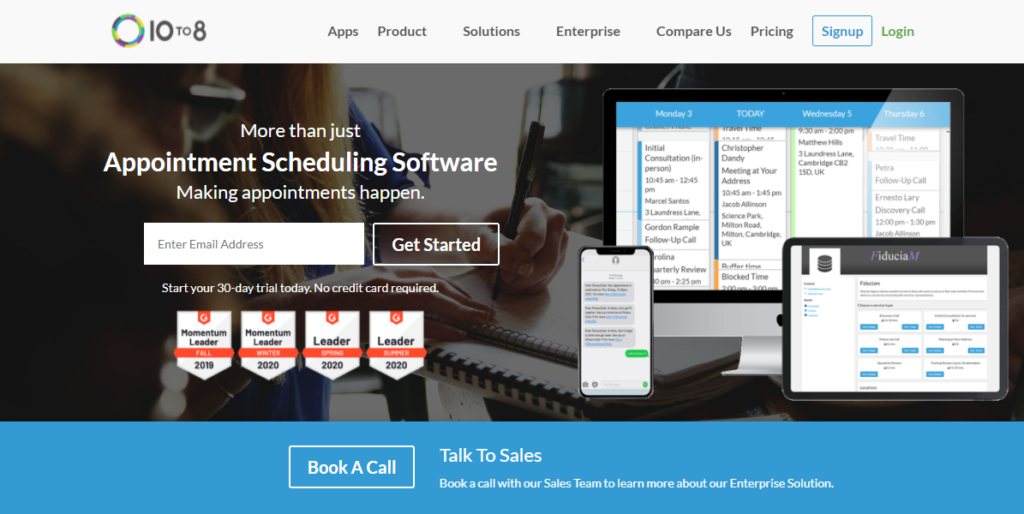 10to8 is an excellent appointment scheduling tool that helps your customers to book services. Many businesses including SMEs, education, recruitment, healthcare, NPOs, beauty spas, fitness gyms, benefit from this appointment scheduling platform.
Features
Integrates with Google Calendar, iCal, Outlook, Office365, and Exchange
Compatible with HIPAA, GDPR, and CCPA for a global approach to data security.
Supports Zoom, Zapier, Slack, and Salesforce
Enables automated confirmation and reminder emails, messages and voice calls
Integrates with PayPal, Stripe, and SagePay
Easy to track appointment activities
5.0 Bookeo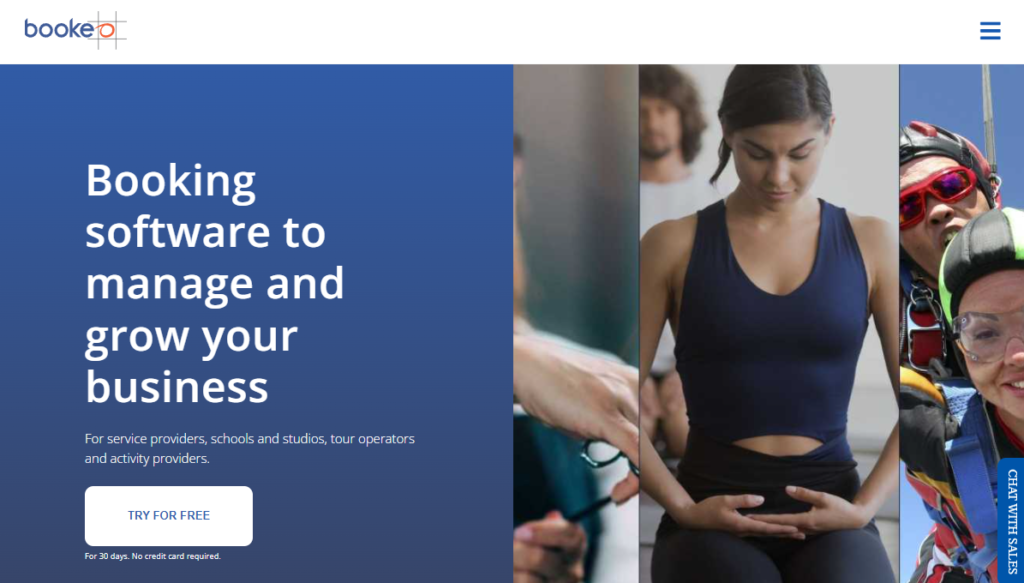 Bookeo is an interesting option because it separates its product into three distinct offerings. Appointment Scheduling, Courses and Classes, and Tours and Activities.
While this is an interesting and useful concept for businesses that only require one section of the offering, there is no real way of combining the features of each product.
A useful feature is the ability to embed the booking widget into Facebook pages and integration is available for online calendars, website builders such as WordPress and payment gateways like Stripe.
Pricing varies according to the types of booking. Basic appointments start at €10.95 per month with a limit of one staff login and 200 monthly bookings. However, both "Classes and Courses" and "Tours and Activities" both start from €29.95 20 teacher/rooms, 20 user logins and 1000 bookings.
There is no free plan, but there is a 30 day free trial.
Features:
It can integrate easily with major online platforms and can be used on Google My Business and other social platforms
Positive reviews from other users
Seasonal businesses can freeze their accounts during quiet times and pay just 30%
Reviews indicate that it's easy is easy to use
6.0 Setmore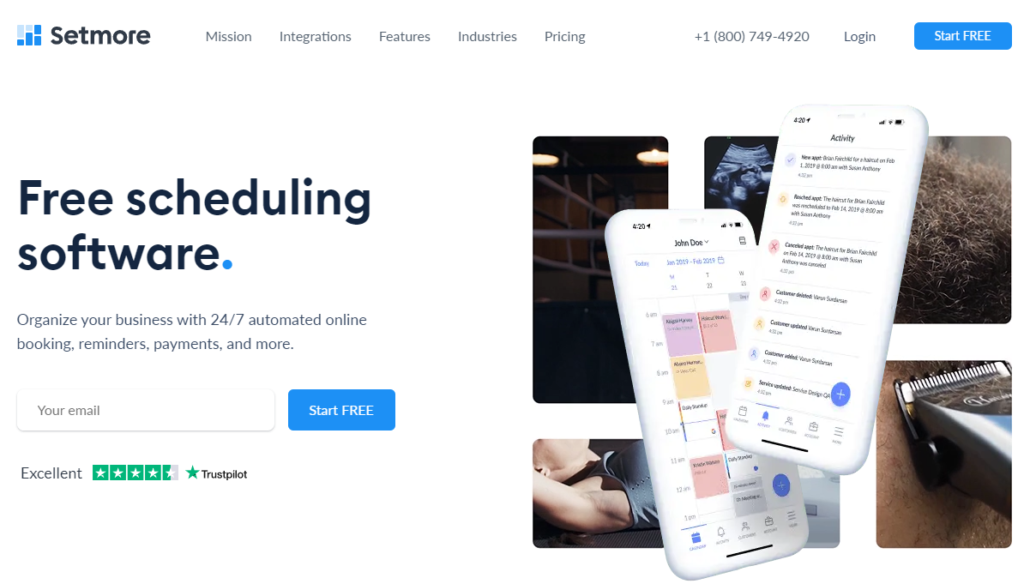 Appointment scheduling software Setmore helps you to provide an natural booking experience to your customers. It helps you in managing all bookings through the professional calendar system and help you to grow your business. Moreover, this tool offers complete solutions to beauty spas, entrepreneurs, consultancies, to enable them to reach the right audience.
Features
Supports Google, Office365, and iOS Calendar
Integrates with Facebook, Instagram, and Slack
Compatible with Square and Stripe
Built-in with WordPress, Weebly, Joomla, Drupal and more
Supports MailChimp, ConstantContact, Salesforce, etc
Easy to save the visitors' data using Google Analytics
Allows to send automated booking reminder messages and emails to customers
Easy to add custom booking pages to the website
7.0 Appointlet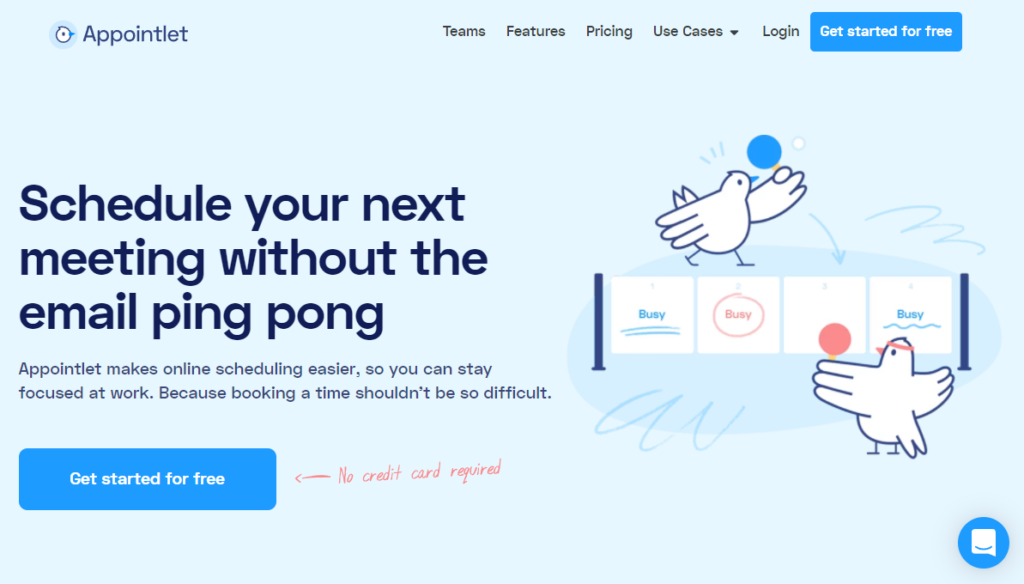 If you are looking for a user-friendly booking platform, then Appointlet is great. You can showcase the availability of services, dates, times, and other information on your business website, landing pages, and social media posts. Overall, this tool allows your customers to conveniently book your services from anywhere.
Features
Integrates with Zoom, GoToMeeting, Webhooks, Zapier, Salesforce, ZohoCRM, MailChimp, etc
Compatible with Google Calendar and Office365
Easy multiple location management
Enables customised confirmation and reminder emails to customers
Supports Stripe
Enables personalised booking page creation
Simple booking activities tracking
8.0 Square Appointments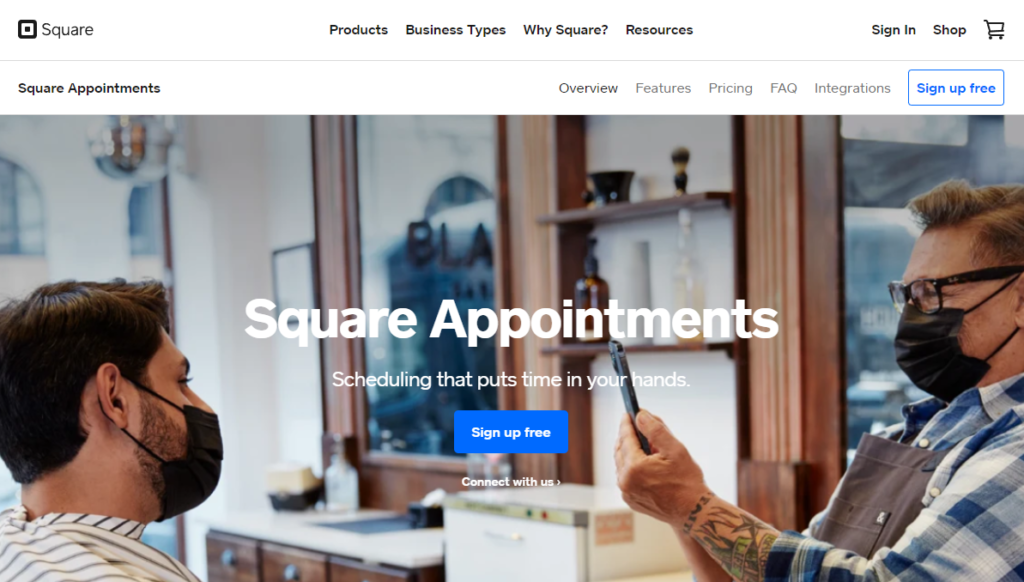 If you're looking for an appointment scheduling software for small businesses, then Square Appointments could be a great option. This tool helps in building various email & social media campaigns for reaching potential customers. In addition, Square's inbuilt payment processing enables the collection of deposits or prepayments on booking confirmation.
Features
Easy to send clients automatic appointment reminder and confirmation emails
Integrates with Google and Instagram
Includes Square Card for online payments
Supports multiple location management
Enables invoicing options
Compatible with WooCommerce, BigCommerce, GoDaddy, Magento, and more
Enables gift card creation
Honourable Mentions – that didn't make the list
For everything you could possibly want in a booking system, you've been our best picks as an alternative to SimplyBook.me. However, there are a couple of honourable mentions below that perhaps don't have everything a business could possibly need, but they are excellent choices if your booking requirements are more basic.
SimplyMeet.me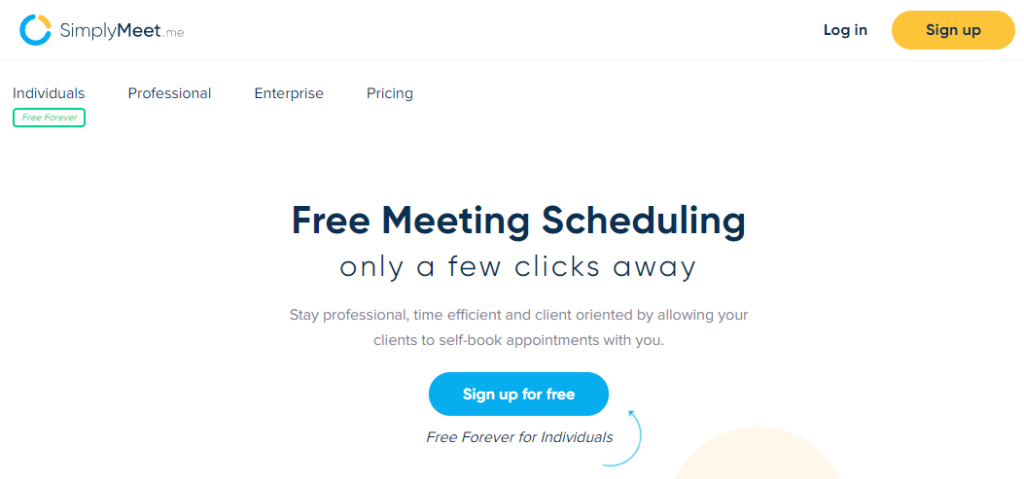 I would be very remiss if I didn't mention SimplyMeet.me as another honourable mention. While it has only recently launched under the SimplyMeet.me name, it has been well established as Harmonizely previously and has a significant customer base.
For the simple meeting scheduler SimplyMeet.me has the concept of simplicity nailed.
Set up in less than five minutes and you can send your booking link to clients. With a broad range of video calling integrations it is also an ideal meeting scheduler for businesses providing online services and consultations as well as in-person meetings.
SimplyMeet.me does not have a broad range of features, but it is simple and straightforward for those with few feature requirements.
A "free for life" individual version as well as an Individual PRO and Teams version.
Resurva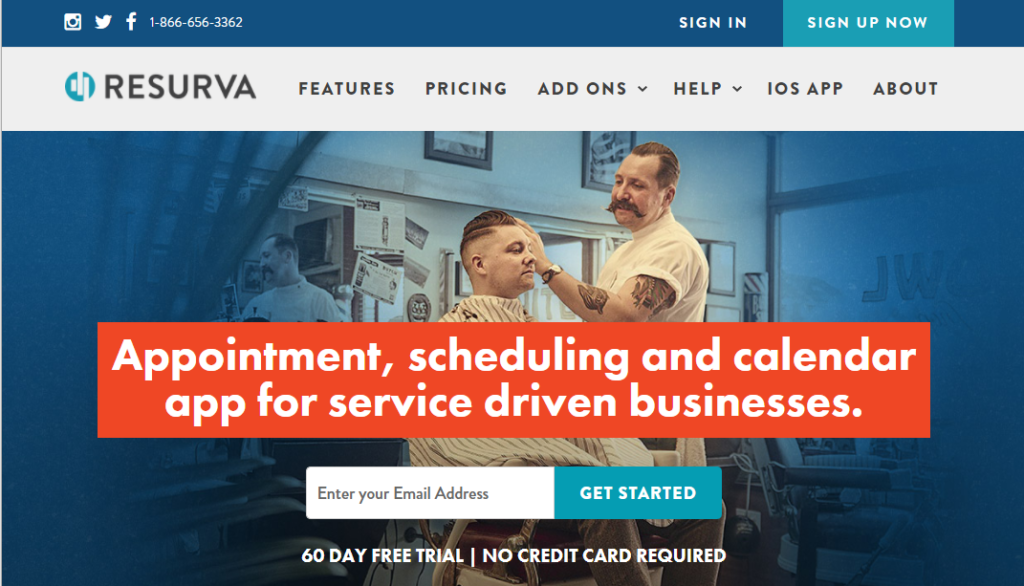 while originally designed for barber shops (and that's what you'll find many of their clients are) it is a growing online booking system with a small but useful set of features that are included in all subscriptions. There is no free version, and the subscriptions cost are based on the number of bookings and locations. And while there is no free version, the 60 day free trial is a welcome option for those wanting to try out a booking system.
The Takeaway
There is no overall answer to which is the best booking system for your needs. Only you and your business requirements can answer that question. What you can do is try the best options from a range of different providers, and see which one has everything you need to make life easy.
We would love to say definitively that SImplyBook.me is the best choice for your booking needs, but we know that won't be true for everyone. If you really want the best option, don't be afraid to try them out, especially if they have free trials – preferably without entering your payment details first. While you might think you've found the perfect choice, with practically every feature you could imagine, you don't know if it is perfect until you find out if it works how you need it to.
You know what your business needs, what you need and what your clients want from you, so you choose the best booking system based on those needs.