Incredible Instagram Inspiration for Beauty Business
17/11/2021
1607
2

This post is also available in:




The beauty business is more than anything a visual one. People have every intention of coming to your company for whatever treatment they desire, and they intend to leave looking "more beautiful" – whatever that means for them. This makes Instagram inspiration a perfect source for advice, and a marketing champion for beauty businesses.
If you are a business specialising in beauty services, you need an Instagram account. It's more than social media; it's social proof of your skills and services. There are so many different types of beauty and wellness businesses, but you can say one thing for all of them, clients demand a visible result.
If you aren't already using Instagram – or perhaps you are- but want to find new ways to leverage your social reach – here are some inspiring Instagram accounts with incredible social reach and a strong following.
The key thing to understand is that there are several ways you can reach your audience, and they don't all have to include promotional and marketing material.
How Does Your Competition Use Instagram?
One of your first ports of call for using Instagram will be checking out your competition. You don't have to copy them or even do anything the same. However, when you see their engagement rates and what they are doing to get their followers to keep coming back, it's always good to know if you can do something similar and maybe do it better.
While you could stay within your genre or price range, it's always better to think big. Search for the best salons, spas, and wellness businesses in your area to find out what they are doing? There is a reason they are such a well-known name, and it's not necessarily all because they are any better than you.
For example, I chose somewhere I know well, my home town.
I searched the top salons in the area to see what they do with their Instagram pages. And you guessed right, they ALL have Instagram.
So from salons and beauty businesses, suppliers, and influencers worldwide – Here's some Instagram inspiration for you.
---
Get Involved In the Community and the News
What do you bring to your local community? I'm not suggesting you become a local ambassador or start giving away your livelihood. However, you can contribute to your clients and potential clients by sharing and caring in your community.
Even better is to shout about your newsworthy achievements. If your stylists have done something exciting, such as entering (and maybe even winning) a competition, talk about it.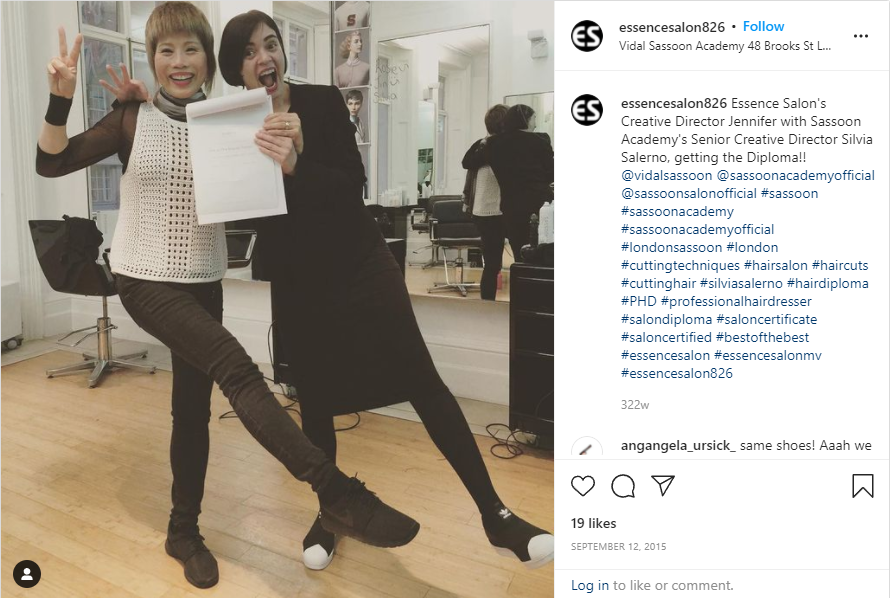 Essence Slon 826 really had something to celebrate, and they wanted to share it.
While covid has been a drain on all beauty businesses, it has provided an opportunity for companies to give back to those frontline workers who have kept the country going, whether that's by offing a discount to NHS workers or local community care staff, or something more.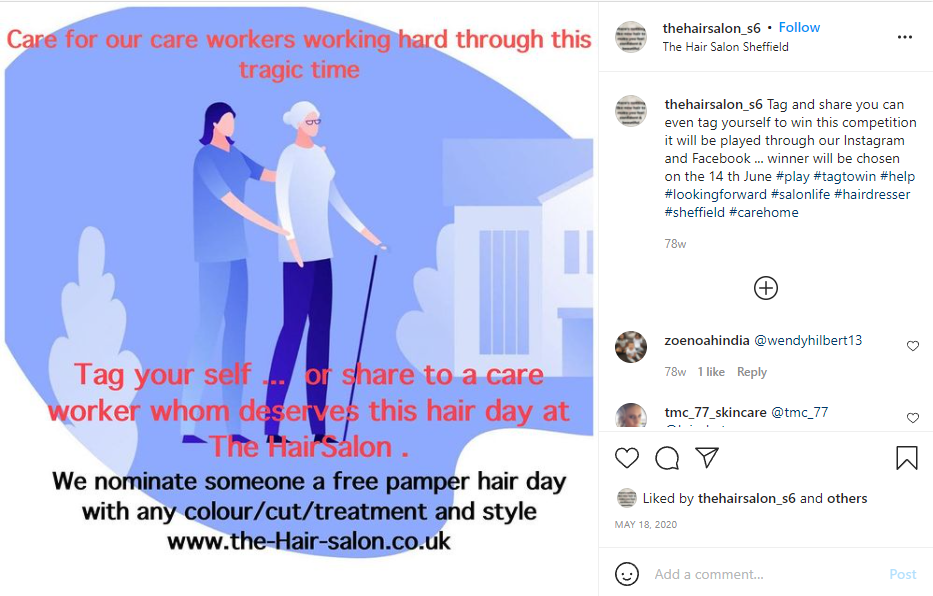 Yet you don't need a global pandemic to spread some cheer in your local area. While COVID made everyone think about the people who do a lot for us all, some have been doing it all along. What's to stop you from asking for nominations of a local hero deserving of your services? You can reach people who wouldn't usually find you by becoming part of the wider local consciousness.
Advice and Maintenance
Whatever kind of beauty or wellness service you provide, it's accepted that there is some maintenance involved between visits. While it might be nice to have a facial every week, few of us do. We have to practise some self-care between visits.
Do you let your clients know how they can best maintain their hairstyle, skin, or even recapture the soothing experience of the massage they received? If you're not doing this, you really should.
Even if you want them to keep coming back to you, you can engender trust and engagement by showing your clients how they can make almost as good a job at home. Or at least maintain the good you did while they were in your care.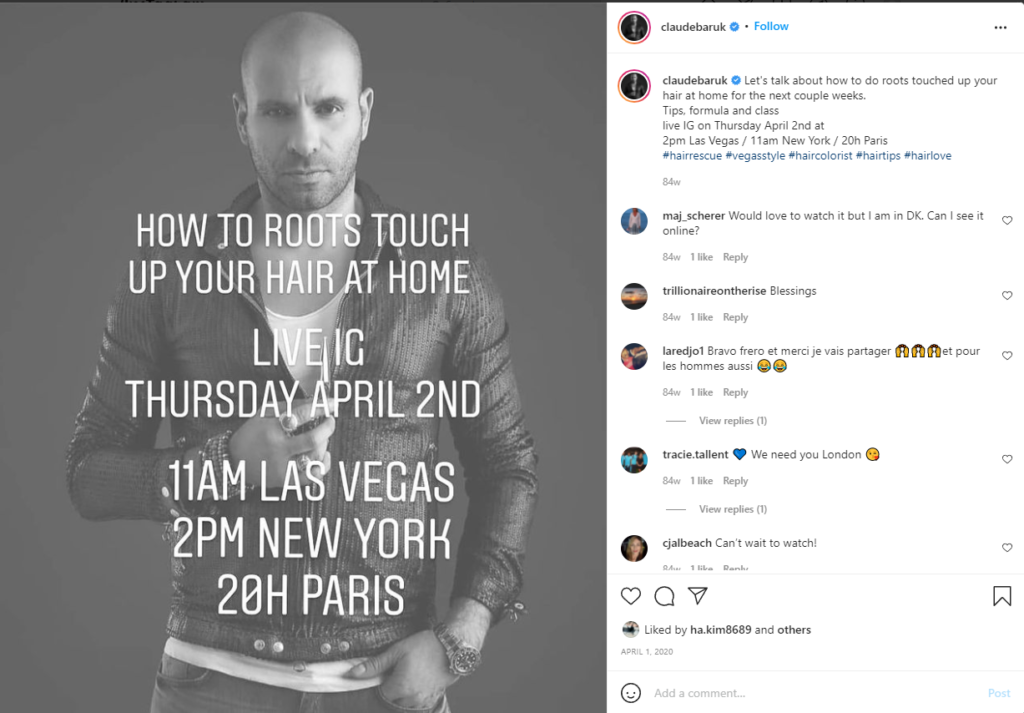 In my eyes, Claude Baruk is a bit of a legend for providing this handy live workshop to those trying to manage at home.
Even better, with advice on self-care and maintaining results, you get to the next thing on the list…
Product Placement
Many salons combine their in-house services with additional retail sales of the products they use in their salons. If you're going to take the time to provide advice for maintenance and self-care, you might as well tell people how to use the products you use in their treatments.
Don't just combine services with product sales. Combine advice and product promotion.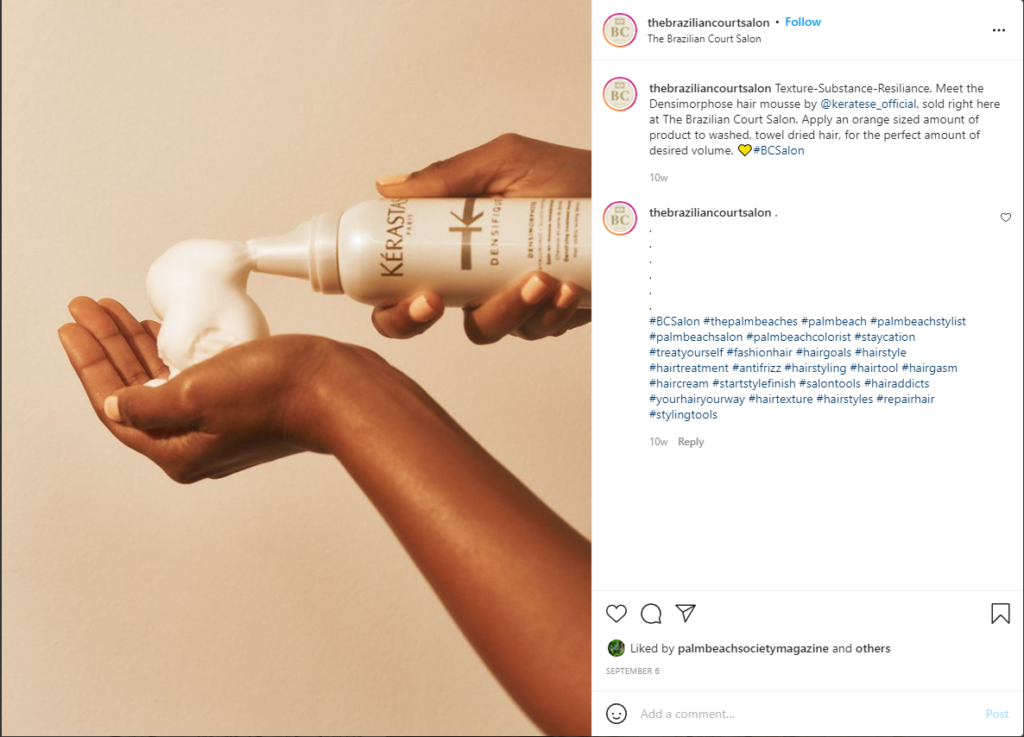 The Brazilian Court Salon, Palm Beach, regularly includes how to use their supplier products. In this case, Kerastase.
It works with other beauty and wellness products too. What's the best Dermalogica skincare regime after a thorough facial? I don't know, but you probably do (if you use it). And whichever professional products you use on your clients, there is almost invariably a retail version available for sale.
Also, don't forget to tag your product supplier; cross-posting will help your engagement rates.
Authenticity and Humanity
Above all else, maintain your humanity on Instagram and remind people that you are very much "just like them."
It's easy to forget that while you are busy promoting fabulous transformations and perfecting a head of hair, you are still the person and the heart behind your salon or spa.
https://www.instagram.com/p/CVUaHSBFBU0/?utm_source=ig_web_copy_link
@ClaudeBaruk, of Signature Salon, reliably counted in the top twenty hair salons in the US, really wanted to share his good news.
Include information about you and your ethos as a business, celebrate what you believe in, and encourage people to join you. I'm not saying you should get political or divisive, but don't be afraid to welcome those of similar feelings. You might find you have more clients who want to be part of your client family.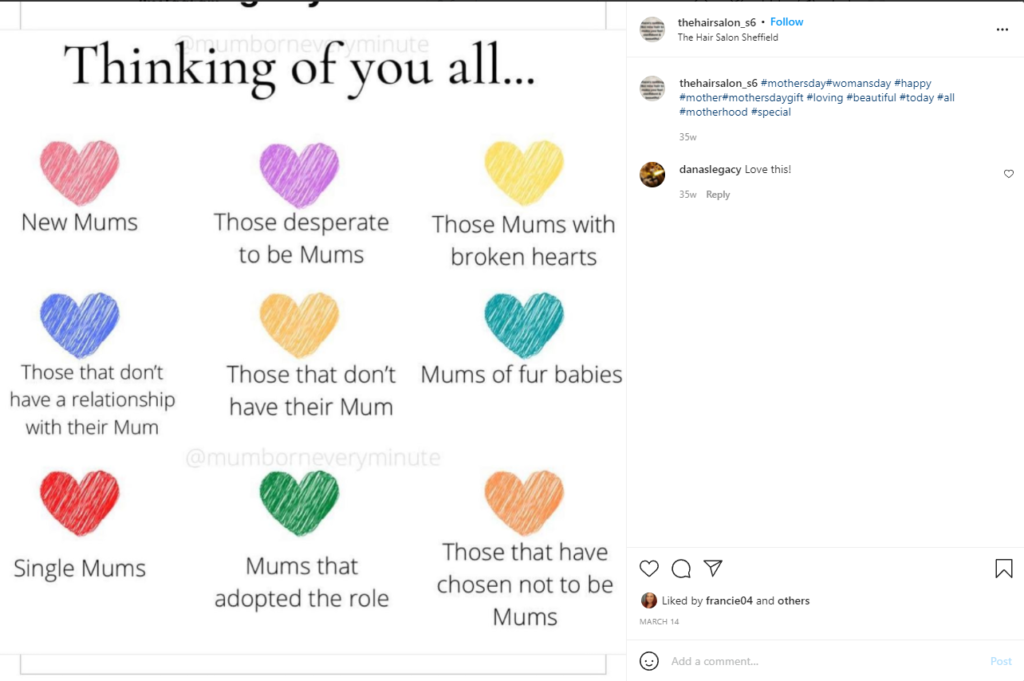 We can all relate to some part of the Mother's day post, but it's the human side of your business that is, after all, a very personal and intimate experience.
Service and Results
Of course, your Instagram feed will be full of your clients' successful outcomes, whether that's gorgeously moisturised feet and pretty toes or a spectacular colour transformation. Perhaps it's just a good cut and blowout. This will be the core of your Instagram Inspiration content. Do you know how many people search Instagram for #weddinghair or #[colour]hair (I recently searched purple hair)?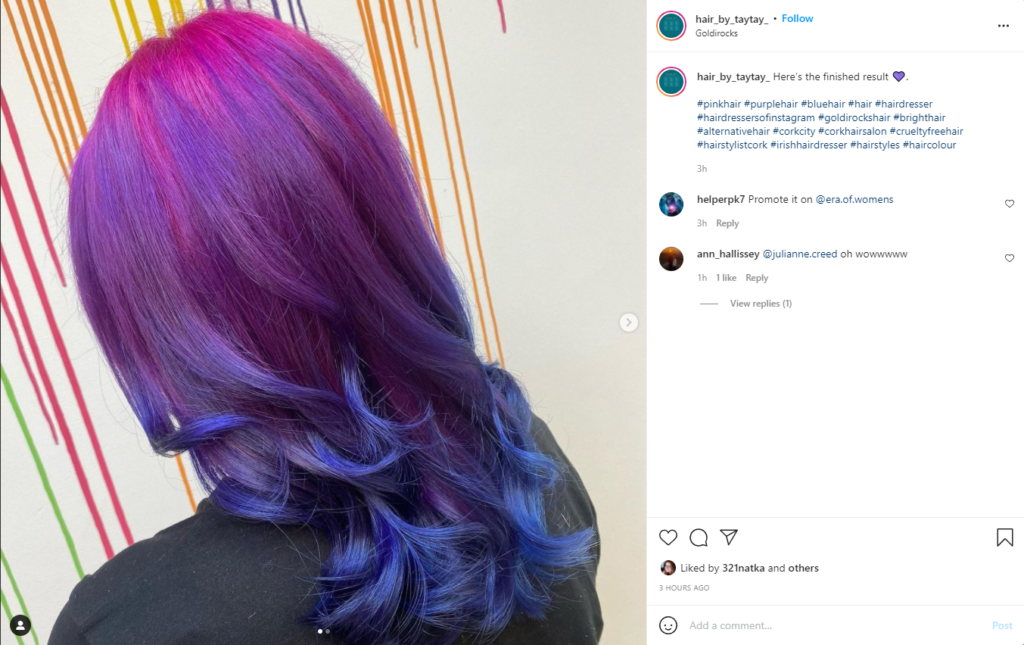 Isn't it glorious? But I think a trip to Cork, Ireland, is a bit of a stretch for the hair budget. However, if I find somewhere to do it nearby, I'll be sure to tag them for their contribution.
But don't forget that you need to engage with your content too. When someone posts about their fabulous new 'do' or their glowing complexion and tag you, make sure you acknowledge it. They might not be "influencers" as such, but they are part of the community voice that will bring more clients to your door.
Don't Forget your Influencers
On the subject of influencers, you really can't forget about these guys, and they can get your name out there.
Instagram influencers are those massively followed individuals with a keen interest and knowledge of the beauty and wellness space. Because of the immediate and visual impact of Instagram, they can try out products, test new salons and treatments, and check beauty hacks for their claims.
If you are a small business in a limited region, you don't want to look at the big international influencers; you need to look closer to home. These are usually called micro or nano influencers. They may only have 100-1000 followers, but they tend to be local and more inclined to visit your salon or spa.
---
Did You Find Some Instagram Inspiration?
Have you found some Instagram inspiration for your beauty and wellness business profile?
While all of the above are excellent uses of your Instagram account, you don't have to use all of them to make an impact on your followers and potential clients.
You know your clients best; what do they want to see from you?
Are your clients super interested in the environment, sustainability and organic products? Do you have genuine relationships with your regular clients? Are you an active member in your local community and with your target audience?
All of these questions will determine the tactics you use to create deeper and more widespread engagement with your current followers and clients. But do you think that reaching out of your comfort zone will help you to increase those numbers?
Try a few different approaches with your Instagram account and see if you can inspire some more potential clients.
Don't forget that you can also share your Instagram Inspiration posts on your SimplyBook.me booking website with the Instagram Photo Sharing feature.
PS don't forget your #hashtags.