Integrating Social Media with Business Management Tools [VIDEO]
14/08/2020
1195
2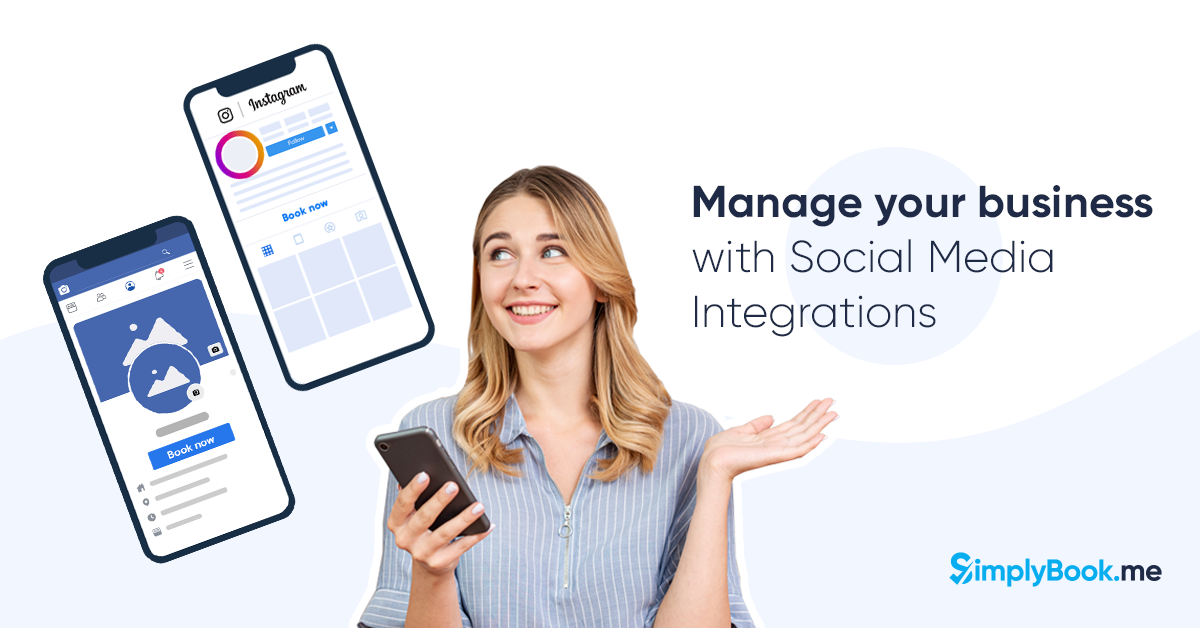 This post is also available in:



Using social media to promote your business, engage your clients, and attract new ones has been going on for a long time now. It doesn't matter whether you go the paid route or a combination of paid and organic posts; it still requires effort and time. While there are some areas of social media strategy where you can't skimp on the quality, research and effort, there are ways to save time and streamline the process with integration. Integrating social media with your business management tools could save you a lot of time and keep your social profiles active.
Social Media Management
You can't get away from it. Social media management is a thing. There are too many platforms to manage them all individually. That's why several management platforms exist to let you keep everything together. You've probably heard of some of the most popular ones, like Hootsuite and Buffer. Integrating social media platforms into a single management tool saves you a lot of time. It lets you post from a single point, monitor your responses, comments and engagement metrics, and schedule your posts into the future. But social media has come a long way with other business integrations you might want to use, such as eCommerce, marketing, scheduling and more.
SimplyBook.me Integrating Social Media
Since you're here, I'll start with how SimplyBook.me integrates social media into our business management and scheduling tool. If you didn't already know, you could incorporate your scheduling system with both your Facebook and Instagram business profiles. Check out the video to see how.
To find out more about how SimplyBook.me integrates with Facebook and Instagram, you can check out our article here.
Integrating social media channels into the booking process is just one aspect of the integration that SimplyBook.me has implemented. Letting your followers book your services easily from their Facebook and Instagram apps is a crucial step in making your business socially accessible. However, other integrations are available to make social media work harder for you.
Instagram Photo Sharing
If your business Instagram account is active, you need not be duplicating work across both accounts. The Instagram Photo Sharing plugin enables you to upload and synchronise your Instagram account pictures with your SimplyBook.me site. If you have a full Instagram feed, you can set a limit to the number of images you want to share.
Facebook Client login
IF you want to simplify client login, you can let clients authenticate themselves and book appointments with their Facebook account. With the Facebook Client Login plugin, you can simplify and streamline the login process, communicate with your clients, and potentially even recognise them from their profile image. Another benefit to the Facebook client login is that public profile data is available in your management interface.
Facebook Pixel
If you're using Facebook Ads (and you should at least use them occasionally), the Facebook Pixel code, easily integrated to your website or booking site, could help pinpoint your audience. With the FB Pixel, you can gain valuable insight into conversions, creating custom audiences, optimised ad targeting, and visitor insights. Your advertising will benefit from the integration with your website to track your visitors and those who become clients. Who are they, and how do they find you?
Line Bot
We know that FB and Insta aren't the only platforms on the block. In many Asian regions, Line is the go-to social messenger platform of choice. So we have the Line Bot plugin for making reservations and appointments via much-used messenger that clients love. IF you have clients in Asia, the chances are that they want to use Line for their booking needs.
If we don't have the social media interaction you need, maybe you can find a Zapier connector that can help you link your booking system with the platform of your choice.
Social Media and Zapier Integration
With so many systems and platforms available for any number of business management needs – and more cropping up every day – it would be almost impossible to have native software integration for everything. That's where Zapier comes in super handy.
Zapier has connectors for most of the big-name social platforms you might want to use, namely Twitter, LinkedIn, Facebook, and Instagram. There are others too. The best part is that you can even use Zapier with your social media management tools such as Hootsuite, Buffer, ZoHo and Social Pilot.
Want to say 'Thank you' to a Twitter follower through Hootsuite? Yes, you can do that, among dozens of other integrations.
For completeness, let's look at an example. If your website is a WordPress design, what would make your social game easier? You have new content to share.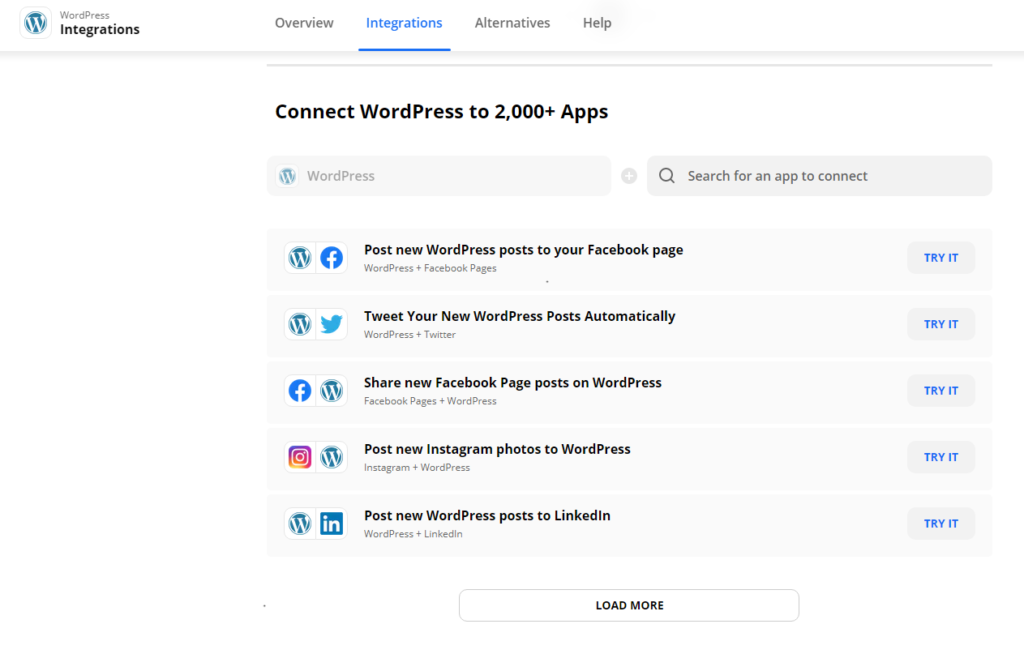 There, in the first five Zaps listed for WordPress connection to social media are Automation Zaps for sending new WordPress posts to Twitter, Facebook, and LinkedIn. Also, if you keep loading more, there are connectors for Pinterest, ScoopIt, and many more platforms you potentially use.
If we look a little deeper into the potentials for Zapier integration with social channels, there are so many business tools and management apps. It's impossible for me to cover more than a few here.
Native Integrations for your Favourite Platforms
Then again, depending on the tools you use, there's every possibility that they have a native integration with your favourite (or most relevant) social media platforms. Some customer support platforms like Zendesk have native integrations with Twitter, Facebook or LinkedIn to field queries and complaints. Project management platforms like Trello have native integrations and Zapier linkage.
Social Integration and Management for Simplicity
Managing social media is a crucial element for ensuring that your social media strategy is doing its job. What's more, the amount of work required to get your name out there, it's too much to keep doing it manually. Undoubtedly, a management app like Hootsuite or Buffer is an essential tool for making sure you stay on top of your posting schedule and strategy.
When you can integrate your social media activity with other business processes, you reduce the amount of work on both fronts. Choose your social platforms and your tools wisely. With the right tools and channels, you can significantly reduce your workload with social media.