Instagram Caption Prompts to Drive Engagement in Beauty Business
June 9, 2021
927
1

Instagram is THE social media platform for any aesthetically pleasing business, but it is the king of marketing tools for the personal beauty business. Yet while a stunning picture will make people stop and appreciate the skill and delivery of your services, it's the captions that will drive engagement with your post. And that's what you need – Engagement.
The Instagram caption is more than just a string of hashtags and a super-brief description of the image. It's the start of a conversation, the opening paragraph in a story or a life lesson in the making.
Make it count!
Great Picture + Engaging Caption = More Eyes On You
You've snapped the perfect shot, created the perfect filter (nicely branded), and it's an image that screams, "You want me to do this for you." But how do you caption the picture in a way that will make people want to engage with your post?
If you didn't already know, Instagram's distribution of 'normal' posts depends on engagement. The more people who engage with your posts, the more likely they are to show up on the feeds of people who have never seen your work. Consequently, expanding your audience and reach – The gold you seek at the end of the rainbow-toned eyeshadow.
The Right Instagram Caption for the Picture
That's what we are going to look at today:
What to say
How to say it
And get the right message across
They say that a picture paints a thousand words, but they also say that beauty is in the eye of the beholder. The picture might be saying a lot of words, but it will probably be saying different things to different people. The Instagram caption ensures that you get YOUR message across, not what anyone infers from it.
Whether it's make-up, hair, skincare, or even plastic surgery, you will have a range of post types for your beauty business. You will want to create a distinction between them, both in how they look and how you use your captions. Remember, this is Instagram; all posts appear with an image, but these are the typical types of post you will make.
Photos of you and your team
Salon images
Location shots
Retail Products
Client photos (and even short videos or gifs)
Client tagged images
Another thing to consider is that every post should do something for the people who find it. A general rule for all social media posts and online content is that it should do one or more of the following:
Inform
Educate
Inspire
Entertain
And if you have at least one of those, you can include a sales aspect too.
What to say in an Instagram caption
So what do you say? You want to start a conversation, or a debate – both work, so your posts should be open-ended and welcome interaction.
Your Instagram captions should prompt dialogue – even if all it gains is a like or a "congratulations!", it's still engagement. – but it's still better to get more.
Share info about yourself, your team, and your business
What's going on with you guys? One of the major keys to building a client relationship is trust, and people tend to trust people they know. By sharing the excitement with your clients and followers, you create a relationship.
Have you had a recent business win? It doesn't need to be a big event, but an excellent review with special attention to a specific team member is worth celebrating and giving appropriate credit.
Did someone (you?) move house/have a baby/reach a milestone birthday/pass an exam? Share it! 
Share recent new hires/ and possible new services they can bring to the business. You can also include new products here.
Talk about your favourite services, highlight underrated ones – and share why you think they are excellent.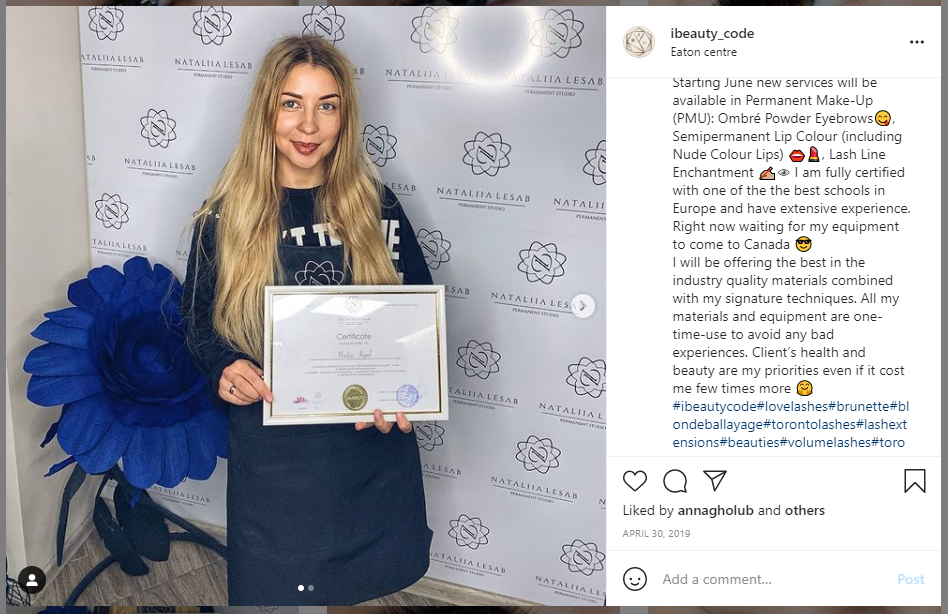 Go a little deeper
It might seem like giving TMI (too much information). Still, authenticity and specifically the vulnerability of showing our true faces have proven to increase follower engagement and even loyalty. Be honest, don't try to be perfect – no one trusts someone who appears perfect ALL the time.
Share the beauty routines of you and your staff members. Comment on the differences and highlight that no two people work the same way.
What's your hair washing regime? Do you always cleanse, tone and moisturise? What do you do on lazy days?
What's your wake-up morning routine/calm-down evening practice?
Talk about parts of yourself and your business that don't meet perfection standards. What is your current struggle?
Go filter-free, show your naked face and show people that no one has perfect skin all the time. It's refreshing to find out that your beautician has the same issues the rest of us have.
Share an unusual or unpopular opinion
There's nothing more likely to get people talking than sparking a debate. However, you will need to back up your opinion without getting defensive – and deflect those who get aggressive.
Debunking the 'old wives' tales' that have been handed down through generations and regularly debunked – yet they persist.
Massively popular products that you don't like.
Explain your reasons for disliking an emerging beauty trend that you can't understand (or in good conscience recommend).
Popular treatments that you don't think work as advertised – be careful; your competitors might think you are targeting them.
What do you do that other people might think weird?
Ask your followers a question
It's an excellent way to find out more about your target demographic, even if they aren't clients.
What was your biggest hair/skin disaster?
How often do you have a haircut?
Who's hair/skin would you kill for?
Which products or treatments work best for you?
If you could only have one, what self-care/beauty treatment would it be?
Write seasonal captions
Stay on top of your changing seasons with seasonal posts. Not only do things like hairstyles and colour change with the seasons or the holidays, so to do skincare regimes, but the different conditions in summer and winter can also play havoc with a carefully balanced routine. The regular changes in the season provide an endless supply of content and style changes – embrace them.
New Years Greetings
Valentine's
Spring colours and changing skincare routines
Summer Styles and looking after hair and skin in hotter weather
Easy summer hairstyles
Autumn colours and cooler weather
Beating the humidity (Summer or Winter) 
Start with beauty or hair quotes, end with words of wisdom and inspiration
You know, they start as beauty, hair or wellness quotes, but you always know they end up being something deeper and more meaningful.
Here are a few to get you going, but there are hundreds out there on the web. Google is your friend.
Nothing makes a woman more beautiful than the belief that she is beautiful.– Sophia Loren
The beauty of a woman must be seen from in her eyes, because that is the doorway to her heart, the place where love resides. – Audrey Hepburn
There are no bad pictures; that's just how your face looks sometimes. ― Abraham Lincoln
The secret of staying young is to live honestly, eat slowly, and lie about your age. – Lucille Ball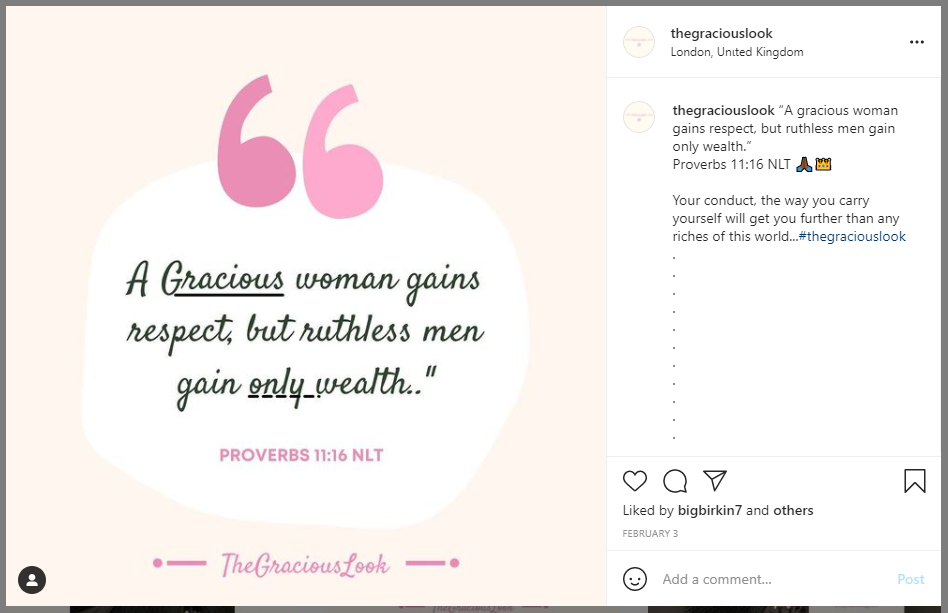 Tap into current events or trends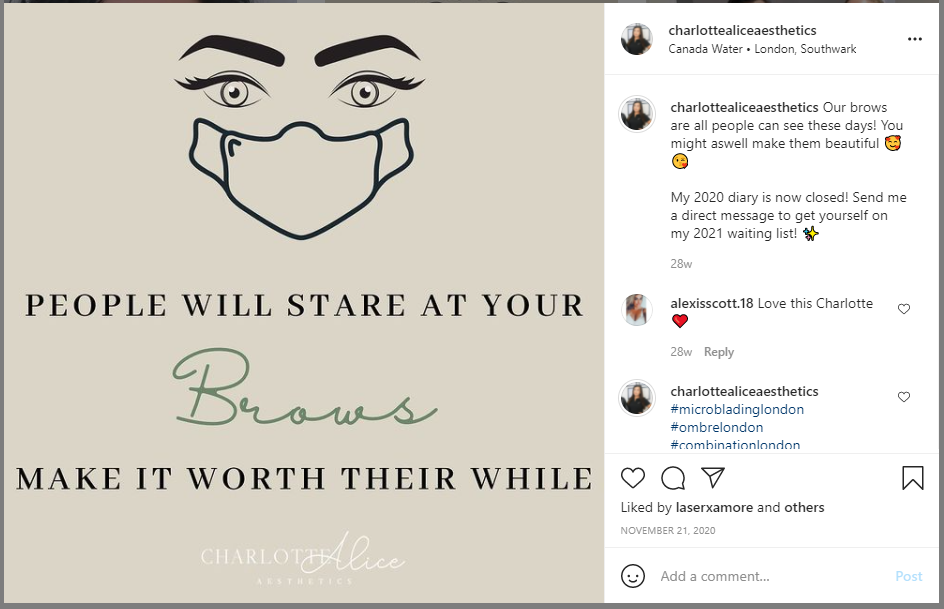 Current events and pop culture make up much of the idle browsing on Instagram – no judgement. If you can jump on board and find a celebrity, trend or influencer that works with your beauty business, you can right their popularity.
Get on board with the mask message – it's all about eyes and brows.
Who has changed their look and broken the mould?
What new styles have emerged, and who's pulling them off?
Dish out tips and tricks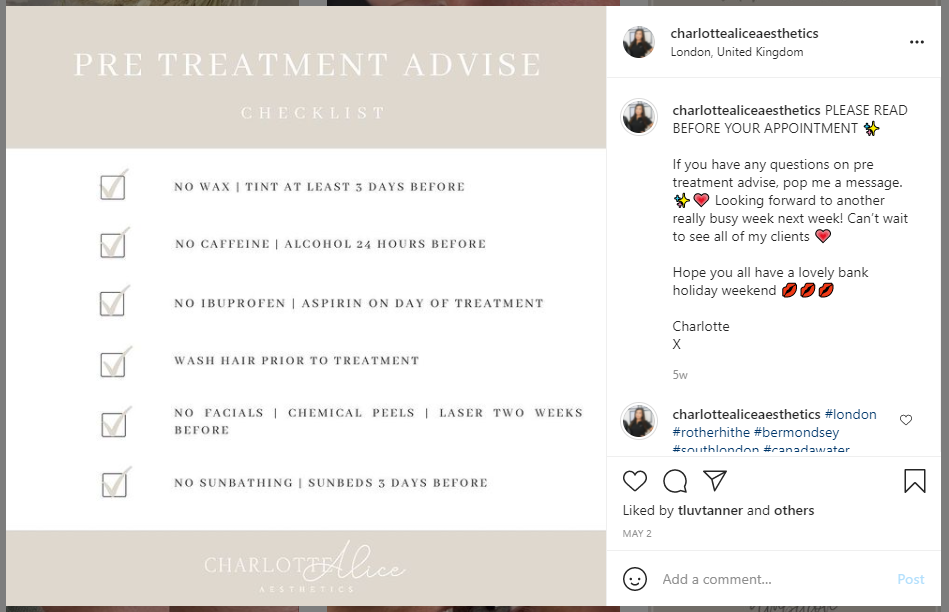 Even when you provide service for personal beautification and self-care, you aren't reducing your business by dishing out a few tips and tricks to see your clients through their next visit to your salon (or your next visit to them).
Tips to help maintain the effectiveness of their treatments
Key things to look for in a beauty provider – they are not all made equal.
Recommend DIY routines for hair, skin and self-care, for curly girls, straight-haired ladies, bearded gents, oily skin and whatever you can imagine.
Simple beauty hack for common occurrences – that pesky skin breakout before a big occasion
Recreate a famous "look" and show people how to achieve it.
Share tips for reducing the effects of a stressful environment – it damages hair, skin, nails and mental health.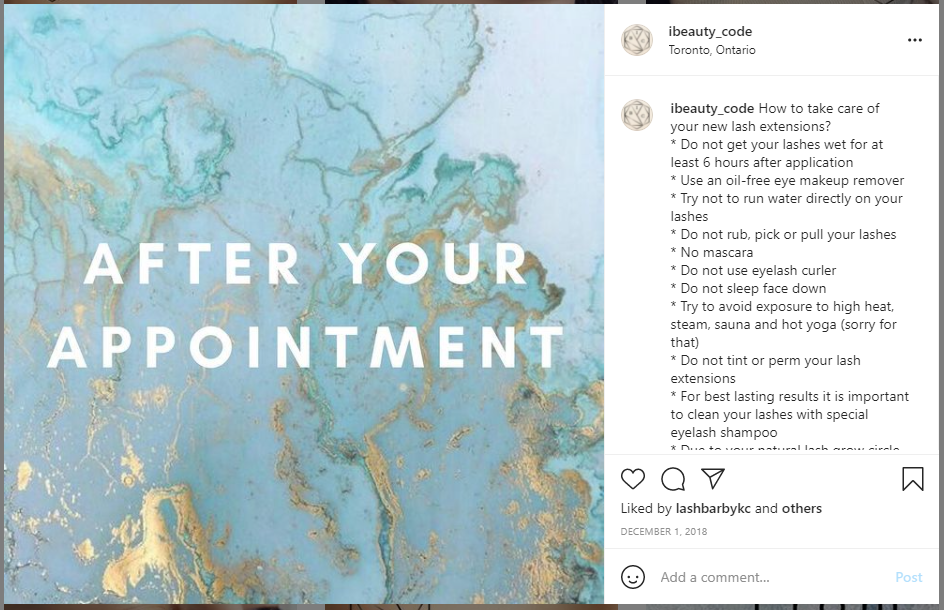 Encourage people to tag others
Tagging is a beautiful thing. Even people who might never look for your services might find themselves tagged by a well-meaning friend. It's always good to grab an outsider—some examples of reasons to tag a friend.
Refer a friend and get a discount
Tag a friend who could use "this" advice.
Tag a friend who deserves "this" pampering treatment
Include a friend and enter a draw
Tag a friend who has/had the same hair cut at the picture (good or bad works)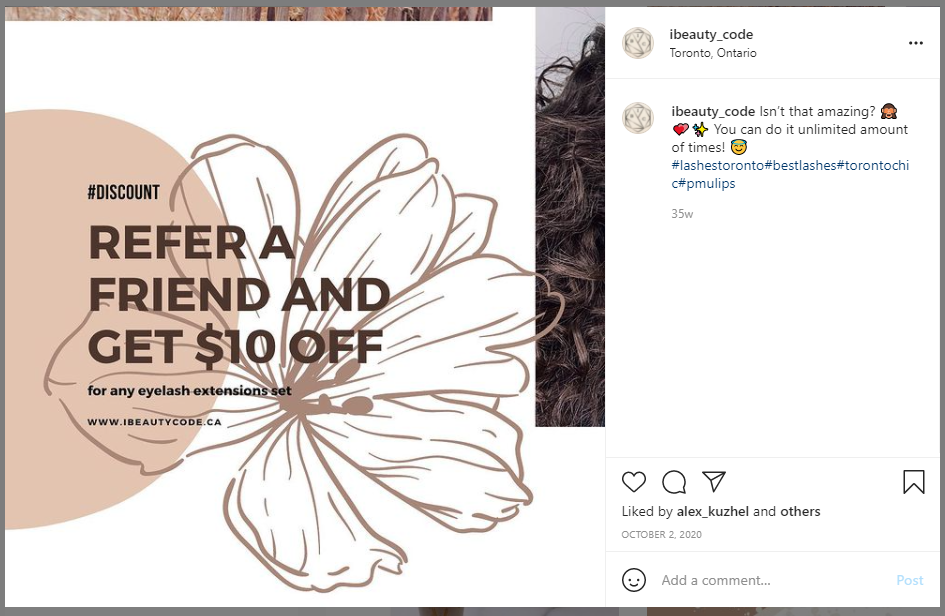 Post product and service recommendations
If people have never used your beauty services, or maybe only know the ones they have used. With a considered Instagram caption, you can succinctly highlight your products, services and recommended treatments with a visual aid.
Highlight your most popular services and treatments
Showcase a new treatment.
Recommend treatments/services/products for particular people
Post an honest and professional review of a new product you have just tried.
Take the results of your questions and post follower responses.
Put your clients in the spotlight
Your clients will need to give their permission, but tagging and spotlighting your clients will help get your engagement up. Don't just talk about their treatment. Collaborate and get some cross-stream marketing. Talk about the client in the Instagram caption as more than just another warm body through your doors.
Before and after shots are ALWAYS popular.
Talk about a memorable client, whether it a new bride, a family member, your oldest and most loyal client or even your newest 'business family' member.
Share how you fixed a problem for a significant occasion.
Share some feedback and an excellent review. The best marketing is always a happy client willing to talk about their experience.
If you really want to highlight a particular treatment, you can do a start-to-finish video – you'd need to speed it up a touch, though.
Tag your clients if they're on Instagram and even their business (as long as they aren't a direct competitor).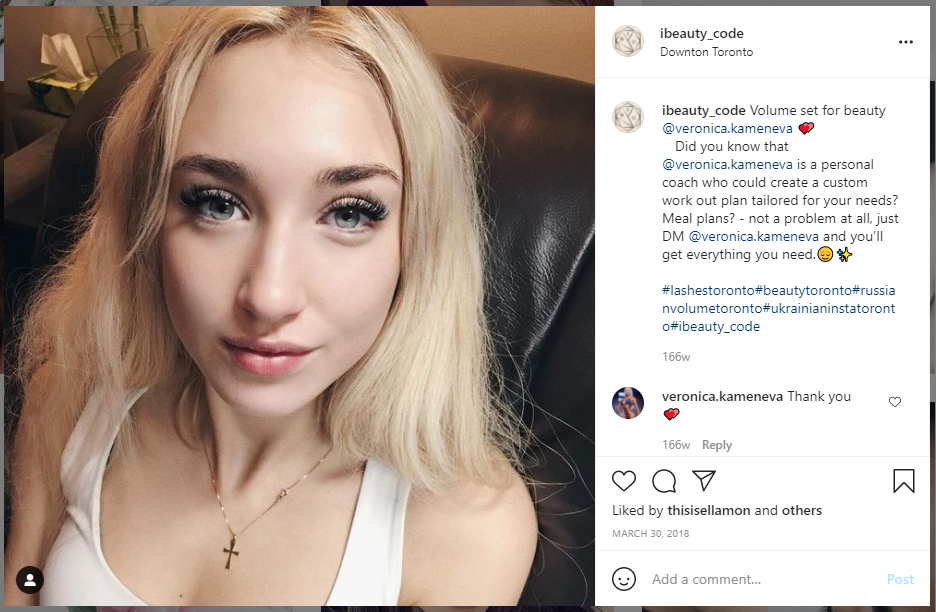 Compel People to Action
Whatever you want your followers to do when they engage, it's an action. What action do you want them to do when they engage with your post?
"Comment… (with or without emojis)."
"Like this post if…"
"Share this post with…"
"Double-tap this post…"
And of course, we can't forget the "book now" button. The gold standard of all engagement is when they actually make an appointment with you.
Make people laugh
You can't ever underestimate the value of making people laugh. Humour is one of humanity's great equalisers. While we shy away from laughing at others, we are more than willing to laugh at our shared flaws, mistakes and
Talk about your mistakes, mishaps and bad luck stories, especially if they are beauty and self-care related. Everyone has their horror stories, and we all feel relieved to know we aren't the only ones. 
Post terrible hairstyles of the past
Post jokes
Use humour such as "You know it's time for __________ ,when ________" 
"You know it's time for your leg wax when the 'insect' tickling you was actually hair."
Did you know you can actually get tools for funny social business posts? If humour isn't your strong suit.
Are you ready to start optimising your Instagram caption game?
You have a lot to try here, and there is much more you can do to combine interests and target multiple audiences in a single post. The Instagram caption will let you tell the story you want to create. It will set your tone, help you reach the right people and expand your followers well beyond the boundaries of the service you offer.
Remember, when you can't link directly from your image to another blog or web page you have to tell enough of the story to get people to follow where you want to take them. Even if that is back the profile header with your website or blog link.
I have been guilty of neglecting Instagram captions and many people still are, but it's not something we can afford to ignore. See what you can come up with the next time you have a perfect picture ready to post.
Bookmark this post for easy access the next time you get stuck.