How to Create a High-traffic Booking Website
19/11/2019
1322
1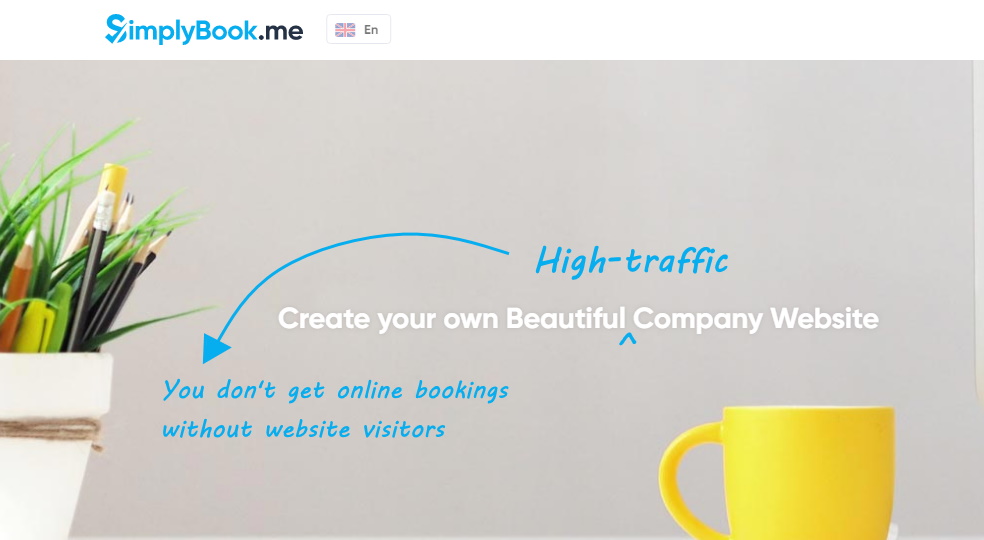 This post is also available in:



How to use SimplyBook.me custom features to build a high-traffic booking website.
Now is the era of the internet. As such, most of us have become accustomed to finding everything through "searching" the Web. Using search engines such as Google, or even searching a specific website for a particular product. We seek, we find, and eventually complete the transaction. From the perspective of the website operators, optimising the site benefits and the search ranking in line with how the search engine algorithms work, it is the best way to maximise exposure and reach new and potential clients.
How SimplyBook.me improves SEO, using three features
One of the main ways to improve search ranking, and enhance the appeal and benefit of a website is Search Engine Optimisation (SEO) techniques. However, SEO is more than ensuring your page ranks for keywords and phrases. There are other aspects of your online presence that need work to improve your search engine ranking that have nothing to do with the content of your website.
SimplyBook.me has three key features that help to push your booking website to the top end of the search results.
SSL encryption custom feature
One aspect of your booking website to which Google is paying particular attention is security. Since the beginning of 2017, Google has included the presence of SSL certification on the checklist of desired attributes; with websites that have it ranking higher than those that don't. This security concern has changed the specifications for how Google ranks the sites on the results page. SSL secure encryption effective protect the information transfer between the website and the user, which is particularly crucial if sensitive details or financial transactions take place.
It's a matter of trust. With so many websites out there, and so much data exchanged, it can be challenging to determine which sites to trust with your details. By assigning significant weight to the security of a website, Google is ensuring that the websites that "prove" their trustworthiness will SSL certification, are more readily viewed.
Kill two birds with one stone, encrypt your website with SSL to keep it secure, but by doing so, you also optimise your ranking in search results. You can enable the SSL feature on your SimplyBook.me dashboard by going to Custom Features – Security & Data Protection – SSL. Simply, enable the SSL feature. The same as most of our data protection and security features, this one is free and won't count towards the number of custom features allowed by your subscription.
Google My Business:
Another aspect that affects where your business appears in Google search results is locality. As the most used search engine across the globe, Google has optimised its algorithm for its users. You might have noticed that when you search Google for a type of business, it will frequently offer "near me" in the autocomplete results. When people accept this to find a service provider in their area, the first result is a Google map, which lists all of the Google Business profiles in that locality.
Why claim your Google My Business profile? It's the best way to ensure that you get your business near the top of page one. If that isn't enough, the very act of completing your Google Business profile will increase your online visibility. Even if your website doesn't show on page one, your Google Business profile probably will, and you can direct potential clients to your website from there.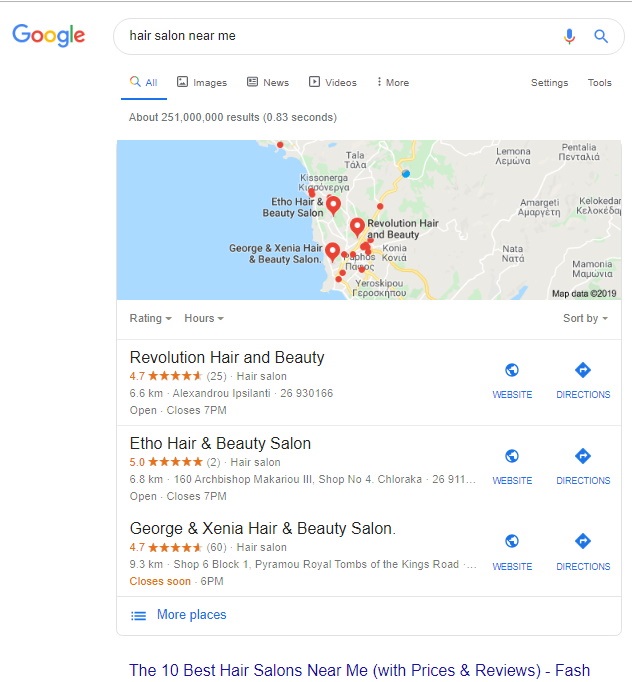 SimplyBook.me has further integration with Google My Business, which streamlines the process of claiming your profile and transferring pertinent data from your booking website to the Google profile. If you want to find out more about Google Business, you can check out this article or go to the help centre, which has detailed instructions on how to enable and manage the feature. Even more good news, this feature is free too.
Booking.page for increased visibility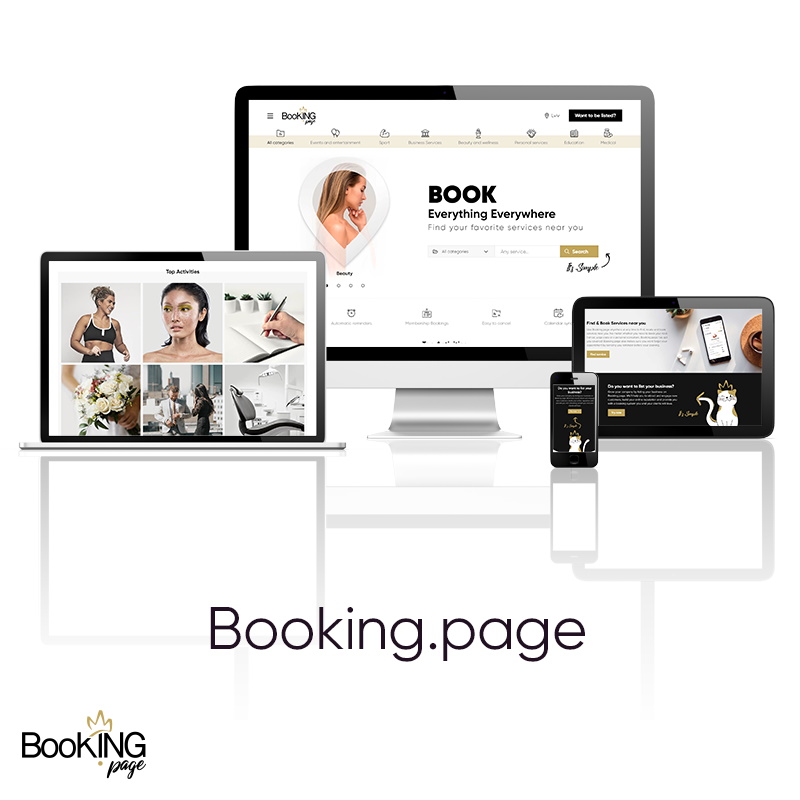 Everyone knows that listing your business on a web directory increases the number of links to your website and consequently increases your ranking on Google. However, SimplyBook.me has created the Booking.page marketplace to assist our clients in improving their online visibility, adding another contact channel for potential clients.
If you want more exposure for your business, Booking.page is for you. As standard, every company that has an active SimplyBook.me account has a listing on Booking.page.
You can modify the content displayed on your marketplace listing by clicking the Booking.page item on your dashboard menu.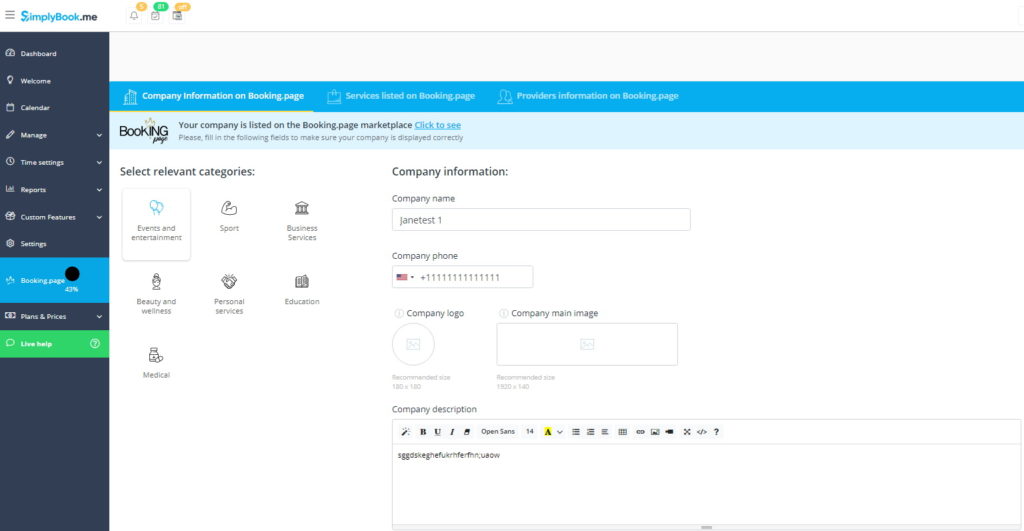 From here, you can complete the details of your business that you want to display, write a description of your business, including contact details, and specify in which category your business fits best.
If you go to the progress bar at the top right of the page, it will show you which areas of your profile need attention. It will also allow you to assign your individual services to the correct category so that your potential customers can find you more easily.
***
Through SEO practises, you have managed to create three channels for increasing your online presence. With increased security and certification, you have shown your site to be trustworthy, yet you have also increased your ranking in Google search. By using third-party resources such as Google My Business and Booking.page you have increased the number of places where new customers can find you, and in the case of Booking.page, they can even book an appointment from the marketplace.
By creating a network of web spaces, where customers can find you, and book an appointment with you, you build awareness of your business name and your brand.
SEO doesn't just help new clients to find you; it also helps your business reputation and brand awareness.