Friday Feature: Tips for using the Packages custom feature
12/04/2019
765
1
This post is also available in:



Some time ago we released the highly anticipated Packages feature. If you haven't tried it yet, keep reading to get some ideas to start using the Packages feature. If you haven't activated it yet, go to –> Custom features and activate it now or scroll down to watch how to set it up.
Discounts for multiple services
Rather than giving discounts for each service, bundle your services to encourage customers to book multiple times. This can be a multitude of the same service or a combination of different services. You can even optimize your time by adding services during the main service. For example, if you know that a body wrapping (spa) will include 20 minutes waiting time, you can include a hand massage in the package.
Customers can buy packages and use the credits from it every time they schedule a new appointment.
Add services and/or products
Add something extra that customers might otherwise not think of buying. This could be an extra service or product. This is also a great way to introduce new services. You can always change packages later, and customers will then be more likely to book those services.

Name your Packages
Naming your packages helps clients to quickly understand what you're offering. Don't be afraid to get creative! You can target a type of client or groups or use adjectives to come up with good names.
The Family Package
BFF Spa Day for 2
The Ultimate Language Mastery Course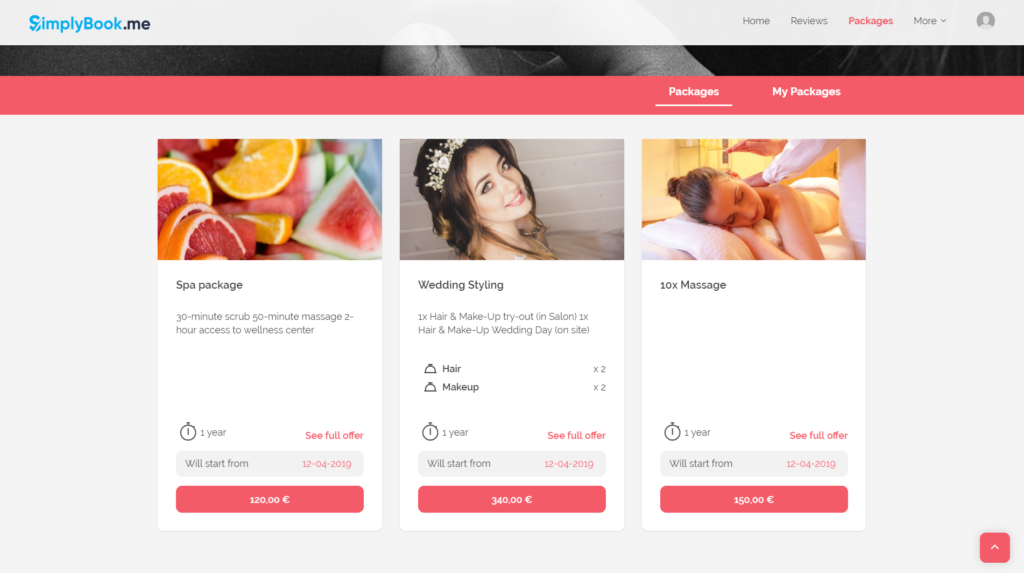 Packages for special occasions
Think about special events that occur in your customers' lives; Weddings, birthdays, anniversaries, promotions. You can then also use these ideas to create Gift Cards.
How to set up packages in SimplyBook.me
Tell us about your services in the comments and we will come up with package ideas for you!