Since its inception, just over ten years ago, the narrative of Mania de Beleza | Aesthetics & Beauty Centre has grown into a success story. In the area of Méier (Rio de Janeiro), a traditional area of both commercial and cultural significance, the Mania de Beleza | Aesthetics & Beauty Centre is a leading name in aesthetics and beauty circles.
The company's mission is to deliver health and well-being through aesthetic and beauty procedures to all its customers. Whether that is through state-of-the-art equipment or techniques, they value ​​excellence in care for cosmetic or beauty procedures.
We talked to business managers, Fernanda Santos and Marcelo Guilherme, to ask about the company's success and how our scheduling system helped them meet their scheduling and business needs. 

How do you keep up to date with the latest developments in your industry?
From their differing perspectives, Santos manages the operational side of the business while Guilherme manages the financial, admin and commercial aspects, they have different ways of keeping up to date.
Fernanda Santos says that they keep the business updated by attending events, technical training, and by reading specialised publications. However, Marcelo Guilherme claims that market studies, new technologies and trends, exchanges with other entrepreneurs, and the search for new business also helps keep them on the ball.
What are the biggest challenges you face in your business?
As the market is a highly flexible and dynamic thing, we need to know which techniques and technologies demand our investment. Whether that's personnel development and training or new equipment. Today's preferred treatment may not be tomorrow's "darling technique" to our customers, says Fernanda Santos. It goes further, as we invest so much time in understanding our customers' potential wishes for the perfect offer to be delivered, and completing the sale. However, as desires are volatile, finding something promising, still under development, and with the potential for long life, is always a big challenge, comments Marcelo Guilherme.
How did you make your appointments before using SimplyBook.me?
Like most other beauty market entrepreneurs, we scheduled our appointments by physical paper agenda. It made access difficult when we were not in the store, says Fernanda Santos.
What were the main reasons that led you to implement a reservation system?
We needed flexibility and autonomy so that the professionals could manage their schedules individually. Meanwhile, we could estimate what the financial impact of upcoming services would be automatically, on time and online. This was undoubtedly a watershed moment for the company, as we managed to improve the company management significantly, says Marcelo Guilherme. 
Additionally, anywhere there was an opportunity to close new sales of services; each professional's agenda was at their fingertips on the mobile phone. So each provider also became a salesperson of the services they provided in the various social cycles of life. We thoroughly celebrated this independence when we implemented the system, comments Fernanda Santos.
What led you to choose SimplyBook.me?
We discovered SimplyBook.me while it was still a Wix app because the Mania de Beleza website is on the Wix platform. We liked the tool. Even when it stopped being a Wix app, we made sure to maintain our relationship with SimplyBook.me because we had established our work processes through it. It was already configured to our requirements. 
At the same time, we discovered how to integrate the system with the Wix platform in a transparent way for the client, which made things a lot easier for us, comments Marcelo Guilherme.
What are the greatest benefits to your business using SimplyBook.me?
We can manage Mania de Beleza from anywhere. While the operational team is serving customers, the Back Office team can analyse the data from the system. We can understand how much the company is invoicing, which service queue, which services are most popular, which professional has more reservations, etc. We must understand our customers' consumer behaviour. In this way we manage the company and direct our efforts to increase our average ticket through offers with higher added values, says Marcelo Guilherme.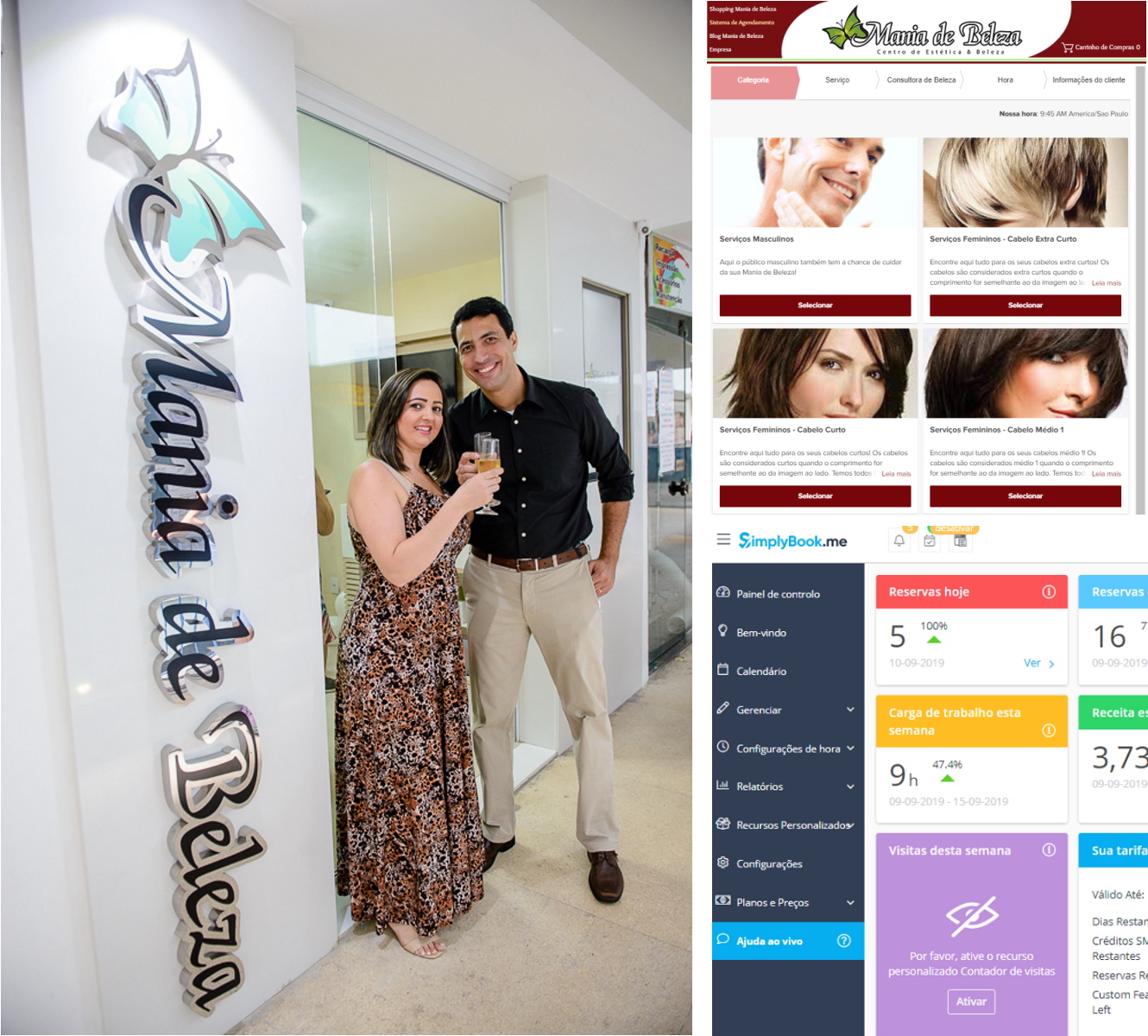 Fernanda Santos and Marcelo Guilherme. Beside System Screens in Customer and Professional Vision
What are the SimplyBook.me tools that you found most beneficial in your business?
Fernanda Santos believes that the most beneficial tool is the notification system. The notification tool notifies both the client and professional of the newly confirmed appointment, as well as sending automatic reminders, shortly before the service, and a satisfaction survey. The customer is kept informed and engaged from the beginning to the end of the process. For Marcelo Guilherme, financial and business features such as performance reports, promotions, dashboard, etc. make SimplyBook.me an advantageous system in everyday life.
How did you get better results in your business after implementing 
SimplyBook.me
, such as: 
Optimising your schedules:
The answer was synonymous with other business owners who stated that SimplyBook.me helped to reduce vacancy expenses. A reduction of expenses for unscheduled appointment time meant that the company started to work more efficiently for customers.
Business Growth: (e.g. hiring more employees or an increase in revenues)
The average ticket grew significantly, as did the income. Also, we've been able to reduce administrative expenses by automating business processes. This means we increase business revenue without having to increase personnel, administrative or marketing expenses. We invest in technology, reduce costs, and improve our profit margin, says enthusiastic Marcelo Guilherme.
The purpose of this article is to allow SimplyBook.me customers to see how the system and its applications (plug-ins) can help any service business through real-world examples. Much as it has assisted entrepreneurs Fernanda Santos and Marcelo Guilherme da Beauty Mania company | Aesthetics & Beauty Center. 
If you want to know more about Mania de Beleza | Aesthetics & Beauty Centre, go to www.maniadbeleza.com
Alternatively, visit the store at 188 Dias da Cruz Street – Store 216 – Oxford Gallery – Méier – Rio de Janeiro 
or call (21) 3277-8681 /99311-6825.
To business owners Fernanda Santos and Marcelo Guilherme, on behalf of SimplyBook.me, we thank you for your time and cooperation in the development, review and final production of this article. Thank you.