Creating Effective Notifications for your Appointment Scheduler
14/03/2022
1473
0

This post is also available in:




One of the best things about having an automated self-scheduling system is that you can send automatic reminders, confirmations and even marketing emails to your clients without using precious time to do it manually. If you've ever wondered why your automated notifications and reminders aren't reaching your clients, maybe you need to rethink how you write them. There's no point in automation if you aren't creating effective notifications that your clients will read.
Why do you Need Automated Notifications?
It's a simple question with a simple answer.
You don't have the time to draft every booking confirmation, reminder message, and appointment making nudge your clients need. Moreover, you can't skip these steps because it would damage your relationship and connection with your clients and your business.
However, when you break it down into why you need effective notifications at all, the answer becomes a little more complex.
Confirmation of Transaction
Whether your clients pay for their service at booking or pay on service completion, acknowledging their transaction is essential.
It would seem odd if you didn't receive a receipt at a store when you bought things. It would seem strange if a business didn't offer you an appointment card when you booked in person.
In some respects, the exchange of client contact details is a transaction in itself. They give you that information to ensure you can contact them, and you take it as "payment" for keeping the appointment free. Hence, it is still a transaction that needs acknowledging.
Reduce No Shows
If your clients don't receive a confirmation for their booking, they are quite likely to think their booking hasn't gone through – the client doesn't show.
Some clients aren't organised and don't put their appointments on a calendar. Without a reminder, they might not show up to their booked appointment. Not only do you lose their custom, but you also have a booked appointment you could have used for another client.
To be frank automated messaging helps to ensure your clients show up.
A Chance to Cancel or Reschedule
Both confirmation messages and reminder notifications are more than just a receipt or a reminder that an appointment is forthcoming. When a person receives their confirmation and adds it to their calendar, they can check the dates and prices to ensure they are correct. On the other hand, receiving a reminder can remind clients that they have an appointment, but it can also remind them to cancel or reschedule.
Creating Effective Notifications Templates
You will need to consider a few tips when creating templates for your appointment scheduler's automated notifications and reminders. This is how you ensure you create effective notifications.
Ask Clients How You Should Contact Them
What contact do most of your clients prefer? Some people will check every email they receive, while others will let them slide. Your clients might jump on text messages as soon as their phone goes "ding". And others might prefer direct messaging platforms such as Telegram.
Many people don't answer the phone if they don't recognise the number, and some people also avoid listening to voicemails if they aren't expecting a call. Research suggests many people prefer to receive communication by text or email and may find text messages most helpful as a result. Using your client's preferred contact method will help ensure they receive and read your notifications.
Include links for cancelling or rescheduling.
A client receiving a reminder for an appointment, and discovers a schedule conflict, may feel stressed or anxious. Including an easy way to fix the situation can help alleviate those feelings. Reminders telling clients how to make cancellations easily and new appointments can help solve this problem and increase client satisfaction. Effective notifications fulfil more than one purpose.
Time notifications with enough time for cancelling and rescheduling.
It's good practice to include a cancellation policy in your business T&Cs, stipulating you will charge for appointments not cancelled in a specific amount of time. You will need to ensure you time your reminders with enough time to give clients a chance to cancel or reschedule.
If you charge for missed sessions that clients don't cancel at least a full business day in advance, you should schedule reminders for at least two days before the appointment.
Ask What Works for Your Clients – and what doesn't
If clients miss an appointment, seize the opportunity, and ask if appointment reminders are effective. If clients miss an appointment, seize the opportunity, and ask if your appointment reminders are effective notifications. Maybe they'd prefer a different contact structure, or perhaps a technology issue has prevented them from receiving reminders. Do you send too many reminders or not enough?
Something EXTRA to Consider
If your business requires increased data security, such as medical practices or sensitive information, you will need to think about how you send your notifications and the information you include. Laws surrounding HIPAA compliance and GDPR require that you omit sensitive data from automated notifications to protect patient privacy.
Some examples could be that you don't add identifying credentials to your signature, name specific conditions or appointment names. If your clinic serves a particular purpose and is named as such, you would be more compliant if you gave the street address for the location. Some examples might be addiction counselling, a fertility treatment centre or an HIV clinic – this is sensitive stuff that clients don't want in hands other than their own – and their doctor's.
Automatic and Effective Notifications from SimplyBook.me
As a comprehensive appointment scheduler, booking confirmations and reminders are integral to your booking system. Moreover, there are multiple notification features to help you make the best approach to creating effective notifications. And your clients will appreciate it.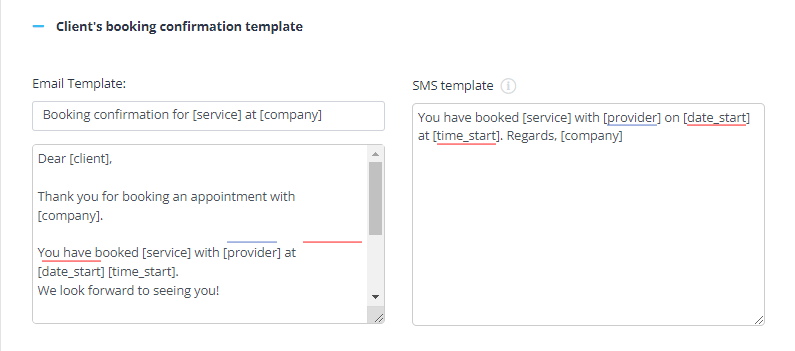 As standard, you can create messages appropriate to specific services by adding specific variables to your automated responses and reminders. You can also alter your reminder timings from 10 minutes to 3 days.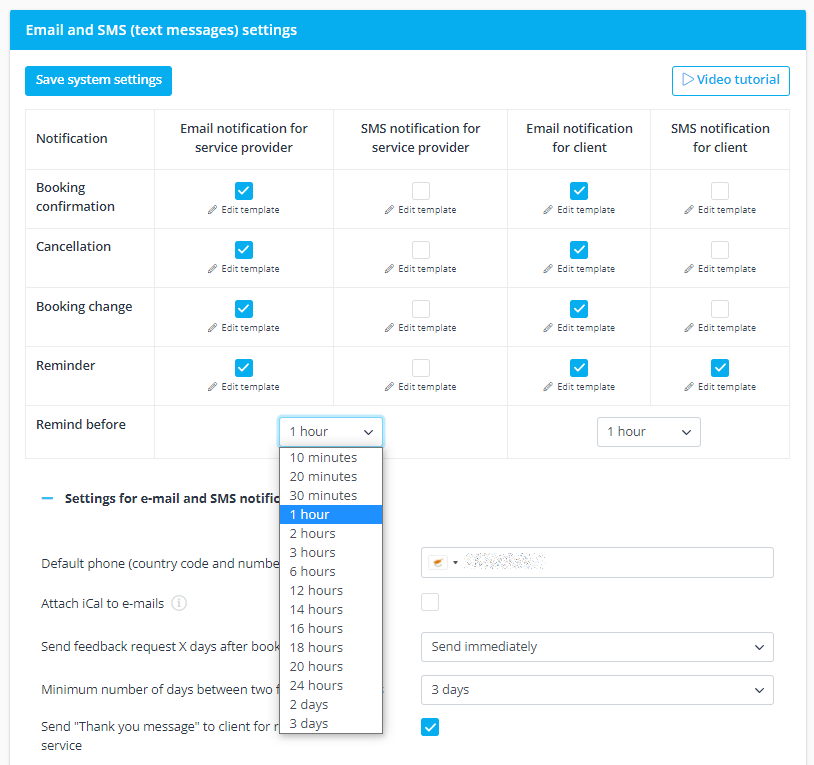 You can alter the following templates to provide extra information or make them more friendly. Each of these templates will apply to all services that can be booked on your website, so you shouldn't customise them to a specific service. If you have similar services that require the same preparation, you can tailor these to your requirements. Tailoring your emails and SMS messages means you have the opportunity to create more effective notifications.
Client's booking confirmation template
New user login notification
New booking confirmation for service providers
Recurring event notification for client
Recurring event notification for provider
Reminder template to clients
Reminder to providers
Cancellation confirmation template to clients
Batch cancellation confirmation template for clients
Cancellation confirmation template for providers
Batch cancellation confirmation template for providers
Confirmation of a change in booking – template for clients
Confirmation of a change in booking – template for providers
Template for feedback request from clients
New review notification to company
New review notification to client
At the bottom of the list, you might notice three options intended explicitly for clients reviews and feedback. How you request feedback for your services will significantly impact your chance of receiving responses – and positive ones at that. Pay significant attention to how you ask for good reviews. The correct approach is invaluable.
Flexible Notifications
Sometimes, you have a range of services that require your clients to provide different documents, make distinct preparations, wear specific clothing or bring special equipment. If this is the case, you might be well suited to enable the Flexible Notifications feature. When you need to ensure that your clients have the correct information and preparation data, your notifications will be far more effective if you are specific and detailed.
The flexible notifications feature will allow you to tailor each booking confirmation, reminder, review request and more to each service and provider. You can create your own templates, which you will then assign to each service or group of services and providers.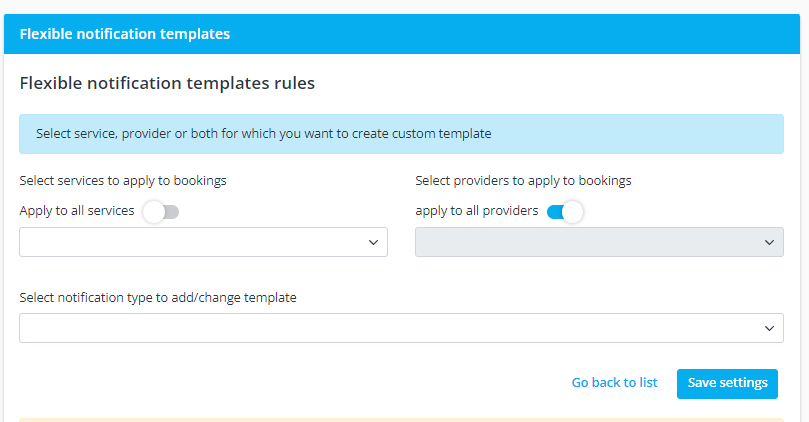 Book Soon Notifications
Effective notifications for booking confirmation and reminders are necessary. However, your automated notification system is also suitable for reminding clients to book their next appointment. but how do you ensure your clients remember you for the next time?
The book soon notification feature lets you create customised templates to remind clients that their next appointment is due. This function is beneficial if you have clients who don't usually book their next appointment at the end of their previous one or when the sessions are far apart. Some examples might be physiotherapy sessions, hair dying and root touch-ups, false nail infills, blood testing.

Telegram Notifications
I mentioned before that many clients have begun to appreciate notification by direct messaging platforms, so SimplyBook.me introduced the option to send telegram notifications.
Telegram notifications employ the same text as the SMS settings – it's wouldn't be good to use email templates for Telegram. Your clients have the option to sign up for Telegram notifications if that is how they prefer to receive their messages. As a free to use feature within SimplyBook.me and a free messaging option online, Telegram is an excellent notification option if your clients use it.
You can find detailed setup instructions on setting up your automated Telegram messaging bot and linking it with your SimplyBook.me system in the help centre.
Custom Email Design Feature
When it comes to making your email notifications noticeable and memorable, there's nothing that shouts "quality content" than a customised HTML designed template. But who has time for coding individual templates for their automated email?
Thankfully, the Custom Email design feature in the marketing suite of SimplyBook.me can help you with this.
Several templates are provided for different occasions and design styles. However, you can also create new designs from scratch. Each template is fully customisable according to style and branding. It is straightforward to use as it employs the "drag and drop" method of allowing you to add, remove and restructure your template fields for the best arrangement for your emails.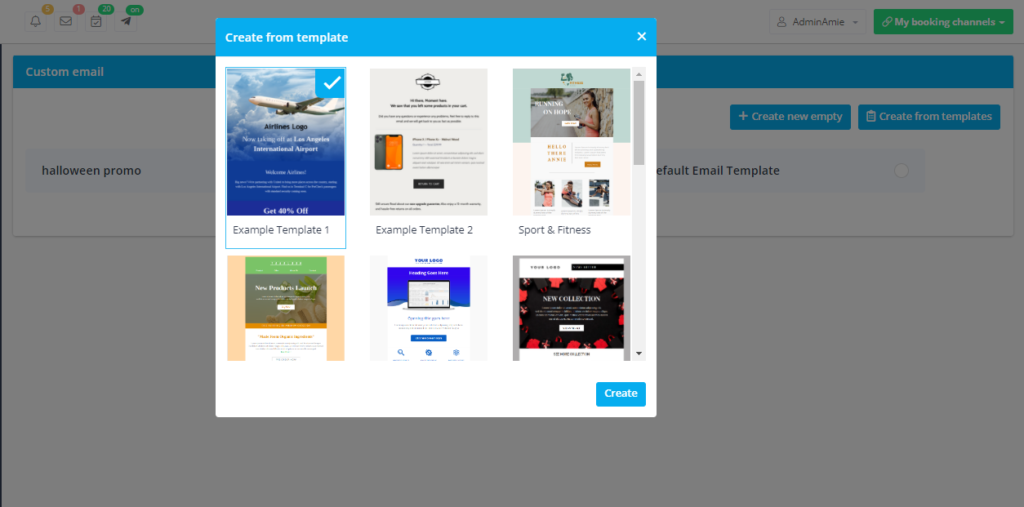 If you choose to create a new template for your brand, you can clone it for use with multiple notifications.
---
Creating Effective notifications is more than just words. How you address your clients, the methods you use to contact them, and how you display your messages will significantly impact their responsiveness.
You could choose to include a voucher code on your customised book soon notifications. Or how about the offer of a free drink if they arrive 10 minutes early? Make clients want to read your notifications to improve their effectiveness.