Become an Affiliate with SimplyBook.me
06/05/2021
1334
1

This post is also available in:



Did you know that SimplyBook.me has an affiliate program? If you're already into affiliate marketing, you already know it's an excellent passive way to earn income by recommending products you like. If you've never tried it, why not become an affiliate for SimplyBook.me?
Who can be an affiliate?
Almost anyone can become an affiliate with SimplyBook.me. Welcome bloggers, web admins, paid search specialists, speakers, agency marketers, trainers, and service industry specialists! Essentially, anyone with an online presence and an audience interested in online scheduling. Affiliates generate traffic and sales for commercial websites and, in return, receive a commission payment.
Sign up to get started
To become an affiliate, you can either follow this link or you can navigate to the program from the menu on the SimplyBook.me website. Just here, at the bottom of our web pages, in case you want to check us out first.

On clicking either of these links, you will go to the affiliate program home page, where you can log in or sign up. Click on the sign-up button and complete the form.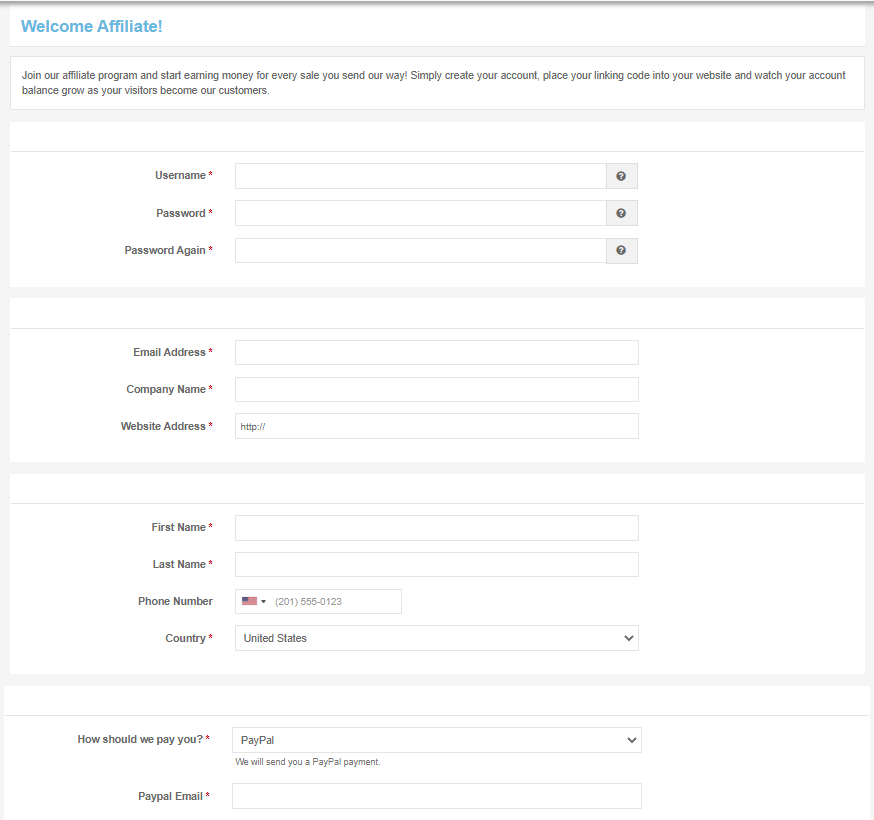 Before you create your affiliate account, be sure to read and agree to the terms and conditions. Please read the terms carefully because we have a zero-tolerance policy towards spam, unsolicited commercial email, brand squatting, and any other dubious and unethical practices – but of course, we don't think you would do that.
We don't pre-approve affiliates, so it will take a day or so to get your approval email from SimplyBook.me. However, as soon as you receive your approval, you will have access to the affiliate marketing materials. These materials are banners and images, videos, page peels, text ads, HTML ads, and email links and templates. There are also some training materials that might help you if you are new to affiliate marketing.
How the affiliate program works
Once you have joined our affiliate program and received approval, you will have access to a range of banners and an affiliate link that you will place on your site or send to friends. You can use these links wherever they are allowed, on your website, on your social media, etc.
Whenever someone clicks on one of your personalised links, they will go directly to our website. Our affiliate software will track their subsequent activity, and you will earn a commission based on their subscription purchase.
The rate for completion of any converting clients referred from your links is as follows:
You will get 25% of the first subscription payment of any new user referred from your affiliate link.
You will receive 15% of any subsequent subscription charges for up to one year from their first payment.
As our users can opt for annual or monthly subscriptions, there are two ways that you will earn commission on any converting referrals:
Example 1. One of your referrals purchases a monthly Premium subscription. Assuming they maintain the subscription for the year, your commission is calculated as:
1 x 25% x $59.90 ($14.975)
+
11 x 15% x $59.90 ($98.835)
=
$113.81
Example 2. One of your referrals buys a Premium annual subscription
1 x 25% x $599 = $149.75
The commission you earn applies to all paid packages, from basic to premium.
Example 3. One of your referrals buys a Standard annual subscription. Then you get:
1 x 25% x $299 = $74.75
Real-Time Statistics and Reporting!
Login 24 hours a day to check your account balance and see how your banners and links are performing.
Tips for Success!
Make sure that your audience and our scheduling system are a good match.
Check your links to make sure that they're working correctly.
Make it easy for your audience to shop by placing banners in high visibility areas.
Check our banners and resource library frequently so that you offer the latest items and the best promotions.
Check out what other affiliates and bloggers are doing.
Why be an affiliate for SimplyBook.me?
Aside from the monetary aspect, there are several reasons you might want to become an affiliate for SimplyBook.me.
SimplyBook.me is one of the largest online appointment scheduling systems worldwide. You would never have to worry that you might be recommending a defective or irrelevant product.
Additionally, with a broad range of business management, marketing and promotional tools, whoever clicks on your link will find something that works for them.
Help us to spread the word about one of the best and most extensive scheduling and business management tools out there, and we'll share in our successes.