The Ultimate Guide to Influencer Marketing for Service-Based Businesses
13/01/2021
4702
4
This post is also available in:



Influencer marketing a huge industry. Social media is part of billions of people's daily lives. That means that many of us are turning to our favorite online personalities to help inform our purchasing decisions. According to Digital Marketing Institute, around 86% of women use social media to look for purchasing advice, while 49% of all consumers take influencer recommendations into consideration. That's pretty impressive!
Some of the world's biggest companies, from Audible to Subaru, have run hugely successful influencer marketing campaigns. However, this strategy is not just for major brands with huge marketing budgets. Small, service-based businesses can also make use of influencer marketing to grow and attract new customers.
In this guide, we'll walk you through a few strategies you can use to get started on your first influencer marketing campaign.
Set your goals
All influencer marketing campaigns have business growth at their heart, but that can mean many different things. We assume that you want to attract more customers to your business. But do you want them to phone your team to make an appointment? Join your email newsletter so you can market to them? Buy a certain product from your business's online store?
Start by writing down your central goal for the campaign. Stick to just one objective at this stage; otherwise, you might end up with a weakened message overall.
Do your research and choose the right person
Perhaps you already have someone in mind. But you might not have any idea where to start or who you want to work with. The biggest part of influencer marketing success comes from choosing the right influencer for your campaign. There are a number of things to consider as you do your research.
First, you must choose someone whose target audience aligns with yours. If you run a barbershop for men, there's no point working with an influencer who is mostly followed by women! You should also understand their approach and ethics, and make sure they align with yours. For example, if you use all cruelty-free beauty products at your salon, a vegan influencer might be a good match.
Consider location, too. Since you run a service-based business, I'm going to assume you want to attract customers in a particular geographical location. Though influencers can and do acquire followers from all over the world, working with someone local can be a sensible choice for smaller and local businesses. After all, if your shop is in San Francisco, there is no point partnering with an influencer whose core fanbase is in New York City! Not sure where to start? Try searching local hashtags on social media and doing a Google search for bloggers in your city.
You could even look closer to home. Who do you know who knows and loves your brand? Regular customers who are active on social media and have a significant following are a great place to start. These people may not even think of themselves as influencers, but you can still approach them for a possible partnership if you think they're a good match.
Another advantage of a local influencer is that you could even invite them to come into your physical premises to take photos, shoot video, and experience your services for themselves. If you partner with a local beauty influencer and they can show off their beautiful nail-art that was done at your salon, their followers will be clamouring for an appointment!
Consider your budget, too. Celebrity influencers and those with millions of followers are likely to be too expensive for most small and service-based businesses. Niche influencers or micro-influencers with fewer than 10,000 followers will typically be far less expensive but can still achieve amazing results for your campaign. Here's an example: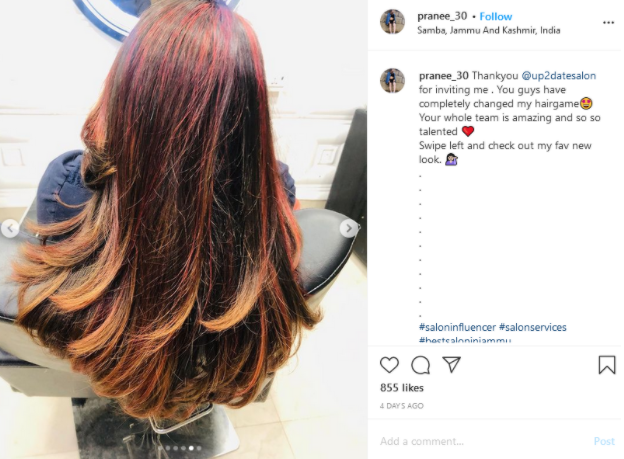 Pranee Sharma (@pranee_30) is a micro-influencer with around 5000 followers. In this post, she partnered with Up 2 Date, a hair salon. Just look at that engagement figure!
Look at their engagement levels as well as reach. Two thousand highly engaged followers who like, comment on and share the influencer's content are worth far more than 20,000 followers who do not interact.
Encourage the influencer to have creative input
Influencers become popular and successful because they are good at what they do. A mistake that brands often make is in giving influencers a script or a set of precise instructions. This usually ends up with the content coming across as forced or inauthentic. Followers who know an influencer's content well will be able to see when they're not being genuine, and this may result in the failure of your campaign.
Expect to give the influencer a free treatment or experience at your business. This is all part of the cost of influencer marketing. After all, it's not fair to ask someone to talk about a business they have no experience of. One influencer I know was offered more money to praise a product they'd never tried. They declined on the basis that this would be unethical. Remember: authenticity wins!
After that, let them do what they're good at! Though you can have approval over the final content before it is published, you should step back and trust that the influencer knows how to engage their audience.
Here's a post from Georgia Bingham, a micro-influencer and blogger with 5,000 followers, in partnership with the Harrogate Spa: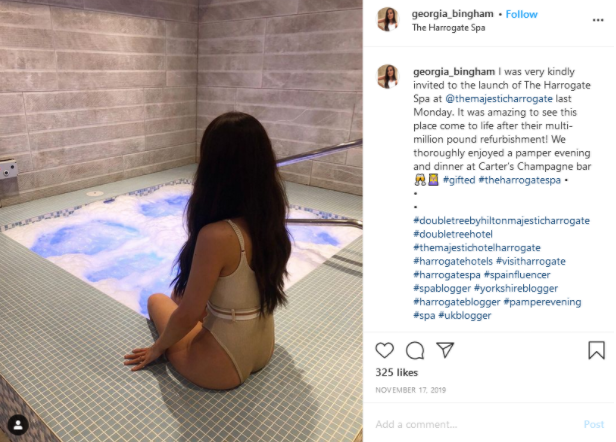 The post talks about the business and what she enjoyed about her visit, but it is also authentic and in her own voice. The picture also ties in with the rest of her feed. The use of neutral tones and poses facing away from the camera are prominent features. 
In other words, it's authentic. Based on 325 likes and 25 comments, her followers agreed!
Host a giveaway for your influencer's followers
Everyone loves the opportunity to win something! One of the best ways to boost engagement with your influencer marketing campaign is to run a giveaway that way to make the most of an influencer campaign is to include a giveaway. The prize could be a certain treatment or service from your business or a gift card for the winner to spend on the service of their choice.
You'll need to decide how you want people to enter. When you set up the giveaway, think back to the goals you set for your campaign. You might ask people to like the post, share it to their Stories, sign up for your email newsletter, or tag a friend in the comments to earn entries.
In this recent campaign, influencer Bailey Stanworth partnered with a local boutique to give away a $500 gift card: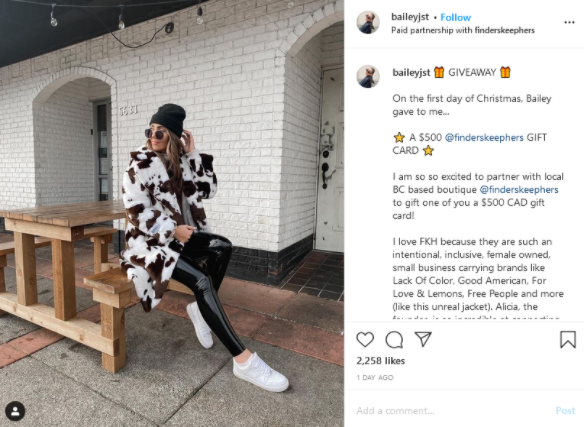 Needless to say, it was extremely popular amongst her 33,000 followers and received over 5000 entries. People had to like the post, follow both Bailey and the company, and tag a friend to enter. They could also win bonus entries by sharing the post in their Instagram Stories and subscribing to Bailey's Youtube channel.
Want to get even more mileage out of your giveaway? Ask the influencer to either draw the winner during an Instagram Live video or announce it in a post when they have been selected.
Create a special offer
Presumably you're running an influencer campaign because you want to attract people to come through your doors and patronize your business. The best way to do that? Give them an extra incentive to do so!
People are far more likely to take their chances on a new business if they can avail themselves of a discount or special offer. Why not include one as part of your influencer marketing campaign? For example, you might offer a coupon code for 20% off within a specific date range. If you sell products online alongside your brick-and-mortar business, you could also offer a discount for your online shop.
In this partnership with Spots Salon, influencer Nat Matta talks about why she loves the salon and then gives a discount code for her followers: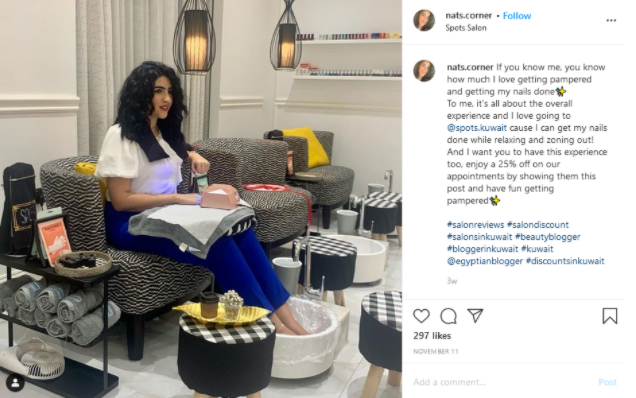 Considering she only has around 1000 followers, those 297 likes represent an almost 30% engagement rate! 
Pro tip: you can encourage people to take advantage of your special offer by generating a sense of FOMO (fear of missing out). Do this by making the offer time-limited and emphasize that people should book an appointment or visit your business soon to avoid missing it.
Make the CTA clear
What do you want your campaign to achieve? You must make sure each post includes a clear call to action (CTA) that aligns with the goals you specified at the beginning of your campaign.
For example, if you want people to book an appointment, ask the influencer to send them to your booking page. If you want them to sign up to your mailing list, make it quick and easy for them to do so. If you want them to enter content, lay out the steps they need to take to do that. And so on.
Always be professional
Some well-known influencers get dozens or even hundreds of brand requests for collaborations every week. So how do you make them want to work with you? You must be consistently professional. Some businesses make the mistake of not taking influencer marketing seriously or thinking they are doing the influencer a favor. In fact, a marketing campaign is a business transaction. Treat it as such.
Here are a few quick pointers to keep on their good side:
Approach them in the way they prefer. If they don't specify, email is best. You can send them a direct message on social media to request their email address, but you should take it to email ASAP.
Talk money straight away, either by making an opening offer or asking for their rates. Influencers get many requests for free work, so if you make it clear that you intend to pay and have the budget to do so, they will immediately feel favorably towards you.
Explain why you chose them specifically. A personalized approach is essential. They don't want to feel like you have spammed the same message to twenty different influencers. Use their name (and spell it correctly!), and tell them why you think you're a good match.
Briefly summarize your project goals.
Taking these simple steps increases your chances of getting a positive response immediately. Once the influencer is on board, make sure you treat them respectfully, allow space for their creative input, and pay on time.
Over to you!
As you can see, influencer marketing has serious potential for your service-based business, no matter what stage you're at in your business journey. Influencer marketing allows you to reach new audiences and lends additional credibility to your brand. Influencers have real power to change people's purchasing decisions, so it makes sense to tap into that ability for your business.
Don't forget to ask for feedback at the end of your campaign. Ask the influencer how they think it went, and if there is anything you can improve for future campaigns. You can also ask your followers to tell you what they thought of the partnership. Finally, don't forget to track your metrics. Did your campaign achieve its aims and further your business goals? If so, how can you replicate that? If not, what went wrong, and what will you do differently next time?
Now it's your turn – good luck with your first influencer campaign, and don't forget to let us know how you get on!
Bio
Jimmy Rodriguez is the COO and co-founder of 3dcart, an eCommerce software to build SEO-friendly online stores. He's dedicated to helping internet retailers succeed online by developing digital marketing strategies and optimized shopping experiences that drive conversions and improve business performance.