NEW Gift Card Designs – which do you like best?
10/12/2020
2622
1

This post is also available in:



The Christmas holidays are almost upon us, and when deliveries are backed up from significantly increased online orders, a gift card might feel like an ideal solution. However, giving a gift card for a service is a highly personal and considered gift, it should look the part. Last month we updated how gift cards work, this month we have upgraded our gift card designs so you can give a beautiful and thoughtful present to family and loved ones. You don't need to feel like a gift card is an easy option.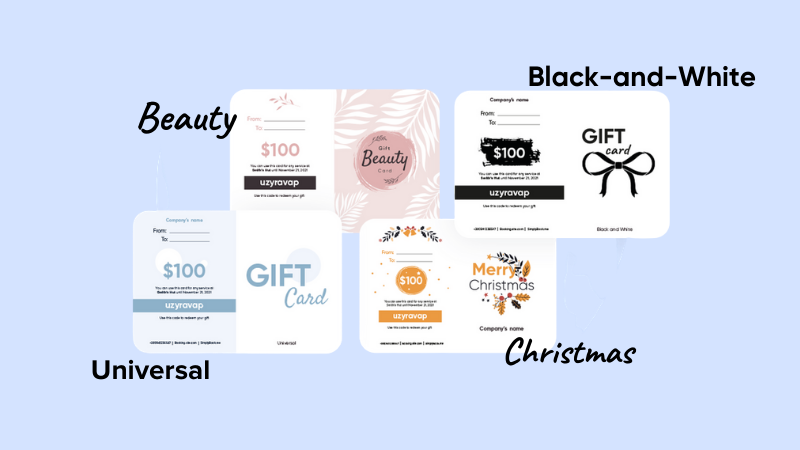 Gift card design for someone special
Okay, they don't have to be someone special, but someone will feel special for having received it. It doesn't matter whether it's because they have an opportunity to spend more on themselves than usual or if they simply have the chance to treat themselves. It's nice to feel loved or appreciated.
While okay, we know it's nearly Christmas, but you needn't offer up a gift card as a festive-only option. Birthdays, staff- appreciation, births (mum could do with a treat), engagements, weddings… They all happen year-round, and we are pretty sure we have most of those covered with our new additions to the gift card templates – but drop us a line if there's a life-event you think we need to include in our designs.
Gift cards pair very well with the creation of package deals within your business, and keep your clients with you for longer.
Coupons – Show some love for clients old and new
You can use our new templates for gift cards or coupons. If you want to show some love to your loyal and trusted clients with a Christmas discount, go ahead. You already have their email addresses, so it is easy to send out a mailshot of one-time coupons, with a pleasant 30% discount just before Christmas.
How about extending your client base? Why not print a stack of discount coupons for a busy street, or an event where your most likely clients will congregate? Add a coupon to a list of services that you hand out to first-time clients, or email them to people who sign up for your newsletter.
Get Giving and Marketing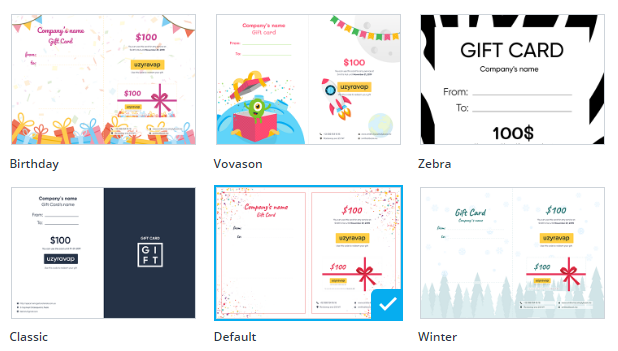 Let's not forget that gift cards and coupons aren't just a great idea for your clients, they are also fabulous for expanding your client base and bringing older clients back. If you still love the older designs, don't worry, we still have those too. But get gifting and see what comes back to you.
And make it pretty while you do it!
Which of the new gift card designs do you like best?