Integration with SimplyBook.me – What are your options?
24/08/2021
1373
1

This post is also available in:




It has been a long time since having an online presence for your business became virtually essential. Even local companies use the leverage of social sharing and online recommendations. However, providing online scheduling services to clients is a comparatively new demand facing most service companies. When you already have an established online presence, you don't want to start messing with a system that already works for you. So let's talk about how you can use your existing online profile while using integration with SimplyBook.me online scheduling.
What SimplyBook.me Does
SimplyBook.me is a standalone system that can, and does, provide an online scheduling system, website, marketing tools and appointment book management system. Okay, that's a very simplified description, and you can read more here. However, the basis of the software is to provide service businesses with online appointment booking functionality. You don't need to use every aspect of the system for it to work perfectly for your business. 
Some people might look at SimplyBook.me and think, "But I already have a professionally designed website." or "I'm doing just fine with my Messenger bot for appointments." They are missing the incredible benefits of integration with SimplyBook.me and hundreds of other time-saving apps.
In this article, I want to talk about some of the incredible integrations with SimplyBook.me, both native and third-party. 
I already have a Website – I don't need another one.
There are several reasons for keeping your existing website for your business. If you already have a well-established business website that ranks highly and gets plenty of traffic, you don't want to mess with a winning formula just to implement a booking system.
You don't need to use the website to make SimplyBook.me work for your business. The software's core is the booking management system, and the website is a convenient extra for those who need it.
There are two ways you can use integration with SimplyBook.me without meddling with your winning website performance. 
Link to The Booking Website.
It's a simple process to integrate a button into your website to take your clients directly to the booking website. The system creates the website automatically when you set up your business parameters. The fun part is customising your booking website pages to match the business branding on your existing website.
If you want to see an example, check out Fanfare Studio instead of a button or widget, they have simply added a link to the booking pages.
Integrate a Widget
As an alternative to directing your clients away from your website domain to a SimplyBook.me site, you can integrate a widget into your website code to enable clients to stay on your website while booking an appointment with you.
Don't worry; you can customise your buttons and widgets to merge seamlessly into your existing website with different templates, colour themes, and image and logo uploads.
One of our favourite examples of a customised widget is Blue Spinach, a resale specialist. You can check out their story and a detailed case on our blog.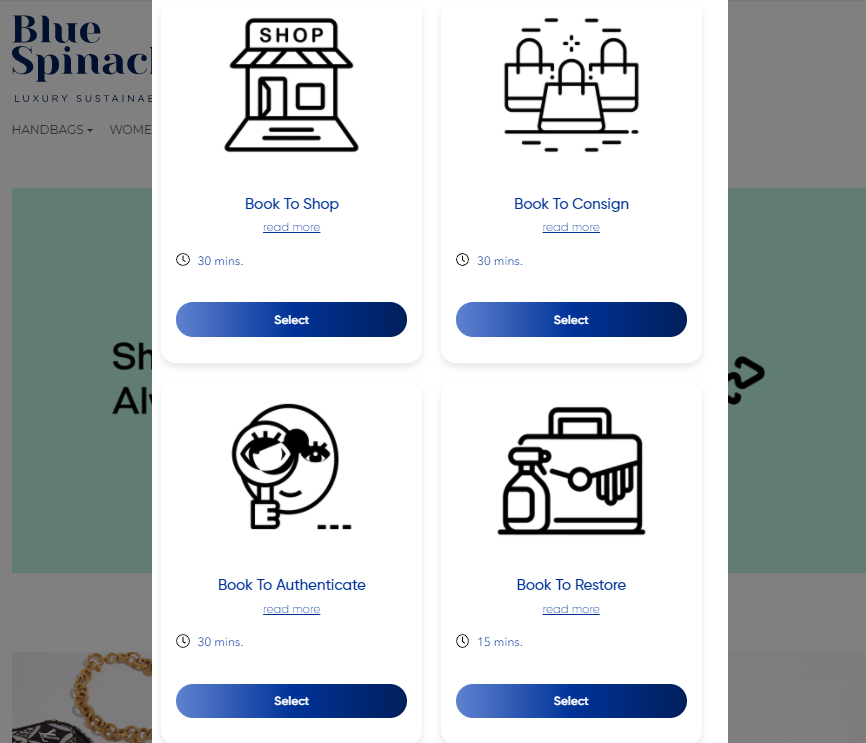 Blue Spinach demonstrates how you can implement a booking system and an e-commerce store on one website.
Even if you look after your website yourself, there are detailed instructions and codes for you to copy and paste into your website code for numerous different website building platforms, from Joomla and WordPress to GoDaddy and Weebly.
If you want to see a demo of how the various button integrations with SimplyBook.me might appear on your website, you can take a look here.
– Can't I get my webmaster to build a booking system for my website?
You could, and that is entirely up to you. However, be prepared to pay a small fortune for the privilege. Web developers are generalists most of the time, and they know how to build a fabulous website. However, building and developing a booking system is not a small or simple task. Trust us, we've been doing this for years, and we are continuously developing the system.
The benefit to using SimplyBook.me is that we have already done all the technological legwork. You also benefit from our updates and upgrades without having to keep a developer on hand continually. 
Are you looking for more? There's always API integration.
Make your website or app more relevant, engaging and profitable by providing the action you want your clients to make when they discover your business. Our API gives you access to all the booking data you need to build and deploy scheduling capabilities to your audience of clients.
Connecting a client with your business schedule, we bridge an entirely new layer of commerce.
You can use our developer API to create your own booking interface. You can design any solution you want, varying from the most straightforward widget to a multifunctional application with functionality customised according to your business specifications.
Simplybook Application Programming Interface uses JSON-RPC 2.0 protocol. See an example of an API-based booking interface, and also read the source code of this solution.
Reasons to Integrate With SimplyBook.me
There are so many reasons to integrate your SimplyBook.me booking system with your existing online profile.
Sure, you have a website, social profiles and directory listings, but you can't combine all of those into one place without implementing several cross-platforms integrations.
Even if your website gets thousands of hits, how many do you think are put off by the lack of online appointment scheduling? If you get a lot of traction from your social pages and paid ads, are you still losing potential clients because they want instant access to booking an appointment?
You're not a novice, you have your Google business listing that gets you on the map (literally), but you're not leveraging your excellent SEO practices into a functional conversion tool.
With SimplyBook.me, you can have it all. Whether clients find your website, Facebook, Instagram or Google listing first, you want your clients to go straight to booking an appointment. If they have to navigate through a network of clicks to get to the service they want to book, they are more likely to give up and go with someone else.
Booking availability on all of these platforms is crucial to making it simple to turn potential clients into booking clients.
So, you can keep your website, your established domain, your ranking content, your Google Business profile, and your follower-heavy social pages. All those things you need to improve your online visibility. Take them all and start integration with SimplyBook.me to bring more bookings directly from the source.
The easier you make it for clients to book, the more likely they are to book.
Integration with SimplyBook.me and your existing online profiles could be the best move for your business