7 SEO tips every business owner should know
25/08/2021
6693
12

This post is also available in:




Search engine optimization is a marketing tool that improves your rankings on relevant search engine results pages and helps you reach the best people possible. And, the more prospective customers you reach, the more sales you'll make. In this article, we'll take you through seven great SEO tips that can help you improve your Search Engine Optimization as a business owner.
Read on to find out more.
You need to be incorporating the best keywords into your copy
One of the most effective ways to ensure your web pages rank for relevant queries is by optimizing your content with the most relevant keywords. And, to do this, you'll need to conduct keyword research.
You can start by using specialist tools like Ahrefs or Moz to search for words or phrases relevant to your business or niche. After doing that, you'll have a list of keywords or search queries regularly entered into search engines by people in your target audience. 
When choosing the most appropriate keywords for your copy, you should consider important factors like relevancy, search intent, and competitiveness. This means the keywords must be relevant to your niche, and they should not be too difficult to rank for. Also, you should think of the search intent behind the keywords found. Certain phrases might indicate that someone is looking for information. Alternatively, other keywords will show that someone wants to make a purchase. You should choose which web pages to use these on with that in mind. 
Keep in mind that you also want to avoid keyword cannibalization. That's when you target the same keywords on different pages. It can cause search engines to get confused about which web pages should rank highest for a specific search. To avoid this, keep a spreadsheet of the different keywords you're targeting. This will help you which ones you're using for each page and their relevant performance.
Keep in mind that keyword research isn't just for established businesses. If you're just starting, performing keyword research can also help you evaluate your niche's potential to see if you're choosing the best niche for your business. 
Now, to give you some SEO inspiration, let's take a look at a company that does a great job of optimizing its web pages with relevant keywords.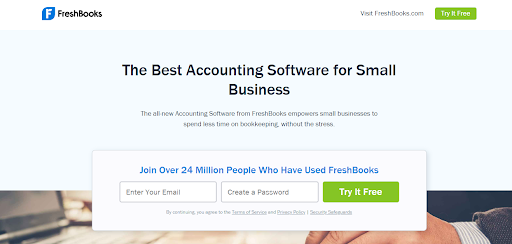 FreshBooks is a company that provides accounting software for small and medium-sized businesses. And, on their site, you'll find that they've made sure to incorporate relevant keywords related to their business into their website copy.
These keywords help their website to get discovered by the appropriate target audience on search engines. And their strategy has proven to be very effective, as this service page currently ranks on the first page of Google for relevant keywords with a collective monthly search volume of 10,200. If you also want to improve your website's SEO and be more visible to your ideal audience, you should follow FreshBooks' lead by choosing your keywords carefully and adding them into your copy in a subtle but effective way. 
Create high-quality content your ideal audience is looking for
Content marketing is a technique that allows you to create valuable content that will attract and inform your target audience. Publishing high-quality content is essential for SEO as it helps improve your rankings on search engines. It's also a great way to market your business if you have a small budget and cannot afford to use paid advertisements yet. 
If you publish relevant and useful content, people will also spend more time on your website, which can signal search engines that your site is valuable and credible. To ensure your content is helpful to your audience, you need to come up with relevant topics. 
To do that, you can use the keyword research method we spoke about earlier. After collecting your keywords, all you need to do is craft them into relevant topics that will interest your audience. Also, you could decide to go through the questions being sent to your customer service team so you can identify the areas where people need more help and create topics to tackle those areas. Then, when you're creating your content, make sure that you follow some tips to optimize it for search engines. Mention has a great guide on 13 tips to help you create SEO-friendly content that you will find very useful. 
You can create different kinds of content for your audience, including how-to guides, ultimate guides, original research, and more. To give you some inspiration, here are some effective pieces of content marketing that you can take plenty of pointers from.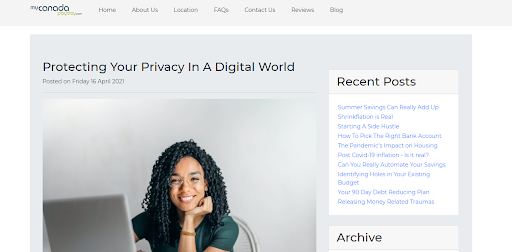 As a financial lending company that understands the importance of data privacy, My Canada Payday has created a post that educates readers on how to protect their privacy in a digital world. In the post, they talk about six ways people can ensure that their information is protected in today's world, where everything is digitized. 
They also give useful tips for creating secure passwords and running anti-virus software on mobile and desktop devices. It's a handy guide that can help their audience secure sensitive information and, depending on the field you work in. You could consider creating something similar for your prospects and customers. 
You could also decide to create ultimate guides, as they allow you to educate your audience and show expertise in your field. Let's take a look at a great example of an ultimate guide.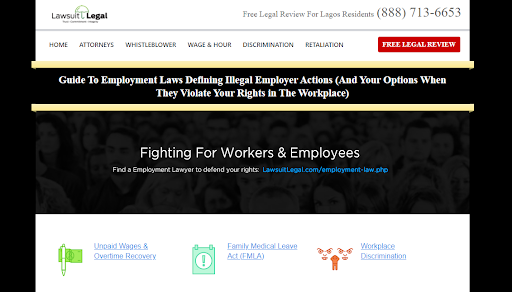 Lawsuit Legal is an attorney firm specializing in various personal injury or employment law cases. On their website, they've created an ultimate guide to help readers know their rights in the workplace and find an employment law specialist to help with their case.
The guide explains the different types of situations in the workplace that could require legal action, and it also encourages people to seek legal counsel if they find themselves in a tough position. It's a very comprehensive guide that shows the company is knowledgeable in its field, and it can help attract prospects who might have been searching for this information on search engines.
You can also use styling guides to give your buyers more ideas about how to use the products they've bought from you. And, to give you some inspiration, let's study an existing one.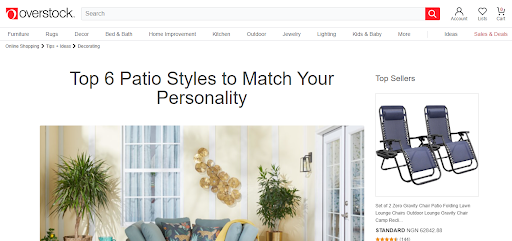 Overstock is an e-commerce company that sells items like furniture, jewelry, or outdoor equipment. To help their customers, they regularly publish styling guides or tips on how people can use the things they've bought from their store. For instance, they have a post on the top 6 patio styles that could match the personalities of any of their customers. This is a really great guide that can assist people who have bought patio furniture from the website. It gives good ideas on how to decorate a patio, and this can be helpful for both prospective and existing customers.
Lastly, let's not forget that you can provide your audience with industry news informing them about your industry's latest events and happenings. Many of your customers would appreciate receiving updates about your industry, especially since some of these updates would affect their lives or businesses. Now let's use a practical example from Hootsuite to give you an idea of the kind of industry news content you could create.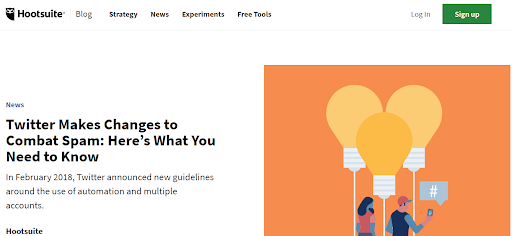 Hootsuite is a social media management company, and they know many of their customers would like to be aware of the new updates in the social media industry. So, they've decided to publish industry updates on their blog. For example, here is a post that talks about the changes Twitter made to combat spam for its users.
They do a great job of highlighting the new update and explaining how it will affect business owners who use Twitter as part of their social media strategy. It's the kind of content that can get your audience to trust and appreciate you. They'll spend more time on your site, which tells search engines that your website provides value and might lead to more sales.
Content marketing should definitely be an element of your SEO strategy, and these formats will work well for many different types of businesses. 
Build some links on relevant and quality sites
Link building involves acquiring links from other websites to your own. It's one of the simple SEO tips that can help you improve your site's search engine optimization because it drives organic traffic to your website. It also tells search engines that other websites find your site credible and valuable enough to link to.
Some of the different ways you can build links back to your website are by guest posting for relevant websites or creating resources people will want to link to. You could also post articles that include quotes from experts or do something newsworthy, so people write about you on their site.
Just make sure that you assess the quality of a site before reaching out for a link. You can do this by using a domain authority checker to get the domain rating of a site so you can determine its ability to help you rank on search engines. It's important to do this because it allows you to filter out spammy or low-quality sites.
After you have identified the sites you want to reach out to, make sure you read the guidelines on their website before sending the editors an email. And, to increase your chances of getting a response, you could try to connect with them on social media beforehand.
Ensure your website provides a great UX
If your website doesn't offer a positive user experience (UX), you're missing out on online marketing opportunities that can benefit your business. If internet users see that your site has a poor UX, they won't stick around long enough to make a purchase — this can increase your bounce rate and have a negative impact on your SEO. 
To ensure your site offers a good experience, try to make sure your website has a fast loading speed, uses a simple but effective design, and that all the information is easy to read. You should also make sure your site's navigation is intuitive and easy to use.
Now let's take a look at an example of a website that provides a positive user experience so you can get some inspiration for your site.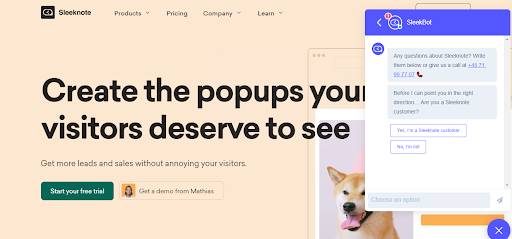 Sleeknote is a lead generation tool that helps businesses engage their website visitors. When you get to their website, you'll see that they've put many things in place to give their visitors a great user experience. For instance, they have very legible text that is easy to read, and they use a simple but effective design that doesn't complicate their website.
They've also made it very easy for people to get more information by providing a chatbot that connects visitors with customer service representatives who are ready to help. These tactics come together to create a good user experience for people who visit Sleeknote's site, which contributes to optimizing their website for SEO. When designing your site, make sure you take notice of the few tips we've outlined here to ensure that prospects have a good time on your website so they'll stick around and keep coming back. 
Weave relevant internal links into your website copy
Internal links are crucial for search engine optimization. This is because they help search engines better understand how your site is structured, what your pages contain, and which web pages are the most important. 
One of the best ways to add internal links to your website is by weaving them naturally into your blog content where relevant. You could also include links to other related products on your category pages so customers can easily browse more options. To give you a practical example of how to include internal links in your website copy, let's take a look at an example of a website that does it well.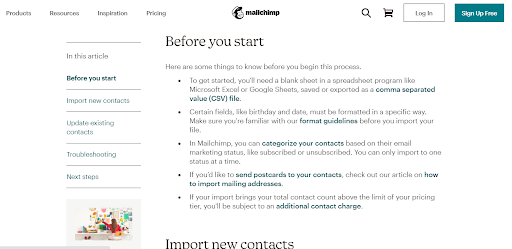 Mailchimp is an email marketing solution that helps small businesses communicate with their prospects and customers via email. Looking at their blog, you'll find that they do a great job of incorporating internal links into their website copy.
For instance, they have a blog post on how their customers can import contacts into Mailchimp. In the post, they've made sure to include links to other posts like "how to categorize contacts" or "how to import mailing addresses".
These links help people to get more clarification on certain steps they need to take before importing contacts. And they also help search engines like Google to understand the structure of their website. You can also use internal links in your website copy by adding them into your blog posts or in places like your service or category pages.
Make sure you're on top of your technical SEO
Technical SEO refers to the process of improving and optimizing the technical aspects of your website so it can rank better on search engines. People often tend to overlook this aspect, but it's imperative to improve your website rankings. 
One of the main ways to improve your technical SEO is by ensuring that your website is mobile-friendly. In 2015, Google updated their algorithm to prioritize mobile-friendly websites, so you need to make sure you have a responsive site to meet Google's criteria. 
You should also try to perform regular technical SEO audits and, if you don't know how to go about it, it's best to outsource the task to a professional. If you need more help, 99signals has a great technical SEO checklist with tips that can help you stay on top of your technical SEO and boost website traffic.
Focus on keeping your bounce rate low
Your bounce rate is the percentage of people who leave a website after only viewing one page or after spending a relatively short amount of time on your site. Having a high bounce rate is a cause for concern, as it can have a negative impact on your SEO.
Your bounce rate might be high for different reasons. For example, it could be that your website takes too long to load or is too complicated to navigate. It might be that people don't know what to do next when they land on your site.  
You could try interactive elements or sophisticated search features that help visitors find what they need to reduce bounce rate. Also, make sure your website design is simple enough, so people don't get lost when they arrive. To give you some inspiration, let's study the tactics some websites are using to keep their bounce rates low.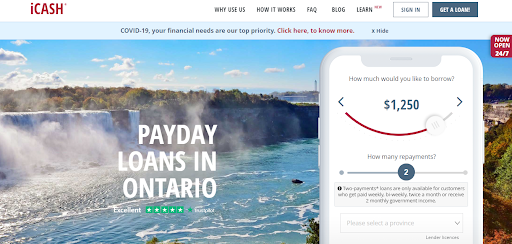 iCASH is a financial lending company that offers assistance to Canadian residents. On getting to their website, you'll see that they've taken some measures to reduce their bounce rate. For instance, they've added a very engaging interactive element to move people further in their journey with the company.
If you scroll down the page, you'll see they've outlined the three steps that people need to take on their website to get financial assistance. Doing this has made things easier for visitors who might be confused about the loan application process. These tactics also work well to keep people on the website longer and reduce its bounce rate.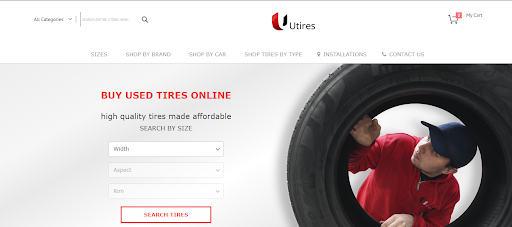 Utires is a company that sells high-quality used tires online. On their homepage, you'll see they've created a sophisticated search tool to help visitors find the best-used tires for their vehicles.  
Visitors can look for tires based on the width, aspect, and rim with the search tool. This allows people to find the perfect fit for their vehicles, and it also increases the amount of time that visitors spend on the company's website. Reducing your site's bounce rate is one of the landing page optimization tricks that can help you boost your SEO and increase conversions. So make sure you use some of the techniques we've highlighted in these examples on your own website. 
Summary
As a business owner, there are many things you need to focus on to keep your business growing. And one of them is search engine optimization. Luckily, we've outlined several great SEO tips that can benefit small or large businesses.
You can start by incorporating relevant keywords into your copy, creating high-quality content, and ensuring your website provides a good user experience. In time, you'll be able to implement all the tips and see positive results from your SEO efforts. 
---
Author bio & headshot: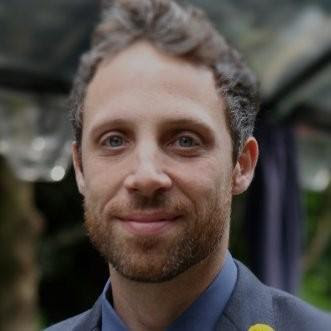 Aaron Haynes is CEO and co-founder of Loganix. The company is an SEO fulfilment partner for digital marketing agencies and professionals. Providing the services businesses need to improve their online visibility and grow. If you liked this article, check out the Loganix blog, where you'll find more SEO guides full of expert advice.