Improve Your SEO with SimplyBook.me
22/07/2021
4370
3

This post is also available in:




If you have any part of your business online, you have probably heard about SEO (Search Engine Optimisation). It's how you ensure that search engines, and consequently, people, can find you online. We've talked quite a bit about SEO recently, but today I'm focussing on how to improve your SEO with features of the SimplyBook.me scheduling system.

Not only does SimplyBook.me help enhance your online profile, but we've also made some updates to make it even better. So let's see how SimplyBook.me can help you improve your SEO and get more people visiting your business site.
Booking Website
A website is one of the critical components of SEO. It's unlikely you will have a high SEO rating for your business if you rely solely on social media accounts and google business listings. It's a pretty universal truth that companies without a website get passed over in favour of those that do. I do it, and I'm sure you do too.
A website allows you to optimise your pages with industry-relevant keywords. Your content can include a blog, category, and product descriptions with appropriate phrases that your clients can easily find.
But what about the SEO components that your customers can't see?
In response to requests from our clients, you can also improve your invisible SEO boosters.
Title tags and meta descriptions.
These little snippets of information are readable by the web crawlers that search engines use to index your website. You can now write appropriate titles and meta descriptions for your SimplyBook.me booking website. Helping search engines find you and display your website when people use the appropriate keywords in their searches.
You can change these settings in your interface by going to Settings//Booking Website Design// Home Page.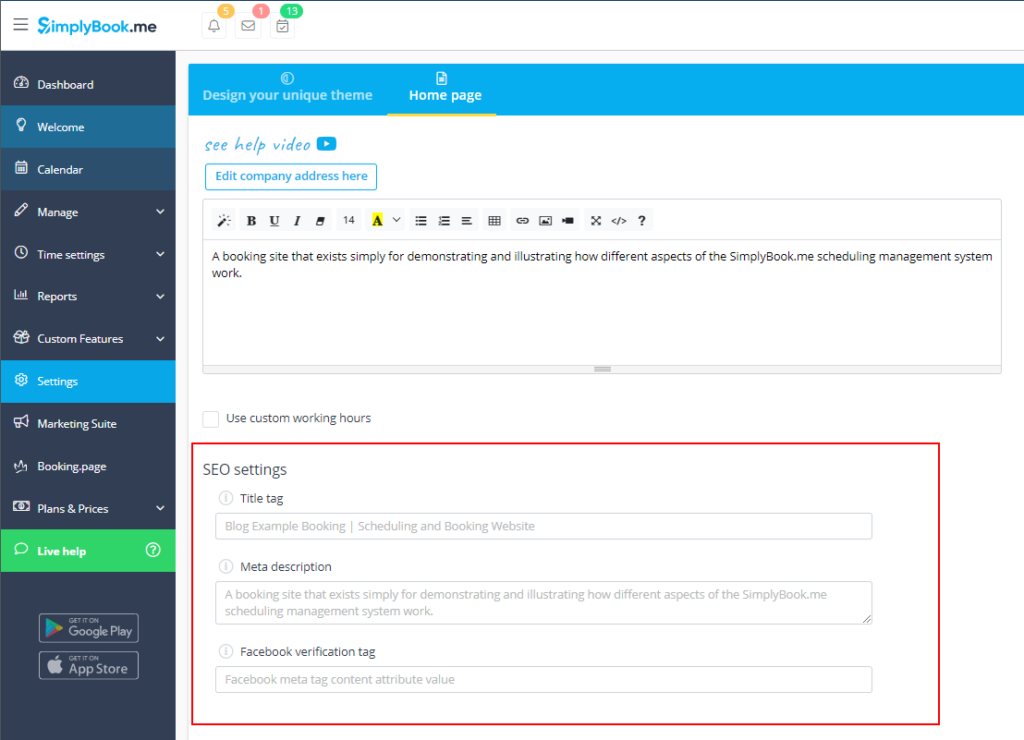 Integrations
You might want to use the native integrations with Google, Instagram, and Facebook to enhance multichannel accessibility. However, these integrations are also excellent ways to improve your SEO.
Google Business
When a potential client uses a search engine to find "[service] near me", your business isn't the first result – even when you exclude the ads.
If you have a localised service business, you need a Google Business profile to improve your SEO. Google Maps results for local companies are almost always the first results on a Google SERP, disregarding the paid ads. Integrating your SimplyBook.me account with Google business will allow you both the necessary links to your business and improve your SEO.
Social Media with Facebook and Instagram
You know you need an active social media presence to improve your SEO. It makes sense, but how does SimplyBook.me help?
Native integration with Facebook and Instagram business pages fulfils two significant functions. One is to enable easy access to your services from social media and sharing. The other is to create links and increase the volume of online references to your business. 
Everyone knows it's always best to give your clients easy access to you wherever they find you, so direct integration with social media channels improves that access.
Marketplace listing on Booking.page 
As part of our efforts to improve your business' SEO performance, we created the Booking.page.
Booking.page is a global service marketplace for all SimplyBook.me clients to list their company to enhance their online presence. As standard, we automatically list your booking website on Booking.page. However, you can also opt out if you wish.
You also have the option to customise your listing and create deals and offers to help promote your business.
You might list your business on a local directory such as Yelp or chamber of commerce to improve your SEO, and Booking.page works much the same. However, should your potential clients find you on Booking.page, they can also make their booking from the marketplace. 
SimplyBook.me Website Features to Improve SEO
There are features within SimplyBook.me you can use to improve your SEO for particular sections of your business. While you might have a beauty salon or a legal office – that doesn't tell the whole story, and you might want to rank for different aspects of your company.
News/Blog
If your beauty salon covers hair, face and body treatments, you want to rank in searches for all of those things, both individually and collectively. The News/blog feature enables you to populate your website with relevant references to your work.
At least a semi-regular addition to a blog or news feed forces the web crawlers to re-index your website for updated content. Regularly updated content is a crucial aspect of SEO. Current information helps search engines prioritise an active website over a stale one.
Custom Pages
You might not desire to maintain a regular blog or newsfeed, but creating evergreen content on custom pages enables you to enhance your relevance in a particular keyword search.
Custom pages will appear in your menu on the home page of your booking website, and the content will be easily accessible to your customers.
Custom Domain
Aside from the information on your website pages, your website's domain name plays a significant part in your SEO.
While a SimplyBook.me domain includes your company name (or something very close, it is still a SimplyBook.me domain with your company name as a secondary factor.
By using a custom domain, your website address makes your company name the priority. Search engines give preference to websites that have a proprietary domain address.
Keeping Up with Your SEO Improvements
How do you know if your SEO efforts are making a difference?
Analytical tools on SimplyBook.me, such as the Visitor Counter, Google Tag Manager and Analytics, and internal insights, can help you pinpoint where you need to make improvements and where your efforts are working.