How to Write High-Converting Google Search Ads in Minutes Using AI
14/07/2021
1561
0

This post is also available in:




Google Ads is a powerful platform for generating leads and sales. However, it can be difficult at times to create winning ad copy that generates the desired results. Fortunately, there are new AI tools available now that will help you do this quickly and easily.
In this article, we will explore how AI-generated content can make your life easier by creating high-converting Google search ads with minimal effort on your part.
What Are Google Search Ads and How Do They Work?
Google search ads are paid advertisements that appear alongside organic search results. The basic structure of a search ad is simple: there are up to 3 headlines and 2 descriptions for you to write, plus your destination URL.
But herein lies the problem.
Anyone can write ad copy, but very few know how to write winning ad copy. If your ads don't work, they'll end up costing you more money than they make, becoming a money pit.
For your Google Ad campaigns to work, you'll need to be able to create high-converting ad copy.
What Is a High-Converting Ad?
When an ad generates more revenue than it costs, it becomes a high-converting ad. Ideally, you want to generate no less than $2 for every dollar you pay Google.

In order to create high converting search ads, there are three factors that you need to consider:
1. You need to select keyword phrases that have high purchasing intent
If you target searches that are informational in nature, you'll be less likely to convert them into revenue. So, you always want to target keywords that are commercial in nature.
Here's an example of a keyword with high purchasing intent: "need a plumber to unclog a kitchen sink."
Here's an example of a keyword with low revenue potential: "do I need a plumber to unclog a kitchen sink."
2. You need to create a landing page that closely aligns with your ad copy
If your search ad targets "need a plumber to unclog a kitchen sink" and your landing page talks about 15 different kinds of plumbing services you offer, then you're going to confuse your prospect.
The whole point of targeting specific keywords in Google Ads is to remain closely aligned with the search term as you transition from your ad to your landing page.
So, if you want to target all 15 plumbing services you offer, you'll need to create 15 distinct ads with 15 landing pages to match.
3. Last but not least, you need to create winning ad copy so that prospects click on your ads and not your competitor's
In most competitive niches, you'll see up to four ads on top of the search results, which means that you'll have a 1 in 4 chance of getting noticed.
Your job then is to develop the most compelling ad copy of the bunch, so people choose your ads over your competition's.
This is where AI comes to the rescue.
How Can AI Help You with This Process?
When it comes to search ads, the entire burden of coming up with winning ad copy falls on the advertiser.
Now, those with deep pockets can enlist the help of professional copywriters to create masterful copy proven to convert.
But if you don't have a big marketing budget, you are forced to come up with your own copy, which would never be able to match the talent of the pros that work in ad agencies.
Until now.
The first AI copywriting tools are starting to hit the market, and they're, well… quite impressive!
How do they work? They've been trained by reading and interpreting millions of examples of ad copy from the best copywriters in the world, learning how to match their skills.
Armed with this information, they can help you write winning ad copy without the need to develop this expertise yourself.
Let's do a live demonstration!
For this article, I'll use one of the most popular AI copywriting tools on the market: Conversion.ai. I'll show you how to use it with plenty of screenshots so you can learn your way around should you wish to try it for yourself.
How to Use Conversion.ai to Create Killer Ad Copy
As mentioned before, when it comes to Google search ads, you need to create two key pieces of ad copy – A headline and a description.
Google Ads allows you to create up to 3 headlines with a maximum of 30 characters each. These are followed by 2 description lines with a maximum of 90 characters.
Before we move to an example, remember that your text must closely reflect the needs of your audience. It shouldn't be about your product or services. Your goal is to present your ad as the solution to your audience's needs.
An AI-Assisted Search Ad Example
Now, I will use this very website as a guinea pig and create an AI-generated Google Ad headline and description for a new SimplyBook.me ad. My target keyword is "Online Booking Software."
First, I'm going to log into Conversion.ai and click Templates: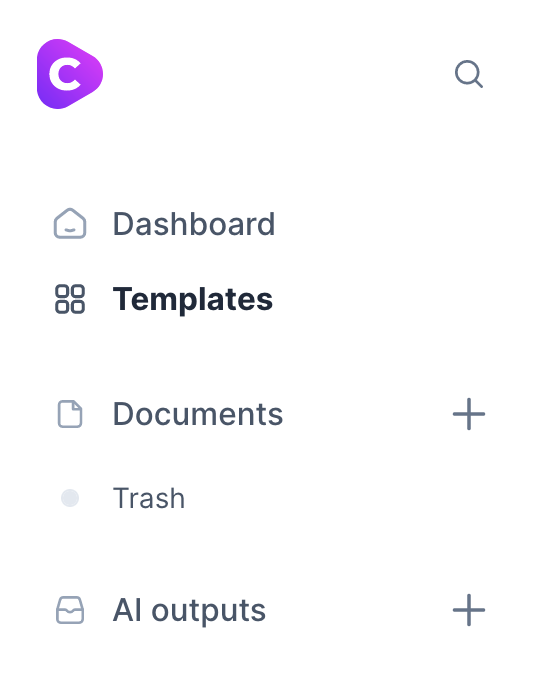 Then, I'm going to access the Google Ads AI generation tools:

Now, before creating the AI content, I'm going to get some basic information from the SimplyBook.me home page. This works as the "seed" for the AI engine: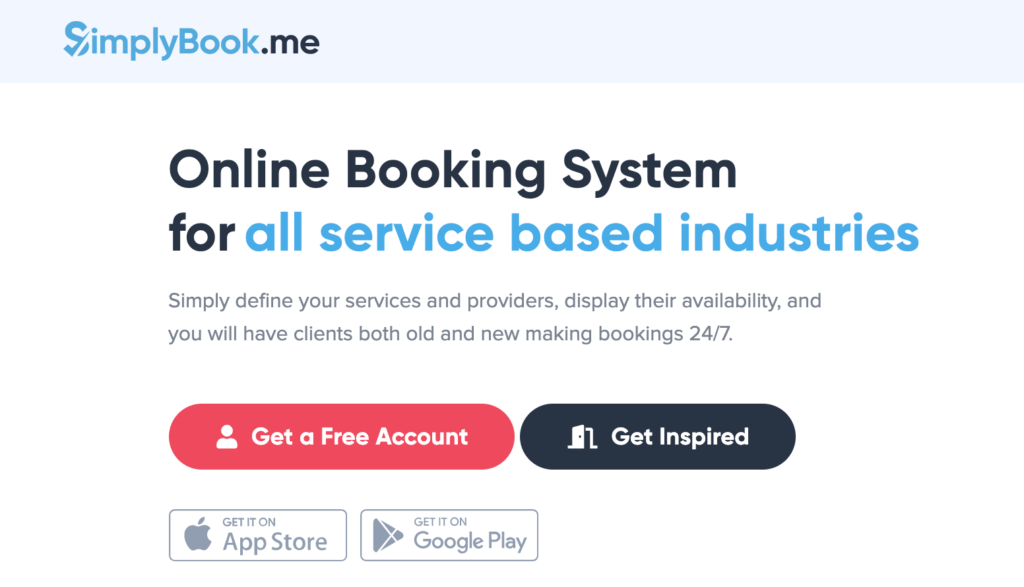 Next, I'm going to copy and paste the above text into the AI tool.
Nailing the Headline
First, I'm going to create a high-converting ad headline by clicking the "Google ads headline" button in Conversion.ai and entering the following text right out of the above screenshot:
Company/Product Name: SimplyBook.me
Product Description: Online Booking System for all service-based industries
Tone of voice: Convincing (you could also choose Casual, Witty, Helpful, etc.)
Examples: Simply define your services and providers, display their availability, and you will have clients both old and new making bookings 24/7
I'm now going to click the Generate AI Content button to obtain the desired result: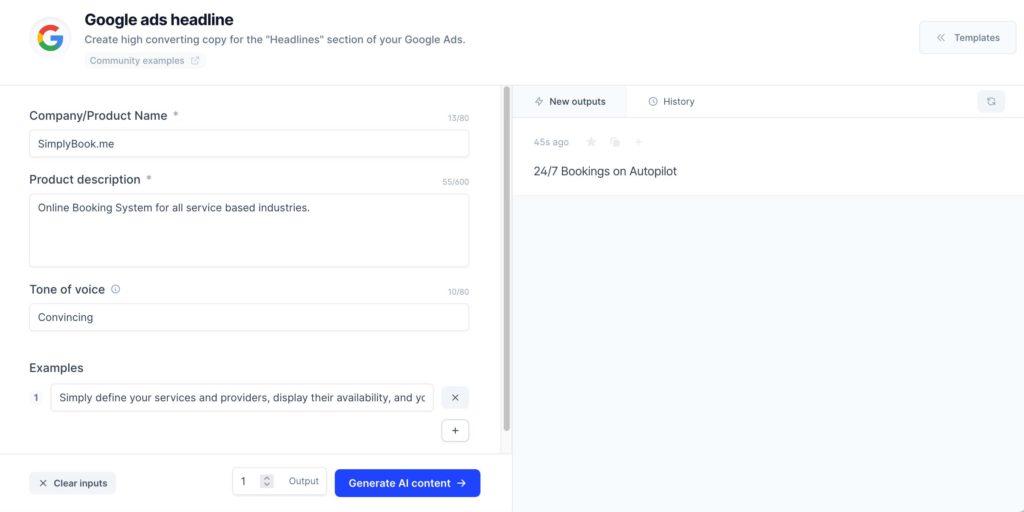 …getting the suggested headline: 24/7 Bookings on Autopilot
Brilliant. A high-converting Google Ads headline right out of the box!
Now, if the initial result is not exactly what you're looking for, you simply keep generating new AI content. Keep going until you find the perfect headline for your ad.
Alternatively, you could change the inputs and try again. The thing is, you'll never have to stare at a blank page trying to develop original ad copy ideas again
For the sake of brevity, I'll just do a single headline for this example. However, you can use up to 3 headlines on a Google search ad.
Creating a Description
Finally, I'm going to use Conversion.ai to generate two description lines. So, next, I will click the "Google ads description" button and re-enter the same seed information as before:
Company/Product Name: SimplyBook.me
Product Description: Online Booking System for all service-based industries
Tone of voice: Convincing
Examples: Simply define your services and providers, display their availability, and you will have clients both old and new making bookings 24/7
Then click Generate AI Content: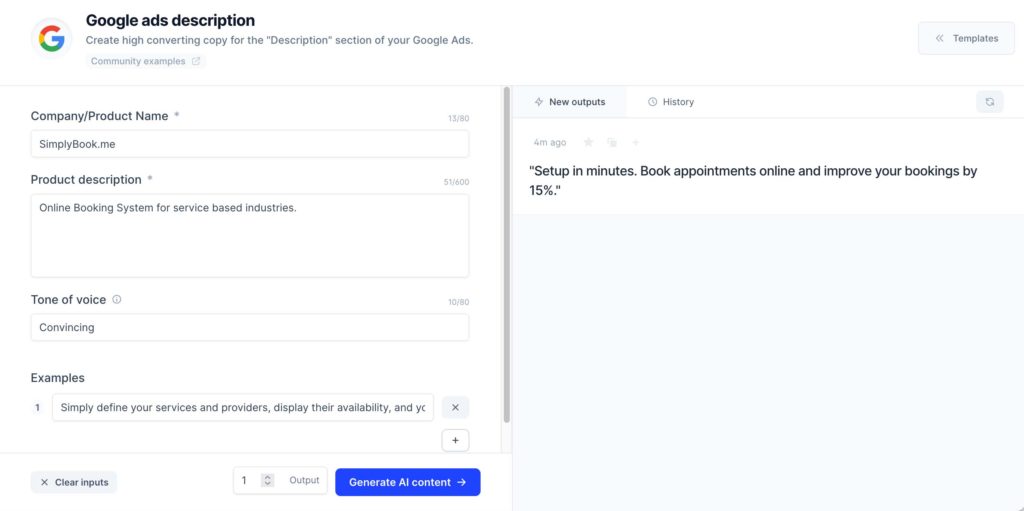 …to get a great description!
Now, the AI robot doesn't know the exact percentage that SimplyBook.me can improve bookings by, so "15%" is just a placeholder that'll need to be replaced with real-world data.Now, let's try a second description line by clicking the Generate AI content button one more time: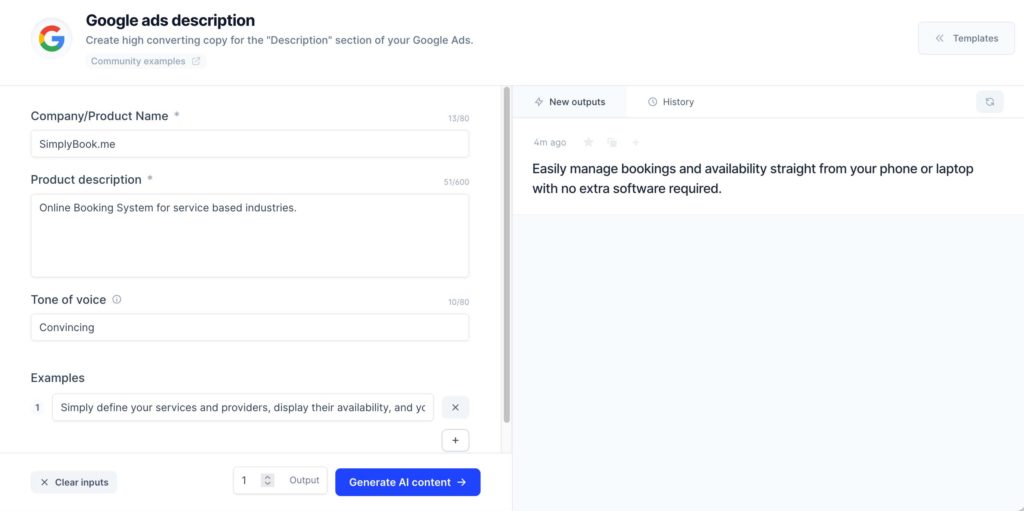 Awesome! Let's now put together the ad that would be triggered in response to the search: "online booking software" (I'm using Google Ads to mock up the look of the ad on mobile devices):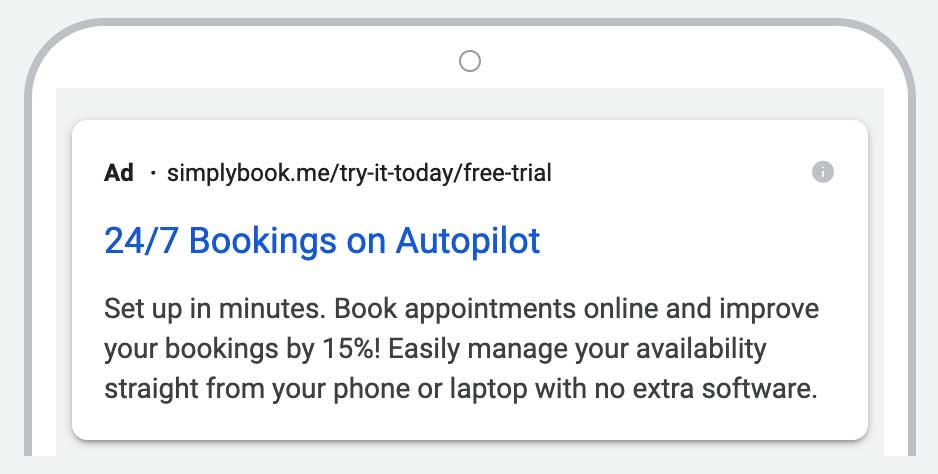 As you can see, I had to make minor changes to fit the second line in the description since the AI text went slightly over 90 characters.
I also added an extra space in the first description line, but other than that, a great high-converting Google search ad relevant to my target keyword, and all of it done in less than 5 minutes!
Guest Author Bio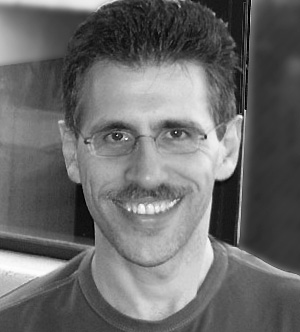 Marcelo Beilin is a ​Digital Marketing Consultant​ and blogger who helps clients take their traffic and online revenue to the next level. He also helps readers find the perfect tools to earn online income at BestTech2EarnOnline.com​.
You can connect with him on ​LinkedIn​.
Email address connected to Gravatar: ​mbeilin@besttech2earnonline.com