How to Evaluate Your Niche's Potential With Keyword Research
16/06/2021
6614
0

This post is also available in:



When you're setting up your eCommerce business, it is crucial to explore your niche. However, there is a lot of data you can get using basic SEO techniques, which can give you an at-a-glance understanding of the potential profitability of your niche. One of such methods is keyword research, so let's see how you can use it to evaluate your niche.
The classic marketing approach offers several thorough (and expensive) methods from qualitative to quantitative, including customer surveys and interviews, focus groups, and so on. While it is entirely important to understand the potential customers, their desires, and motives, many smaller eCommerce projects start with the budget restricting such endeavors.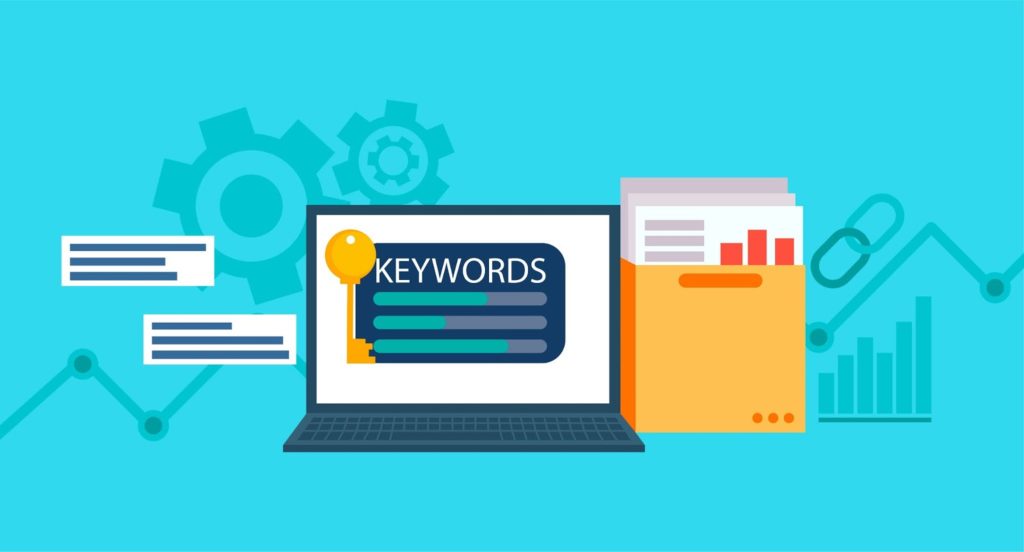 What are niche keywords?
Niche keywords are normally used to look for a well-defined or precise product/solution within your niche. Typically, they consist of three or more words: so-called "long-tail" keywords and are fairly small in search volume. But the benefit of the niche keywords is that they typically bring better-quality traffic.
Let's suppose you're running a site selling shirts. In this example, "double cuff shirt for men" is clearly a niche keyword. A person looking for it should be much closer to a purchase than someone just typing in "men's shirt". Thus, by doing long-tail keyword research, you can explore any niche and see if it has potential (search traffic) or not. We'll talk about how to do it a bit later in this article, so let's now move to the steps that help you find the right niche.
Step 1. Select your niche
To choose the niche to start a business, you first need to look at the current state of industries you're interested in. Check on what big players are doing on the market and study the current demand. Here are some insights for 2021, and you can learn more if you give yourself time to analyze financial and marketing magazines.
In 2020, up to 60% of temporary business closure became permanent, according to Yelp.
At the same time, the surge in eCommerce due to COVID-19 restrictions was enormous, and 2021 is continuing in 2020's footsteps.
Retail eCommerce sales grew worldwide within the 15-20+% range in 2020 as reported by eMarketer.
How to discover exactly your niche?
There are several things to consider when finding your niche but start with your passions and skills. First, think about what you love and know much about. Skills and expertise in the selected area are crucial. If you don't know almost everything about the subject, let it stay as your hobby.
The second thing to think about is your differentiation. How will you be different from other sellers? Let's continue with our shirt examples from above – let's suppose you want to sell shirts for men. What will make you so different that people would prefer to buy from you, not from Amazon or ASOS, where they can order possibly any type of shirt in the world?
And while thinking about the global competition, you may also consider limiting yourself to some geographic market, be it your city, region, or country. It is one of the ways to compete with global brands effectively.
Also, don't overthink it. You don't have to be absolutely and totally unique in your chosen market. You can think of Windows-based laptops – HP, Dell, Acer, etc. Why are there so many brands? Because there is such a huge market for laptops that they all have some space to live. And in our example, there could be enough demand in your country or city for dozens of stores selling shirts.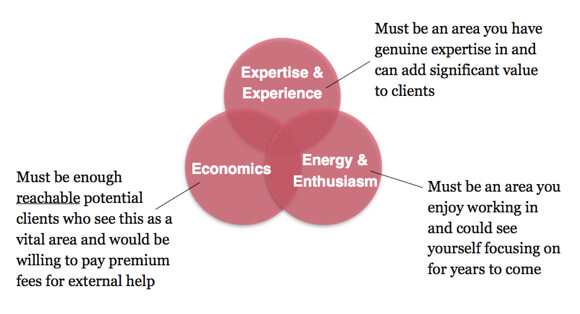 Once you've come up with a list of niches, you should analyze whether they are actually popular right now and whether the demand is rising or going down – you don't want to sell something that nobody needs, do you? So, to see if a topic is trendy, you may use Google Trends.
It's free, but the limitation is that instead of showing you the exact number of searches for the keyword per time range, it shows you the relative "interest" in this keyword on a scale from 0 to 100.
This is how it looks for the "men's shirts" query for the USA.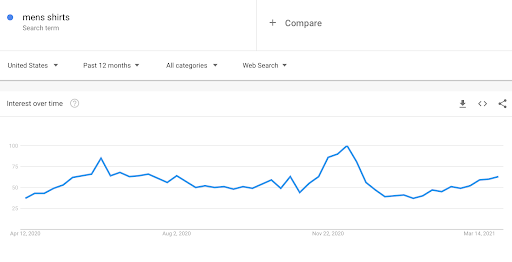 It can also show you the relative interest by region, which may be helpful if you're considering limiting your business by location.
Best eCommerce Niches in 2021
Still don't know where to start? Here's a shortlist of the most lucrative niches to start a business in 2021:
Technologies and home office equipment. In the last few years, the trend for working from home was strong and climaxed in the COVID-19 era, with 41% of people in the US working from home full-time, according to Upwork.
Home gym and fitness gear. Again, COVID-19 shook the fitness industry, with many gyms still being closed. This caused people to look for ways to exercise at home.
Entertainment. While people spend more time at their homes, the demand for entertainment at home grows. Statista reports that 26% of Americans now spend more on home entertainment. Sales of video and board games also hit a record high in 2020.
DIY and home improvement. According to a Bank of America survey, 70% of respondents either started or carried out home improvements with the start of the pandemic. Moreover, many claimed to continue such renovations in the upcoming future.
Food, drink and cooking. It is a huge industry that soared as the pandemic changed our lives. Bain & Company reports that the online part of grocery shopping grew from 3-4% to 10-15%.
Step 2: Conduct keyword research to find the best-performing niche keywords
While doing the preliminary niche research, you develop a list of "seed words" to start thorough keyword research. These are words that describe the niche. In our example from above, the seed keyword would be "men's shirts." So, open one of the keyword research tools, like KWFinder, Majestic, or SE Ranking – we will further consider the analysis of niche keywords in the latter service.
So, you enter your seed keyword in the dedicated SEO keywords research tool, and you'll see the keyword research report on this query. For example, it may look like this: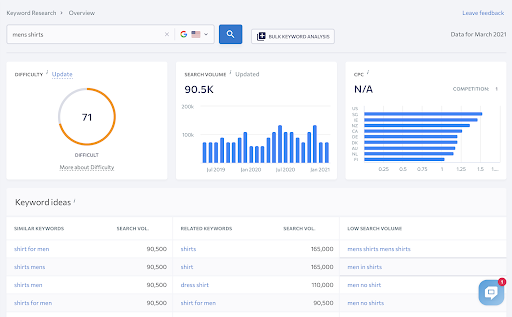 The three main metrics you need to look for are the following:
Search volume – it shows how many people are looking for that very query each month.
CPC – potential cost-per-click if running an ads campaign coupled with search volume defines your advertising budget. This data may not always be available for all keywords, but you'll get some general understanding.
Difficulty – it shows how difficult it will be to overcome your competition in getting to the SERP with this keyword through SEO efforts. This is identified by special algorithms of professional keyword research tools and can't be analyzed in Google Keyword Planner or Google Trends.
Once you know the search value and difficulty of your seed keyword, you can analyze related and similar keywords. In SEO keyword tools like SE Ranking, Wordtracker, and Ubersuggest, you'll get hundreds of keyword ideas and can find niche and precise wording with good search volume and low competition. It is also important to check on the trend of the popularity of the selected keyword. For example, in the screenshot below, you may see that the hottest season for selling men's blue oxford shirts is from July to October, despite the pandemic.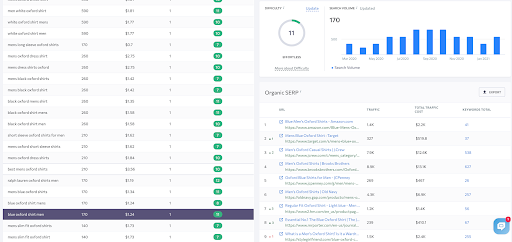 Step 3. Research keywords for existing competitors
Now let's dive deeper into competitive research. Using the same tools, you can analyze the organic SERP and see your potential competitors that rank best for that keyword.
Try different niche keywords you have collected and see how the SERP changes and which brands appear and disappear from the top of the search results. Pay attention to the user intents behind each keyword. Also, analyze the CPC rate for each keyword and competitors' ads. That will give you insights into what users are looking for when typing such queries and your advertising budget if you select this niche for your business.
Generally, the keywords difficulty can be split into three groups:
Hard – these are keywords for which the organic SERP is crowded with top-level brands offering quality content pages. If you are new on the market, it's better not to focus on hard keywords. Over time, you will have more resources to invest in link building and reach the top rankings for such keywords.
Medium – is not so packed ad space and content pages in the SERPs you could probably outdo with hard but possible effort. Keywords with medium competition can be great to start advertising and doing organic SEO steadily.
Easy – you'll see some easy to outdo pages in the SERP and almost no ads. This can be an opportunity for you to get to the top page with basic SEO quickly. The problem with these keywords is that they may not have high search volumes, and their metrics may not be so steady. But if you manage to find low-difficulty keywords with great and steady search volumes, that may be your jackpot.
Anyway, the main thing here is to find the best-performing keywords with low difficulty. In this case, you'll easily leave your competitors behind and get the SERP. So, to find real gems, you need to:
Sort the list of keywords by their difficulty – that will give you a number of keywords that can quickly get you to the top of the search results.
Then look at other metrics for them like search volume, look at the graph of how this parameter has changed over time.
Also, think about the relevance of those keywords as the queries you use on a specific page should match the user intent.
Check geo and find local keywords that may bring you a real boost in rankings since many user requests in eCommerce are geo-specific.
Find effective long-tail keywords. According to Ahrefs research, 39.33% of search traffic comes from such queries.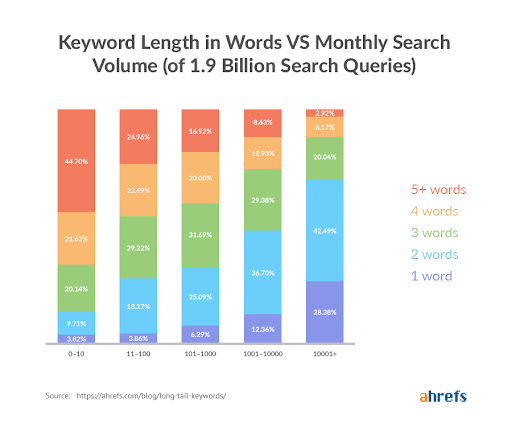 Step 4: Evaluate the profitability of your niche
Now you need to identify which keywords you'll be targeting in PPC or SEO campaigns. If you're planning to launch fairly soon, PPC is inevitable, while SEO plays a long-term role.
So that's how it is done. Let's say you want to target keyword X in a PPC campaign, and you've just discovered with the keyword research tool that the monthly search volume for this keyword is 10 000, and the CPC for this keyword is $1.
The reasonable impression share for non-branded PPC ads is 80%. This means, out of 1000 potential searches, you'll be getting about 8000 impressions per month for your ad.
Then you need to make some judgment on what your CTR should be. It depends on the industry, and there is an extensive guide on this, so let's say you're aiming at 2%. So, out of the 800 impressions, you'll be getting 160 clicks per month (costing $160, as the PPC is $1).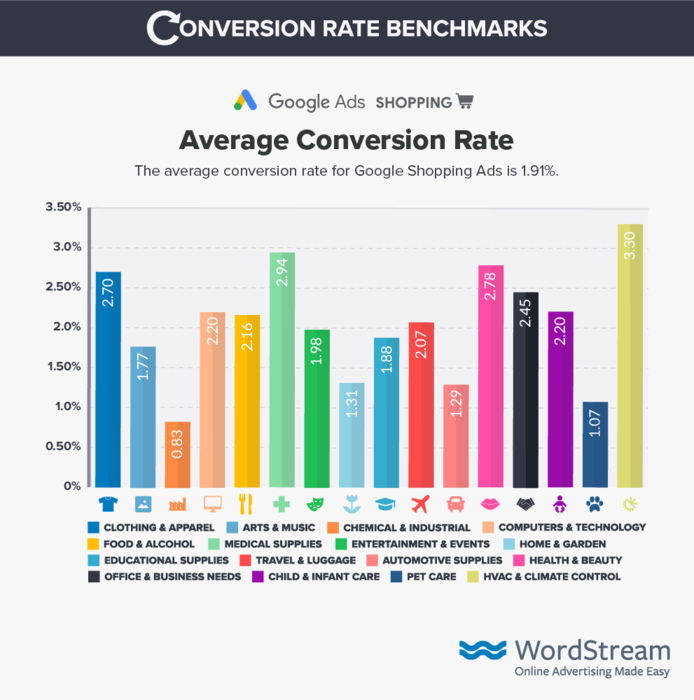 The next step is to understand what your conversion rate can be. Again, it largely depends on your industry, but let's say you'll have a 2,5% conversion, which will make four sales a month.
Let's suppose your average sale is $100, so you project that your sales revenue is $400 (4 x $100), and your sales margin from PPC is $240 ($400 -$160).
With SEO efforts, your equation will be a bit different.
Let's start with the assumption that the keyword Y has a search volume of 10000, and you see the keyword difficulty reported is relatively low.
You believe that in 3 months, your page will rise to at least 3rd position in SERP. According to the research, you can bet at getting a 10% CTR, which makes it 1000 visitors per month.
Again, you need to make a judgment on what conversion will be. Assuming we're aiming at organic traffic, which has less commercial intent than a PPC campaign, let's say the conversion will be around 0,5%. It makes five sales or $500 in sales revenue. 
By adding revenue from other potential keywords and subtracting the SEO costs from it, you'll understand your SEO margins.
Making this out for all your PPC and SEO keywords, you can understand how much money you'll make from both channels, your needed budget, and if it will be profitable or not. 
Step 5: Monitor and adapt your niche keywords as necessary
After you identified the keywords for your organic and paid traffic, you need to monitor their results. When talking about SEO, the keywords won't bring immediate results. It will take them from 3 to 6 months to start showing solid performance, and you need to monitor them in time.
You can do that with Google Search Console or a third-party keyword rank checking tool like SE Ranking. If 2-3 months have passed, and you don't see significant improvement, you may need to return to optimizing those pages. Or maybe the keyword is losing its traffic. To check it out, look at the graph of search volume for each month. If you spot a decline, it's time to pick up new wording.

As for PPC campaigns, you'll see the needed info directly in your Google Ads account. The parameters below will differ from industry to industry. However, compare them to your averages, and it will give the starting point. 
Check your ads CTR. If it's too low, then most likely, the ad's text doesn't match well with user intents. On the other hand, if your CPC is too high, you may get a lot of competition for this keyword. So do the keyword research again and try to compete for another keyword saving your budget. 
Also, check the bounce rate in Google Analytics. If it is too high, then the landing page may require improvement. 
To recap
Starting a new business is typically thought of as requiring a lot of "proper" and costly marketing research. However, there is a more simplistic approach to that through SEO techniques. Finding niche keywords, researching your competitors, and analyzing the market can get you a solid understanding of the potential profitability of your chosen niche.
---
Guest Author Bio: Diana Ford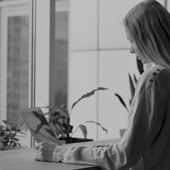 Author Bio: Diana Ford is a digital marketing specialist with 10+ years of experience. She loves blogging and has expertise in tracking digital trends and online marketing updates. Diana tested dozens of keyword tools and tried the most common search optimization techniques that helped her to become an unbiased digital marketing expert.