How SimplyBook.me Elevates EyeBrow Design's Bookings
18/09/2023
995
0

This post is also available in:




In the beauty and aesthetics world, where the perfect brow signifies a transformative experience, EyeBrow Design has emerged as a global leader. Originating from Brazil with over 300 stores worldwide, their Sunset Drive branch, EyeBrow Design Sunset, stands out for its unparalleled expertise in eyebrow enhancement.
With the strategic integration of SimplyBook.me, EyeBrow Design Sunset is setting new standards in client experiences. By integrating our intuitive booking platform, the salon offers clients an effortless scheduling experience, ensuring that the emphasis stays squarely on their beauty transformation.
Photo Gallery
EyeBrow Design use the Photo Gallery feature to provide a straightforward view of their services. The gallery showcases the modern facilities, before-and-after shots of clients, and captures of ongoing treatments. These images offer a transparent look into the salon's expertise and the results they deliver. For potential clients, it's a practical insight into what they can expect, emphasising their dedication to their craft.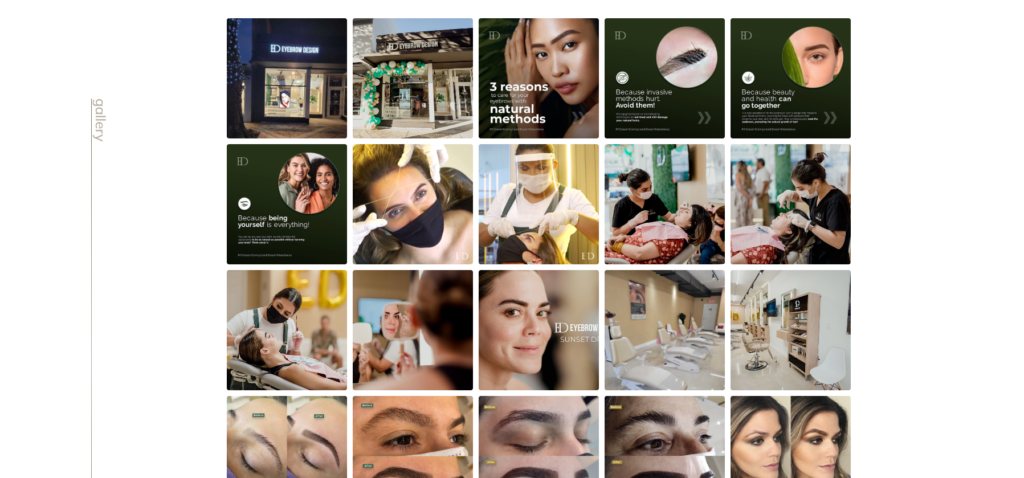 Reviews
Client feedback is invaluable for any business. Recognising this, EyeBrow Design Sunset has seamlessly incorporated SimplyBook.me's Reviews feature into their booking platform. This section showcases genuine client experiences, allowing potential visitors to gauge the salon's expertise. Each review stands as a testament to their unmatched dedication and skill.

Bookings through Instagram
In this digitally-driven era, the salon acknowledges Instagram's profound influence and engagement. EyeBrow Design Sunset engages clients directly on Instagram, where they spend their moments exploring. By leveraging the capabilities of SimplyBook.me's Instagram Booking feature, the salon has strategically placed its booking process directly into the platform.
The "Book Now" button is streamlining this further, positioned dominantly on their Instagram profile. But this integration goes beyond mere visibility. Clients can easily browse services and, with a tap, book their appointments.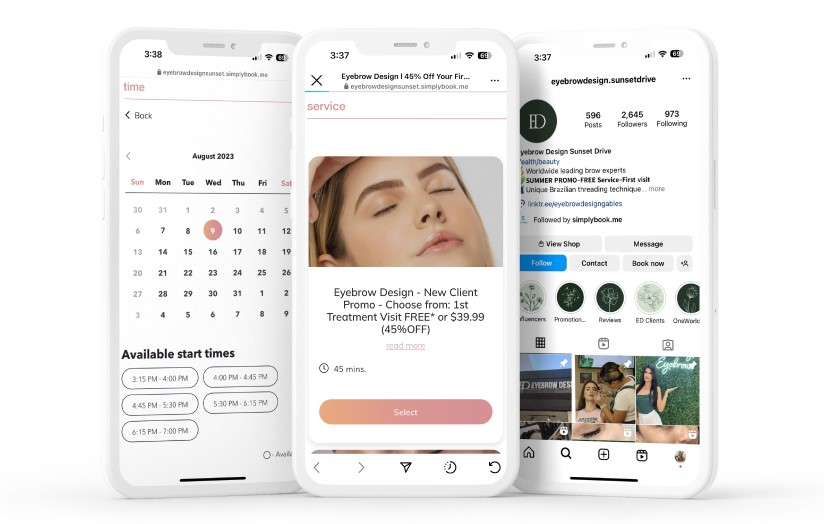 Contact Widget
For a salon that prioritises client relationships, open channels of communication are paramount. The Contact Widget ensures that EyeBrow Design is always accessible. Whether it's for queries, feedback, or even a simple chat about brows, clients find a direct and open line to the salon. By guaranteeing accessibility around the clock, the widget distinctly reinforces EyeBrow Design's unwavering commitment to its clientele.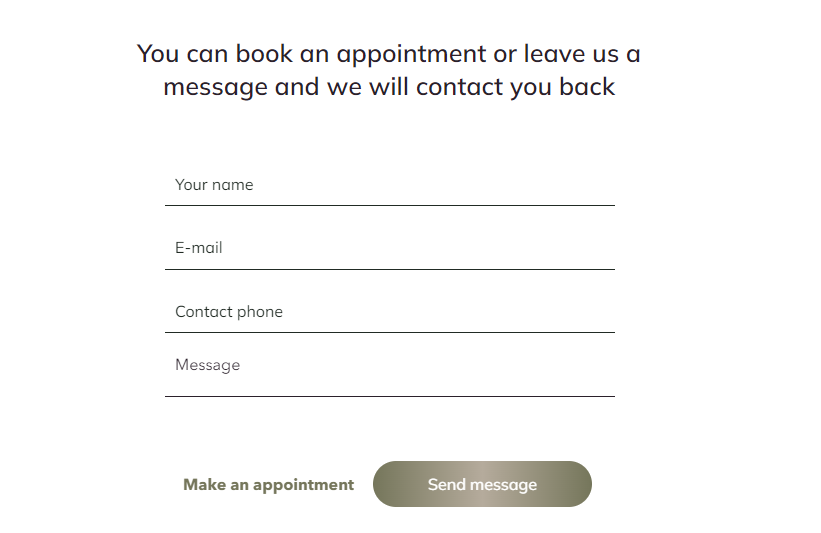 Conclusion
In conclusion, EyeBrow Design Sunset has shown how transformative it can be to integrate a booking system within the beauty industry. By implementing just a few of our many features, they've streamlined their booking process, heightened client engagement, and showcased their expertise in a visually captivating manner.
For businesses in the beauty and aesthetic sector, there's a wealth of opportunity to enhance client interactions through tailored solutions. Discover the best features for your beauty booking page and see how they can elevate your business operations and customer experience.