Google Business Profiles: Optimising Your Profile and Reserve Functions [VIDEO]
17/03/2021
1468
3

This post is also available in:



Google My Business has been around for a good long while now, but some small and localised business still aren't using it to it's potential – if at all. Unlike big corporations, who have to fight their competitors for the most common keywords in their industry, Google Business profiles operate in a specific niche that benefits smaller and localised companies. A Google business listing is the hidden ace in online reach and marketing for smaller enterprises' SEO efforts. You don't even need a website, which is traditionally the first step in getting an online presence, to get a Google Business listing. There is no downside to a Google listing and so many upsides, not to mention that you can also link it to your SimplyBook.me booking site.
What is Google (My) Business, and How Does It Work?
If you haven't already taken advantage of this little jewel in Google's offerings, you might want to do a little research.
Have you ever searched for something that you want to source locally via Google? It needn't be a service. The benefit that service businesses have in the Google business listing is that services are most likely to get local searches. If you have used Google for your localised search, you will notice the first point on the resulting page is a map. This is where the Google Business profiles show up above any other companies, with a nice locational spot on the map. This is where you want to be because people rarely search beyond page one of the search engine results page. The location map even supplants most of the ads.
Create and Claim your listing and Set It Up!
If you haven't already, you need to claim your business listing. You will need a google business account or log in with an existing account attached to you or your business. If you are creating a business account with an email address linked to your business (i.e. not an @gmail.com address), you will need to specify that you want a business profile. Now it's time to find or create your listing.
There is a possibility that even without creating an account, your business listing already exists. If your business has been in this location for some time, you might want to search for your company using your business name, city, and one of the following:
business address
business phone number
If you find an unclaimed listing, you will need to claim ownership to optimise it and potentially link it to your other online tools and accounts. There's a link on the listing that asks, "Own this business?" Claim it ASAP! 
If someone has already claimed the listing, you can request a transfer from them or ask Google to make the transfer if you can't get in touch with the current owner.
If there is no existing listing, you will need to create one. So go to the Google My Business page to build your business profile on Google. You'll need to input basic business information, such as business name, location address, phone number, and business category (a crucial SEO ranking aspect). You'll be asked for other details too, but you don't need to worry much about missing anything at this point because you will still need to verify your business listing. Once you have completed your business validation, it will guide you through the setup process.
Alternatively, you can also start this process of Google listing creation directly from SimplyBook.me. When you enable the feature on your dashboard, you can see the detailed instructions in our help centre.
Verifying your Business
It does mean a bit of a wait in most cases, but if Google didn't verify business locations, the map would be a mess of random and non-existent companies and addresses. And Google does try to keep their information accurate.
There are several ways for you to receive verification:
email
phone
postcard
instant verification (not always available)
It could take up to two weeks to receive your verification code or message. You will need to either click the message link or enter the code to verify. Now you are verified, which means your business exists, you need to start optimising your listing to make it as attractive and engaging as possible to your potential searching clients. If you have multiple sites, you will need to verify each address.
Optimising Your Google Business Listing
You can add many extras to a Google Business listing that make it significantly more attractive to people seeking your type of business. However, the first one that I will mention is the potential to link it with your SimplyBook.me booking site. SimplyBook.me is one of the Google partners that can help you with your scheduling. As an additional extra, when you go through combining SimplyBook.me and your Google business listing, you can also choose to carry certain aspects of your booking page through to your local Google listing. So you don't have to duplicate a lot of information. Win-win!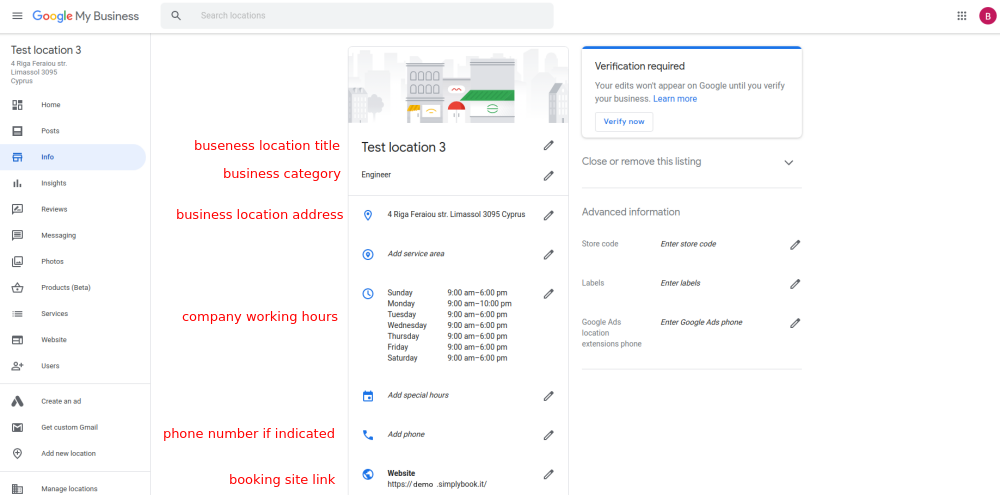 So what else can you add to your Google Business profile that will make people choose your business above the others pinpointed on the map?
Visuals
Foodies know the phrase "the first bite is with the eye", and it's no different for picking a company on Google Maps. A basic Google Business listing looks wrong. It looks unprofessional and unfinished. However, when you add some pictures, it becomes more real and attractive. When people search for services, it far more personal than searching for products. Is the environment somewhere appealing and appropriate? Would you be happy with the people coming into your home? What can they offer?
Okay, we're getting a little deep for your initial set up, but you should start with at least two images:
Cover photo: This is your selling image, so it had better be a good one.
Profile Photo: This will be your business' avatar when you post anything. The best option for this is your company logo.
After this, it's fair game. You want to give your potential clients the best possible impression of your business before they even set foot on your premises. Give your clients a pictorial tour of the venue, the store, the salon, the gym or the offices. Show your results (with permission from the previous clients) and show your people and your business's human side.
Did you know you can also add video? It has to be shorter than 30 seconds and no larger than 100MB, but if you can give a virtual tour in under 30 seconds, do it!
Reviews
Reviews and client interaction with your business online will seriously improve your ranking. Showing reviews on your Google Business listing will give potential clients something to judge you on, rather than simply how your business looks. It's great if a salon has super soothing decor and amazingly comfortable looking chairs, but not so great if the service is bad or you don't get what you wanted. Reviews help people to make decisions, and good reviews help new clients decide on you.
To ensure you get your reviews regularly, you might want to think about automating your review process. With the simplyBook.me scheduling system, you can automate review requests for a predetermined number of days after their appointment – it could be the next day or the next month; it depends on the type of service.
Reservations & Appointments
And speaking of SimplyBook.me scheduling, nothing screams utter convenience than being able to book directly from the Google page on which your new client found you. They've read your reviews and seen your gorgeous pictures and opening hours, and they want to book an appointment to get the same fantastic results you gave someone else. With a single button click, your new client can start to schedule their appointment with you, pay in advance (or defer it), and even add the event to their Google calendar. 
The Reserve with Google feature does require you to have an appointment management system in place – one that has partnered with Google for seamless and native integration (yes, we are there). You can find the precise instructions for linking your SimplyBook.me scheduling system to your Reserve with Google listing in the help centre.
Combining SimplyBook.me & Google Business
It's a powerhouse combination because it extends your local reach on Google search, shows up on Google Maps, and is searchable by Google voice Assistant – a massive marketing push right there. It also delivers the convenience and ease of access that customers and clients demand. We're all about making connections between businesses and clients as easy as possible.
Let's not forget that the convenience also extends to you and your appointment management. Google Business integration with SimplyBook.me is a free feature; you don't have to pay for an upgraded membership to get another custom feature. Did you know you can also track the number of bookings you get from Google as a proportion of your total bookings? Yes, you can follow that in the marketing suite.
Many small and medium-sized service businesses still don't know what an amazing tool Google Business is for them specifically. Sure, no one suggests that larger companies can't benefit from Google business listings too, but that isn't the point. When people search for a service, they invariably want it close by because services usually happen at close quarters. That's why the service industry took such a heavy blow during the Coronavirus pandemic. Isolation, quarantine and social distancing really cut down on the services able to operate. So people want their services local, and local search means tapping into the power of Google Business, Google Maps, and more. And we have to be fair; Google is a virtually bottomless well of resources to draw upon.