Customer-Centricity with Excellent Customer Support
29/09/2020
1189
6

This post is also available in:



The digital realm continues to expand, with more and more services happening online. As this happens, the pursuit of customer-centricity is the key to making and keeping clients and their customers happy. Implementing customer-centric practices and procedures is proven to improve customer loyalty and retention, as well as to attract new clients. For a customer-centric organisation, the customer is everything.
The Difference Between Customer-Centricity and Customer Support
Here's a hint; they aren't the same thing at all. However, before you can achieve the first, you need an excellent team to provide the second.
Customer-centricity is the core tenet of many an excellent online company. It means putting the customer at the centre of ALL product or service development. It's a company ethos that is a critical value for everyone, from developers through sales and on to the frontline support staff.
Customer service is what happens between frontline support teams and the client. It doesn't matter whether that client is a business or an end-user. A customer service team alone cannot create a customer-centric business ethos. However, the customer service staff will be the people to assist clients when they need help. Customer support with be the ones helping and supporting your paying customers.
Customer-Centricity and SimplyBook.me
As an entirely online business, at SimplyBook.me, we are acutely aware of the benefits of creating a customer-centric environment. Everything that we develop and make here is to enhance the user experience of the system we provide. It means listening to your requirements as a business, while also acknowledging the feedback of your clients and customers. While we always hope to maintain a seamless client experience, we know that sometimes you have questions and issues with implementing your booking system. That's when you will chat with our customer support team.
If you didn't see the brief interview with Thomas, you can check it out here.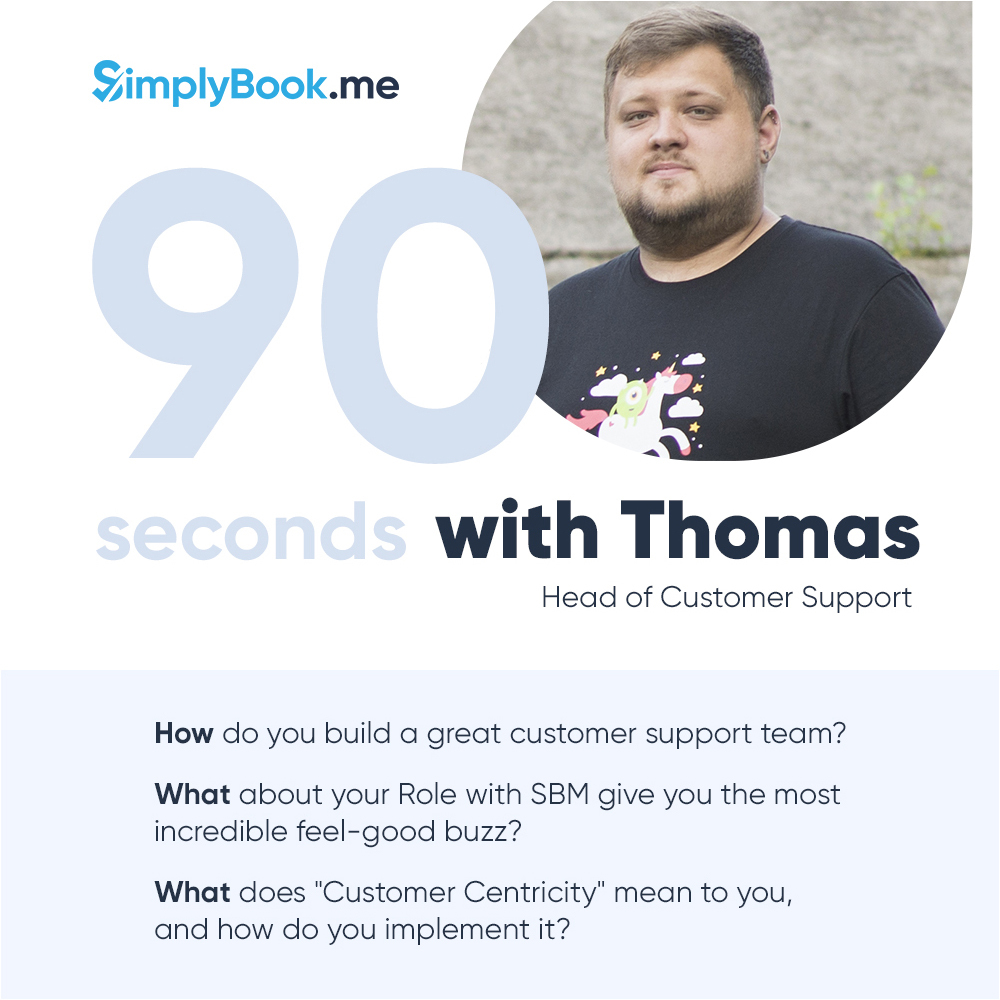 Live Chat Support – Knowing the Product and People
We get what customer-centricity is, and we have that ethos as part of our business. However, we know that until we provide you, our clients, with a product that offers everything you could ever possibly need, we will still need fantastic customer support.
"The easiest way to explain it [customer-centricity] would be to think about customer service we have faced personally."

Thomas, Head of Customer Support
That's the best way to approach customer support. If you think of every poor customer service team with which you've had personal dealings, and turn it around to say "This is how NOT to do it."
When YOU are the customer, there are often many emotions running through your head. Anger that things aren't working as you want them to. Worry about that will affect you or your business, frustration, concern, impatience, and the list goes on.
In Thomas' interpretation of customer-centricity, applying the knowledge of how you want to be treated by customer service, and using that to prevent future failures, is key to providing a customer-centric experience.
Another crucial aspect of customer support is ensuring you hire the right people. You need support staff with the capability of learning the product or service in enough detail so they can help with any query quickly. Also, a team that has great empathy. Remember what I said about the emotions that come with problems? That's when support personnel can shine.
An interesting article I read the other day highlighted how letting your customer-facing support staff embrace the 'personal' actually helps to develop their professional performance.
In our case, having a team that's technically proficient enough to learn the system from the inside out is vital.
Feedback is the Perfect Tool For Customer-Centred Companies
Customer feedback is our go-to tool for finding out where we're doing things right, what we could do better, and what you want from us in the future. Each time we ask for feedback, it's because our customers are one of our key performance indicators. Everything you tell us gets analysed and used to improve the way we work.
You use feedback too. Every time you ask clients for a review, you ask them to feedback what you were doing right. You might not realise it, but you're also inviting them to make suggestions for improvement and highlight where you might be going wrong. Okay, you might not want to publish a less-than-stellar review. However, the way you respond to that feedback will dictate what kind of business you are running.
Never Too Small to Adopt Customer-Centricity
You might only be a small business, but you're never too small to put a client-centred approach into practice. Moreover, if you want your company to adopt customer-centricity, starting sooner has to be easier than trying to change processes and procedures when your business has already grown.
Our policy for customer-centric practice has been one of our core values from the beginning. With two sets of end-users to please, customers are what our business is all about.
How To Make Your Company Customer-Centred
If you're thinking of following the path of customer-centricity, there a few key features that will help you on your way.
Put Customers At the Core of Your Business

Placing the customer at the heart of every significant business development almost guarantees that you create an excellent customer experience.

Invest in your Support Team

Investing in EXCELLENT support staff is crucial. Hiring people with ability, empathy and a desire to fix any problem put in front of them. You also want to hire staff that take responsibility for finding new fixes and solutions, even to old problems.

Go the Extra Mile

While a company with excellent customer service might be fantastic 90% of the time, a truly customer-centric company goes that extra mile for the last 10%.

Actively Ask For Feedback

Make it a regular part of your customer contact. And make sure you act on your negative feedback. Do keep on top of the 'small stuff' because small niggles can become tremendous obstacles if you don't tackle them early.

Ensure ALL your hires are good with the customer-centric ethos

Customer-centricity is not just about the support team. If your product or service development is going to have the customer at its core, your whole team needs to consider the customer as an essential part of their role.

Keep Communication Channels open

Keep everyone up to date with everything. Keep your teams fully up t date, but also keep your customer in the loop. What's more, keep two-way conversations open.
Even if you aren't a client, and you want some more information about the SimplyBook.me system, the LIVE Chat tab is always available on the website.
If you're already a customer, you can reach the live chat support team from your dashboard menu. You can see who we are, here