Calendar Layout: Altering how you display your schedule
31/07/2020
2055
0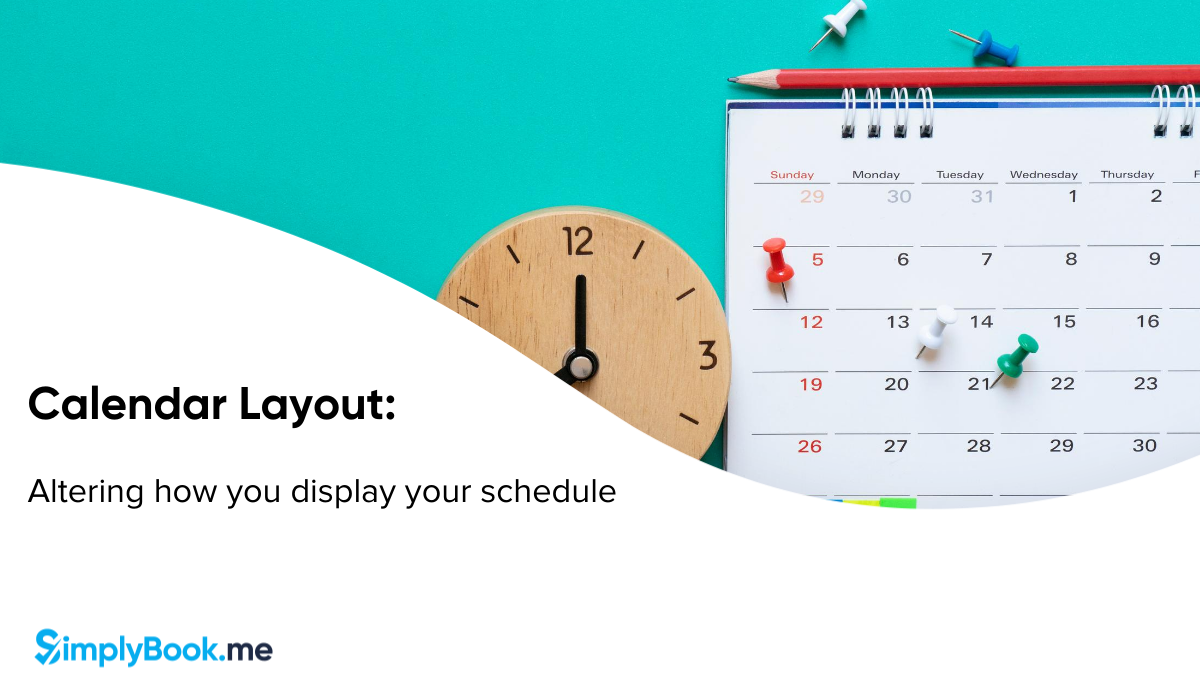 This post is also available in:



How you display your schedule is pretty important to both you and your clients. The unique services you provide, how they fit into a timetable, and other determining factors will imply one display is a better option than another. Changing your calendar layout will improve both your customers' experiences and your organisational ease. The following video will show you how to change your calendar layout to best display your available appointments, classes, and sessions.
How Do you Want to Display Your Calendar layout?
How you display your calendar will determine the way your schedule fills up and the gaps in between clients. However, your display will also depend on whether you want fixed intervals between clients, what services you provide and how you define your time settings.
Weekly or Daily?
Do you want the times displayed over the rest of the week or do you want to focus your clients' minds on the next available spot? If you have a full and busy appointment book, letting your clients see the upcoming available dates is better. Maybe you require 24 hours notice for an appointment. It would also be better to show future availability at first glance. If you don't have any available slots in the next couple of days, people won't want to scroll through several weeks of unavailable appointments, one click at a time. These are occasions when it would be best to use a weekly calendar layout.
Alternatively, you don't require any notice before clients book their service with you, and you want to fill up your days before moving onward through the upcoming weeks. Showing a single day at a time focusses clients' minds on the immediate availability and passively discourages scrolling forwards. Unless a client has a specific date when they need your services, they are most likely to go for the next available day with a time slot to suit them.Many things
Flexible, Modern, Slots?
Which would work for you? If you have services and sessions that are all the same duration, you might find that the modern layout will serve your business best. Both Modern and Modern Provider calendar layouts round-up the available appointments. This creates a system that will promote back-to-back bookings or at least standardised gaps between scheduled appointments. Modern will show available times by the service chosen; Modern Provider will show sessions by the provider selected. It's key to note that modern calendar layouts will only show available times, while flexible layouts will show unavailable times too (in a suitably different colour).
Flexible calendar layouts allow for different services of varying lengths. Like the modern and modern provider layouts, it is possible to show the next available appointment times by service or provider. For ultimate flexibility, you can even choose between daily and weekly calendar displays. With multiple services of differing lengths, it's not always plausible to maintain fixed gaps between services. Think about the time required for an eyebrow wax and compare it to a full-body Swedish massage. It may even benefit you to allow for small gaps between the clients to upsell with service add-ons.
Slots and flexible layouts are only restricted by the timeframe you use. The timeframe is the smallest unit of time you use for the shortest service you have. You can set the timeframe to 5-minute increments, i.e. a customer can book an available appointment at any five-minute point when there is free time in your schedule. They could book at 12:05, 12:10, 12:15, and so on. Alternatively, you can restrict bookings to 20 minutes, 30-minutes or even a full hour. That is up to up and will help to build your schedule.
Class Schedule?
Classes are a different breed of service, especially because classes have fixed start times. Classes layouts are only available if you have the classes feature enabled and are useful for a business that only provides classes. There are plenty of those in education, sports, yoga and meditation.
With the class calendar layout, you can display either weekly or daily class calendars. Your clients will see either the classes for a day or choose from the week of classes.
Which Calendar Layout Works Best for Your Services?
We can't tell you which one to use; we can advise you according to the services you offer, but that's all.
Don't forget to look at your booking website preview pages to see which ones will look better and display just how you want it. The preview pages are interactive, so you can go through the booking process precisely as your clients will; making it easy to see just how they will use your booking site.
You can find detailed information about how to manage your calendar layout in our Help Centre