SimplyBook.me May News – It's Official, Summer is Here
08/06/2022
1112
1
This post is also available in:




The end of May has passed, and we're officially in summertime. The longest day is coming up soon, and the high temperatures will cook us here in sunny Cyprus. That's if the heatwave doesn't do it first. However, don't let the promise of hot temperatures lead you to think we will be slacking off. The May News from SimplyBook.me has some steaming hot updates and some promising upcoming projects.
Sadly we have said goodbye to two of our support team and our HR Manager. On to better and brighter futures. However, we wish only great things for Kate, Natalia, and Marta. On a brighter note, we have also welcomed a new addition to the marketing team, Daena, our new content creator – maybe you saw her first article with us about remote meeting efficiency.
What's the May News?
Yes, May has been a very busy month with the release of some big projects and minor improvements. At least one of which will be a major hit for those of you who accept payments online.
SBPay.me Integration
SBPay.me has been in development for a while now – you might have seen references here and there. It is the new revenues management system that allows you to manage all payments through your system, regardless of the payment method or gateway.
SBPay.me allows you to choose from a broad of payment processors to handle payments from your clients. The best part is that it ultimately ties in with your SimplyBook.me system.
Anyone who uses the accept payment s feature in SimplyBook.me will automatically use the standard SBPay.me system.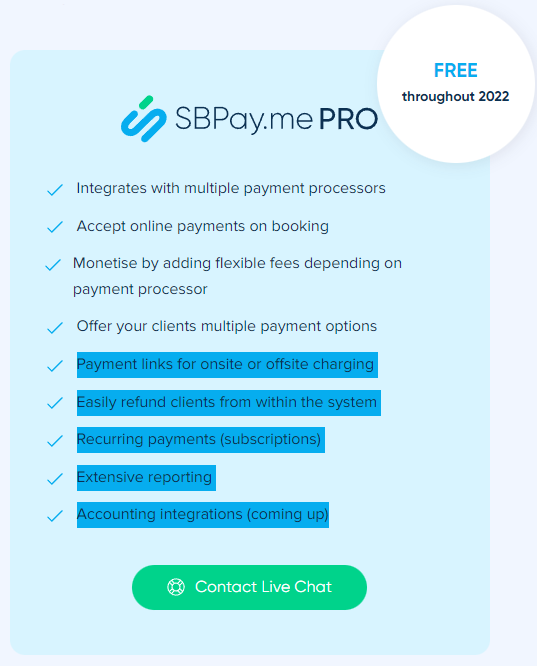 However, SB Pro offers Payment links, easy refunding, recurring payments, and extensive reporting for extra features. And coming up, we even have some popular accounting integrations that will really make you happy.
New features for admin mobile app
The admin app has to be one of the most widely used features, allowing you to keep on top of your scheduling wherever you are. As such, it gets updated regularly with new functionality and the occasional rewrite to accommodate all of the requested changes.
This month, the mobile admin app has added and optimised available time display, invoice viewing, cloud client fields, and intake forms. And with the release of SBPay.me you can now also view transaction lists and reports.
Google analytics tracking cross-domain
Google Analytics is an exceptionally useful tool. Now we have implemented functionality to allow you to track client sessions across your private domain – where you have placed either a booking widget or button – and across to theSimplyBook.me scheduling system.
You can follow the client session ID through the whole journey via the Google Analytics feature.
Status plugin for medical test
Medical testing is a very narrow niche, but the past couple of years have shown that scheduling and tracking of medical tests are beneficial.
The variable for "status description" from the Status custom feature has been added to the list of available variables for the Medical test feature to be used for results certificates.
Booking cancellation details in exported reports
Is it important that you know why appointments are cancelled? For many businesses, it is very important to understand why and by whom a meeting was cancelled. We have added new columns to booking reports that show information on the reasons for making a cancellation. Ensuring you can keep track of your cancellations – and make changes to reduce them.
So that's it for May. What's coming up in June and beyond?
Scheduled for June and In development
Some interesting and valuable releases are on the cards for June. Some you might never have thought you needed, but we think they will come in handy.
Calendar page
We've had some pretty consistent feedback about our admin-side calendar view. The consensus is that it needed a redesign to make it more intuitive and more accessible (and put some features back where they belong). Now that we have our new UI/UX designer fully integrated with the team, it's time for him to develop a new calendar design for us. He's been hard at work, and it's coming along very nicely.
Client filter by location for promotions
This upcoming feature is super cool! If you want to send marketing materials to far-flung places, where they celebrate different holidays, or even not so far but have other local traditions. You'll soon be able to separate and filter your client lists by location. Ensuring you can send appropriate geolocational messages and promotions only to the clients who will appreciate them—another step in the personalisation of marketing.
If you have offices or branches all over the county, who is to say you don't want to celebrate the local literary fair with an exciting offer or promotion or the annual cheese-rolling (it's a thing).
If you have an office or a branch in Hay-on-Wye, it makes sense to exploit the festival that will draw thousands of visitors. However, if you have another somewhere else, it would be somewhat silly to use literary-themed promotion in a branch 150 miles away.
A handy tool, isn't it?
Look busy feature
Ever wanted to make your business look busier than it is? Sometimes you might want to make a new business appear more popular than it is (yet). On the other hand, you might also want to optimise and streamline your time and resources. Another reason for appearing busier is to ensure perhaps you maintain space in your schedule for your steadfast and regular walk-in crowd.
Whatever your reasons for looking busy, this will be the tool for you.
New POS interface
With the release of the SBPay integration, now we can really get to grips with creating a fully functional, intuitive, and comprehensive POS system to complement online and offline payments.
While it might not be an imminent release, it's in development now and looking fabulous.
---
That's it for the May news. Make sure you stay tuned for the new releases and news in June too.
We hope you enjoy our theme for the upcoming month, focusing on use cases and helpful information for those in the events sector.