Report and Monitor Bookings with SimplyBook.me – Part 2: Custom Feature Reports
21/10/2021
1213
0

This post is also available in:




In our last article on reporting, we talked about the need to monitor bookings and the reports and monitoring tools available in your SimplyBook.me interface. This time we will go deeper into the custom feature reports available to you when you implement the custom features that make your booking system fit your business like a glove.
If you missed that article, you can check it out here.
Extra Custom Feature Reports
I've implemented as many custom feature reports as possible in my example system without making my custom features clash. You may or not know that some elements are not compatible with others. You can see a complete list of contraindicated features here.
You'll see that I have crossed out most of the reports I covered in the last article. Still, I have left some because specific custom features add extra information to those rather than creating an entirely different report.
The Report menu has grown significantly with the implementation of custom features. Several of those reports relate to financial transactions and business revenues. The areas that draw the most attention from external bodies, rather than for your own business development. So I will start with.
Financial Custom Feature Reports
The only person more interested in your sales and revenues is the tax collector. Moreover, he will probably demand more complete reports and records than you could ever contemplate before starting your own business. That's why there are four different reports about your income and sales. Some are for your business development needs, and others are for your accountant.
For you to take advantage of the financial reporting, you will need to use either the POS system or have the Accept Payments custom feature enabled. If you can't accept payments through your system, there is nothing to report.
Sales & Taxes
Leave out the death part, and where there are sales you will have to pay taxes.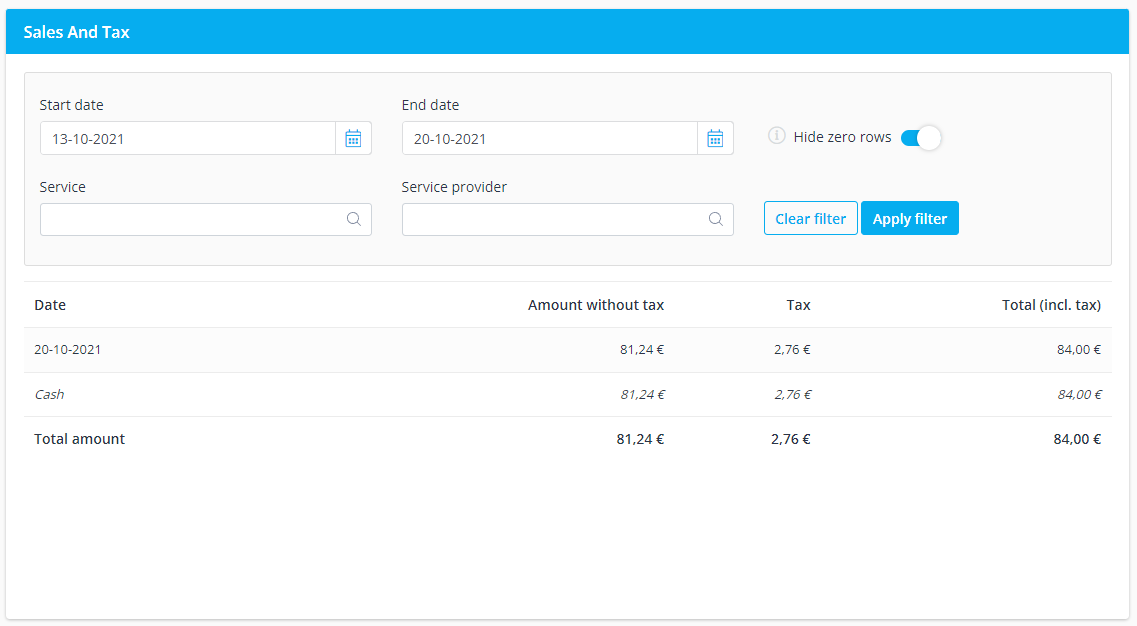 Knowing how much of your incoming payments is actually yours and how much you owe to the tax collectors is a crucial part of ensuring your business is meeting its goals. Without ensuring that your tax obligations are met at the same time as making sure your income covers your business necessities, you will end up with a tax bill that could bankrupt your business.
You don't have to show how much of it is tax to the client, however, you need to know how much belongs to you and your business.
Invoice Sales Report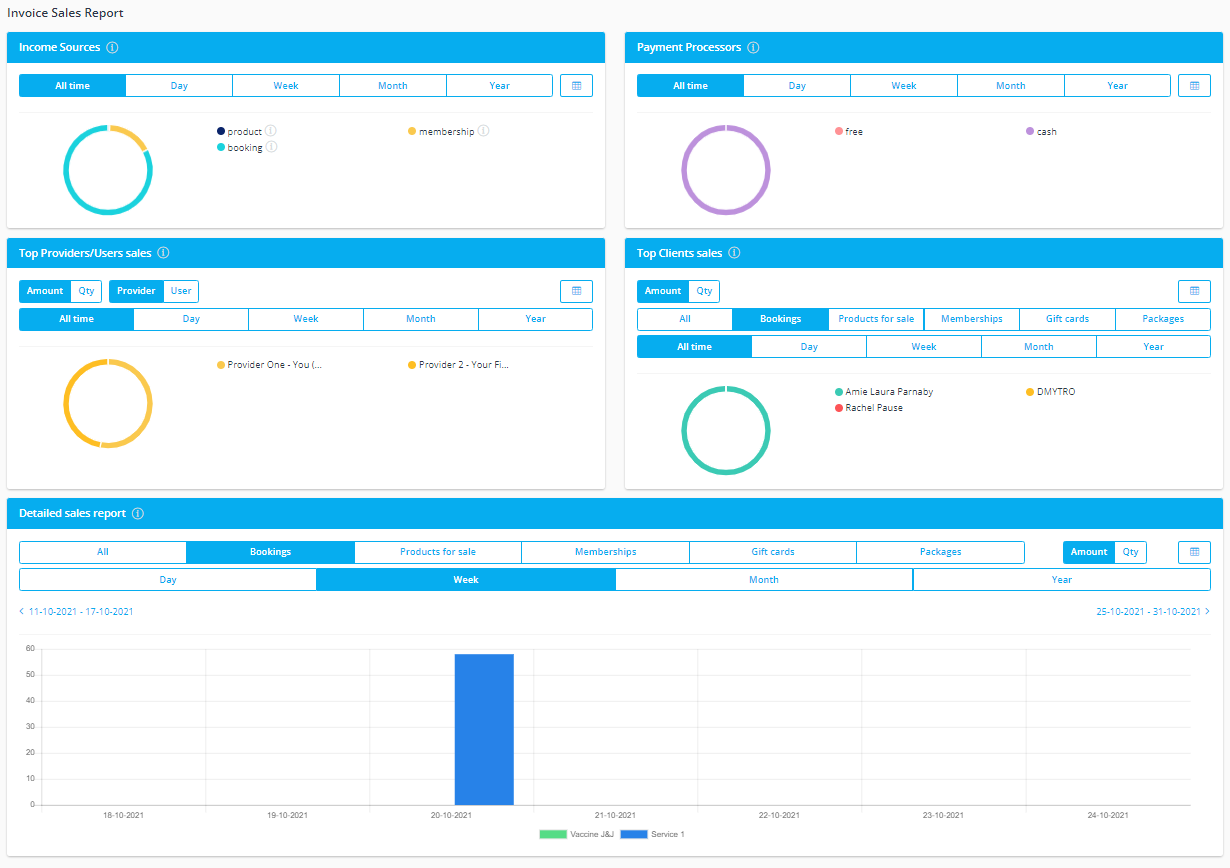 Less about your accountant and more about what you need to know about your business sales performance. The visual display of your invoice sales report makes it easy to see things like your busiest providers, most common payment options, income sources and your most lucrative clients.
Where do you attract most of your revenue? Which areas do you need to develop? The detailed sales report at the bottom of the page has multiple tabs allowing you to quickly switch between income sources and reporting periods to give a quick and straightforward overview of your sales performance.
Membership Payments
Memberships can be a lucrative option, but it's better to keep these payments separate. Depending on your membership model, this payment may be split over a 12-month period.

Moreover, there is an option to allow your memberships to recur, with a few days grace to allow people to pay their subscriptions. You need to be able to see who has and hasn't paid their recurring subscription fees.
Payment Transactions
Of course, you will always need to keep track of your payment transactions. What kind of business would you be running if you weren't tracking your income?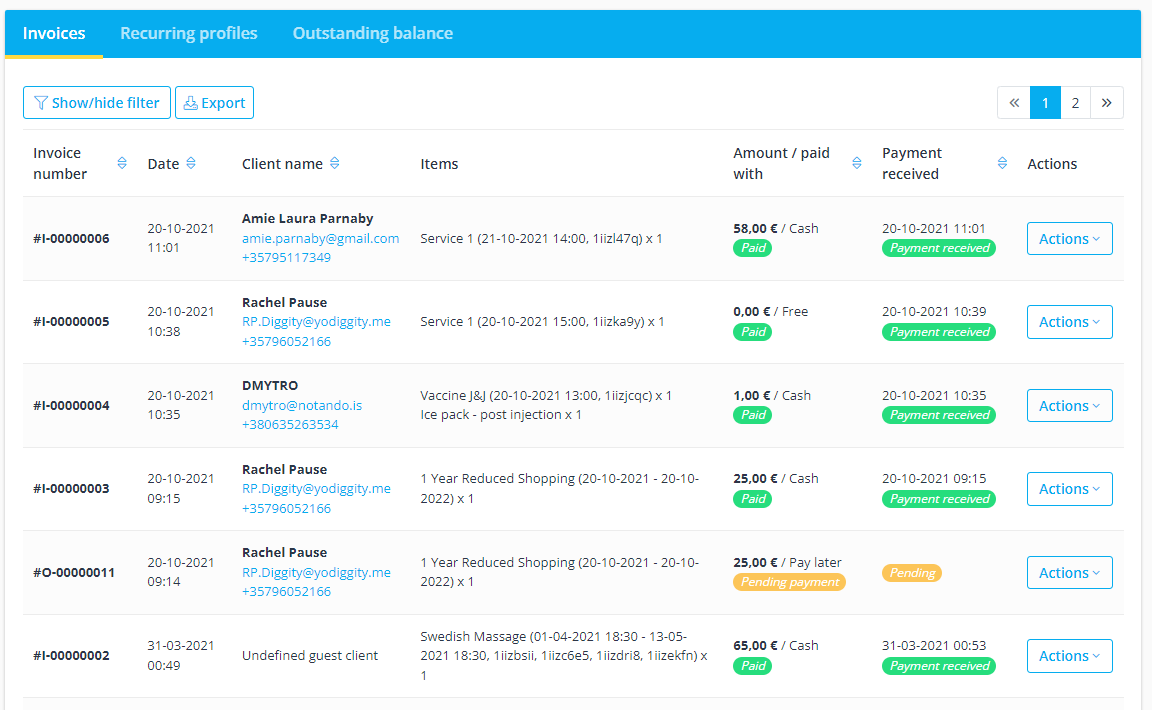 Who has paid and who hasn't? You need to know this stuff, especially when dealing with online transactions and purchasers.
With three separate tabs, you can see all invoices you have generated, Recurring profiles and outstanding payments.
More Custom Feature Reports
It's not just the payments and revenues that get the extra reports, let's have a look at the other available reporting options that come with the implementation of specific custom features.
Ticket Reports

If you want to provide tickets for your clients, whether it's an event or entry into a capacity restricted venue, you need your ticket report. Tickets for your services or events have the benefit of ensuring no one can enter without their paid ticket (the deposits feature doesn't work with the ticket feature – you wouldn't want to issue a ticket before receiving full payment would you?).
If you sell tickets or even issue them for entry to your premises (such as VIP shopping events or party invitations for valued customers), you will need to validate them for usage. With the mobile admin app that is easy because it becomes a simple handheld scanner for tickets.
Vaccination Reporting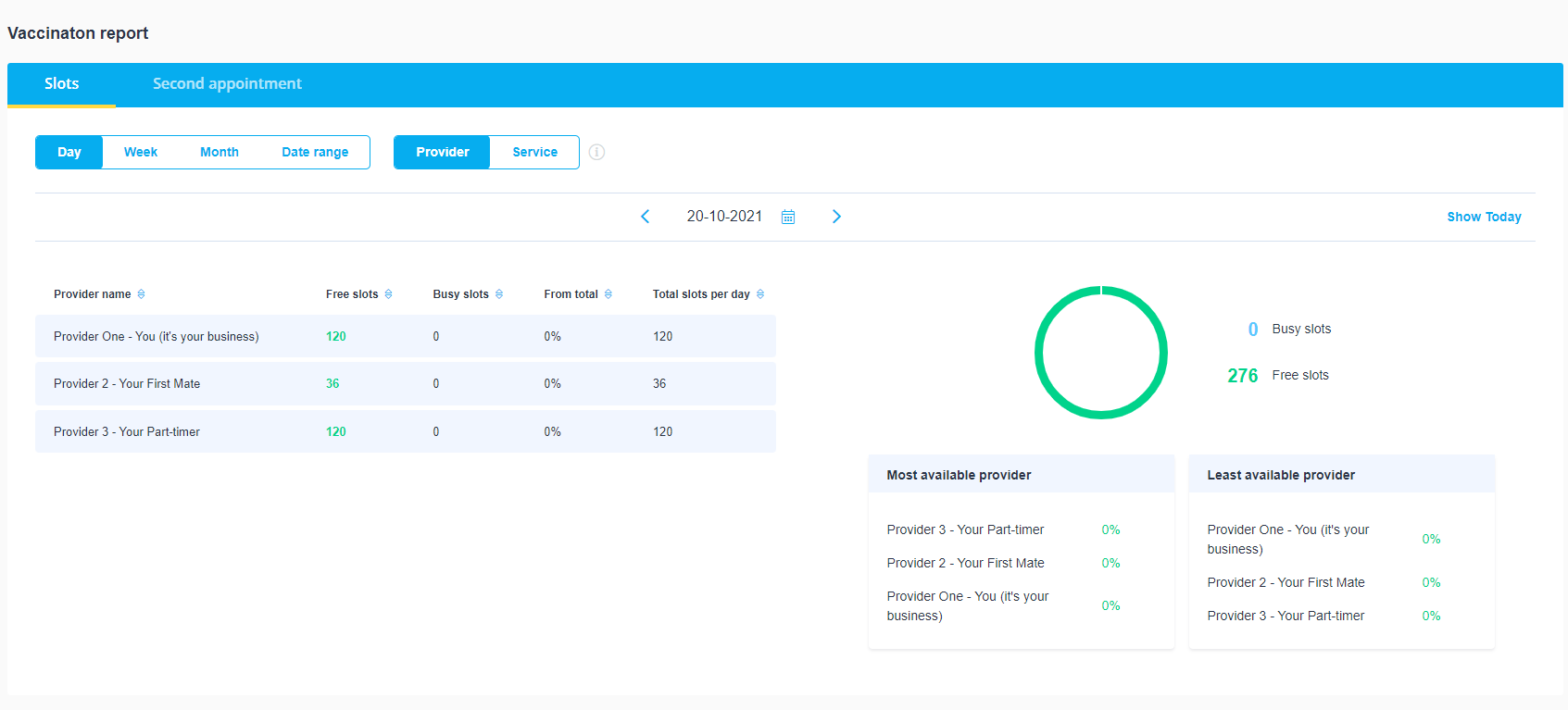 Yes, with the vaccination custom feature you can set up a vaccination centre.
For a quick and simple overview of your vaccination schedule, you can see how many people have booked, how many slots are available, and which providers have available slots. Additionally, you can set the date range to endure you are looking at the appropriate
Coupons & Gift Cards Issued

Keeping track of your coupons and gift cards is crucial. Not just because you need to monitor the success of your coupon campaigns and promotional offers, but because it is easy for people to lose or misdirect gift cards.
If you keep track of your distributed discount coupons, you can monitor how well your discount campaign is working to entice clients into your business. Suppose you issue 100 discount coupons to your existing clients. If only 10 people are incentivised to book an appointment within the valid offer period, perhaps you need to change up your approach.
Waiting List Report
If you use the waiting list to keep your schedule full and productive, it holds a lot of invaluable information about how you can expand and enhance your business.

If you regularly have a significant number of people on your waiting list for particular dates or services, it is a clear indicator that you need to expand in that area.
Moreover, if you regularly have clients who cancel (opening up spaces in your waiting list), you might feel a need to implement a deposit scheme when people book.
Message Log Report

This message log report is not a record of every message sent to your clients. This Report only logs the messages that you instigate manually. In the image above, I instigated this message because I was sending a coupon to my clients.
The automated notification system is not recorded on this report. If it were, this would be a massive report that doesn't really give you any benefit. You already know your system sends automated appointment reminders to clients and providers.
SMS Report
However, if you are using SMS messages as well as email, it can be useful to see which messages are being sent, and how many you are using. It's a common occurrence that some people prefer SMS reminders, so you need to know how many SMS credits you need on a monthly basis.
Reporting for your Needs
In most cases, if you need to regularly check your business performance, you do it in small chunks. You don't look at the whole picture and then try to break it down manually. If you have a concern about the popularity of one of your services or providers, you don't look at the entire business to filter out the little bits that apply to your area of concern. That's why you have the picture reports, and the little picture reports.
You can export all of your reports to either excel or JSON (some reports are too diverse to work well in a spreadsheet format). So you can almost always import that information into accounting software or business intelligence programs. Maybe you just prefer working on a spreadsheet.