Quick Set-Up Assistance with SimplyBook.me – Let someone else do it for you
15/06/2022
882
0

This post is also available in:




You might have been looking at online scheduling options for years. And while it seems like it will save time and money in the long term, finding the time to set your whole business up in a new system seems like it will take more time. You really want someone to come and do it for you while listening to everything you tell them. But you are also sceptical. Customised quick set-up assistance usually comes with a "custom" price tag.
One of the most common rejections of implementing booking software is the research and set-up time required to make a move to automated self-scheduling or setting up a new system. I understand it. If you've had an appointment book for years and taken appointments over the phone, it could seem a little daunting and wasteful of your time to input dozens of variables into a computer system.
It doesn't have to be that way. Sure, you need to do your research on the different systems before making a decision. We understand that.
At SimplyBook.me, we know we are one of the best and most customisable scheduling systems available on the market today. However, we also understand that it can seem daunting to set everything up just as you want with so many variables and custom features. That's why we offer quick set-up assistance.
You could always do it yourself.
SimplyBook.me allows you the freedom to explore and implement the features and customisations you need for your business to function smoothly and efficiently. That's why we give our new clients 14 days to explore the system, and its features, with only a few limitations.
The SimplyBook.me system is very intuitive. But even the most intuitive system in the world can't make a booking website, with so many options and customisations, a speedy set-up. Let's not forget that your time is valuable, and the task of inputting so many variables into a new system is time you just don't have.
It might be the one thing that has been putting you off. You know it will save time, money and stress, but you think the initial set-up will just cause you more of the same.
Quick Set-Up Assistance Doesn't mean poor quality.
Whichever booking system you eventually decide on, you will never be an expert in its functionality. While you might want to make the set-up as quick as possible, you might not get the booking system you want or need by doing a quick set-up yourself.
Benefit #1 of getting your quick set-up assistance with one of our support team:
No one knows the SimplyBook.me system like our support staff. They live and breathe the system all day, every day. Suppose something you want to do isn't immediately apparent on the system. In that case, the chances are that they know how to do it—everything from setting up your booking page customisations to workarounds for specific business needs.
They will ensure you are up and ready to go asap.
Customisation at your fingertips
We are incredibly proud of SimplyBook.me, particularly the broad range of customisation and variety of businesses it can serve. However, at the same time, we understand that business owners have more important things to concern themselves with than becoming an expert in the features of Simplybook.me.
Benefit #2 of getting your quick set-up assistance with one of our support team:
There are so many customisation options available within SimplyBook.me, we know that some of our users can become somewhat overwhelmed by the sheer choice of options available. The Paradox of Choice and the "decision paralysis" that can come with it are very real to some people. When you have a clear idea of the solution you want your booking system to present and how you want it to appear to your clients, our support team can help you realise it in the easiest and quickest way possible. That means you don't get the choice overload, and you get your system set up by someone who knows it inside out.
Don't take our word for it.
We're not just selling an extra product here; we genuinely feel that those businesses with broad and complex requirements for their service business should take us up on the quick set-up assistance.
It's not just us that feel that way. We have several clients with positive feedback about why the set-up assistance has been beneficial to their business.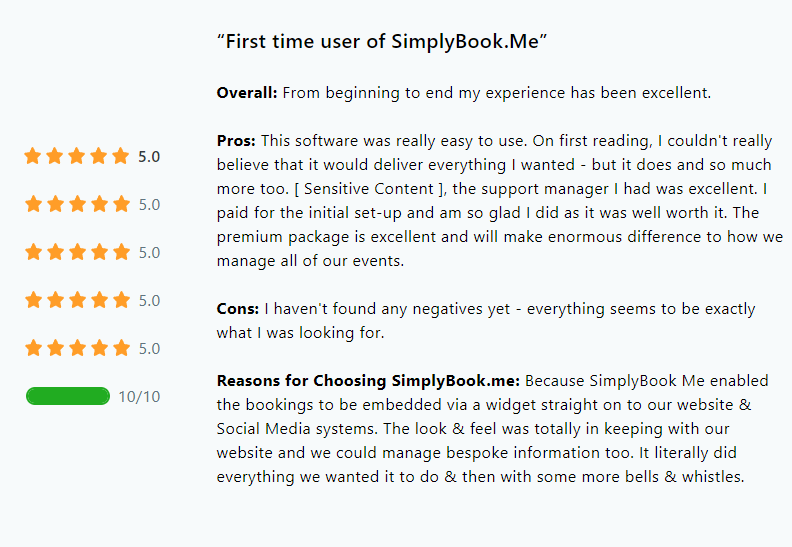 "…the support manager I had was excellent. I paid for the initial set-up and am so glad I did as it was well worth it. The premium package is excellent and will make an enormous difference in how we manage all of our events."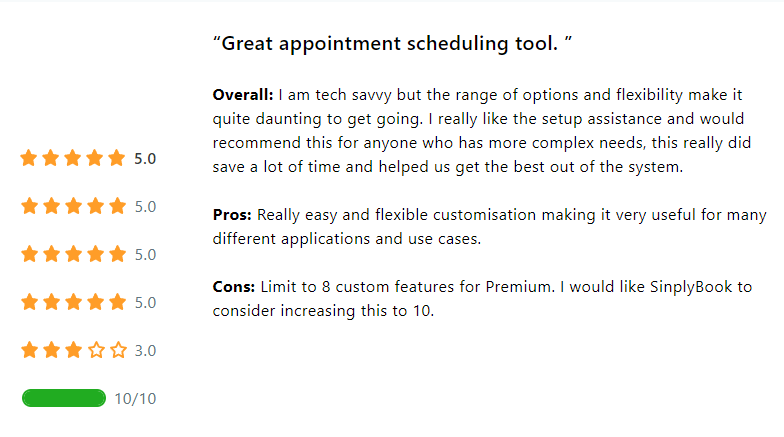 "I am tech savvy but the range of options and flexibility make it quite daunting to get going. I really like the setup assistance and would recommend this for anyone who has more complex needs, this really did save a lot of time and helped us get the best out of the system."
And another.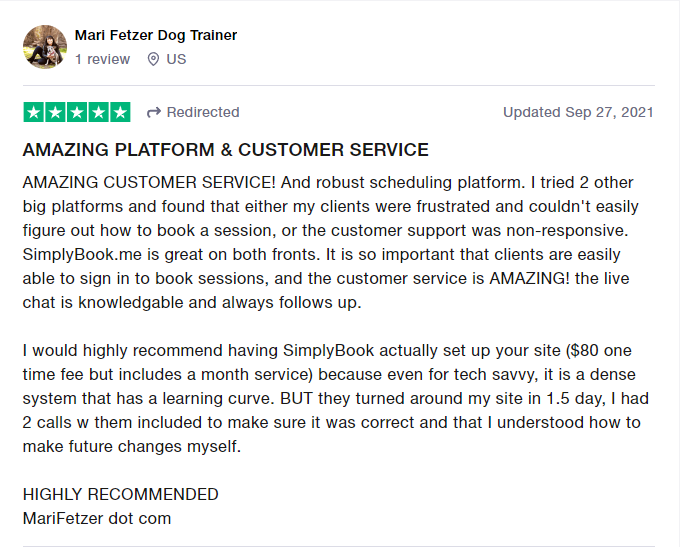 "I would highly recommend having SimplyBook actually set up your site ($80 one-time fee but includes a month service) because even for tech-savvy, it is a dense system that has a learning curve. BUT they turned around my site in 1.5 days, I had 2 calls with them included to make sure it was correct and that I understood how to make future changes myself."
Quick Set-Up Assistance -it's worth the investment
How much do you charge for your time in your business – what would be your hourly rate? And now, think about the time you might spend setting up your system.
Benefit #3 of getting your quick set-up assistance with one of our support team:
Do you know how much it actually costs to get complete quick set-up assistance? The very reasonable sum of $80. It's even more affordable when you discover that $80 also includes a month of the premium subscription that usually costs $60.
So even if you don't need all the features that a premium SimplyBook.me subscription offers, you would still get a month to try it out and the convenience of set-up assistance – it's an investment worth making.